Yoshihide Suga: The unexpected rise of Japan's new prime minister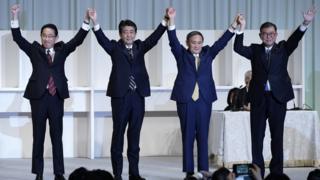 Shinzo Abe was Japan's prime minister for so long that people around the world came to recognise his face and perhaps even knew how to pronounce his name. So, should we all now be learning how to say Yoshihide Suga? That is a difficult question to answer.
A month ago, there were very few who would have predicted what we are now witnessing. Firstly no one expected Mr Abe to go, certainly not before his beloved Tokyo Olympics. Even fewer would have guessed Mr Suga as his replacement.
The 71-year-old is known in Japan as Mr Abe's fixer, the backroom guy who gets stuff done.
When asked recently whether he thought of himself as a nice guy, Mr Suga responded: "I am very nice to those who do their job properly".
His public face is that of the unsmiling and seemingly charmless government spokesman. His nickname among Japanese journalists is the "Iron Wall", a reference to his refusal to respond to questions he doesn't like.
So how is it that Mr Suga is now suddenly Japan's new prime minister?
According to economist and long-time Tokyo resident Jesper Koll, Mr Suga was chosen by Liberal Democratic Party (LDP) bosses, the faction leaders who wield power behind the scenes, because they saw no obvious alternative.
"This is obviously an election in smoky rooms right inside the LDP," he says. "The public had no voice in this choice of the prime minister of Japan.
"In the end, you're only any good to your party if you can win victories in public elections. So, he is under pressure. He is going to have to prove himself to the party and to the Japanese people that he deserves to be prime minister," says Mr Koll.
Mr Suga is clearly not without political skills. He has served as Japan's Chief Cabinet Secretary for longer than any of his predecessors. He has a reputation for toughness and discipline and for understanding the machinery of Japan's byzantine bureaucracy. But are those the sorts of skills that win elections?
Professor Koichi Nakano from Tokyo's Sophia University thinks not.
"He rose to power because he has the political skills of intimidating opponents, including the press and dominating the scene through backdoor dealings and controlling the bureaucrats quite well," he says.
"But when it comes to the public face of the party, when the lower house election needs to be called within a year, he's really unsuited because he's not very eloquent."
That lack of eloquence was on display as Mr Suga made his victory speech on Monday. In ponderous tones with long pregnant pauses he promised the following.
"I want to break down bureaucratic sectionalism, vested interests, and the blind adherence to precedent."
But Mr Koll is someone who knows Mr Suga personally and he says we shouldn't be so quick to dismiss him.
"Here is a man who gets up at 5am in the morning, does 100 sit ups and then reads all the newspapers," he says.
"By 6:30am, he's starting meetings with business people, with advisers, with outside economists. He a
Sri Lanka returns 'hazardous waste' to UK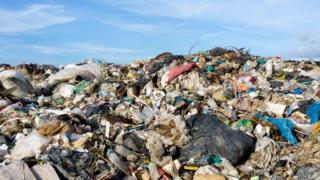 Sri Lanka says it is sending 21 containers of recycled waste back to the UK after they were found to contain hazardous material.
Customs officials said hospital waste, plastic and polythene was discovered in the majority of the 263 containers imported in 2017 by a private firm.
The shipment was meant to be made up of used mattresses, carpets and rugs.
Most of the containers have been stored in warehouses, with only a small amount of material having been re-exported.
Legal action was taken after the Sri Lanka authorities impounded the material in 2018.
Officials said the 21 containers had left Sri Lanka on Saturday.
Customs spokesman Sunil Jayaratne said the original importation breached international and EU rules and regulations on hazardous w
Armenian PM warns 'aggressive' Turkey to stay out of Nagorno-Karabakh conflict, says hostilities could spill over regional borders
Yerevan has urged Turkey not to meddle in ongoing hostilities over the disputed Nagorno-Karabakh region, warning that the conflict could spill out over regional borders. Ankara had earlier pledged "full support" to Azerbaijan.
"Turkey's aggressive behavior is a serious cause for concern," Armenian Prime Minister Nikol Pashinyan said in a televised address to the nation on Sunday. Turkish President Recep Tayyip Erdogan had previously said Azerbaijan, which is involved in heavy border fighting over the disputed Nagorno-Karabakh, "is not alone" in the confrontation.
Such a stance "is fraught with catastrophic consequences for the South Caucasus and adjacent regions," PM Pashinyan said. The international community should keep Turkey out of the conflict, he added, warning that the situation risked getting out of hand.
The situation could have irreversible consequences, move beyond the borders of the region and threaten international peace and stability.
Pashinyan also accused Baku of declaring "a war on the Armenian people" and blamed the triggering of the current hostilities on Azerbaijan.
Turkey has repeatedly expressed support for its Azeri "brothers." Erdogan minced no words on Sunday when he called Armenia "the biggest threat to peace and tranquility in the region." He said the entire Turkish nation was ready to stand by Azerbaijan "with its entire means, as always." He did not expand on what "means" could be made available to Azerbaijan. Lower-tier Turkish officials shared the sentiment.
Hostilities between Armenia and Azerbaijan broke out along the Nagorno-Karabakh border earlier today, involving artillery shelling, tank raids, and combat aircraft sorties. Both sides reported civilian casualties, and claimed they inflicted losses on one another. Armenia has declared martial law and a general conscriptio
Saudi-backed Yemen government and Houthis agree to prisoner swap, UN hopes ceasefire to follow
Yemen's Saudi-backed government and Iranian-backed Houthi rebels will exchange more than 1,000 prisoners, a landmark swap in a brutal five-year war. UN officials said that the exchange could pave the way for a ceasefire.
The exchange was agreed on Sunday, after ten days of talks in Switzerland. The Houthis will release 400 people, including 15 Saudis, and the Saudi-backed government will free 681 Houthi fighters, Reuters reported.
Yemen's civil war has been ongoing since 2014, when the Iranian-aligned Houthis ousted Yemen's government from power. The war intensified in 2015 when Saudi Arabia – backed by Western powers – intervened on behalf of the ousted government. Tens of thousands of people have been killed, and the Saudi blockading of Yemen's ports triggered what the Norwegian Refugee Council called a "man-made famine of Biblical proportions."



Also on rt.com
Houthis target Saudi Abha International Airport with drones for 2nd time in 24 hours, vow to continue until blockade is lifted




Once completed, the prisoner swap will be the largest single exchange of detainees since 2018. The warring parties agreed then to swap around 15,000 prisoners, but that deal has not been fully implemented, and prisoner exchanges since have been small and unilateral.
The Houthis last year freed 290 prisoners, and Saudi Arabia released 128. Smaller deals have been cut too, with the International Committee of the Red Cross organizing the release of six Saudis earlier this year.
UN Special Envoy for Yemen, Martin Griffiths, said he hoped both sides build on the agreement and work toward a ceasefire. "Our overall aim at the moment is to bring an agreement on what we call a joint declaration which is a national ceasefire to end the war in Yemen. And accompanied by various measures to open up the ports and airports and roads so that people can start to live a little," he told Reuters.



Also on rt.com
Canadian rights groups press Trudeau to halt record-breaking arms sales to Saudi Arabia over Yemen war




Despite Saudi Arabia's aerial bombing campaign, the conflict has been locked in a military stalemate for years. The capital, Sanaa, remains in Houthi hands, as do most of the country's population centers. Informal ceasefire