Yoshihide Suga elected Japan's new prime minster succeeding Shinzo Abe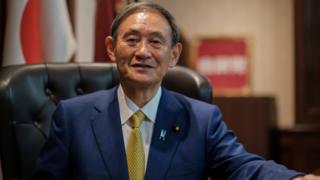 Japan's parliament has elected Yoshihide Suga as the country's new prime minister, following the resignation of Shinzo Abe.
After winning the leadership of the governing party earlier this week, Wednesday's vote confirms his new position.
A close ally of Mr Abe, the new prime minister is expected to continue his predecessor's policies.
Shinzo Abe announced his resignation last month citing ill health.
Earlier on Wednesday, Mr Abe held his final cabinet meeting and told reporters he was proud of his achievements during his nearly eight years in power.
Mr Suga then easily won the vote for prime minister in the Diet, Japan's lower house, where a coalition headed by his conservative Liberal Democratic Party (LDP) holds a majority.
Along with his new cabinet he will later be ceremonially endorsed by the emperor at the Imperial Palace.
Challenges ahead
A veteran politician and long-time cabinet member he takes the lead at a difficult time for the world's third-largest economy.
Like many other nations, Japan is struggling with the coronavirus pandemic which has caused the biggest economic slump on record following years of economic stagnations.
The country is also dealing with a rapidly aging society, with nearly a third of the population older than 65.
Mr Suga has served for years as Chief Cabinet Secretary, the most senior role in government after the prime minister.
He has already promised to carry on much of the previous administration's agenda, including the economic reform programme dubbed Abenomics.
"Mr Suga's election assures the continuity in all the major policy initiatives launched by Shinzo Abe," Yuki Tatsumi, director of the Washington-based Stimson Center's Japan programme, told the BBC.
"What will be the greatest test for him is how well he fares as the public face of the Japanese government," she cautions.
"While his ability as Mr Abe's right hand man and his Chie
Saudi-backed Yemen government and Houthis agree to prisoner swap, UN hopes ceasefire to follow
Yemen's Saudi-backed government and Iranian-backed Houthi rebels will exchange more than 1,000 prisoners, a landmark swap in a brutal five-year war. UN officials said that the exchange could pave the way for a ceasefire.
The exchange was agreed on Sunday, after ten days of talks in Switzerland. The Houthis will release 400 people, including 15 Saudis, and the Saudi-backed government will free 681 Houthi fighters, Reuters reported.
Yemen's civil war has been ongoing since 2014, when the Iranian-aligned Houthis ousted Yemen's government from power. The war intensified in 2015 when Saudi Arabia – backed by Western powers – intervened on behalf of the ousted government. Tens of thousands of people have been killed, and the Saudi blockading of Yemen's ports triggered what the Norwegian Refugee Council called a "man-made famine of Biblical proportions."



Also on rt.com
Houthis target Saudi Abha International Airport with drones for 2nd time in 24 hours, vow to continue until blockade is lifted




Once completed, the prisoner swap will be the largest single exchange of detainees since 2018. The warring parties agreed then to swap around 15,000 prisoners, but that deal has not been fully implemented, and prisoner exchanges since have been small and unilateral.
The Houthis last year freed 290 prisoners, and Saudi Arabia released 128. Smaller deals have been cut too, with the International Committee of the Red Cross organizing the release of six Saudis earlier this year.
UN Special Envoy for Yemen, Martin Griffiths, said he hoped both sides build on the agreement and work toward a ceasefire. "Our overall aim at the moment is to bring an agreement on what we call a joint declaration which is a national ceasefire to end the war in Yemen. And accompanied by various measures to open up the ports and airports and roads so that people can start to live a little," he told Reuters.



Also on rt.com
Canadian rights groups press Trudeau to halt record-breaking arms sales to Saudi Arabia over Yemen war




Despite Saudi Arabia's aerial bombing campaign, the conflict has been locked in a military stalemate for years. The capital, Sanaa, remains in Houthi hands, as do most of the country's population centers. Informal ceasefire
Straight out of science fiction: Physicist discovers that paradox-free time travel is mathematically possible
New research has unravelled paradoxes at the heart of time travel, making it far more than just the plot of countless Hollywood blockbusters but something that is mathematically possible.
Both scientists and scriptwriters alike have long been fascinated by the prospect of travelling through time. Numerous popular films have also shown that it can result in all sorts of unexpected consequences. One of the major contradictions is known as the 'Grandfather paradox'. 
The paradox holds that any action that alters the past, is a contradiction because the past becomes different from how it was. If you travel back in time and prevent your parents from meeting, how could you be born to travel back in time in the first place?  



Also on rt.com
Scientists spot glowing, ultraviolet aurora around comet for 1st time in history




A physics student from the University of Queensland in Australia says he has unravelled the maths behind time tinkering and made it viable without the paradoxes. 
"Classical dynamics says if you know the state of a system at a particular time, this can tell us the entire history of the system," researcher Germain Tobar explained. "However, Einstein's theory of general relativity predicts the existence of time loops or time travel – where an event can be both in the past and future of itself – theoretically turning the study of dynamics on its head." 
The researcher used the example of the coronavirus pandemic to explain his incredibly dense math. If a time traveller journeyed to the past to stop the disease from spreading, if they were successful there would have been no disease to send them back to eliminate.
However, Tobar's work found that the virus would still escape in s
Syria blasts Turkey as 'sponsor of terrorism' in UNGA address
Damascus has lashed out at Ankara during a speech before the UN General Assembly, accusing the Turks of occupying swathes of Syrian land and creating a breeding ground for terrorists.
Syrian Foreign Minister Walid Muallem used unambiguous language when taking the floor during the 75th UN General Assembly meeting, held virtually due to the Covid-19 pandemic.
He singled out Turkey as a sponsor of terrorism in Syria and the surrounding region, and accused Ankara of committing "a war crime and a crime against humanity" by restricting civilian access to water in several towns controlled by Turkish forces. 
The top Syrian diplomat also alleged that Turkey facilitated the "entry of tens of thousands of foreign terrorists into Syria and still offers all forms of support to Jabhat al-Nusra and other terrorist organizations."
He went on to denounce the "US and Turkish forces' illegitimate presence" in Syria and vowed that his country would "not spare any effort" to end the occupation of its territory. 



Also on rt.com
US playing 'very reckless' games with Kurdish separatists in Syria, risks exploding entire Middle Eastern region – Russian FM




Muallem was similarly defiant when discussing the Israeli-occupied Syrian Golan, and stated that Damascus will do everything it can to "restore" its sovereignty over the territory. 
In his own address before the General Assembly, Turkish President Recep Tayyip Erdogan said that the conflict in Syria continues to pose a threat to regional security and stability, noting that his country h