Wylfa: Hitachi 'withdraws' from nuclear project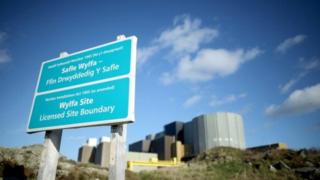 Plans for a £15-£20bn nuclear power plant in Wales have been scrapped.
Work on the Wylfa Newydd project on Anglesey was suspended in January last year because of rising costs after Hitachi failed to reach a funding agreement with the UK government.
Isle of Anglesey council said the company had now confirmed in writing it is withdrawing from the project.
Council leader Llinos Medi said: "This is very disappointing, particularly at such a difficult time economically."
Developer Horizon Nuclear, which is owned by Hitachi, said it would not comment.
The UK government also declined to comment.
However Anglesey council said it had received a letter from the Tokyo-based parent company confirming its decision.
Mrs Medi has asked to meet both the Welsh and UK governments to discuss the future of the site.
A two-reactor plant at Wylfa was the biggest energy project ever proposed in Wales.
It was earmarked as having the potential to power up to five million homes, but the project was put on hold as the upfront costs rose.
With 9,000 workers ready to start the construction phase, the decision in January 2019 was described as "a tremendous blow" to the Welsh economy by business leaders.
The company said in June it was hoping to secure extra funding from the UK government to resume the project but has now thrown in the towel.
Analysis by BBC Wales business correspondent Brian Meechan
As one of Wales' biggest proposed construction projects, Wylfa Newydd has faced turbulent times.
The company behind it, Hitachi, has always been concerned about the costs of building the new nuclear power plant.
The UK government went some way in offering financial support to the project but it wasn't enough to satisfy Hitachi's concerns over the financial risks.
The UK government also held a consultation on plans that would see energy customers pay upfront for the costs of construction.
The industry has been waiting for months for an outcome to
Taio Cruz quits TikTok after 'suicidal thoughts'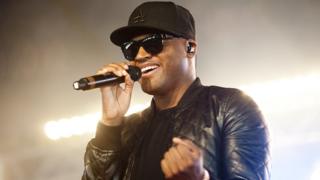 Pop star Taio Cruz has opened up about his reasons for quitting TikTok, saying he wanted to preserve his mental health after having "suicidal thoughts".
The musician, whose hits include Dynamite and Break Your Heart, said he had been targeted by "hateful" videos and comments on the video-sharing app.
"My body was shaking and I had suicidal thoughts," he explained on Instagram.
"I pride myself on being mentally resilient so the fact that I felt that way, shocked even me."
The 35-year-old added: "Some users posted hateful, mocking videos which spurred a feedback loop of negativity, where more and more people began to join in on the mockery and hate.
"My intention was to make some fun videos and interact with my fans, but some, whom I won't mention, were averse to that.
"For my own mental health, I would rather be where I'm welcomed, for now, TikTok is not that place. Social media shouldn't be like this, sadly it is."
The London-born singer rose to fame in the late 2000s, scoring two number one singles in the UK, and writing for artists including Jennifer Lopez, Usher and David Guetta.
He joined TikTok earlier this week and quickly gained 85,000 followers – but abruptly deleted all his videos on Wednesday, posting a message that read: "Never in my life have I had a more negative experience than the past few days on here".
"This community is not for me," he added.
The BBC understands that the musician was targeted by messages accusing of him of being irrelevant and "begging for clout".
One user who wrote, "I just saw one of his videos [and] scrolled so fast," received a response from the star – who simply posted the shrug emoji.
The majority of the comment
Harley-Davidson to exit world's biggest bike market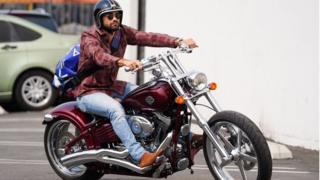 Harley-Davidson is pulling out of India, the world's biggest motorcycle market.
The iconic US motorcycle brand is stopping manufacturing and massively scaling back its sales operations.
Harley's decision comes weeks after Toyota said it wouldn't expand further in India due to the country's high tax regime.
The exit is a blow for Indian Prime Minister Narendra Modi's efforts to lure or retain foreign manufacturers.
Harley's departure involves $75m (£59m) in restructuring costs, around 70 redundancies and the closure of its Bawal plant in northern India.
The plant was opened in 2011 but Harley-Davidson has struggled to compete with local brand Hero as well as Japan's Honda.
About 17 million motorcycles and scooters are sold each year in India.
More setbacks
While it is cheaper than many other developing economies, India has proven a tough market to crack for foreign automakers.
General Motors pulled out of the country in 2017 while Ford agreed last year to move most of its assets into a joint venture with Indian vehicle giant Mahindra & Mahindra.
US President Donald Trump has previously complained about India's high taxes, specifically mentioning the levies placed on Harley-Davidson bikes.
India's import tariffs were slashed by 50% but the brand has still struggled in the competitive market.
Harley has also been suffering its own problems and recorded its first quarterly loss in more than a decade between April and June this year.
It has been cutting hundreds of jobs under its new chief executive Jochen Zeitz and focusing on core markets and models.
Harley couldn't play the game
By Nikhil Inamdar, BBC News' India business correspondent
Harley Davidson came into India with much fanfare a decade ago. But it has since, struggled to find a foothold in one of the world's most lucrative two-wheeler markets.
With sales averaging under 3,000 units every year, the iconic American brand simply couldn't capitalize on the big Asia opportunity it was betting on.
Auto experts put the blame on the brand's failure to drive up volumes and derive cost efficiencies by leveraging local tie-ups.
This, coupled with prohibitively high taxes, a slowdown in discretionary spending and an inability to compete with Indian brands may have prompted the decision to call it quits.
"India is a high volume, low margin market. They weren't structu
John Starr Twitter Director Left the Company after 6 years
In April 2020 John Starr Twitter Director of Trust & Safety Left the Company after 6 years of incredible work. he announced the news on Twitter.
Read Twitter Account Suspended For Shaming Twitter Employees?
Who is John Starr?
You may have heard about Vijaya Gadde, Del Harvey but you may have not heard about John Starr because he was working behind door which means you may have not heard him on public forums, media like others such as Del Harvey and Vijaya but he was responsible for everything and I call him a "unsung hero" but in this article I tell you about his incredible work which he did when he was a Director at Twitter Inc. (From 2014 to April 4 2020)
Mr. John Starr joined Twitter in 2014 with the post of Trust and Safety Manager till 2015, then he promoted to Senior Manager Trust and Safety and next year 2016 he was promoted to Director Trust and Safety Twitter. 
Mr. Starr and his team job were to create a secure and safer place for Twitter users and they succeeded in that. Mr. Starr and his team made a system where everyone was allowed to speak freely on Twitter which we can not speak in daily life when we meet someone face to face. But with that, they faced considerable challenges, such as the accounts of underage prostitution that we call (child pornography), Few pedophiles joined Twitter to promote child pornography and the list was long at that time, Because of this, the reputation of Twitter was getting affected and a lot of people were complaining to Twitter.
Mr. Starr and his team accepted the challenge and within a short period of time they had developed a system and set up a policy and a law. And under this law, Twitter will not tolerate child pornography accounts (Pedophiles) at all and Twitter will not only suspend these accounts, but Twitter will make sure that they (Pedophiles) will never use Twitter platform again. 
Twitter inc has mentioned on their website that "We have a zero-tolerance child sexual exploitation policy on Twitter." Twitter has zero tolerance towards any material that features or promotes child sexual exploitation, one of the most serious violations of the Twitter Rules. 
This rule and policy were introduced by Mr. Starr and his team including Vijaya Gadde, Del Harvey and others. Since then Twitter (Mr. Starr) has worked with Child Abuse Experts, NGOs) and today Twitter inc has (ZERO PEDOPHILES) accounts, You will not find any accounts that are promoting sexual child abuse content.
How Mr. Starr was helpful to me?
Everyone should keep in mind that Mr. Starr was a Director at Twitter so he was responsible for everything such as account suspension, restoration and creating a safer place for Twitter users. As I continued to work with law enforcement and government agencies, and during that time I found the most dangerous accounts from promoting terrorism to promoting extremism. I have personally sent numerous emails to Mr. Starr and his team and without getting delayed the 100's of accounts suspended. 
Not only this but Twitter inc have verified many fake handles who were either not eligible or either they were verified on fake documents when Twitter verification was open for the general public. When it comes to my attention I sent all the list to Mr. Starr and his team and fortunately the "Verified Accounts" who were selling verification badges, sending malicious URLs and promoting hatred were all suspended in no time. Mr. Starr has never disappointed me but today I am sad that he is leaving Twitter after six years. 
I am happy that the laws and policies Mr. John Starr and his team have created are making a positive impact on Twitter today and where users are finding themselves safe. I hope Mr. Starr's future will be brighter than today and he will have more success.