'Without any basis in intl. law': Venezuela blasts US sanctions on Maduro & Iran as 'sustained aggression'
Venezuela has slammed a new round of US sanctions on President Nicolas Maduro and Iran as aggressive and illegal, while also contesting a new UN report alleging official abuses, saying it used "human rights as a political weapon."
"Venezuela denounces the new US aggression to the international community, announcing alleged unilateral sanctions against President Nicolas Maduro, as part of a sustained campaign of aggression against the Islamic Republic of Iran and our country," Foreign Minister Jorge Arreaza wrote in a tweet on Monday.



Also on rt.com
Pompeo announces new US sanctions on Iran's defense ministry




Caracas said Washington's actions showed it had "no respect whatsoever" for the UN and that the new sanctions were imposed "without any basis" in international law. It also vowed that "no intimidating and arrogant action by the US government" would deter Venezuela from friendly relations with Iran.
Hours prior, the US State Department announced a fresh round of penalties on both Tehran and Caracas – including Maduro and a number of Iranian entities – accusing the two nations of working together to "flout the UN arms embargo" on Iran.
"Our placing sanctions on Maduro today is a warning that should be heard clearly worldwide: no matter who you are, if you violate the UN arms embargo on Iran, you risk sanctions," Secretary of State Mike Pompeo said while announcing the new measures on Monday.
Though the weapons ban is set to expire in October, Washington has insisted it would remain in force "indefinitely," despite a failed US-led effort to extend the embargo in the UN Security Council last month. The new penalties also come days after the US unilaterally declared the resumption of the UN's "snapback" sanctions on the Islamic Republic, invoking the Iran nuclear deal that Washington withdrew from as far back as 2018. The move has faced nearly unanimous opposition in the Security Council.



Also on rt.com
Venezuelan police & security forces committed 'arbitrary killings and systemic torture,' UN fact-finding mission claims




Arreaza also took aim at a recent UN fact-finding report which alleged serious abuses by Venezuelan authorities, including extrajudicial killings and torture. The FM rejected the report as "false" in a separate tweet, accusing the international body of "using human rights as a political weapon" while sharing an analysis by local investigative outfit Mission Truth, which slammed the report as inaccurate and politically motivated.
The FM previously denounced the UN report after it was issued last week, insisting it is "plagued with falsehoods," lacking in "methodological rigor" and "created for ideological purposes by countries with terrible human rights records" in order to "attack Venezuela."
Washington has continued to step up its sanctions campaigns on both Iran and Venezuela in recent months, frequently expanding "maximum pressure" penalties on Tehran as it seeks to drive the country's oil exports to "zero," while also pushing for a reimposition of the UN sanctions despite near-universal opposition internationally, including from US allies. Meanwhile, the US has indicted the Venezuelan leader on "narco terrorism" charges and brought several layers of sanctions over the last year, largely taking aim at Iranian fuel shipments into the country, even seizing four gas tankers bound for Venezuela last month.



Also on rt.com
Venezuela's oil exports crash to 77-year low amid crushing US sanctions




Think your friends would be interested? Share this story!
Third time's the charm? Armenia & Azerbaijan pledge to resume ceasefire on Monday after talks in Washington
Yerevan and Baku have renewed their commitments under a ceasefire deal, agreed earlier this month in Moscow but plagued with violations from both sides, after separate meetings with US officials in Washington.
Armenian and Azerbajani foreign ministers, representing the two regional rivals locked in a decades-old conflict over the disputed Nagorno-Karabakh, have "reaffirmed their countries' commitment to implement and abide by the humanitarian ceasefire agreed in Moscow on October 10," the US, Armenia and Azerbaijan said in a joint statement released by the US Department of State on Saturday.
The truce is set to come into effect at 08:00 am local time on Monday.
#BREAKING: After 3 days of negotiations in the United States, parties reaffirmed their commitment to implement and abide by the humanitarian ceasefire previously announced on October 10, 2020. It'll take effect at 08:00 a.m. (local time) on October 26, 2020.#CeaseAzeriFirepic.twitter.com/Vt1maFwsCW

— Khazanchyan (@khazanchyan) October 25, 2020
The fresh attempt at bringing hostilities between the warring parties to an end came after a series of meetings between top Armenian and Azerbajani diplomats and senior US officials. On Friday, US Secretary of State Mike Pompeo sat down separately with Azerbaijan FM Jeyhun Bayramov and his Armenian counterpart Zohrab Mnatsakanyan. The negotiations also involved Trump's National Security Advisor Robert O'Brien, who welcomed the news, adding that US Deputy Secretary of State Stephen Biegun "played a key role" in the breakthrough.
(2 of 2) "Congratulations to all of them for agreeing to adhere to the cease fire today. Lives will be saved in both nations. @SecPompeo & Stephen Biegun played a key role. Well done." – NSA Robert C. O'Brien

— NSC (@WHNSC) October 25, 2020
Since the heavy fighting broke out between Armenia and Azerbaijan on September 27  in what has become the most intense flare-up of the smoldering territory dispute since the 1994 armistice, there have already been two attempts to broker a truce. The previous ceasfires quickly collapsed, however.
The original October 10 ceasefire, struck after marathon talks in Moscow and mediated by Russian Foreign Minister Sergey Lavrov fell through hours after it took effect, with Armenia and Azerbaijan trading blame for its premature demise.
The second attempt  at agreeing to a pause in fighting came on October 17, but that ceasefire did not hold for much longer either.



Also on rt.com
Turkey's interest in Nagorno-Karabakh conflict motivated by control over Caucasus oil & gas supply, says Armenian president




In a separate statement on Saturday, the OSCE Minsk Group, co-chaired by Russia, France and the US, said that its co-chairs and the two foreign ministers met in Washington to discuss  "an immediate humanitarian ceasefire, possible parameters for monitoring the ceasefire, and initiating discussion of core substantive elements of a comprehensive solution" of the conflict.
The group said that the next such meeting will take place on October 29 in Geneva to discuss a roadmap to "a peaceful settlement."
While US President Donald Trump touted the "really good progress" he claimed was achieved, it remains to be seen if the freshly-agreed ceasefire survives any longer than its short-lived predecessors.



Also on rt.com
Trump touts 'really good progress' at Armenia-Azerbaijan talks in Washington as shelling in disputed Nagorno-Ka
Covid in Australia: Victoria sees first day without a case since June
Victoria in Australia has recorded no new Covid-19 cases for the first time since Melbourne – the state capital – went into lockdown 111 days ago.
The state was the epicentre of Australia's second wave, accounting for over 90% of the country's 905 deaths.
It saw cases surge to over 700 per day in July, but severe stay-at-home rules and a curfew have curbed the numbers.
State officials are expected to soon ease restrictions in Melbourne, the country's second-largest city.
An announcement had been expected on Sunday, but a small outbreak in the city's north warranted a delay, Premier Daniel Andrews said.
But on Monday the state health department reported no new cases from the outbreak, and no new deaths across the state. The state has not seen a day of no cases since 9 June.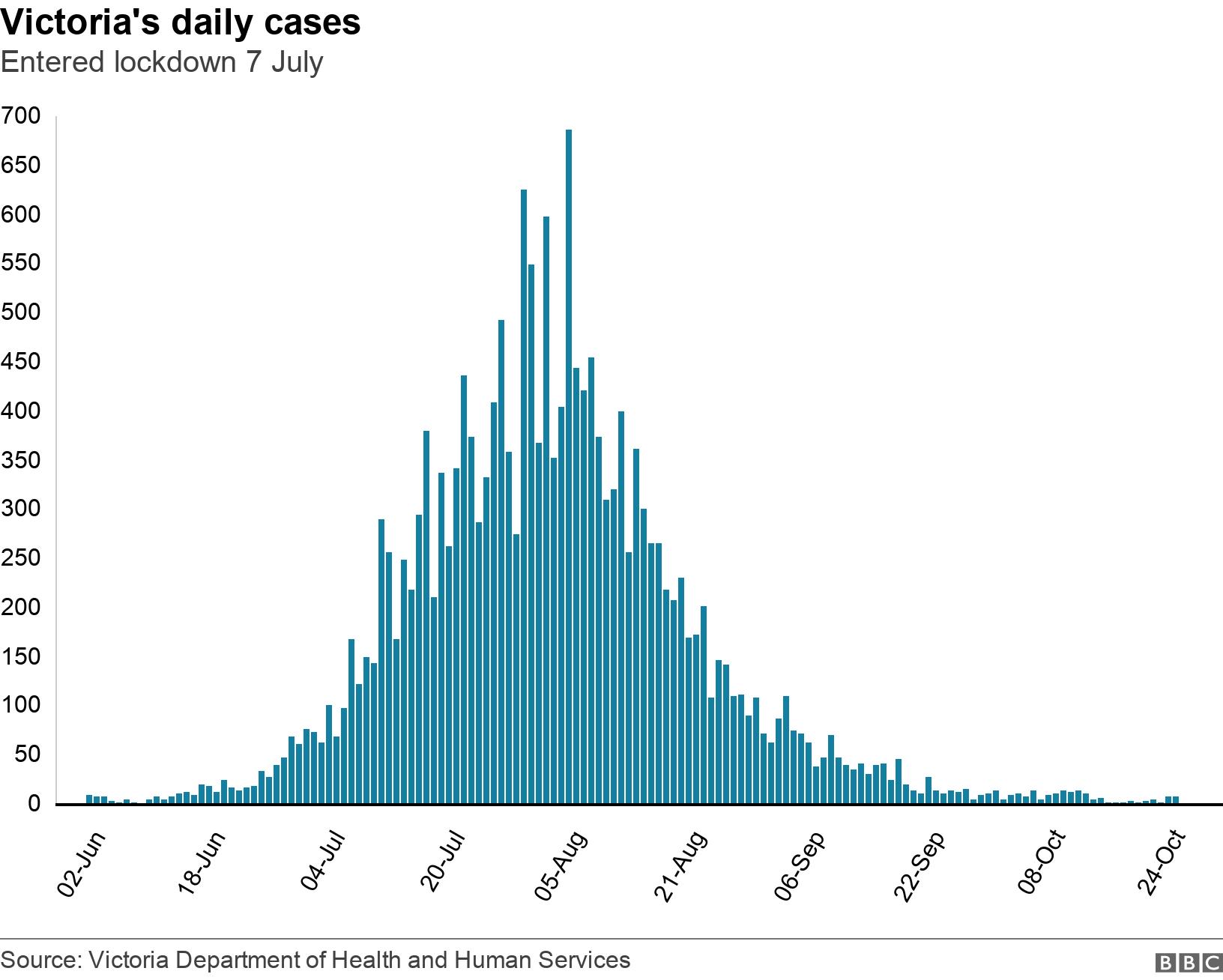 Melbourne entered the current lockdown – its second for the year – on 7 July.
Stay-at-home restrictions were later imposed on the rest of the state, but Melbourne has endured the toughest measures.
Australia has recorded nearly 27,500 infections and more than 900 deaths.
Most retail stores, restaurants and workplaces remain closed and most home visits are still banned.
Until last week, Melburnians also had to endure a two-hour limit on outdoor socialising and exercise, and could only travel within 5km (3.1 miles) of their home.
The heavily policed lockdown – one of the toughest in the world – has divided opinion among the city's residents and prompted small protests.
As case numbers have fallen in recent weeks, business owners have been among the loudest critics calling for the state to re-open, but others have given vocal support for the restrictions.
More on Melbourne's lockdown:
The state government has also faced scrutiny over how the virus was able to gain hold across Melbourne, after spreading from hotel quarantine for returned travellers.
A judicial inquiry into the matter has heard there were weaknesses in cont