West Coast fires: How we outran a California wildfire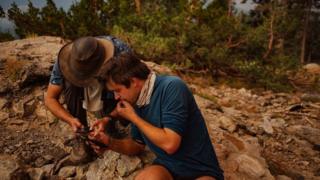 Across the American west, wildfires are burning at a historic speed and scale, engulfing almost five million acres of land across three US states – California, Oregon and Washington – since early August.
That's the situation that four hikers – Asha Karim, Jaymie Shearer, Lucas Wojciechowski and Stephen McKinley – found themselves in earlier this month – ambushed by California's quick-moving Creek Fire and forced to outmanoeuvre the blaze, which was swallowing tens of thousands of acres.
'What are the chances there's already a new fire?'
One Saturday, Karim, Shearer, Wojciechowski and McKinley met at the Mammoth Trailhead in Sierra National Forest. The group had assembled for an eight-day camping trip through the Ansel Adams Wilderness to celebrate Karim's birthday.
When the group set off that morning, California firefighters were already battling more than two dozen fires across the state. They planned accordingly, plotting their route to favour areas with little or no smoke, far away from active blazes.
But they did not yet know about the Creek Fire, a massive wildfire that had ignited the night before and was now tearing through the Sierra National Forest.
As they started in on the first five miles, the smoke had started rolling in, becoming thicker, as the skies grew dark. They assumed it was from the existing blazes.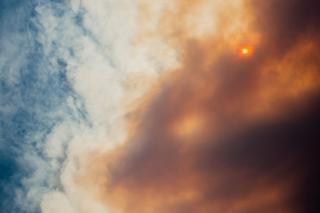 "I was very sceptical to believe it was a new fire," Wojciechowski said. "What are the chances that there's already a new forest fire right next to us?"
Black plumes of smoke grew closer. It became hard for them to breathe.
They decided to press on to an overlook, emerging out of the forest for a view of the west side of Sierra Nevada's Ritter mountain range. By then, their route had disappeared into smoke. With three satellite phones between them, they texted friends, sending out their coordinates, trying to gather information.
"We started figuring out what we'd need," Karim said. "Is there a new active fire? Is it blocking the road? What is our escape route?"
They sat there, at the edge of a growing pyrocumulus cloud – also known as a fire cloud – and listened to its rolling thunder.
They soon learned the fire was new, and were sent a single set of coordinate points which situated the blaze just two miles from the road that they needed to take out.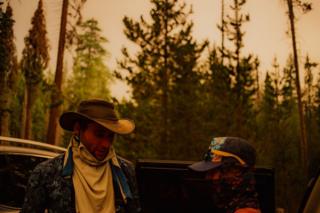 "We decided that it would not be wise to keep going around that dial, deeper into our hike," Karim said. They decided to turn around and hike back to Karim's 1994 Toyota RAV4 at Isberg trailhead.
The hike back was a blur, Shearer said.
"It always felt like we were one step away from feeling panic and feeling fear," she said. "I think if I would have been alone, and without friends or resources, I would have fallen into that."
Shearer, a trained wilderness guide, had her friends adopt a beloved hiker's adage: slow is smooth and smooth is fast.
"You learn how to be slow and methodical even when there are scary things happening," Wojciechowski said. "Slow is smooth and smooth is fast: if you move slowly, you'll make the right decision and it will ultimately be faster."
'Who is driving here?'
They reached Karim's car at around 4pm and tried to trace their way back out of the woods.
"By the time we got to the car, we believed that there was still some time for us to get out," she said.
The main road out crossed a collapsed bridge, so they set off on a detour.
"This convoy of cars sped at us, honking at us, flashing high beams at us, telling us to go the other way, but no one would stop to talk to us," Karim said. "We don't know what's ahead, but they do, and they're not stopping."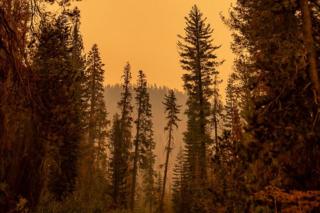 What they didn't yet know was that the road ahead of them leading up to the Mammoth Pool Reservoir, which was being devoured by the Creek Fire and where the California National Guard would later stage a days-long rescue effort for hundreds of trapped hikers.
They ventured a little further, before spotting an elderly man sitting in his pickup truck. He told the group he was fleeing his home "down there", nodding toward the fire raging south of them. They asked him if he knew of a way out and he offered them some names of landmarks, but little certainty.
They had yet to run into an official on the trail.
"It's kind of like looking for the adult in the room. Everyone is doing the best with the information that they have but everyone has different information," Karim said. "You're just trying to figure out: who's at the wheel? Who's driving here?"
The group decided to turn back. Again, they passed a caravan of cars speeding by them in the opposite direction.
"We saw cars driving 70mph driving east, cars driving that same speed driving west," Wojciechowski said. "No one knew what was going on. Everyone had a totally different narrative about what was happening. The general pervasive attitude was confusion."
"We literally saw people making every conceivable decision out there, and I realized that no one knew what was going on. We just needed a plan and stick to it."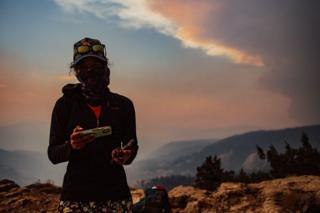 'Is everything burning around us?'
That next plan was to try an escape on foot, hiking through the Mammoth Trail to where Wojciechowski's van was parked at Red's Meadow in Devils Post Pile National Monument – 13 miles northeast of them.
They drove back to the Mammoth Trailhead, gathering three days of supplies and abandoning the rest – along with Karim's RAV4. They used the falling ash to paint a message on the car's window: "Took Mammoth Trail to Red's Meadow to escape fire."
At 18:15 local time they set off once again.
"It felt really strange just going in so close to sunset," Karim said. "There was this dying light in the forest and you couldn't tell where the sun was. The sky was just this very opaque, milky orange and then deep red. The cameras can't quite get it right. It looks like a filter."
It looked "surreal," Shearer said. "I just remember staring and noticing that wow, those trees look blue. The sky is glowing silver."
For about four hours they hiked, pausing every 30 minutes or so to take a breath, refill their water, and gather their bearings.
"It's just this air of – is everything else burning around us? The lack of information was like the elephant in the room," Shearer said.
As the sky got darker, the eerie orange glow of sky faded.
"As it got darker we couldn't really see the orange glow anymore. So the only way I could kind of guess if the air quality was getting better or worse was by how much ash was falling out of the sky." Wojciechowski said.
The sky looke
Amy Coney Barrett: Trump nominates conservative favourite for Supreme Court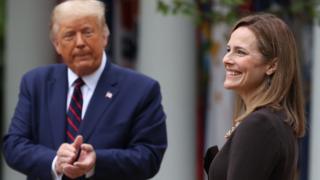 US President Donald Trump has nominated Amy Coney Barrett, a favourite of social conservatives, to be the new Supreme Court justice.
Speaking at the White House Rose Garden, Mr Trump described her as a "woman of unparalleled achievement".
Judge Barrett would replace liberal Justice Ruth Bader Ginsburg, who died of cancer on 18 September.
Her nomination will spark a bitter Senate fight to get her confirmed as November's presidential election looms.
Supreme Court justices are nominated by the US president, but must be approved by the Senate.
Mr Trump said Judge Barrett was a "stellar scholar and judge" with "unyielding loyalty to the constitution".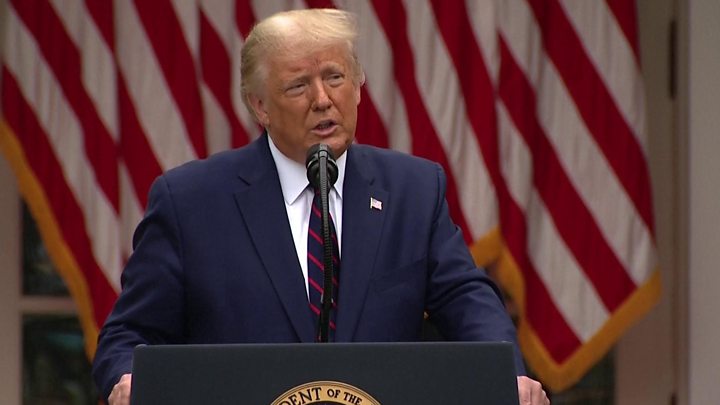 If Judge Barrett is confirmed, conservative-leaning justices will hold a 6-3 majority on the US's highest court for the foreseeable future.
The 48-year-old would be the third justice appointed by this Republican president, after Neil Gorsuch in 2017 and Brett Kavanaugh in 2018.
The Supreme Court's nine justices serve lifetime appointments, and their rulings can shape public policy on everything from gun and voting rights to abortion and campaign finance long after the presidents who appoint them leave office.
In recent years, the court has expanded gay marriage to all 50 states, allowed for Mr Trump's travel ban on mainly Muslim countries to be put in place, and delayed a US plan to cut carbon emissions.
Tricky position for Democrats
Amy Coney Barrett has been on Donald Trump's shortlist for Supreme Court vacancies for some time, but the word was that she would be the most appropriate replacement for Ruth Bader Ginsburg.
As of last week, that was no longer a hypothetical scenario.
Even before Mr Trump reportedly settled on Judge Barrett as his pick, conservatives were rallying around the nominee, whoever it might be. And if they stick together, as all but two seem to be doing, her confirmation appears assured – whether it is before November's election or in a "lame duck" Senate session afterward.
The choice of Judge Barrett puts Democrats in a tricky position. They have to find a way of undermining support for the nominee without seeming to attack her Catholic faith or personal background – moves that could risk turning off some voters in November. They will seek to delay the proceedings as best they can, while keeping their focus on issues like healthcare and abortion, which could be at the centre of future legal battles with Justice Barrett on a conservative-dominated court.
Then they have to hope Judge Barrett, or the Republicans, make some kind of critical error. It is a tall order, but for the moment it is the only play they have.
Who is Amy Coney Barrett?
She is described as a devout Catholic who, according to a 2013 magazine article, said that "life begins at conception". This makes her a favourite among religious conservatives keen to overturn the landmark 1973 Supreme Court decision that legalised abortion nationwide.
Her links to a particularly conservative Christian faith group, People of Praise, have been much discussed in the US press. LGBT groups have pointed out that the group's network of schools have guidelines stating a belief that sexual relations should only happen between heterosexual married couples.
One such group, Human Rights Campaign, has voiced strong opposition to Judge Barrett's confirmation, declaring her an "absolute threat to LGBTQ rights".
Judge Barrett has also ruled in favour of President Trump's hardline immigration policies and expressed views in favour of expansive gun rights.
Conservatives hope she will help to invalidate Obamacare, the health insurance programme that was introduced by President Trump's democratic predecessor, Barack Obama.
Some 20 million Americans could lose their health coverage if the court overturns the Affordable Care Act (ACA).
Democrats have rallied support over this issue, but it is thought unlikely that the Supreme Court w
Megan Thee Stallion: What do we know about the rapper's alleged shooting?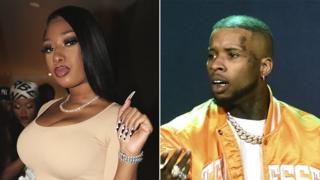 Rappers Megan Thee Stallion and Tory Lanez are back in the news, after Tory denied shooting Megan in the feet in one of his new songs.
The case has led to several high-profile rows in the US music industry.
It has also sparked a debate about perceptions of gender-based violence against black women, and concerns within the African American community about police brutality.
Authorities in Los Angeles say investigations are ongoing.
How did this begin?
During the early hours of 12 July, police responded to a "shots fired" incident in the Hollywood Hills, the Los Angeles Police Department (LAPD) said in a statement.
An argument is reported to have taken place inside a vehicle, with shots fired into the air, before the vehicle left the scene.
The LAPD said officers then conducted a "traffic stop" on a vehicle matching a description provided by eyewitnesses, and "multiple individuals were detained".
Tory Lanez, 28, whose real name is Daystar Peterson, was charged with carrying a concealed weapon and released on bail later that morning.
In a statement on 15 July, Los Angeles police said another person was brought to hospital and received treatment for an unspecified "foot injury".
Megan Thee Stallion – whose real name is Megan Pete – alleged that four people were in the car at the time: herself, a friend, Mr Peterson, and his bodyguard.
Initially, TMZ reported that Ms Pete had cut her foot from broken glass in the car. But on 15 July, she released a statement saying she had suffered "multiple gunshot wounds… done with the intention to physically harm me."
Several days later, in an Instagram post, Ms Pete shared graphic images of the stitches in her heel, and of doctors attending to her foot.
On 20 August, for the first time, she named Mr Peterson as the alleged shooter while speaking in a video on Instagram Live. She said when police found her, she did not tell them what had allegedly happened because she feared they would start shooting if they believed a gun was involved.
"I didn't tell the police nothing, because I didn't want us to get in no more trouble than we was about to get in," she said, denying that she had physically assaulted Mr Peterson.
The Los Angeles County district attorney's office has said it is reviewing another charge against Mr Peterson over the alleged shooting. A spokesperson told the Los Angeles Times that a decision would be make after further investigation by law en
Price too big to pay? Sudan rejects tying its removal from US terrorism list to fixing relations with Israel
If being dropped the from the US list of state sponsors of terrorism comes at the cost of normalizing ties with Israel, then the price tag might be too much for Arabic-speaking Sudan, which rejected linking the two issues.
Sudan's Prime Minister Abdalla Hamdok told the media earlier on Saturday he made it clear to US Secretary of State Mike Pompeo that the removal from Washington's notorious list of terrorism supporters and the warming of relations with the Israel need to be tackled separately. 
"This topic [ties to Israel] needs a deep discussion of the society," he was quoted as saying by Reuters. The African country has remained on the State Department's list since 1993, now joined only by Iran, North Korea, and Syria.
The designation exposes the four countries to sweeping US sanctions that involve a ban on arms exports, asset freezes as well as prohibitions on financial and commercial transactions with the outside world.
Back in 2016, when it severed diplomatic ties with Iran, Washington began easing sanctions against Sudan; that pattern was fuelled by the 2019 coup that toppled longtime President Omar Hassan al-Bashir, who the US accused of siding with Hezbollah and Palestinian militias.
Sudan is thought to have been in talks over its removal from the terrorism list for quite some time. Now, the US reportedly putting forward the new demand could potentially hinder that endeavor. However, the Trump administration is yet to officially confirm whether linking the two issues has indeed been the case.
The story comes as US diplomats muse that another Arab country might follow the lead of Egypt, Jordan, UAE and Bahrain that have all normalized ties with Israel. Speaking to the Saudi-owned news channel Al Arabiya, US ambassador to the UN Kelly Craft said "our plan is to bring in more countries; we will have more being announced very soon."
She made no specific mention of any country but signalled Saudi Arabia as one of the candidates.
Meanwhile, there has been speculation that Sudan might be discussing the issue as well. Back in August, Haidar Badawi Sadiq, who was a spokesman for Sudan's Foreign Ministry at the time, said his country is floating the idea of inking a peace deal with Israel. T