'Vicious slanders': China hits out at Australian foreign interference allegations
Chinese officials in Australia have dismissed allegations of foreign interference as "vicious slanders." The denial follows reports that a consular member had been investigated for his role in a suspected propaganda campaign.
The Chinese Consulate in Sydney said on Wednesday that it wanted to promote "friendly exchanges and pragmatic cooperation," and that it had always abided by "international law and basic norms of international relations."
The accusations that the Consulate General and its official engaged in infiltration activities are totally baseless and nothing but vicious slanders.
Relations between the two countries sunk to their lowest point in decades amid a months-long investigation into whether top Chinese diplomats, academics and journalists were involved in deliberately spreading propaganda and influencing Australian officials.



Also on rt.com
'Blatant irrational behavior': Beijing accuses Australia of 'harassing' Chinese journalists




On September 15, the Australian Broadcasting Corporation (ABC) reported it had obtained documents showing that Australian Federal Police (AFP) were investigating whether a consulate official was involved in the suspected influencing of a state politician and policy adviser.
According to the report, an AFP warrant named consulate member Sun Yantao in relation to an investigation involving New South Wales (NSW) State Parliament member Shaoquett Moselmane and one of his policy advisers, John Zhisen Zhang.
Moselmane's home and office were raided by AFP and Australian Security Intelligence Organization (ASIO) officers in June, during which computers and other communication devices were seized. The investigation was focused on whether Moselmane's activities as a lawmaker were influenced by members of the Chinese Communist Party, with whom he allegedly corresponded.
Gradually worsening relations between the two countries have also affected journalists from both sides. Last week, two reporters working for Australian media in China were rushed out of the country "for their safety." Before their departure, the correspondents were questioned by China's state security ministry in relation to the case of Cheng Lei, an Australian China-based journalist who worked for English-language channel CGTN. Cheng was detained in August and remains in custody over suspected activities that endanger China's security.



Also on rt.com
Questioning of Australian journalists is part of 'normal law enforcement,' Beijing says




At the same time, Beijing has repeatedly condemned the 'harassment' of Chinese journalists in Australia. The latest incident of this sort came on late Tuesday, when ASIO agents raided the homes of four Chinese journalists and confiscated communications items, raising questions of a tit-for-tat escalation between the sides, according to China's state news agency Xinhua.
Deteriorating relations between Australia and China partially resemble those playing out between China and the US, where moves have already been made to counter alleged influence and intelligence operations by Beijing.
In July, the Chinese consulate in Houston was forced to close suddenly due to the threat of "espionage and influence activities," according to a senior US Justice Department official.
Earlier in the year, Chinese-state media organizations operating in the US were told they would be treated as foreign government functionaries, instilling them with the same administrative requirements as embassies and consul
Breonna Taylor: Police officer charged over fatal shooting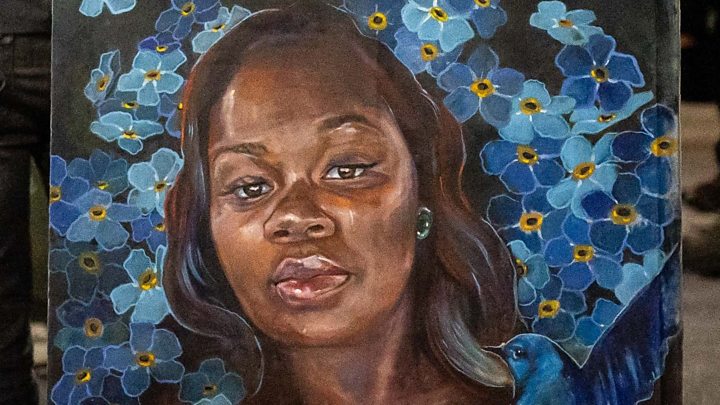 A grand jury has charged one police officer over the fatal shooting of Breonna Taylor at her home in the US state of Kentucky.
Ms Taylor, 26, a hospital emergency room technician, was shot multiple times during a police raid on 13 March.
Her death has become a rallying cry for anti-racism protesters, who have called for the three officers involved to be arrested and charged.
Officials earlier agreed to pay her family $12m (£9.3m) in a settlement.
Brett Hankison has been charged with three counts of "wanton endangerment" over the shooting.
He was fired from the Louisville Metro Police Department in June after investigators found he had "wantonly and blindly fired 10 rounds" into the apartment, according to his termination letter.
The other two officers who discharged their weapons that night – Jonathan Mattingly and Myles Cosgrove – have not been charged.
What happened to Ms Taylor?
Ms Taylor was at home in Louisville on 13 March when police officers entered her apartment shortly after midnight, her family says.
Narcotics officers raided her home and used a battering ram to take her front door off its hinges. No drugs were found on her property and Ms Taylor had no criminal record.
Police were acting on a controversial type of search warrant – known as a "no-knock" warrant – that allows police to enter a home without warning. Police claim they knocked and announced themselves before entering, but Ms Taylor's family and a neighbour have disputed this.
US election 2020: Trump attacks McCain widow after Biden endorsement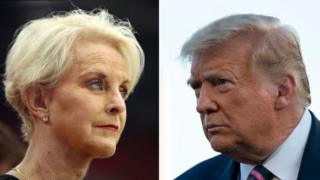 Donald Trump has launched a fresh attack on John McCain, after his widow announced her support for the president's Democratic rival Joe Biden.
Cindy McCain announced her support for Mr Biden in a tweet on Tuesday, saying he was the only candidate "who stands up for our values as a nation."
Mr Trump tweeted that he was "never a fan" of the veteran Republican senator, who died in 2018.
Mr McCain was one of the president's most outspoken Republican critics.
Mr Trump, in turn, publicly questioned his heroism during the Vietnam War.
In her tweet on Tuesday, Mrs McCain said while her husband and Mr Biden had some "passionate arguments" and while she did not "always agree on the issues" with the Democratic presidential candidate, "he is a good and honest man".
In response, President Trump said she "can have Sleepy Joe!" – a nickname the president has for his rival.
He also accused Mr Biden of being Mr McCain's "lapdog", denouncing "bad decisions on endless wars".
"I hardly know Cindy McCain," he added, "other than having put her on a Committee at her husband's request."
Cindy McCain made an address at the Democratic National Convention last month, and her endorsement may prove a hindrance to President Trump, who is trailing Mr Biden in most national polls.
Mr Biden has since thanked her, saying on Twitter t
China blames US for 'obstructing' global fight against emissions, vows to go carbon neutral by 2060
Beijing has accused the US of "obstructing" the global fight against greenhouse gases, a day after President Xi Jinping said China aims to have "CO2 emissions peak before 2030 and achieve carbon neutrality before 2060."
China said on Wednesday it considers this plan a "powerful rebuke to the US' unfounded accusations" that were made against it at the UN General Assembly.
The US, which is the world's second-largest polluter, pulled out of the 2015 Paris Agreement on climate change mitigation, blaming China for the stalled momentum on tackling global emissions.
"This seriously obstructs the progress of reducing global emissions and promoting green, low-carbon development," China's Foreign Ministry spokesman Wang Wenbin said. "What qualifications does such a country have to criticize China?" he was quoted as saying at a news briefing in Beijing.
China itself is the world's biggest polluter and accounts for a quarter of the planet's greenhouse gases. Addressing the UN General Assembly on Tuesday, Xi renewed his support for the Paris climate accord. He maintained China was a climate leader, saying the accord "outlines the minimum steps to be taken to protect the Earth." All countries must take decisive steps to honor the agreement, he said.



Also on rt.com
'How's the climate accord doing?': Trump rips Macron amid massive pension protests & labor strike




China will update and enhance its nationally determined contribution targets, Wang told reporters on Wednesday. He described the US as the world's largest emitter of greenhouse gases in cumulative terms, saying that Washington "not only failed to ratify the Kyoto Protocol, but also pulled out of the Paris Agreement." Thus, the US has completely disassociated itself from the global carbon emissions system and arrangements, he stressed.
As the world's largest exporter of solid waste and a major consumer of plastics per capita, the US has also refused to ratify the Basel