US West Coast fires: Smoke spreads to New York and Washington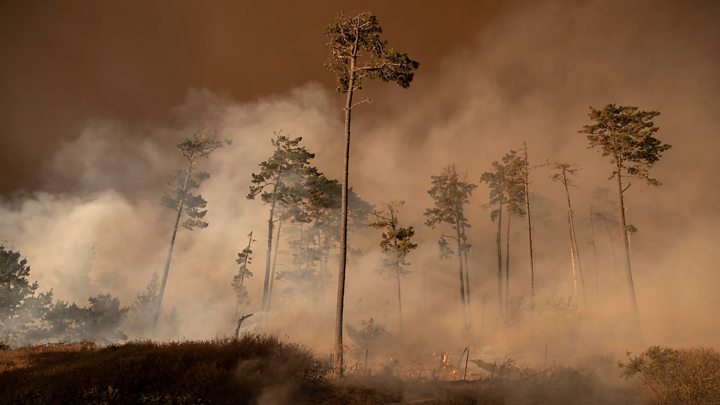 Smoke from the wildfires ravaging much of the US West Coast has spread to the east of the country, casting a haze over New York and Washington DC.
The blazes have burned vast areas of land and killed at least 36 people since early August.
They have also caused some of the most unhealthy air on the planet in several western states.
Scientists said the smoke on the East Coast was so high that it would not impact air quality.
Satellite images showed the smoke being carried to the East Coast by the jet stream – a narrow zone of high-speed winds – across the Mid-Atlantic.
The National Weather Service (NWS) in New York said smoke passing over the state was 25,000ft (7,620m) high on Tuesday.
"If you looked up to the sky today, you may have seen a yellow or brown tinge. You were seeing smoke from the fires", the NWS said on Twitter.
There were also hazy skies in the capital, Washington DC, where the NWS said smoke was about 15,000-25,000ft about ground level.
The smoke was obscuring the sun on Tuesday and meant temperatures were slightly cooler in the city than they otherwise would have been, it added.
Journalist Mike Valerio shared a picture of hazy skies around the Lincoln Memorial.
What is happening on the West Coast?
Dozens of wildfires have burned across vast swathes of land on the West Coast since the start of August. Strong winds and low humidity have been hampering efforts to keep the blazes under control.
The states of Oregon, Washington and California are experiencing some of the most unhealthy air on the planet, according to global air quality rankings.
Attack outside former Charlie Hebdo office in Paris 'clearly act of Islamist terrorism' – French interior minister
A meat cleaver attack that seriously injured two people outside the former offices of satirical magazine Charlie Hebdo in Paris is being treated as an act of Islamist terrorism by French authorities.
Two employees of the Premieres Lignes news production agency were outside their office in the 11th arrondissement on Friday when they were attacked by a knife-wielding man. They were "very badly wounded," Premieres Lignes founder Paul Moreira told AFP.
The attack took place near the former address of Charlie Hebdo, a weekly satirical newspaper whose staff was massacred in a 2015 attack by Islamist militants. The 14 alleged accomplices in that attack are currently on trial in Paris.
Charlie Hebdo eventually reopened at a different address in Paris, which is being kept secret for security reasons.
AFP reports that five men have been detained, including the suspected attacker. The PNAT anti-terrorism prosecution office said it has opened an investigation, with charges of "attempted murder related to a terrorist enterprise" and "conspiracy with terrorists."
PNAT head Jean-Francois Ricard said the main suspect is an 18-year-old man, reportedly born in Pakistan.
DETAILS TO FOLLOW
'The Army just killed my wife!': Soul-crushing video provokes online outrage towards Colombian military
A young Colombian man filmed himself crying over his dead wife, who was shot in her car by soldiers. The emotional video led online users to denounce both the country's government and US foreign policy.
The woman, reported as Juliana Giraldo Diaz, was killed on Thursday, while she and her husband were driving through the rural area of Miranda, Cauca. In the graphic video, her body can be seen lying in the car's front seat, apparently shot in the head, and in a pool of blood.
WARNING: DISTURBING VIDEO 
The Colombian army shot this man's wife in the head and killed her. He's begging for help. "Help me please, we have nothing." Her name is Juliana and she was killed this morning in Miranda, Cauca.pic.twitter.com/l8Cq4TPmZU

— Camila (@camilateleSUR) September 24, 2020
"The Army just killed my wife!" the man, Francisco, can be heard screaming in the footage.
"We had no drugs, we had no weapons, we had nothing … Please help me!"
The Colombian Army has issued a statement, saying that the woman was shot by a soldier while the military was securing the area.
The country's president, Ivan Duque, ordered both the defense ministry and the army to carry out a "quick" investigation and "punish" those responsible. Separately, the incident will also be reviewed by the attorney general's office.
Condeno repudiable hecho ocurrido en Miranda, Cauca. He ordenado a @mindefensa y @COL_Ejercito disponer lo necesario para investigación con celeridad. Responsable debe recibir castigo ejemplar. Solidaridad con familiares de Juliana Giraldo, a quienes brindaremos acompañamiento.

— Iván Duque 🇨🇴 (@IvanDuque) September 24, 2020
Commentators universally condemned the killing online, saying that people in uniform always get to act with "impunity". 
Others lamented that "no one" in the international community addresses such incidents, in their view because "Colombia is a US puppet state".
Knowing Colombia is US puppet state no one will condemn it.

— Tito ☭ 🇸🇻 ⛰️ Андрей 🐈🐕 (@adxtrjuseniorit) September 24, 2020
The woman's horrifying death follows countrywide turmoil during protests and riots against police brutality, which broke out over the death of law student Javier Ordonies. He died on September 8, after being repeatedly tasered by police officers.



Also on rt.com
At least 5 killed in violent protests following police killi
Death toll from Covid-19 could 'very likely' reach 2 MILLION before vaccine widely available, WHO says
The coronavirus death toll could double to reach the two million mark before a vaccine comes into wide use, the World Health Organization's (WHO) head of emergencies Mike Ryan has warned.
The current death toll, which is hovering just below the one million mark, could easily grow twofold without a "concerted" effort to make an effective vaccine widely available as soon as possible, Ryan said in a Friday news conference.
"Unless we do it… the number you speak about [two million deaths] is not only imaginable, but sadly very likely," he said.



Also on rt.com
Russia now testing Sputnik V Covid-19 vaccine on elderly & other high-risk groups as part of third phase trials




The official also spoke about the ongoing increase in spread rates registered worldwide in the past few weeks after anti-coronavirus lockdowns were eased in many countries. Ryan cautioned against blaming the latest spike on young people, who have allegedly become the primary spreaders.
"I really hope we don't get into finger wagging: it's all because of the youth," he said. "The last thing a young person needs is an old person pontificating and wagging the finger."
The situation in Europe, where several countries, including France and the UK, reported the highest-ever daily rises in Covid-19 cases, remains very "worrying," WHO officials have said, urging the authorities to do their best to try and halt the spread before the season of regular flu comes around.



Also on rt.com
The peak wasn't the peak? UK & France record HIGHEST-EVER daily rises in Covid-19 cases




"We are at the end of September and we haven't even started our flu season yet, so what we are worried about is the possibility that these trends are going in the wrong direction," WHO's technical lead on coronavirus, Maria Van Kerkhove, said.
Globally, more than 32.3 million people have contracted the disease with over 980,000 succumbing to it, the latest figures by Johns Hopkins University show.
T