US happy to help in China-India border dispute, says Trump
WASHINGTON:
The United States
is ready to help resolve the dispute between India and China over the
mountain
border running through the western
Himalayas
, President
Donald Trump
said on Friday.
Trump told reporters the situation was "very nasty," adding that the two countries were "going at it much more strongly than a lot of people even understand."
Both sides deployed additional forces along the frontier after a clash in June, during which 20 Indian soldiers were killed in hand-to-hand fighting.
The defense ministers of India and China were due to hold talks in Moscow on Friday, the highest level face-to-face political contact since tensions flared along the disputed mountain border in May.
A US government source told Reuters in Washington the US assessment is that neither China nor India are interested in pushing the dispute to the point that they would engage in war.
Trump, asked about the dispute at a news briefing in the
White House
, said Washington was talking with both countries about what it could do to help defuse the situation.
"We stand ready to help with respect to China and India. If we can do anything, we would love to get involved and help," he said.
Trump has offered to mediate between the two nuclear-armed nations in the past. China has said that there is no need for a third party to mediate and India has also appeared cool to the idea.

Covid-19 roundup: Caseload breaches 58-lakh mark, SP Balasubrahmanyam dies & more
NEW DELHI: Even as the coronavirus tally in India stood at more than 58 lakh on Friday with 92,290 deaths, the country witnessed a nationwide protest by its farmers and also took a "leap of faith" announcing the dates for its first ever Assembly election to be conducted amidst a pandemic. The country also lost one of its legendary singers SP Balasubrahmanyam to Covid-19 on Friday.
Here are the latest developments:
INDIA
Daily new Covid-19 infections in India remained below the 90,000 mark for the fifth consecutive day even as the country's coronavirus caseload zoomed past 58 lakh, according to the Union Health Ministry data updated on Friday. The total coronavirus cases mounted to 58,18,570 with 86,052 infections being reported in a day and 1,141 people succumbing to the disease in a span of 24 hours.
India's total Covid-19 recoveries have surged to over 47.5 lakh with 10 states and union territories including Maharashtra, Delhi and West Bengal accounting for 73 per cent of the new recovered cases.
The last rites of legendary playback singer SP Balasubrahmanyam, who died in a Chennai hospital on Friday, will be held in his farm at Tamaraipakkam in Tiruvallur district on Saturday. SPB, who had been undergoing treatment for Covid-19 in MGM Healthcare since August 5, died at 1.04pm on Friday at the age of 74.
Hyderabad-based pharma player, Hetero has announced the launch of first-ever 'Patient Compliant Pack' of Favivir 800mg/200mg for the treatment of mild-to-moderate symptomatic Covid-19 patients in India.
Union health minister Harsh Vardhan on Friday said that more than 5 million people have been infected with coronavirus but the healthcare system of India has shown great efficiency in providing diagnostic and management facilities as well as keeping the mortality at 'minimum' and recovery at 'maximum'.
Announcing the dates for Bihar assembly election on Friday, chief election commissioner (CEC) Sunil Arora asserted that the decision to hold Bihar assembly polls amid the coronavirus pandemic is not a "misadventure" but a leap of faith and not a leap in the dark.
Even as Indians increase their spending with the easing of lockdowns, over 90% of respondents in a survey conducted by Standard Chartered Bank said that the pandemic has made them more careful with expenditure as against 75% of global respondents.
For complete coverage on Covid-19 outbreak, visit here.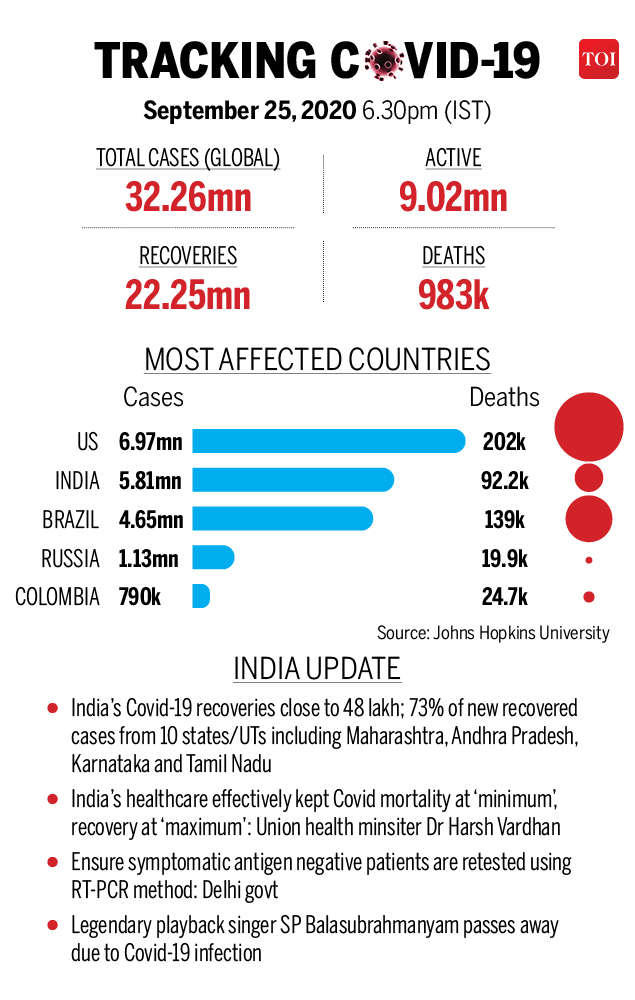 STATES
Punjab: Amid pandemic, farmers staged sit in's and held demonstrations at all the entry points of Amritsar including at Tarn Taran Road, India Gate, Pathankot Road besides GT road, against the three farm bills passed by the Parliament earlier this week.
Andhra Pradesh: State health minister Alla Kali Krishna Srinivas has ordered a probe after the video of an hospital staffer stealing the gold ring of a Covid deceased patient at TTD run Sri Venkateswara institute of medical sciences went viral in the social media on Friday.
Delhi: The condition of Delhi deputy chief minister Manish Sisodia, who is battling a double infection of Covid-19 and dengue, was reported to have been better now, as per an official from his office said on Friday.
Maharashtra: The coronavirus case count in Mumbai's Dharavi area rose to 3,109 on Friday with seven new cases coming to light, a senior Brihanmumbai Municipal Corporation (BMC) official said.
Karnataka: State government has decided to set up designated burial grounds and crematorium across all major cities and towns in the state. In Bengaluru, the government plans to develop nine new crematoriums in addition to the existing 10.
Tamil Nadu: State government has started to work on micro plans for Covid-19 vaccine. Director of public health Dr T S Selvavinayagam has asked deputy directors of public health to consolidate micro plans and send it to the directorate by October 15. The Union health ministry will introduce the vaccine against the viral infection if candidates prove their efficiency in the clinical trials.
Tripura: The rate of Covid-19 infection has gradually declined in the state over the past one week, as per state government. Additionally, the recovery rate has increased by 12% and the severity of infected patients has also declined.
Uttar Pradesh: Allahabad High Court has issued a mandamus for entire Uttar Pradesh directing that "no person should be seen outside his/her house without a mask on his/her face and he/she should check that the mask covers both the nose and the mouth". The state police has been directed to implement the mandamus.
Odisha: Six months on, fear-stricken residents keep outings to a minimum scared of contracting the coronavirus given the rise in the number of asymptomatic cases.
WORLD
An experimental coronavirus vaccine developed by China's Clover Biopharmaceuticals appeared to be safe and able to trigger immune responses in animal tests, researchers have said.
The virus has killed at least 984,068 people since the outbreak emerged in China late last year, according to a tally from official sources compiled by AFP at 1100 GMT on Friday. More than 32.2 million cases have been registered.
The United States is the worst-hit country with 202,827 deaths, followed by Brazil with 139,808, India with 92,290, Mexico with 75,439 and Britain with 41,902.
Brazil has postponed the world-famous Rio de Janeiro carnival's February 2021 edition, the first time since 1912, joining a growing list of major entertainment and sporting events disrupted by the pandemic.
Madrid's regional government has expanded the number of areas under partial lockdown, raising to over a million the total number affected by strict restrictions on mobility.
The Israeli government has slapped restrictions on outgoing flights as part of a slew of measures to bolster a second virus lockdown imposed last week. The new measures are set to begin at 1100 GMT and affecting workplaces, synagogues and demonstrations in a further bid to bring down the world's highest infection rate.
Poland reported a record spike of 1,587 new cases over a 24-hour period, in line with a rise in other parts of eastern Europe where numbers have been relatively low. The number of daily reported cases has been rising steadily in the country in recent days, with 711 on Tuesday, 974 on Wednesday and 1,136 on Thursday.
Moscow Mayor Sergei Sobyanin has ordered older people to stay at home and recommends employers ramp up remote working, after a spike in virus infections.
Hundreds of restaurant and bar owners organised protests in the southern French city of Marseille against new shutdown orders to curb a surge in cases, warning the move could force them to close permanently.
(With inputs from agencies)
Opposition members boycotted last day of session due to some political compulsions: Om Birla
NEW DELHI: Opposition members boycotted the last day of the Monsoon Session due to some "political compulsions," Lok Sabha Speaker Om Birla said on Friday, noting that they conveyed they have no issues with him.
Birla said he called the floor leaders of all opposition parties for a meeting over a cup of tea and requested them to attend the valedictory proceedings of the house.
"The opposition leaders boycotted the last day of the session due to some political compulsions, while they conveyed to me that they had no issues with me," the Speaker said.
Birla was addressing a press conference here on the conclusion of the Monsoon Session.
Underlining that the productivity of the Lok Sabha was at a historic 167 per cent, he said that despite the threat of Covid-19, the average attendance of MPs in the Lower House, during this session, was more than 300 which sends a very positive message and strengthens peoples' faith in democratic institutions.
He credited the cooperation from all political parties for higher productivity of the Lower House.
"The Lok Sabha sat for 60 hours instead of the allotted time of 37 hours. In fact, despite the curtailment of the session due to Covid-19, the Lok Sabha was able to function optimally with minimal loss of productivity," Birla said.
Describing unruly scenes on the last day of the Rajya Sabha as "unfortunate," Birla said he doesn't want to comment on the proceedings of the other House and efforts should be made to further strengthen the democratic institutions.
On the issue of the Question Hour, Birla said that members were given ample opportunities to raise matters concerning peoples' welfare through written questions and the Zero Hour.
Highlighting the enhanced participation of members during the Zero Hour, Birla said it shows that they were given enough opportunities to express their views and were encouraged to participate in the discussions.
Talking about curtailment of the session, Birla said the decision was taken with a consensus in view of the Covid-19 pandemic.
The Monsoon Session of Parliament, which started on September 14, concluded on September 23, eight days before the scheduled end on October 1.
When asked about new Parliament building, Birla informed that the construction work has started and it will be completed within 21 months.

PM Modi speaks to Japan's Yoshihide Suga
NEW DELHI: Prime Minister Narendra Modi spoke to his Japanese counterpart Yoshihide Suga and said they agreed that stronger India-Japan ties would help meet the challenges of the current regional and global situation.
"Had a very good conversation with PM Suga Yoshihide. We exchanged views on the tremendous progress in our relationship in the last few years, and the future direction of our Special Strategic and Global Partnership. @sugawitter," Modi tweeted on Friday.
We agreed that stronger India-Japan ties would help meet the challenges of the current regional and global situatio… https://t.co/9PJijcN4jA

— Narendra Modi (@narendramodi) 1601034901000
He added, "We agreed that stronger India-Japan ties would help meet the challenges of the current regional and global situation. I look forward to working with PM Suga to further strengthen our all-round partnership."