NEW DELHI: Two Americans and one British-born scientists won the Nobel Prize for medicine 2020 on Monday for the discovery of the Hepatitis C virus. The laureates are Americans Harvey Alter and Charles Rice together with Briton Michael Houghton.
The three were honoured for their "decisive contribution to the fight against blood-borne hepatitis, a major global health problem that causes cirrhosis and liver cancer in people around the world," the Nobel jury said. The trio will share the Nobel prize sum of 10 million Swedish kronor (about $1.1 million, 950,000 euros).
They would normally receive their prize from King Carl XVI Gustaf at a formal ceremony in Stockholm on December 10, but the in-person ceremony has been cancelled this year due to the coronavirus pandemic. The laureates received their awards in their home countries.
Why Nobel is being awarded for the discovery of Hepatitis C virus
The World Health Organization (WHO) estimates there to be around 70 million Hepatitis C infections globally, causing around 400,000 deaths each year.
Thanks to the discovery made by the scientist trio, highly sensitive blood tests for the virus are now available and these have "essentially eliminated post-transfusion hepatitis in many parts of the world, greatly improving global health", the Nobel committee said.
Their discovery also allowed the rapid development of antiviral drugs directed at Hepatitis C.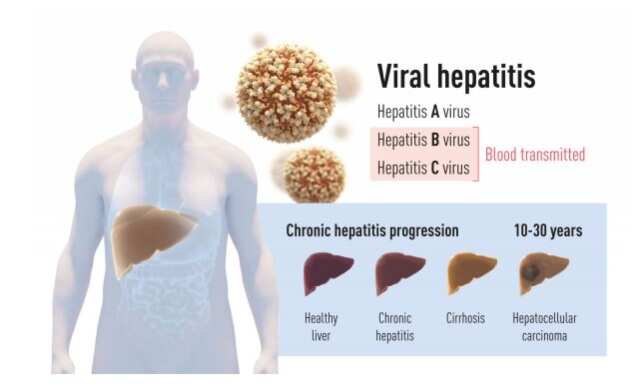 There are two main forms of hepatitis. One form is an acute disease caused by Hepatitis A virus that is transmitted by contaminated water or food. The other form is caused by Hepatitis B virus or Hepatitis C virus (this year's Nobel Prize). This form of blood-borne hepatitis is often a chronic disease that may progress to cirrhosis and hepatocellular
carcinoma.
"For the first time in history, the disease can now be cured, raising hopes of eradicating Hepatitis C virus from the world population," the jury said.
Prior to the trio's work, the discovery of the Hepatitis A and B viruses had seen critical steps forward, but the majority of blood-borne hepatitis cases remained unexplained.
"The discovery of Hepatitis C virus revealed the cause of the remaining cases of chronic hepatitis and made possible blood tests and new medicines that have saved millions of lives," the jury said.
How did the three scientists contribute to the discovery
Alter was credited for his pioneering work studying the occurrence of hepatitis in patients who had received blood transfusions, determining that their illness was neither Hepatitis A or B.
Houghton built on Alter's work to isolate the genetic sequence of the new virus.
Rice subsequently completed the puzzle by using genetic engineering to prove that it was the new strain alone — Hepatitis C — that was causing patients to get sick.
(With inputs from agencies)

Rajnath reviews LAC situation in eastern sector at Army's Trishakti Corps in Sukna
NEW DELHI: Defence minister Rajnath Singh on Saturday reviewed the combat preparedness of the Indian Army at the Sukna-based headquarters of its 33 Corps which is responsible for guarding the Line of Actual Control (LAC) with China in the Sikkim sector, officials said.
The defence minister arrived at the key military base, popularly known as 'Trishakti' Corps, in Darjeeling district in late afternoon as part of his two-day visit to West Bengal and Sikkim to review the military preparedness in view of the border row with China in eastern Ladakh as well as to celebrate Dussehra with soldiers.
Singh is accompanied by Chief of the Army Staff General Manoj Mukund Naravane.
The Army has significantly bolstered deployment of troops and weaponry along the nearly 3,500 km-long LAC including in the Sikkim and Arunachal Pradesh sectors.
The officials said top commanders of the 33 Corps gave detailed briefing to the defence minister and Gen Naravane on the situation along the LAC in Sikkim sector as well as about deployment of troops and weapons.
In an interaction with a group of Army personnel, the defence minister conveyed his wishes to them on the occasion of Vijayadashami and hailed their dedication in securing the nation's borders.
"Due to brave soldiers like you, the borders of this country are protected. The whole country is proud of you," he said.
The defence minister also talked about the rich history of the Trishakti Corps.
"The Trishakti Corps has a great golden history. Especially in 1962, 1967, 1971 and 1975, this Corps demonstrated examples of valour. It has been excellent," he said.
"I extend my best wishes to all of you and your family for the festival of Vijayadashami," the defence minister's office tweeted quoting him as saying.
Officials said Singh will perform 'Shastra puja'(worship of weapons) at Sherathang area in Sikkim on Sunday morning on the occasion of Dussehra.
The defence minister had performed 'Shastra Puja' in the French port city of Bordeaux during Dussehra last year as he was on a bilateral visit to the country then.
Singh has been performing 'Shastra Puja' during Dussehra for the last several years including during his tenure as the Union Home Minister in the previous NDA government.
Almost all formations of the Indian Army along the LAC are on a very high-level of alert in view of the border row with China in eastern Ladakh.
India and China are locked in an over five-month-long bitter border standoff in eastern Ladakh that has significantly strained their ties.
Both sides held a series of diplomatic and military talks to resolve the row. However, no breakthrough has been achieved to end the standoff.

Rift between BJP old-timers and new entrants resurfaces in Bengal
NEW DELHI: Factional feud in the BJP West Bengal unit reached new heights on Saturday when the party's Bishnupur MP, Saumitra Khan — who switched from the state's ruling Trinamool Congress before the 2019 Lok Sabha polls — dramatically announced that he is quitting as state BJYM (BJP Youth wing) chief and left the official Whatsapp group, "BJYM West Bengal Official".
However, Khan returned to the same group by the evening and also withdrew his resignation.
He sent out a video message saying he was "upset and hurt… but no person is larger than the party… hence he decided to remain in the party, continue in his post and work towards throwing out the ruling TMC from office."
This act was a follow-up to Bengal BJP chief Dilip Ghosh's action the previous day. On Friday, Ghosh unilaterally dissolved all the district BJYM committees that had been set up by Khan, without consulting him. Khan is known as a Mukul Roy-loyalist within the party.
Soon after Khan announced quitting his post, central BJP leaders Kailash Vijaywarghiya and Shiv Prakash spoke to Ghosh, it is learnt.
This Khan episode comes four weeks after former state party president Rahul Sinha openly revolted against the party, when Mukul Roy and Anupam Hazra were given national party posts during the organisational reshuffle by party chief J P Nadda.
Sinha is still with BJP but has not reconciled to being sidelined "after giving 40 years to the party," according to party insiders.
With BJP's strength in Bengal having grown considerably since the party won its biggest ever victory in the state, picking up 18 of the 42 Lok Sabha seats in 2019, it has seen a steady inflow of leaders and cadre.
Without a suitable leadership face in the state, BJP has relied on breaking away winnable candidates from rival camps. However, the induction of leaders from TMC and other parties has created a steady rift between the old timers and the new entrants.
As the party is gearing up for 2021 assembly polls, a clear demarcation between the Dilip Ghosh camp (mostly old timers including RSS-backed members) and Mukul Roy camp (mostly those who came in from TMC) has surfaced.
Matters came to such a point that former party chief and Union home minister Amit Shah had to step in with the message that internal differences need to be buried to fight TMC.

Daily news wrap: Cashback for not skipping EMIs, Trump casts ballot & more
NEW DELHI: The finance ministry's guidelines on the waiver of interest on loans up to Rs 2 crore where borrowers who didn't opt for the moratorium will get an ex gratia payment or a cashback, US President Donald Trump casting his ballot in West Palm Beach, Florida are among the top stories of the day.
Here is a look at the top news stories from the day
1
Didn't skip EMIs during lockdown? Get cashback from your bank: Government
The government on Friday spelt out the details of the waiver of interest on interest on loans up to Rs 2 crore where borrowers had taken moratorium during the lockdown and also made it clear that those who didn't opt for it will get an ex gratia payment or a cashback.
The payment will be made to small businesses and individual borrowers with loans up to Rs 2 crore.
The finance ministry on Friday wrote to all RBI-regulated lenders, stating that the government has approved a "scheme for grant of ex gratia payment of the difference between simple interest for six months to borrowers in specified loan accounts" between March 1 and August 31, 2020. The lenders include banks, cooperative banks, housing finance companies and microfinance institutions.
2
Trump casts presidential ballot for himself
President Donald Trump cast an early ballot Saturday in the US election as he geared for another grueling day of campaigning.
Trump voted at a library serving as a polling center in Florida, where he has a home and to which he switched his residency from his native New York.
"I voted for a guy named Trump," he said with a smile as he emerged.
Nearly 55 million Americans have now cast early votes as the coronavirus has made in-person voting more problematic.
3
IPL 2020: MS Dhoni vows changes after season of IPL 'failures'
Three-time Indian Premier League champions Chennai Super Kings will be forced into major changes after a humiliating defeat to their arch-rivals Mumbai Indians, their veteran captain Mahendra Singh Dhoni said.
Dhoni's team suffered a crushing 10-wicket loss in Friday's clash that is widely considered Indian cricket's El Clasico drawing a huge TV audience.
"Whenever you're not doing well, there can be a hundred reasons, but one of the main things you ask yourself is whether you've played to the potential you've got, no matter the conditions," Dhoni said.
"And this year we haven't. Cumulatively there have been batting failures."
4
Kashmir off the table for future talks, India signals to Pakistan
This week India came down hard on Pakistan at the Commonwealth foreign ministers' meeting, describing it as a "globally acknowledged promoter of state-sponsored terrorism" masquerading as a victim and dismissed Pakistan foreign minister Shah Mehmood Qureshi's comments on Kashmir as a subject that was India's "internal matter".
The dismissive and undiplomatic brusque response has now become the template for Indian response to Pakistan's repeated attempts to raise Kashmir, a position that has steadily solidified since the reorganisation of J&K in August last year.
While the commentary is not new, the clear signal to Islamabad is that it has no locus standi on Kashmir and is, in fact, in illegal occupation of PoK.
5
Govt extends due date for FY20 ITR filing by individuals till Dec 31
In a relief to taxpayers, the government on Saturday further extended the deadline for filing returns by individual taxpayers for FY 2019-20 by a month till December 31.
Also, the due date of furnishing Income Tax Returns (ITRs) for taxpayers whose accounts require to be audited has been extended till January 31, 2021.
The government had earlier in May extended various due dates for filing ITRs for FY 2019-20 from July 31 to November 30, to give compliance relief to taxpayers due to the COVID-19 pandemic.
In a statement, the Central Board of Direct Taxes (CBDT) said, "The due date for furnishing of Income Tax Returns for the other taxpayers [for whom the due date (i.e. before the extension by the said notification) as per the Act was July 31, 2020] has been extended to December 31, 2020."
6
We are not anti-national, says NC leader Farooq Abdullah
National Conference (NC) chief Farooq Abdullah on Saturday said the Peoples' Alliance for Gupkar Declaration (PAGD), which is fighting for restoration of special status to Jammu and Kashmir, is an anti-BJP and not an anti-national front.
He said the aim of the People's Alliance is to ensure that the rights of people of Jammu and Kashmir and Ladakh are restored.
The statement came after the members of People's Alliance for Gupkar Declaration met at PDP chief Mehbooba Mufti's residence in Srinagar for the first time after its formation.
After the meeting, People's Conference leader Sajad Lone, who also attended the meet, said that Farooq Abdullah has been chosen as the president and Mehbooba Mufti as the vice-president of the recently-floated People's Alliance for Gupkar Declaration.
7
China illegally occupies Nepal's land at many places, India's intelligence agencies sound alert
China has illegally occupied Nepal's land at several places spreading over seven bordering districts and Indian intelligence agencies have sounded an alert in New Delhi.
The agencies have flagged that Beijing is fast moving forward and further pushing Nepali boundaries by encroaching more and more landmass. "The actual scenario could be worse as the Nepali Communist Party (NCP) is trying to shield the expansionist agenda of the Chinese Communist Party (CCP)," an internal intelligence agency report pointed out.
The report also talked about the Survey Department of Nepal flagging China's attempts to grab land before Nepal Prime Minister KP Sharma Oli which was ignored.
8
Covid-19: Mumbai has more deaths but fewer cases than Bengaluru and Delhi
Age combined with underlying comorbid conditions—diabetes, kidney disease, obesity and hypertension — have emerged as the biggest contributors to Covid-19 deaths in the metropolis. Over 85% of the deaths in Mumbai have occurred in age groups above 50 though they account for only 44% of positive cases.
Doctors say a higher share of co-morbidities combined with stress endemic to Mumbai's population could be blamed for its higher death toll. Compared to Mumbai which has 2.48 lakh cases in all, Bengaluru urban has nearly 3.2 lakh cases.
However, it has about a third of Mumbai's deaths and a fatality rate of 1.15%. Similarly, Delhi with 3.48 lakh cases has a little over 6,000 deaths.
9
Nitish refrains from speaking anything against Chirag or LJP
Bihar chief minister Nitish Kumar on Saturday addressed a poll rally in LJP founder Ram Vilas Paswan's native Alauli assembly seat but refrained from speaking anything either against the party or its president Chirag Paswan who has been attacking him regularly.
After dissociating his party from the ruling NDA in Bihar, Chirag has been hitting out at the chief minister almost on a daily basis in his election meetings as well as in the social media, but Kumar has chosen not to react to him.
Kumar maintained the same approach and avoided making any reference either about Chirag or his party at his rally in Alauli during the day.