UAE & US seek to reach preliminary F-35 deal by December, circumventing Israeli objections – report
The UAE and the US may come to an initial agreement on F-35 fighter jet purchase by early December, as Washington is studying options by which it can circumvent Israel's firm opposition to such a sale.
The apparent progress on the talks about procurement of the 5th-generation jet was reported by Reuters on Tuesday. Sources close to the negotiations said the two sides are planning to have a letter of agreement in place before UAE National Day, on December 2.
Israel's staunch opposition to the UAE's procurement of the planes remains the main obstacle for the deal, while the US' own laws make it even trickier. Washington's foreign policy includes the so-called qualitative military edge restriction. The latter restricts sales of advanced military equipment to potential adversaries of Israel, allowing that nation to fend off multiple foes at once through technological superiority.



Also on rt.com
Arms in the air? UAE-Israel peace deal kickstarts long-stalled F-35 purchase from Washington




The US administration, however, is reportedly exploring what options it has to push the sale through without angering its long-term Middle East ally. Those include ways to make the F-35 more visible to Israeli radar systems, two sources told Reuters.
It's not immediately clear how this can be achieved, however, as low observability – that is, stealth – is its primary selling point. Making the aircraft more visible would require either constructing a special, less stealthy version specifically for the UAE or somehow upgrading the already advanced Israeli radar systems.
Neither the UAE nor Washington responded to Reuters' request for comments, while the Pentagon told the agency that "as a matter of policy, the United States does not confirm or comment on proposed defense sales or transfers until they are formally notified to Congress."
The Gulf state has been trying to procure the advanced aircraft for years, but speculation about the potential purchase were reinvigorated in recent weeks, after the Arab nation formally normalized its relations with Israel. The peace deal is also set to kickstart broad trade ties between the former rivals.
Last week, the UAE minister of state for foreign affairs, Anwar Gargash, said the signing of the deal should dispel "any grain of doubt" in Israel about the UAE buying the jets. US President Donald Trump, for his part, said he would have no objection to selling the jets to the emirate, nor to other nations in the Middle East, as long as it would be beneficial for his country and the American job
Third time's the charm? Armenia & Azerbaijan pledge to resume ceasefire on Monday after talks in Washington
Yerevan and Baku have renewed their commitments under a ceasefire deal, agreed earlier this month in Moscow but plagued with violations from both sides, after separate meetings with US officials in Washington.
Armenian and Azerbajani foreign ministers, representing the two regional rivals locked in a decades-old conflict over the disputed Nagorno-Karabakh, have "reaffirmed their countries' commitment to implement and abide by the humanitarian ceasefire agreed in Moscow on October 10," the US, Armenia and Azerbaijan said in a joint statement released by the US Department of State on Saturday.
The truce is set to come into effect at 08:00 am local time on Monday.
#BREAKING: After 3 days of negotiations in the United States, parties reaffirmed their commitment to implement and abide by the humanitarian ceasefire previously announced on October 10, 2020. It'll take effect at 08:00 a.m. (local time) on October 26, 2020.#CeaseAzeriFirepic.twitter.com/Vt1maFwsCW

— Khazanchyan (@khazanchyan) October 25, 2020
The fresh attempt at bringing hostilities between the warring parties to an end came after a series of meetings between top Armenian and Azerbajani diplomats and senior US officials. On Friday, US Secretary of State Mike Pompeo sat down separately with Azerbaijan FM Jeyhun Bayramov and his Armenian counterpart Zohrab Mnatsakanyan. The negotiations also involved Trump's National Security Advisor Robert O'Brien, who welcomed the news, adding that US Deputy Secretary of State Stephen Biegun "played a key role" in the breakthrough.
(2 of 2) "Congratulations to all of them for agreeing to adhere to the cease fire today. Lives will be saved in both nations. @SecPompeo & Stephen Biegun played a key role. Well done." – NSA Robert C. O'Brien

— NSC (@WHNSC) October 25, 2020
Since the heavy fighting broke out between Armenia and Azerbaijan on September 27  in what has become the most intense flare-up of the smoldering territory dispute since the 1994 armistice, there have already been two attempts to broker a truce. The previous ceasfires quickly collapsed, however.
The original October 10 ceasefire, struck after marathon talks in Moscow and mediated by Russian Foreign Minister Sergey Lavrov fell through hours after it took effect, with Armenia and Azerbaijan trading blame for its premature demise.
The second attempt  at agreeing to a pause in fighting came on October 17, but that ceasefire did not hold for much longer either.



Also on rt.com
Turkey's interest in Nagorno-Karabakh conflict motivated by control over Caucasus oil & gas supply, says Armenian president




In a separate statement on Saturday, the OSCE Minsk Group, co-chaired by Russia, France and the US, said that its co-chairs and the two foreign ministers met in Washington to discuss  "an immediate humanitarian ceasefire, possible parameters for monitoring the ceasefire, and initiating discussion of core substantive elements of a comprehensive solution" of the conflict.
The group said that the next such meeting will take place on October 29 in Geneva to discuss a roadmap to "a peaceful settlement."
While US President Donald Trump touted the "really good progress" he claimed was achieved, it remains to be seen if the freshly-agreed ceasefire survives any longer than its short-lived predecessors.



Also on rt.com
Trump touts 'really good progress' at Armenia-Azerbaijan talks in Washington as shelling in disputed Nagorno-Ka
Covid in Australia: Victoria sees first day without a case since June
Victoria in Australia has recorded no new Covid-19 cases for the first time since Melbourne – the state capital – went into lockdown 111 days ago.
The state was the epicentre of Australia's second wave, accounting for over 90% of the country's 905 deaths.
It saw cases surge to over 700 per day in July, but severe stay-at-home rules and a curfew have curbed the numbers.
State officials are expected to soon ease restrictions in Melbourne, the country's second-largest city.
An announcement had been expected on Sunday, but a small outbreak in the city's north warranted a delay, Premier Daniel Andrews said.
But on Monday the state health department reported no new cases from the outbreak, and no new deaths across the state. The state has not seen a day of no cases since 9 June.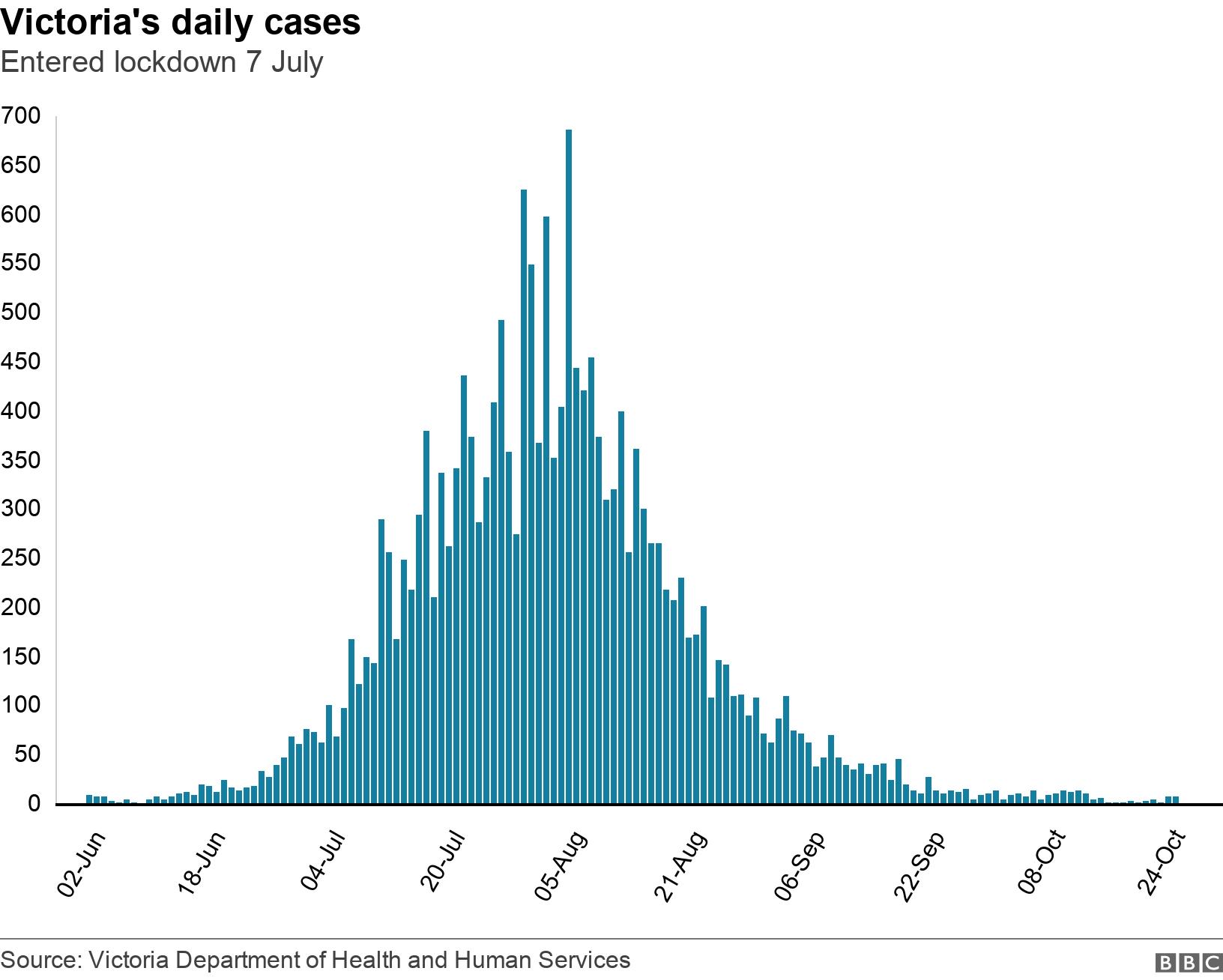 Melbourne entered the current lockdown – its second for the year – on 7 July.
Stay-at-home restrictions were later imposed on the rest of the state, but Melbourne has endured the toughest measures.
Australia has recorded nearly 27,500 infections and more than 900 deaths.
Most retail stores, restaurants and workplaces remain closed and most home visits are still banned.
Until last week, Melburnians also had to endure a two-hour limit on outdoor socialising and exercise, and could only travel within 5km (3.1 miles) of their home.
The heavily policed lockdown – one of the toughest in the world – has divided opinion among the city's residents and prompted small protests.
As case numbers have fallen in recent weeks, business owners have been among the loudest critics calling for the state to re-open, but others have given vocal support for the restrictions.
More on Melbourne's lockdown:
The state government has also faced scrutiny over how the virus was able to gain hold across Melbourne, after spreading from hotel quarantine for returned travellers.
A judicial inquiry into the matter has heard there were weaknesses in cont
'Just like posts on Holocaust': Pakistani PM Khan calls on Facebook to ban all 'ISLAMOPHOBIC' content
Pakistan's Prime Minister Imran Khan has written to Facebook CEO Mark Zuckerberg, urging him to ban all "Islamophobic content" on the platform, claiming Muslims are being subjected to a Holocaust-like "pogrom" across the world.
Praising recent Facebook's decision to weed out all content that "denies or distorts" the Holocaust, Khan urged the social media platform to implement similar rules in regard to "Islamophobic" posts.
"I appreciate your taking the step to rightly ban any posting that criticizes or questions the Holocaust, which was the culmination of the Nazi pogrom of the Jews in Germany and across Europe as Nazis spread across Europe," the PM wrote. It was his contention, he said, that Muslims were facing a "similar pogrom" worldwide today, as well as "rampant abuse and vilification on social media platforms."
The message of hate must be banned in total – one cannot send a message that, while hate messages against some are unacceptable, these are acceptable against others.
The Pakistani PM did not specify exactly what content should be deemed "Islamophobic," but gave several examples of the alleged persecution of Muslims. He did not miss the opportunity to take a jab at his country's arch-rival, India, accusing that nation's government of implementing discriminatory laws, practicing the "targeted killings of Muslims, and blaming Muslims for coronavirus."
He also criticized France, where "Islam has been associated with terrorism," while publication of anti-Muslim "blasphemous cartoons" is encouraged. Earlier in the day, Khan chastised French President Emmanuel Macron, claiming he had "attacked Islam" by supporting the display of the offensive cartoons.