Television rating points are once again in the news after the Mumbai police claimed it had busted a racket involving manipulation of TRPs by unscrupulous channels to fraudulently boost viewership data and mislead advertisers.
The ongoing investigation has unearthed that five panel TV homes –households where meters are installed to capture viewership – were compromised to rig viewership of certain channels.
That's correct, just five homes.
What difference can five homes make in a country with a TV viewing universe of 836 million? The answer: A big one among smaller genres like English news, niche categories like infotainment, and even some regional channels.
Take the example of Mumbai, the financial capital of the country. The city has over 2,000 bar-o-meters installed by Broadcast Audience Research Council India, which is around 5% of the 44,000 meters that BARC claims to have installed across the country.
As per last week's viewership of the English news genre, the average reach of all the English news channels put together was 0.4% in Mumbai, and the average time spent per channel was around 15 minutes for the entire week.
Effectively, just eight panel homes watched these channels in Mumbai last week, giving them a disproportionate weightage in ratings.
Here's how.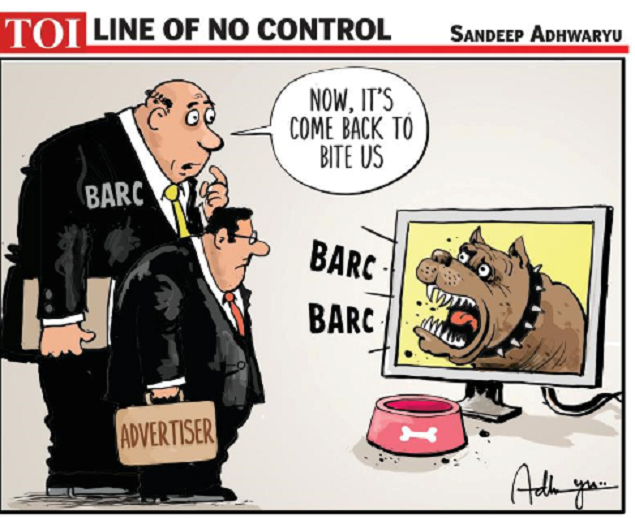 Hypothetically, if one channel identifies even two homes with these bar-o-meters and pays them to watch one particular news channel for 2 hours, instead of 15 minutes, in a week, the average time spent on that channel will go up by a whopping 175% to over 41 minutes. As reach has remained the same, TRPs of the channel in Mumbai alone will also go up by 175%.
The other fundamental issue with TRPs is the mechanism. While every effort is said to be made to keep the list of panel homes confidential, the vulnerability lies in the human chain: A TV channel bribes a relationship manager in the research set-up, who then 'incentivizes' a few households to keep the channel switched on. "Rigging of 10-20 homes or even up to 50 homes will not have any impact on mass entertainment channels, but for smaller genres, ratings will widely swing in their favour," said a top TV executive of a channel.
TOI spoke with multiple executives across TV channels and media agencies and most of them asked for anonymity to speak freely as the matter is too sensitive and their clients are directly involved.
Rig The Gig
Since the advent of the ratings system in India, channels have tried to use unscrupulous methods to manipulate ratings.
While BARC's role as a ratings agency is now under intense scrutiny, its predecessor, TAM, which was a joint venture between Nielsen and Kantar, was also criticised on similar grounds. Earlier in July, the News Broadcasters Association (NBA) had accused BARC of "conniving" with TV9's Bharatvarsh, a Hindi news channel, to manipulate viewership.
Rajat Sharma, president of the NBA, told this correspondent that the events that have unfolded in the last few months and particularly the last three days, have clearly demonstrated that there are "weaknesses" in the rating system.
"BARC itself has acknowledged in its police complaints that metered homes are being manipulated. The investigation has exposed that panel homes were being compromised by certain channels. It has been done with the help of ex-employees who are familiar with the system and aware of which homes have meters," said Sharma, who is also chairman of India TV.
Corrupted data, Sharma added, is creating a false narrative on 'what India watches' and is putting pressure on newsrooms to make editorial decisions that are distorted and based on inaccurate information.
Industry mavens say broadcasters themselves will have to stop the practice. "There is no vaccination against this man-made problem," said the CEO of an ad agency. "All stakeholders have to understand that TV measurement is an industry service and the people who created the service should abide by a set of ethics."
An email query sent to BARC India remained unanswered till the time of going to press.
A senior TV executive said that if people are intent on beating the system by unethical practices, there is no foolproof solution against such frauds. "There are numerous statistical forensic methods used continuously by the system. But one has to understand that between 44,000 meters, the system is generating data points for every individual every 8 seconds. The quality control algorithms check data points randomly, and will not keep checking the same household," he explained.
Big Returns On 'Investment'
TV channels, especially those that are free-to-air (FTA), are dependent on advertising revenues. For them, spending a few lakhs on tampering with viewership data could yield big gains.
"The upside is too big to not take such risks, which is why many channels keep doing this, instead of spending money on quality content," said the distribution head of a TV channel.
BARC India uses third-party vendors for installation, maintenance, and operation of bar-o-meters at panel homes. For this, it pays Rs between 150-Rs 750 per month to these panel homes. Which makes it challenging to get higher socio-economic classes to allow these meters to be installed in their homes. In effect, it leaves the top 2.5% of Indian viewers out of the viewership measurement system.
"There is no motivation for most of the higher economic classes to allow bar-o-meters in their homes. Thus the entire ratings are coming from 'economically weaker' households, who are easy to target. It's like elections, where people cast their votes in favour of one candidate for money," said a business head of a channel.
BARC has been working on mitigating these risks. In April 2017, it set up a six-member independent disciplinary committee headed by Justice (retired) Mukul Mudgal to investigate and address complaints of viewership malpractices and tampering of its measurement system. In the next 28 months, the council referred 18 cases to the committee with evidence of malpractices.
"The issue is that BARC complains but police doesn't lodge FIRs in many smaller cities," said a person closely associated with BARC. "They think it is a frivolous thing to charge people for accepting money to watch more TV. Any attempts at rigging data need to be punishable under the law."
Vicious Cycle
The entire consumer classification system, or NCCS, based on the chief wage earner's education and number of "consumer durables" (from a pre-defined list) owned by the family is outdated, say media industry insiders. What's more, it is based on a 2017 survey, after which a lot has changed in the TV universe thanks to sector regulator Telecom Regulatory Authority of India (TRAI)'s new tariff order (NTO). Post implementation of NTO, consumers can select only the channels they want to watch at the MRP of each.
"Does it actually represent India's TV viewing universe? The answer is no. The sample is extrapolated on the basis of an old establishment survey, which was done two and half years ago. It doesn't reflect the dynamic situation on the ground," said a TV research executive. "It pre-dates NTO, which represented a tectonic shift in the distribution space. By gut feel we know that the TV universe has shrunk and many people have moved from cable TV to DTH. A lot of these shifts aren't captured."
Then there's the issue of sample size. Even at 44,000 meters, many in the industry feel that the sample is inadequate and there's need for more boxes to diminish relative error in viewership. Ultimately, TV executives say it is a vicious circle that is going to affect the entire industry in the long term, which might see advertisers moving to digital platforms if not corrected immediately.

Polls amid Covid-19: Govt enhances expenditure limit of candidates
NEW DELHI: The poll spending limit for candidates contesting Lok Sabha and assembly elections has been enhanced by 10 per cent based on the recommendation of the Election Commission that contestants be allowed to spend more on campaigning keeping in mind difficulties they may face due to Covid-19 curbs.
The hike in expenditure limit will help candidates contesting Bihar assembly poll as well as bypolls to one Lok Sabha and 59 assembly seats.
Over a month ago, the Election Commission had recommended a 10 per cent hike in expenditure for all elections to be held during the Covid-19 pandemic.
The hike was recommended keeping in mind the difficulties candidates may face in campaigning amid the restrictions imposed, including those on holding rallies amid the pandemic.
The notification issued by the Law Ministry on Monday night said the maximum expenditure a candidate can incur for campaigning in Lok Sabha polls is now Rs 77 lakh. It was so far Rs 70 lakh.
For assemblies, it has been hiked from Rs 28 lakh to Rs 30.8 lakh.
The maximum expenditure limit for candidates to spend for their campaigning varies from state to state.
The notification, which amended the Conduct of Elections Rules, does not mention that the limit has been hiked keeping in mind the pandemic and whether it is limited for polls being held amid Covid-19.
The amended rules, the notification said, "Shall come into force on the date of their publication in the official Gazette and shall remain in force till such date as may be notified by the Central Government."
"The maximum expenditure limit was enhanced for a reason. But the notification need not mention the reason," explained a senior EC functionary.
The last time the expenditure ceiling was enhanced was in 2014 just ahead of the Lok Sabha polls.
Assembly polls in Bihar will be held on October 28, November 3 and November 7.Most of the assembly bypolls will be held on November 3.
Bypolls to the Valmiki Nagar Lok Sabha seat in Bihar and some assembly seats in Manipur will take place on November 7.

Death of an infant shows cruelty of starving in a country of food abundance
Nafisa watched her baby's life drain away.
She and her husband struggled to make even 1 rupee (1 cent) a day from their tailoring business after India went into a Covid-19 lockdown in March. They often have nothing to eat. Nafisa was breast-feeding little Aaris, and with hardly any food for herself, she simply couldn't produce enough milk. He grew weak, and his skin yellowed with jaundice. Hungry and in pain, he sobbed and howled. He died in his mother's arms just a few weeks into the lockdown, at four months old.
It was an especially cruel tragedy because it happened in a country that boasts about having the world's largest food-aid program. Government warehouses brim with more than 70 million metric tons of grains, or almost 15% of global stockpiles, and the nation's wheat and rice harvests have surged to records. Still, like millions of other Indians, Nafisa has never gotten any of the subsidized food promised by Prime Minister Narendra Modi's administration. Her 5-year-old son, Salman, doesn't even bother asking for food anymore, because he knows there's no point.
Millions Missing Cheap Food in India Where Grain Depots Are Bulging "My son died due to hunger when he was four months old. We don't have a ration card that could have supported us." said Nafisa, at her home in the Banda district. Photographer: Prashanth Vishwanathan/Bloomberg "Nobody is listening to us," 24-year-old Nafisa, who goes by a single name, said from the Banda district in Uttar Pradesh state. Recounting how she applied in vain time and again for the ration card that would help feed her family, she broke down in tears.
"If we had the card, at least we could feed our child."
Governments across the world have failed to prevent a hunger crisis that is reaching monumental proportions. Globally, as many as 132 million more people than previously projected by the United Nations could go hungry in 2020. The total increase for this year could be more than triple any this century, even at a time of ample food supplies, as the pandemic sharpens the world's deep inequalities.
Covid-19 is also exposing India's big divides, like access to quality health care and proper sanitation. And of course, there's the basic question of who gets to eat, and who doesn't. Even before the lockdowns, roughly three-quarters of the population (more than 1 billion people) couldn't afford a healthy diet.
To meet the need, the government is required by law to provide as many as 5 kilograms (11 pounds) of rice, wheat and coarse grains at subsidized rates as low as 1 rupee per kilogram to anyone who needs it. The cheap staple foods are sold at so-called fair price shops, where buyers need a government issued ration card to make a purchase at the give-away rates. India spends more than 1 trillion rupees ($13.6 billion) on the program.
But there are still tens of millions getting locked out of the assistance.
Bureaucratic difficulties were cited by the government's think tank Niti Aayog as the single most-important reason blocking access to the food program. Raja Bhaiya, the secretary of aid group Vidya Dham Samiti which works in the Banda district, said some shopkeepers also direct grain that's meant for the program for their own sales, at higher prices.
The biggest problem with the program, though, is that it's woefully underfunded. More than 100 million people are being left out of the current budget, according to Jean Dreze, a visiting professor with Ranchi University in eastern India, who helped draft the national food law. The government is allotting its funds using 2011-2012 census data. Back then, the population was a little more than 1.2 billion. Now it's grown to roughly 1.38 billion.
Siraj Hussain is a former chairman of state-run Food Corp. of India, the agency that oversees the food procurement program. He agrees about the problems with the old figures. The dated census data means that the actual number of those in need "is not known," said Hussain, who's now a visiting senior fellow at the Indian Council for Research on International Economic Relations in New Delhi.
That means local agencies like the one Nafisa visited receive more applications than they have quotas for, according to two officials with the program in Uttar Pradesh who asked not to be named because the information isn't public. There are thousands of pending applications in the rural Banda district, according to one of the officials. The majority of those applicants should technically be granted approval based on the food law, but because local quotas are already filled, they are usually rejected or left in limbo. Only when someone who's already enrolled in the program dies or is otherwise deleted from the list does a spot open to issue a new card, the officials said.
Sudhanshu Pandey, India's food secretary, acknowledged that government benefits are being calculated based on the old census data in emailed comments to Bloomberg. The federal government is responsible for procurement, storage and bulk allocation of food grains to states, which are responsible for identifying beneficiaries and issuing ration cards, he said. The food department is regularly advising states to cover any left-out eligible persons, within the coverage limits, he said. During the pandemic, the program has been scaled up, with Uttar Pradesh alone adding about 4 million people.
Uttar Pradesh is India's most populous state. The Banda district, Nafisa's home, is among the poorest, with its children suffering some of the worst rates of stunting from malnutrition in the country.
Anand Kumar Singh, district magistrate of Banda, didn't respond to emailed questions. Bloomberg tried more than five times to speak to him on the phone.
Millions Missing Cheap Food in India Where Grain Depots Are BulgingRation card holders collect food from a state-run ration store in Banda. There are thousands of pending applications in the rural Banda district, according to an official at a local agency. Photographer: Prashanth Vishwanathan/Bloomberg Nafisa has made several trips to the local office where she's supposed to sign up for the ration card. Each time she gets turned away without one, and she's never given a clear reason why.
"We are in a dire situation," she said. "There is nothing in the kitchen."
The government has taken some steps to mitigate the situation as Covid-19 continues to spread — India now has the second-highest number of cases in the world, trailing only the U.S. Stimulus measures include offering an additional 5-kilogram grain package per person for free until November to the more than 800 million who are covered by the food program. On top of that, about 80 million migrant workers, some of whom don't have access to the food program, were also offered grains for free in May and June.
Millions Missing Cheap Food in India Where Grain Depots Are BulgingThe flats where Nafisa and Mubina Khatoon live in Banda. Khatoon applied for a ration card again in June. Each time she checks with her local agency, she's told that it's still in process. Photographer: Prashanth Vishwanathan/Bloomberg The virus outbreak is also accelerating India's push to digitize the food-rationing system, allowing citizens to receive entitlements anywhere in the country rather than just in their home towns.
But the problem remains that millions haven't been granted access to the program.
Ram Kumar, who also lives in the Banda district, first applied for a ration card in 2019. Since then, he's made trip after trip to the agency to inquire about his status. Each time he's offered what feels like a different excuse for why he hasn't been approved yet.
"The officials scold us when we go to check the status," the 39-year-old said.
He's been out of work for months, relying on savings to feed his family of four. Now, the money has run out. His wife and two children have left to live at his in-laws' houses. To feed himself, he's sunken into a debt trap — first borrowing from his employer, then taking a loan from village lenders to pay back that advance on his salary.
"I will try again for a ration card when the next government comes to power, and if that doesn't happen we will continue living like this," he said. "I never expected it would be that difficult to get a ration card."
Millions Missing Cheap Food in India Where Grain Depots Are BulgingUnemployed migrant worker Ram Kumar prepares to cook at his home in the Banda district. To feed himself, he's sunken into a debt trap. Photographer: Prashanth Vishwanathan/Bloomberg The government is hesitating to expand the program to cover more people as higher expenses on subsidized food will widen the nation's fiscal deficit, said Dreze of Ranchi University.
Some economists in the country are calling for a universal public distribution system, removing the need for a ration card to access the subsidized-grain stores and opening them up since the state is sitting on huge crop stockpiles.
"I would favor providing food to all who arrive at the ration shops," said Rohini Pande, Henry J. Heinz II professor of economics and director of Yale University's Economic Growth Center. "The government should also sell other essential items such as edible oil, sugar, vegetables and milk at subsidized rates."
Mubina Khatoon, a 34-year-old homemaker in the Banda district, first applied for a ration card back in 2019. That application was canceled by the local office, though she wasn't told why.
Back then, Khatoon's family would end their days with meals of rice, lentils and vegetables, even meat or fish on occasion. But now her husband, Sheeraj Ahamad, is lucky when his work as a hawker selling clothes brings in 200 rupees once in a while. A stark turnaround after making as much as 600 rupees a day in the months before Covid. Dinner these days is often little more than chapatis, a homemade flatbread made from wheat flour.
Millions Missing Cheap Food in India Where Grain Depots Are BulgingKhatoon displays the amount of grain she has left to feed her family. Dinner is often little more than homemade flatbread. Photographer: Prashanth Vishwanathan/Bloomberg In just a few months, Khatoon dropped 9 kilograms (20 pounds). Her 11-year-old son is down almost the same. Her husband, who carries a heavy load of clothes from to village to village, is down a whopping 20 kilograms, she said.
Khatoon applied again for a ration card in June, and each time she checks with her local agency, she's told that it's still pending.
"What do we eat to survive? What do we feed our child?" she said. "All our food containers are empty."

Protesting AAP MLAs spend night in Punjab assembly complex
CHANDIGARH: Protesting against non supply of copies of the proposed legislation to be tabled in the special session of Punjab Vidhan Sabha against the Centre's farm laws, 13 MLAs of Aam Aadmi Party (AAP) spent Monday night inside the assembly.
Earlier, on Monday, the AAP MLAs remained on sit-in inside the House till 7pm even after it was suspended for the day. Later, they were requested to move so that the assembly hall could be sanitised for the next day and the protesting MLAs moved their protest to the MLAs' lounge outside.
The proposed bill will be tabled in the House on Tuesday and the AAP MLAs wanted a copy of the draft well in advance to study it.
Leader of opposition (LoP) Harpal Singh Cheema accused the Congress government of conspiring against the interests of farmers of Punjab by withholding important information regarding deadly Bills related to the future of Punjab, to be tabled in the House.
He said that CM Amarinder Singh, along with the then Manmohan Singh government, got a standing ovation for the alleged "bogus" water cancellation act, bringing no cheer to Punjab. The LoP alleged that the contentious laws were being introduced on similar lines by the Amarinder Singh government in cahoots with the Modi government at the centre.
The AAP leader further asked why the information was being kept a top guarded secret, adding that it should have been passed provided to the opposition and the representatives of farmers' organizations and other agriculture legal luminaries.