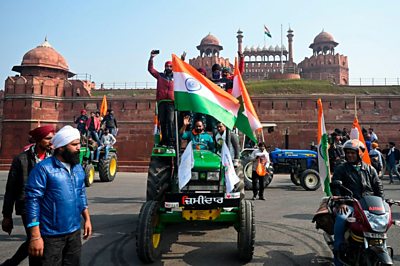 Tens of thousands of farmers have entered Delhi on tractors and on foot to protest against new farm laws.
The tractor rally coincides with India's Republic Day celebrations. Police used fired tear gas in some places when farmers broke through barricades and diverted from the agreed route.
Tuesday's rally is the latest episode in a months-long protest, one of the longest farmers-led agitations India has ever seen.
The government has offered to put the laws on hold, but farmers say they will settle for nothing short of a repeal.
Edited by Anshul Verma
BBC
BBC News is an operational business division of the British Broadcasting Corporation responsible for the gathering and broadcasting of news and current affairs.
Related posts