Tiger King: New ad demands answers about Carole Baskin's missing ex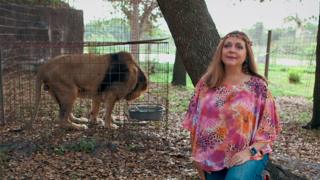 Tiger King's Carole Baskin's debut on Dancing With The Stars was overshadowed by an advert shown in the break.
It was paid for and featured the family of the Netflix star's missing ex-husband Don Lewis.
They asked viewers to pass on any information about his disappearance or Carole Baskin's alleged involvement.
In the Tiger King series, it was claimed she fed him to tigers at Big Cat Rescue – something she has denied multiple times.
Carole Baskin was given the opportunity to appear on ABC's Dancing With The Stars after the success of the documentary earlier this year.
In Monday night's debut she performed a paso doble with pro dancer Pasha Pashkov that opened with him locked in a cage with stuffed tigers.
It was given 11 by the judges but it was the advert in the commercial break that got the biggest reaction online.
It featured Don Lewis' three daughters – Gale, Lynda and Donna plus his former assistant, Anne McQueen.
In the short film the eldest daughter Donna says: "We need to know what happened to our father."
The family lawyer John Phillips also speaks and specifically names Carole Baskin.
"Don Lewis mysteriously disappeared in 1997, his family deserves answers, they deserve justice. Do you know who did this or if Carole Baskin was involved?" he asks.
The family then offer a $100,000 (£78,000) reward for information and asked viewers to call a phone line.
Don Lewis went missing 23 years ago. He disappeared a day before a scheduled trip to Costa Rica, and was declared legally dead in 2002.
Asian stock markets continue the global fallout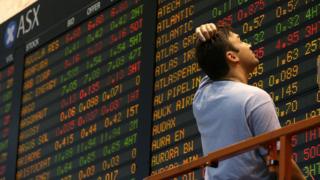 Stock markets in Asia suffered on Tuesday from the fallout from UK and US investors worried about a rise in coronavirus cases.
The biggest falls in the region were recorded in Australia, where shares hit a three-month low.
Investors have also been rattled by dimming hopes for more financial support for the US economy.
Stock markets fell across South Korea, Hong Kong and China, while Japan was closed for a public holiday.
On Monday, UK and US stock markets suffered heavy losses over fears that a renewed rise in coronavirus cases will blight economic prospects.
More than £50bn was wiped off UK shares, and caused similar falls across European and US stock markets.
The negative sentiment spread into Asia, which has previously been the focus of optimism from China's continued economic recovery.
Australian shares were dragged to their lowest level since mid-June, under pressure by its mining and energy stocks.
Major mining firms BHP Group and Rio Tinto both fell around 2%.
Multiple tensions
"The biggest issue for local markets is how the battle for tech sector super dominance plays out between the US and China, which is getting viewed through the lens of the ByteDance /Oracle -Walmart d
'Without any basis in intl. law': Venezuela blasts US sanctions on Maduro & Iran as 'sustained aggression'
Venezuela has slammed a new round of US sanctions on President Nicolas Maduro and Iran as aggressive and illegal, while also contesting a new UN report alleging official abuses, saying it used "human rights as a political weapon."
"Venezuela denounces the new US aggression to the international community, announcing alleged unilateral sanctions against President Nicolas Maduro, as part of a sustained campaign of aggression against the Islamic Republic of Iran and our country," Foreign Minister Jorge Arreaza wrote in a tweet on Monday.



Also on rt.com
Pompeo announces new US sanctions on Iran's defense ministry




Caracas said Washington's actions showed it had "no respect whatsoever" for the UN and that the new sanctions were imposed "without any basis" in international law. It also vowed that "no intimidating and arrogant action by the US government" would deter Venezuela from friendly relations with Iran.
Hours prior, the US State Department announced a fresh round of penalties on both Tehran and Caracas – including Maduro and a number of Iranian entities – accusing the two nations of working together to "flout the UN arms embargo" on Iran.
"Our placing sanctions on Maduro today is a warning that should be heard clearly worldwide: no matter who you are, if you violate the UN arms embargo on Iran, you risk sanctions," Secretary of State Mike Pompeo said while announcing the new measures on Monday.
Though the weapons ban is set to expire in October, Washington has insisted it would remain in force "indefinitely," despite a failed US-led effort to extend the embargo in the UN Security Council last month. The new penalties also come days after the US unilaterally declared the resumption of the UN's "snapback" sanctions on the Islamic Republic, invoking the Iran nuclear deal that Washington withdrew from as far back as 2018. The move has faced nearly unanimous opposition in the Security Council.



Also on rt.com
Venezuelan police & security forces committed 'arbitrary killings and systemic torture,' UN fact-finding mission claims




Arreaza also took aim at a recent UN fact-finding report which alleged serious abuses by Venezuelan authorities, including extrajudicial killings and torture. The FM rejected the report as "false" in a separate tweet, accusing the international body of "using human rights as a political weapon" while sharing an analysis by local investigative outfit Mission Truth, which slammed the report as inaccurate and politically motivated.
The FM previously denounced the UN report after it was issued last week, insisting it is "plagued with falsehoods," lacking in "methodological rigor" and "created for ideological purposes by countries with terrible human rights records" in order to "attack Venezuela."
Washington has continued to step up its sanctions campaigns on both Iran and Venezuela in recent months, frequently expanding "maximum pressure" penalties on Tehran as it seeks to drive the country's oil exports to "zero," while also pushing for a reimposition of the UN sanctions despite near-universal opposition internationally, including from US allies. Meanwhile, the US has indicted the Venezuelan leader on "narco terrorism" charges and brought several layers of sanctions over the last year, largely taking aim at Iranian fuel shipments into the country, even seizing four gas tankers bound for Venezuela last month.



Also on rt.com
Venezuela's oil exports crash to 77-year low amid crushing US sanctions




Think your friends would be interested? Share this story!
Ava Max: 'I need to make it, no matter what'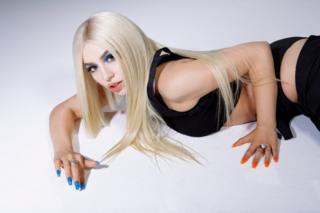 Ava Max is running late. The pop star is meant to be promoting her debut album, Heaven & Hell, with a day full of Zoom interviews, but her laptop has disappeared.
It takes 30 minutes to track it down, while her PRs fire off apologetic emails to journalists sitting in online waiting rooms.
Then, as if by magic, she pops up on the screen, sitting on her sofa in LA, without a single, asymmetric hair out of place.
"I'm so sorry!" she says. "I was playing music outside yesterday and I left my laptop out there. When I couldn't find it in the house, I was freaking out."
Max is speaking two years after the release of her breakthrough single, Sweet But Psycho, which topped the charts in 20 countries, and sold two million copies in the UK alone.
Since then, the singer-songwriter – who was born Amanda Koci in 1994, to Albanian-immigrant parents in Milwaukee – has released enough thundering, maximalist pop anthems to destroy a spin class, from the outsider anthem So Am I to the current chart hit Kings And Queens.
Her debut album combines those seven singles with a clutch of new songs ("no ballads," she points out). With early reviews comparing it to Abba and Lady Gaga, it's on course to be the UK's number one on Friday.
"It's crazy to be releasing my debut during a global pandemic," says the star. "I miss being on tour – but I know that day will come, so as long as everyone's healthy, that's all that matters."
What's your first musical memory?
I'd have been seven or eight years old. My mom would just walk around the house singing opera – and I started singing with her.
Was she a trained opera singer?
She did go to school for it – so yeah, she was trained.
Did she ever sing professionally?
No, she wasn't able to. It's always been her dream but she came to America and got lost in working and taking care of me and my brother. It was a tough one for her to say no to.
Who were your inspirations growing up?
I was listening to Mariah Carey, Whitney Houston, all the big pop artists – and a little R&B with the Fugees, you know?
Who was the first person outside the family who told you that you could sing?
Man, that's a tough one. I was never consistent with vocal coaches. I was like a little girl who was always running around being rebellious – but I had this one vocal coach who told me, 'It's not special that you can sing. A lot of people can sing. It's more about how badly you want it. How hard are you going to work for it?' That really stuck with me.
Do you still do the scales now? Do you practise every day?
You know, here and there.
That sounds like a 'no'.
No, I do! I do! If I didn't, I'd mess up my vocal cords.
You entered a lot of singing competitions as a child. What was that like?
There was a thing called Talent Rock down in Florida, and I drove there from Virginia with my mom. There was, like, 3,000 kids auditioning and I got in the top three.
The only reason I didn't get number one was because the winner did three back backflips before singing. I was just crying like, 'That's not fair!'
Yeah, that's not really got anything to do with vocal talent, has it?
But it looked cool.
You released an EP when you were 14 under the name Amanda Kay. How did that come about?
I released a couple of EPs actually. You don't want to uncover those!
Too late! But I think I Need You holds up as a decent mid-2000s pop song.
It's a very old song, but thank you. I was about 12 years old when I recorded that in Miami.
I love that time in my life but, you know, the music? I'm like, 'Meh.'
What's the first song you wrote where you felt, 'This is it. This is who I'm supposed to be'?
It's a mixture between Not Your Barbie Girl and Sweet But Psycho – because they both feel very strong and bold, which is what I'm like as a person.
Your lyrics avoid a lot of the pop clichés about love and romance. What's your writing process like?
It's like surgery. We take our time, and we go one by one, dissecting everything because if I don't love the message I cannot sing it.
So, most likely I'll be in the studio, in my headphones and writing a melody on the beat. Whatever I'm feeling in my heart is what comes out, if that makes sense.
So it's totally spontaneous? You don't keep notes or a book of ideas?
Literally, that's me.
There's a fantastic line in OMG What's Happening: 'There's something about your face / I don't know whether to kiss it or punch it.'
Oh my god! I did that in the beginning of quarantine, and I was laughing so hard because actually, at first, it was a joke, and then I'm like, 'Wait, this is awesome.'
Who did you have in mind when you wrote it?
Every ex-boyfriend!
Sweet But Psycho was your big break. What was it like to see it conquer the world?
Oh gosh, there were just so many big accomplishments every single day