Three HUGE asteroids headed towards Earth, after amateur astronomer spots massive space rock our planetary defenses MISSED
Scientists are getting better at spotting inbound, "potentially hazardous" asteroids, with three more measuring over 15 meters in diameter on the way this week. However, asteroid hunters missed a 1,000m space rock just last month.
The Earth is under near-constant threat from space debris in the form of asteroids and meteorites, and this week is no exception, with two smaller space rocks due to buzz the planet today and tomorrow. 
Meanwhile, later in the week, NASA gave the 'heads up' about three asteroids, each measuring over 15 meters.
On September 16, asteroid 2020 RW3, which measures roughly 18m in diameter (or twice as long as a London bus) will shoot past the Earth at a distance of 2.5 million km.
The week's asteroidal assault will conclude on Thursday with two much larger space rocks: the 30-meter 2020RN1 (twice the height of the Hollywood sign) and the 62-meter 2014 QJ33 (30 Shaquille O'Neals stacked on top of each other), which will pass at a safe distance of seven million and 2.5 million km respectively.
Lest anyone get too comfortable though, in yet another reminder that humanity must remain ever-vigilant for spaceborne threats, an amateur astronomer in Brazil discovered a large asteroid that somehow slipped past Earth's main planetary defenses just last month.



Also on rt.com
NASA warns of 4 inbound asteroids as ESA shares VIDEO showing just how hard they are to spot




Asteroid 2020 QU6, measuring 1,000 meters wide, large enough to inflict significant damage here on Earth if it hit, was spotted by amateur astronomer Leonardo Amaral based at the Campo dos Amarais observatory in Brazil, on August 27. 
Mercifully it passed us at a distance of 40 million kilometers, over 100 times the distance between Earth and the moon, on September 10.  
Amaral managed to spot the asteroid thanks to his somewhat unique vantage point as he is based in the southern hemisphere, whereas many of our asteroid-hunter telescopes are based in the northern hemisphere. 
"This discovery reminds us that even though we've found most large NEOs [Near-Earth Objects] we haven't found all of them," said Casey Dreier, chief advocate and senior space
'Bizarre & deeply disturbing': MSM think that RT's Trump deepfake parody is ADMISSION he is 'Putin's pawn'
By Nebojsa Malic, senior writer at RT
A satirical video using "deepfake" technology to show US President Donald Trump as coming to work for RT after the November election was taken very seriously by 'Russiagate' peddlers at the Daily Beast and the Lincoln Project.
In a pearl-clutching piece written by a journalist based in Scotland, the Beast called the ad – which features an actor made up to look like the president uttering actual Trump soundbites taken out of context – "bizarre and, frankly, deeply disturbing." The author, Jamie Ross, argued its message was "to not-so-subtly suggest that Putin is Trump's personal hero and that the US president is in the pocket of the Kremlin."
A bizarre and disturbing ad from the state-controlled RT network shows a deep-faked President Trump joining the channel as an anchor. "They're very nice. I make a lot of money with them. They pay me millions and hundreds of millions," the character says. https://t.co/3h6OLO4FfH

— The Daily Beast (@thedailybeast) September 23, 2020
That's not the only bit of mind-reading Ross indulges in, either, as he opens the piece by declaring, "We know that Vladimir Putin takes his lifelong campaign to disrupt American democracy and destroy the very foundations of Western civilization extremely seriously."
It's a bit rich for the outlet that purports to 'know' this, and has spent the past four years furiously insisting that Trump is Putin's puppet, to now take umbrage at RT supposedly saying so. It's even richer when the "Lincoln Project" – a group of disgruntled Republican campaign consultants, whom Trump made unemployable, now in the service of Joe Biden and the DNC – takes the RT video literally.
What neither the Beast nor the "Lincolns" seem to have realized is that the joke was entirely on them. The video doesn't mock Trump as much as the US media and activists – like them – who have obsessed for the past four years over the very claim it lampoons, that the former real-estate mogul-turned-president was somehow an "agent" of Russia that seeks no less than to "disrupt American democracy and destroy… Western civilization" (see Ross, above).
Mind you, the Daily Beast is the same outlet that on Wednesday promoted its exclusive interview with the director of 'The Comey Rule,' a miniseries promoting the disgraced former FBI director's version of history, in which he's of course a hero. Incidentally, RT's "deepfake" Trump doesn't look any worse than what Showtime makeup artists did with Brendan Gleeson there.



Also on rt.com
Russiagate, televised: 'The Comey Rule' miniseries shows it's always 2016 for the American establishment




Ross worries about "what a deep-faked video of Joe Biden saying something unconscionable could be if it spread like wildfire on Facebook before any kind of correction could be heard." But nobody's made deepfakes of Biden because they don't need to. He provides plenty of meme fodder with his actual unscripted statements, only for the Beast to leap to his defense. 
Ross himself actually did so Wednesday, when he described a Republican report on the foreign misadventures of Biden's son Hunter as "a politically motivated… hatchet job."
If writers and editors at the Beast, or their Project Lincoln pals, actually paid attention to the RT video, they'd have noticed the repeated parody disclaimers. That they didn't, suggests they see only what they want to see.



Also on rt.com
Retired Obama, pensioner Kerry, US President Snowden: Watch RT's promo from the year 2035



Breonna Taylor: Police officer charged over fatal shooting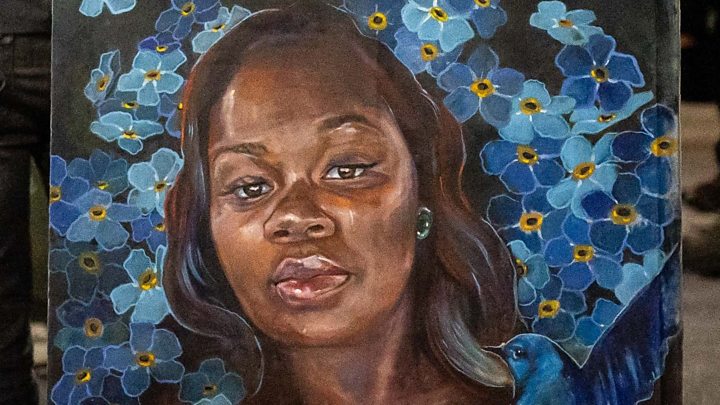 A grand jury has charged one police officer over the fatal shooting of Breonna Taylor at her home in the US state of Kentucky.
Ms Taylor, 26, a hospital emergency room technician, was shot multiple times during a police raid on 13 March.
Her death has become a rallying cry for anti-racism protesters, who have called for the three officers involved to be arrested and charged.
Officials earlier agreed to pay her family $12m (£9.3m) in a settlement.
Brett Hankison has been charged with three counts of "wanton endangerment" over the shooting.
He was fired from the Louisville Metro Police Department in June after investigators found he had "wantonly and blindly fired 10 rounds" into the apartment, according to his termination letter.
The other two officers who discharged their weapons that night – Jonathan Mattingly and Myles Cosgrove – have not been charged.
What happened to Ms Taylor?
Ms Taylor was at home in Louisville on 13 March when police officers entered her apartment shortly after midnight, her family says.
Narcotics officers raided her home and used a battering ram to take her front door off its hinges. No drugs were found on her property and Ms Taylor had no criminal record.
Police were acting on a controversial type of search warrant – known as a "no-knock" warrant – that allows police to enter a home without warning. Police claim they knocked and announced themselves before entering, but Ms Taylor's family and a neighbour have disputed this.
US election 2020: Trump attacks McCain widow after Biden endorsement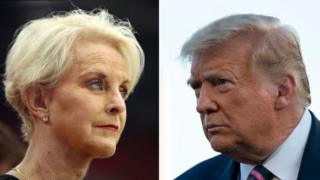 Donald Trump has launched a fresh attack on John McCain, after his widow announced her support for the president's Democratic rival Joe Biden.
Cindy McCain announced her support for Mr Biden in a tweet on Tuesday, saying he was the only candidate "who stands up for our values as a nation."
Mr Trump tweeted that he was "never a fan" of the veteran Republican senator, who died in 2018.
Mr McCain was one of the president's most outspoken Republican critics.
Mr Trump, in turn, publicly questioned his heroism during the Vietnam War.
In her tweet on Tuesday, Mrs McCain said while her husband and Mr Biden had some "passionate arguments" and while she did not "always agree on the issues" with the Democratic presidential candidate, "he is a good and honest man".
In response, President Trump said she "can have Sleepy Joe!" – a nickname the president has for his rival.
He also accused Mr Biden of being Mr McCain's "lapdog", denouncing "bad decisions on endless wars".
"I hardly know Cindy McCain," he added, "other than having put her on a Committee at her husband's request."
Cindy McCain made an address at the Democratic National Convention last month, and her endorsement may prove a hindrance to President Trump, who is trailing Mr Biden in most national polls.
Mr Biden has since thanked her, saying on Twitter t