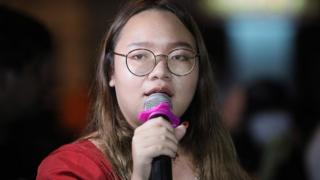 "There was fear lurking inside me, deep fear of the consequences," says Panusaya Sithijirawattanakul.
In August, the 21-year-old nervously stepped onto a stage in Thailand and delivered an open challenge to the monarchy.
To the cheering of thousands of students of one of Thailand's top universities, she read out a now-famous 10-point manifesto, calling for reform of the monarchy.
It was a shocking move. Thais are taught from birth to revere and love the monarchy, but also to fear the consequences of speaking about it.
'Life would never be the same'
Thailand is one of the few countries with a lese majeste law. Anyone criticising the king, the queen, the heir-apparent or the regent could be jailed for up to 15 years.
But in the past few months, pro-democracy protests have swept the country, and students like Panusaya are at the heart of it.
"I knew my life would never be the same," she later told BBC News Thai.
Panusaya had been shown the manifesto just hours before she read it out at a rare large protest in the capital, Bangkok. It called for a monarchy accountable to the elected institutions, a proposal to trim the royal budget and for the monarchy to refrain from interfering in politics – shocking statements to most Thais.
"They passed it to me, asked me if I wished to use it. At that point, everyone felt the content was extraordinarily strong and I too thought it was very strong. I decided to be that person who says it.
"I held hands with my fellow students, asking aloud whether we were doing the right thing here," Panusaya says.
"The answer was yes – it's the right thing to do. I then sat down again, smoked a cigarette before I went on stage and let everything in my head out."
From the stage, she told the crowd: "All humans have red blood. We are no different.
"No one in this world is born with blue blood. Some people may be born more fortunate than others, but no one is born more noble than anyone else."
Panusaya's speech caused an uproar – a combination of applause from liberal academics, and condemnation from royalist media outlets, mixed with disbelief from many Thais.
'Hating your own country is a disease'
In the days after the rally, the Facebook pages of top royalist activists were abuzz with attacks on Panusaya, some accusing her of being manipulated by republican politicians, which she denied.
Apirat Kongsompong, a powerful general in a country still essentially controlled by the military, said the protesters were afflicted by "chung chart" – a Thai term meaning "hatred of the nation" – and added that that was "even worse than the raging pandemic".
"Hating your own country is a disease that is not curable," he said.
Yet Panusaya says even as a young child she remembers questioning the position of the royal family in Thai life.
On one sweltering day, an official showed up at the door and asked her family to leave their house and sit down on the pavement in anticipation of a royal motorcade.
"Why do we have to come out in the sun for half an hour to see a passing motorcade? I didn't have a clue what's going on. I didn't go out to join the waiting crowds."
The youngest of three sisters, she showed an interest in politics early on. In high school, discussing politics with her close friends was one of her favourite pastimes. When a coup took place in 2014, her father – the only one in the family who followed politics back then – encouraged her to find out more.
But Panusaya was shy growing up and was bullied at school. It was five months spent in a student exchange programme to America that changed her completely.
"I returned home a different person who was not afraid to speak out and act."
She became increasingly politically active after entering the prestigious Thammasat University. Two years ago, she joined the "Dome Revolution", a student union political party.
In February, she helped organise the first pro-dem