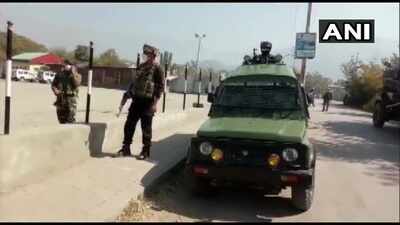 Terrorists lobbed grenade at security forces in Tral of Pulwama dist. (ANI Photo)
PULWAMA: One CRPF jawan suffered a minor splinter injury after terrorists lobbed a grenade at the security forces in Tral of Pulwama district on Sunday.
"Unknown terrorists lobbed a grenade at troops of 139 Bn CRPF at 1145 hrs in Town area, Tral. A CRPF person sustained minor splinter injury in the lower abdomen and was evacuated to Pulwama district hospital. Condition reported stable. Area cordoned off and search is on," CRPF said in an official statement.
FacebookTwitterLinkedinEMail
Opposition, internet activists slam Kerala ordinance
THIRUVANANTHAPURAM: The Kerala government's decision to introduce a new section (118A) in the Kerala Police Act to check increasing abuse in social media and cybercrime is "anti-democratic and fascist" as it will enable police to register cases against anyone, including the mainstream media, opposition leader Ramesh Chennithala said on Thursday.
"If the government goes ahead with the ordinance, it will be fought legally as well as politically," he said.
Allaying fears, chief minister Pinarayi Vijayan said, "The amendment is not intended to curb creative freedom or to intervene in the right to free speech. It is a known fact that there are attempts to defame persons widely and there are demands for an effective legal remedy."
Internet rights activists said the amendment was more draconian than 66A of the IT Act that was struck down by the Supreme Court.

UP cop suspended for sporting beard
MEERUT: A beard grown and kept "despite warnings" has led to the suspension of subinspector Intesar Ali in UP's Baghpat. While SP Abhishek Singh said Ali did not have authorisation, as rules require, Ali insisted he had sought permission to keep his beard but hadn't heard back from his seniors.
"I had applied for permission to my circle officer in November 2019. It was forwarded to senior officials," Ali, posted at Ramala police station, told TOI on Thursday. "This is a matter of faith and a just demand. I will request my superiors to consider my request again."
The 46-year-old has been serving with the police for the past 25 years and was posted at Ramala this March.
A statement from the local police said Ali had been "warned on several occasions and was served a notice over the dress code." The Baghpat SP said, "UP police uniform rules are clear… He had been warned several times. A notice was served, but his indiscipline continued. A beard is allowed on a permanent basis only for followers of Sikhism. The armed forces also allow that because the beard is an integral part of their faith. It is not the case with Islam."
Police uniform rules in India do not allow beard, though moustache is allowed.

Covid: India's active cases below 7 lakh after 21-day decline
NEW DELHI: India's active Covid cases went below the 7-lakh mark on Thursday as the downtrend continued for the 21st day running, with the number of discharged patients outstripping fresh cases in most states.
Active cases on Thursday were 6,99,527, a fall of more than 21,000 from the previous day. The slide in active cases has been continuous since October
2. With 54,723 testing positive for the virus, fresh infections remained below the 60,000-mark for the fifth consecutive day on Thursday. There were 675 fresh casualties on Thursday, after staying above the 700-mark for two days, taking the cumulative toll to 1,17,275.
Tamil Nadu crossed the 7-lakh mark with 3,077 fresh cases, becoming the fourth state after Maharashtra, Andhra and Karnataka to record more than seven lakh infections.
With 7,539 cases, Maharashtra reported less than 10,000 infections for the fifth day in a row. Daily deaths in the state saw a marginal increase from Wednesday but, at 198, continued to remain under 200. The state's toll is now 42,831.
However, the situation continues to be of concern in Bengal with a steady rise in daily infections leading to active cases crossing the 36,000-mark on Thursday at 36,064. Bengal reported 4,157 new cases, its highest daily spike. Since October 8, Bengal has been reporting highest spike in cases daily.