Some days I find myself watching the clock too often, waiting for my kids' bedtime. I really hate myself those days, knowing that I'm anxiously awaiting the moment they are tucked into bed. I really am obsessed with my children, just like every mother. I take every opportunity to hug and kiss them and remind them that I love them. But I am crushed under my burdens these days. And I know as a working mother, I am not alone here."
These heartfelt lines from an essay on Medium/ ZORA by Meeta Shah, an exhausted mother and doctor, sum up the mental state of many Indian moms who, without the support structure of domestic help, daycare and friends they can pour their heart out to, are groaning under the weight of online schooling, household work and office.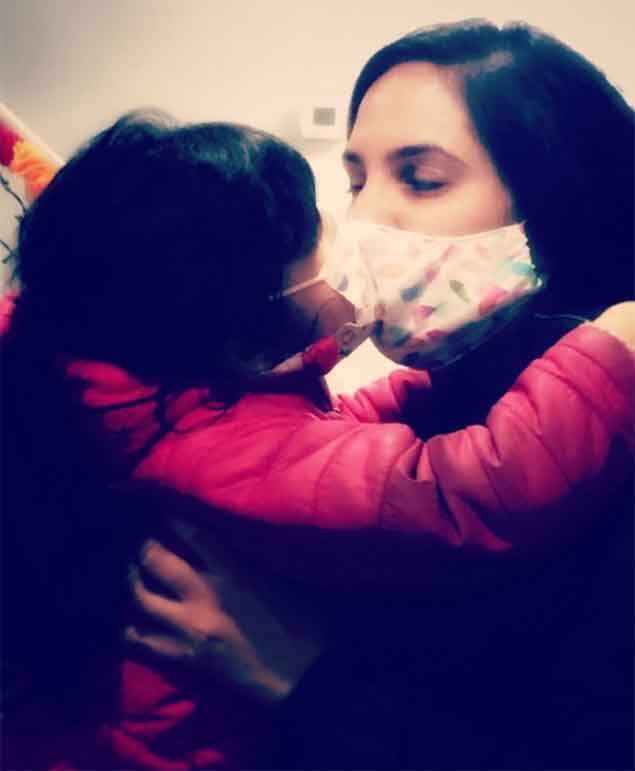 Pic credit: Meeta Shah
A recent survey conducted by Linkedin between July and September revealed that 31% Indian working mothers were providing full-time childcare in comparison to 17% working fathers. More than 44% were also working outside their business hours to provide childcare, nearly twice as many as the figure for men at 25%. Around 42% reported being unable to focus on work with children at home and 46% worked till late to make up.
With her husband resuming office in June, Gurgaon resident Kawya Agarwal says she often finds herself being interrupted by her two-and-a-half-year old son even during work calls, and has to find ways of keeping him preoccupied while she's working. "His afternoon nap is when I rush to make calls," says Agarwal. "Sometimes you feel so frustrated that you don't feel like doing anything; just running away and getting some fresh air to breathe."
Work from home has blurred boundaries between office and home, says Neha Bagaria, founder, JobsForHer, an online platform that helps women find jobs, mentors and upskill if needed. "While WFH has opened new opportunities for some women who can now take advantage of flexi-hours, it has also lowered productivity and led to loss of employment for some."
Not all of them can afford to lose jobs but, according to a Reuters report, the lack of daycare options is forcing many like Karnataka's garment workers to choose between going to work and babysitting their children.
Bagaria says there is a silver lining amid the gloom. "Since men have a higher earning capacity, women's careers often play a second fiddle but amidst job losses many women are realising the importance of their career and having a double income," she says. "Companies realise that WFH works and these opportunities will stay even after the pandemic, opening opportunities for women."
Divya*, an administration in charge at a software company in Bengaluru, hasn't quit yet but says she has contemplated it several times because of the day-to-day pressures of running the house for her husband, brother-in-law, elderly in-laws and nine-year-old son in the absence of her cook and domestic help for the last six months. "It has been really hectic and stressful," she admits. "In the office, you can at least sit and have coffee for five minutes. Now I don't even get that time because everyone wants me. I feel even two hands are not enough."
With her husband mostly busy in work meetings and calls, the only help she gets is from her mother-in-law. As a result, multi-tasking has become second nature: answering office emails while cooking or keeping an eye on her son's online's classes. "More than physical stress, you feel mentally tired because you have to think of so many things, from groceries to sanitising," she adds.
It wasn't that pre-pandemic the burden of household work and childcare wasn't on women. According to International Labour Organisation data in 2018, urban Indian women spent 312 minutes on unpaid care work every day as compared to 29 minutes for men. Though studies have shown that men did pitch in more in the early days of the lockdown, it's not clear how permanent the shift is.
Parul Ohri, chief editor at parenting platform Momspresso, says many women have admitted to feeling overwhelmed. "In general, men are not used to helping around the house and since we are a society of molly-coddlers, we don't train children to be independent and do their own chores, so at the end, the woman is doing it all." Ohri gives the example of a woman who said her husband wouldn't even get up to answer the door while she was busy washing utensils. While men are often not socialised to help around the house, women are conditioned to do it all. "These are notions we've grown up with and assume to be our responsibility," she says.
Often, women's work can get less priority than their husband's because they are likely to be higher earners, a hierarchy that is reflected in everyday instances: who gets interrupted by the kids when both mom and dad are on a call or who gets the quiet corner in the house. "My children are young and often need attention, and mamma is the only one they go to for everything, dad doesn't cut it," says Bengaluru-based lawyer Arethra D'Souza. She counts herself lucky because she has a full-time nanny to help take care of her two young children, but even then it is she who has had to juggle her schedule to match her six-year-old's classes. "Earlier if I could do eight hours of concentrated work in the office, now it is in spurts."
Then there is the guilt. Though she lives in a joint family, Amita*, a primary school teacher in Gurgaon, feels bad about not being able to spend time with her six-year-old daughter. "I have to be glued to my laptop for 10-12 hours on an average for classes and meetings," she says. "I spend so much time counselling parents but I do not have a second to spare for my own."
Psychologist Varkha Chulani says the best advice for working moms is to call out the sloth of other family members, teach children to participate in chores and learn to take some short cuts such as simplifying meals.
BLURRED LINES
* 44% working moms are working outside their business hours to provide childcare, nearly twice as many men (25%)
* 46% working mothers report working till late to make up for work
* 42% are unable to focus on work with their children at home
Source: LinkedIn Workforce Confidence Index
WHAT CAN EMPLOYERS DO?
Neha Bagaria, founder, JobsForHer says there is a need to shift focus to deliverables and flexible timings rather than logging in certain hours. "Employers need to deal with more empathy in such difficult situations, for instance, some companies are offering paid leave to both parents," she says. "A lot of companies have also said they won't reopen offices until schools reopen."
*Names changed on request
Illustration: Chad Crowe
India calls for complete ceasing of support to terrorist forces in Middle East
UNITED NATIONS: India has called on all concerned parties to completely stop supporting terrorist forces, like the ISIS, while urging all stakeholders in the Middle East to work constructively for peace, stability and development.
India underscored that it has invested considerably in the peace and stability of the region by deploying its personnel as part of UN peacekeeping forces, through humanitarian assistance, development cooperation, capacity building, and will continue contributing towards peace-building in the Middle East.
"India calls on concerned parties to completely stop support to terrorist forces, like ISIL (Islamic State of Iraq and the Levant) and others. India also urges all parties in the region to work constructively and in good faith to promote peace, stability and development for the benefit of all people in the Middle East," India said in a written statement on Monday on the Security Council's open debate on 'The Situation in the Middle East'.
India said the truce between Israel and the Hamas has eased the humanitarian situation in Gaza and expressed hope that the temporary truce is converted into a permanent ceasefire, which can save precious human lives on both sides and create a conducive environment for talks.
"It is an unfortunate reality that the interlinked and mutually reinforcing challenges faced by the people of the Middle East have not yet been resolved. Political instability, long-festering conflicts, sectarian divides, issue of refugees and terrorism continue to plague the region. The COVID-pandemic has only exacerbated the threats posed by these challenges," India said.
The statement made India's permanent representative to the UN, Ambassador T S Tirumurti, will go as part of the official record of the Council.
India said it appreciates the agreement between Fatah and Hamas for holding Parliamentary and Presidential elections and also elections for the Palestinian National Council, which will help fulfill the democratic aspirations of the Palestinian people.
India also welcomed the agreements for normalisation of relations between Israel and the UAE and Bahrain. "India has always supported peace and stability in West Asia, which is our extended neighbourhood," India said.
Further, India said the commencement of discussions on the disputed border between Israel and Lebanon is a significant development, expressing hope that this will provide an opportunity to resolve the longstanding issue between the two countries.
India highlighted that Palestinian aspirations for a sovereign and independent state are yet to be fulfilled and stressed that New Delhi has been unwavering in its commitment to the Palestinian cause and continues to remain supportive of a peaceful negotiated resolution of the Palestinian issue.
"India has supported the two-state solution as a just and acceptable solution to the conflict. Establishment of a Palestinian State living side-by-side in peace and security with Israel, within mutually agreed borders should be achieved through negotiations directly by the two parties," India said adding that any stalemate could strengthen the hands of extremists and shut the door to cooperation thereby jeopardising the security, stability and prosperity of the people on both sides and the region.
Accordingly, India urged Israel and Palestine to resume direct negotiations at the earliest and called upon the international community to take concrete steps towards resuming and facilitating these negotiations quickly.
India noted that the decade-long armed conflict in Syria has claimed over 400,000 lives, displaced 6.2 million people internally and compelled another 6.3 million people to seek shelter in neighbouring countries.
"While we are heartened to see return of normalcy to major parts of the country, we are also reminded of the enormous resources that would be required to provide urgent humanitarian aid, rebuild infrastructure, enable return of the refugees and restore a normal and dignified life of all Syrians," the statement said.
India said in the statement that it is not only contributing to the return of normalcy and rebuilding of Syria, but has also consistently called for a comprehensive and peaceful resolution of the Syrian conflict through a Syrian-led dialogue, taking into account the legitimate aspirations of the people of Syria.
India voiced concern over the security and humanitarian situation in Yemen and said the recent exchange of prisoners by the Government of Yemen and Ansar Allah, who had been detained in connection with the conflict, is a welcome development.
"India hopes that the parties will take more confidence building measures to provide the necessary impetus for the full implementation of the Stockholm Agreement," the statement read.
India also hopes for peace and stability in Iraq with full respect for Iraq's sovereignty and territorial integrity.
India noted that in the aftermath of the August blast that brought destruction to vast swathes of Beirut and inflicted heavy loss of lives, India stood in solidarity with Lebanon.
New Delhi sent emergency humanitarian aid of over 58 metric tons to Beirut. "We look forward to the swift formation of a new government that can offer political stability and also tackle the grave socio-economic challenges being faced by the people of Lebanon," the statement said.

US, India must focus on threat posed by China: Secretary of state Mike Pompeo
NEW DELHI: US secretary of state Mike Pompeo on Tuesday stressed on the need for Washington and New Delhi to work together to counter the threat posed by Beijing to "security and freedom"
Pompeo's comment came during the crucial 2+2 dialogue between India and the US, which saw the signing of a crucial defence agreement between the two countries.
"There is much more work to do for sure. We have a lot to discuss today: Our cooperation on the pandemic that originated in Wuhan, to confronting the Chinese Communist Party's threats to security and freedom to promoting peace and stability throughout the region," Pompeo said during talks with defence minister Rajnath Singh and external affairs minister S Jaishankar. Pompeo was joined by defence secretary Mark Esper.
Esper too focussed on the apparent threat posed by China, specifically in the Indo-Pacific region.
"Our focus now must be on institutionalising and regularising our cooperation to meet the challenges of the day and uphold the principles of a free and open Indo-Pacific well into the future," Esper said.
The comments assume significance as India is locked in a border standoff with China in eastern Ladakh.
In June this year, 20 Indian soldiers and an unspecified number of PLA soldiers were killed in a clash with Chinese troops in Galwan Valley in eastern Ladakh, hardening the mood in India against China and driving Prime Minister Narendra Modi's government to seek closer military ties with the United States.
In the US, President Donald Trump has made being tough on China a key part of his campaign to secure a second term in next week's presidential election and Pompeo has been trying to bolster allies to counter China's growing influence in the Indo-Pacific region.
This month, India invited Australia to join naval drills it holds each year with the United States and Japan, brushing off Chinese concerns that the exercises destabilise the region.
(With inputs from agencies)

US Secretary of State Mike Pompeo, Defence Secretary Mark Esper meet NSA Doval
NEW DELHI: US Secretary of State Mike Pompeo and Defence Secretary Mark T Esper on Tuesday held talks with National Security Advisor Ajit Doval, covering key aspects of growing strategic ties between the two countries.
Issues of strategic importance were discussed at the meeting, sources said.
The meeting took place ahead of the third edition of 2+2 ministerial dialogue. Esper and Pompeo arrived here on Monday for the crucial talks aimed at further boosting the defence and security ties between the two countries.
Defence Minister Rajnath Singh and External Affairs Minister S Jaishankar held separate talks with their US counterparts on Monday.
Earlier on Tuesday, both the top US administration officials visited the National War Memorial and paid tributes to India's fallen heroes.