NEW DELHI: The average socio-economic impact or cost of every person dying in a road crash was around Rs 91 lakh and it's close to Rs 3.6 lakh in the case of each victim left with grievous injuries during 2018, a study commissioned by the road transport and highways ministry has found.
Going by the government's report on fatalities and injuries, it has estimated the total impact at Rs 1.47 lakh crore during 2018 when 1.51 lakh people were killed and 4.69 lakh were left with grievous and minor injuries. However, considering that there is under reporting of fatalities and injuries, the study has also projected loss to the tune of Rs 5.9 lakh crore, which is 3.1% of the GDP.
The study was carried out by the TRIPP of IIT(Delhi) and DIMTS, which has come out with three different estimates of the socio-economic impact under three scenarios. The third estimate is based on the Global Burden of Disease (GDB) Study and the impact has been estimated close to Rs 8.63 lakh crore.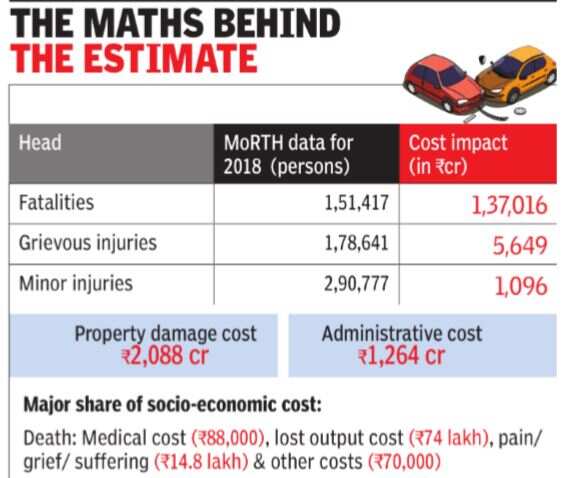 This is the second such study after 1999 to quantify the total economic loss due to road crashes, fatalities and injuries. Such studies are carried out across the world frequently to prepare strategies to see how with less investment in creating safe infrastructure and enforcement rules, huge cost in terms of lives and the socio-economic loss can be prevented. The report is yet to be made public and the ministry is going through the report.
Sources said the estimates have been calculated taking into account medical expenses, loss of income which is also known as lost output cost, pain, grief and suffering, damage to vehicle, public asset and administrative costs. The total impact in financial terms has been arrived at using the human capital approach method, which uses the present value of expected future earnings to estimate the potential loss to society, if an individual dies or becomes permanently disabled. It has also taken into account other studies across the globe and also in India.
TOI has learnt that major share in the socio economic impact of fatalities in road crashes is on account of lost output cost, which is nearly Rs 74 lakh per person while in the case of grievous injuries more than 50% of the share of the cost is towards medical expenses.
The report has also highlighted how the share of victim-related costs is about 98% of the total cost of road crashes and 70% of the entire accident cost is towards victims in the age group of 18-45 years.
Sources said the study was done after collecting primary data from police stations across 14 cities and 53 hospitals spread across 20 cities.
It has also revealed that 78% of the cost of all accident victims is towards two-wheeler drivers and pedestrians, who are most vulnerable and need attention of the government to improve enforcement of laws, improving infrastructure and healthcare services.

Think of troops at borders, light a 'diya' for them: PM Narendra Modi
NEW DELHI: At a time when India and China are facing off on the Line of Actual Control in eastern Ladakh, Prime Minister Narendra Modi on Sunday exhorted people to light a 'diya' in their homes in support of security forces guarding India's borders.
"We must also think of our braveheart soldiers who are firmly stationed on our borders in the line of duty, even during these festive times, all in the service and security of Mother India. We have to light a 'diya' (lamp) at home in honour of these brave sons and daughters of Mother India," Modi said.
In his monthly radio address 'Mann ki Baat', Modi also made a strong pitch for unity. "Unity is power, unity is strength, unity is progress, unity is empowerment, united we will scale new heights," he said.
The PM also said India has repeatedly thwarted efforts of those who have sought to divide the country.
Promoting 'Vocal for Local' while shopping during the festival season, the PM said people should make an effort to involve sanitation workers, security guards, domestic helps and other service staff in family celebrations to send out a message that their services are valued. He also sought people's engagement in the government's 'Ek Bharat-Shrestha Bharat' by contributing information about India's rich tradition of local cuisines, spices and indigenous ingredients.
In light of the coronavirus pandemic, the PM emphasised the need for care and caution during the festival season and asked people to remain patient and follow health guidelines.
During his radio broadcast, Modi also lauded Pon Mariyappan from Thoothukudi in Tamil Nadu for converting a small portion of his hair cutting salon into a library, and hailed similar mobile library initiatives in UP and Arunachal Pradesh.

Sharpest weekly drop in Covid numbers
NEW DELHI: In the steepest weekly fall yet in Covid-19 numbers in India, fresh infections recorded this week (October 19-25) were nearly 16% less than the previous week's tally while deaths from the virus fell by 19% during this period.
India recorded just over 3.6 lakh fresh cases during the week, the lowest in absolute terms in three months (since 3.2 lakh were detected in the July 20-26 week), as per data collated from state governments.
This marked a drop of 15.7% from the previous week's numbers, the sharpest weekly fall in cases since the pandemic hit India. Last week, nearly 4.3 lakh cases were recorded in the country.
Sixth straight week of decline in fresh Covid cases in India
This was the sixth straight week of decline in fresh Covid-19 cases from the peak of 6,45,014 infections reported during September 7-13, indicating a sustained reduction in the pandemic's spread in India.
Meanwhile, India achieved another positive milestone when the number of recoveries crossed 90% of all cases on Sunday. Close to 71.3 lakh people have now recovered from the infection, out of a total caseload so far of 79.1 lakh, as per TOI's database. Deaths from the virus were down 19% from last week's toll. This week India recorded just over 4,400 fatalities due to Covid-19, as compared with 5,455 last week. Deaths too have been declining for five consecutive weeks since peaking at 8,175 during September 14-20.
Last week (October 12-18) had seen a 13.3% fall in fresh cases and a 15.9% drop in fatalities, the highest weekly fall till then. The fall in daily cases continued, with 46,135 fresh infections recorded on Sunday. This was the lowest daily tally of cases (not counting Mondays when the numbers fall due to other reasons) in 95 days since 38,444 cases were reported on July 21. Sunday's death toll, at 489, was also the lowest daily fatalities in 108 days since July 9.
Numbers fell in almost all states on Sunday, which also coincided with festivals of Dussehra and Durga Puja. Delhi was an exception, recording 4,136 fresh cases, the highest in 38 days.
Karnataka became the third state in the country to record 8 lakh Covid-19 cases. It reached the grim milestone with 4,439 fresh cases taking the total to 8,02,813 on Sunday. Gujarat added 919 new cases, taking the total to 1.67 lakh. The new cases in Gujarat included 227 from Surat, 174 from Ahmedabad, 115 from Vadodara, and 97 from Rajkot.

India's reaction to aggression left China rattled: RSS chief
NAGPUR: India needed to increase its power to be able to respond to China, RSS chief Mohan Bhagwat said on Sunday. "In our military and economic preparations, in forging relations internationally and with our neighbours, we will need to be bigger than China," he said. China was surprised by the vigorous Indian response to its aggression in east Ladakh this year, but Beijing's reaction to the new situation it faces couldn't be easily anticipated, he added during his annual Vijayadashami speech here.
India's resolve in standing up to China had led to more countries realising the need to confront the expansionist power that had been taking on several nations. "Unwavering caution, vigilance and preparedness are the only ways to respond," he said.
"This time China was surprised as India stood up resolutely… just how it will respond is not known," Bhagwat said. "If we do this (increase our power and forge close ties with neighbour), we can stop China. Our neighbours like Myanmar, Sri Lanka, Bangladesh, Nepal are not just our neighbours. We have had ties with them for thousands of years and more or less they are countries with the same nature and temperament as us. We should quickly associate with them… there will be disputes when borders are shared. We should move faster to remove this issues," he said.
In fairly explicit references to the border situation with China, the RSS chief said India's hand of friendship to all should not be mistaken for weakness. "The erroneous impression of those who felt that (India) can be bent this way and that should have been cleared up by now. The bravery of our Army and the self-esteem reflected in the policies of our leadership and the unity of our people should be recognised by China. There is an air of self-confidence in the nation," he said.
"A haughty China locked horns with a number of countries at a single point of time. Of course, it has been an expansionist regime and has been encroaching upon other's territories, be it Taiwan, Vietnam, Japan and even America. However, India's reaction to its aggression has left it rattled. Rather, China was taken aback by India's response," he added.
Bhagwat said there was a need to be vigilant against internal challenges as well. Political competition was a fact of democracy but there should be some wisdom in this and elections were not a war between enemies, he said, warning against bitterness within society. "This is not politics, there are forces that want to see a society at conflict with itself, these are in the world and in the country," he added.
He said the anti-CAA agitation was used to create conflict by propagating the view that it was intended to reduce Muslim population. "These people speak of Bharat ke tukde but use certain situations to present themselves as secular and constitutionalists. They actually have no regard for the Constitution at all. They teach society the wrong things (ulti patti) and they speak the grammar of anarchy as Dr Babasaheb Ambedkar said. They have worked against the Sangh, only that they are not effective today," he added.
In a departure from tradition, the event was held at a hall inside the RSS's Smruti Mandir premises and not on the grounds adjacent to it. A limited number of around 50 swayamsewaks, sporting saffron masks, attended.
"The diversity among people of country is being used to fuel separatism. We need to be careful of such elements who are carrying out their activities in the name of saving the Constitution but they only intend to divide the country for their gains," he said.
On protests against the Citizenship Amendment Act, Bhagwat said a misconception was spread that it was an attempt to reduce population of Muslims in the country. "It was only meant to facilitate immigration of minorities facing religious persecution in some of the neighbouring countries. Such people had nowhere else to seek refuge but in India. The existing law on getting Indian citizenship remains and the amendment only gives certain facilitations to such people," he said.