Singapore becomes hub for Chinese tech amid US tensions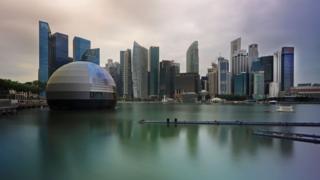 Some of China's biggest technology firms are expanding operations in Singapore as tensions rise between Washington and Beijing.
Tencent and Alibaba are increasing their presence in the city state while TikTok owner ByteDance is reported to be investing billions of dollars.
Considered neutral territory, Singapore has good ties to both the US and China.
Relations between Washington and Beijing are growing increasingly hostile, particularly over technology.
Tencent announced this week it was "expanding its business presence in Singapore to support our growing business in South East Asia and beyond".
The new regional office is described as a "strategic addition" to its current offices in South East Asia.
Tencent's WeChat messaging app is facing a ban this month in the US, along with TikTok, under the Trump administration's clampdown on Chinese apps and tech firms.
Donald Trump has already imposed bans on Chinese telecoms firm Huawei.
"Given the US-China tensions in tech and the heightening risk of decoupling, it makes sense for Chinese tech companies to separate operations in China and outside of China," said Tommy Wu at Oxford Economics.
"Singapore would be an ideal location given the city state's comparative advantage in tech, its geographic proximity to China and as an innovation hub in South East Asia."
Singapore has always been seen as a regional base for Western firms because of its advanced financial and legal system. Now it's firmly on the radar of Chinese companies.
The political turmoil in Hong Kong and the introduction of China's controversial national security law has seen many firms look for a more stable business environment within Asia.
Maskin
Broadband: Old TV caused village broadband outages for 18 months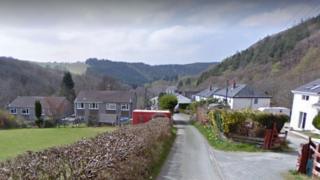 Engineers have solved a mystery which left villagers with broadband problems for 18 months.
Connectivity could be poor along with slow speeds from 07:00, causing issues for households trying to get online.
Openreach engineers replaced cables at Aberhosan, Powys, but it did not fix the problem so they had to think again.
They then switched to a monitoring device and found the fault was due to electrical interference emitted by a householder's second-hand television.
The owner, who does not want to be identified, was "mortified" to find out their old TV was causing the problem, according to Openreach.
"They immediately agreed to switch it off and not use again," said engineer Michael Jones.
Engineers walked around the village with a monitor called a spectrum analyser to try to find any "electrical noise" to help pinpoint the problem.
"At 7am, like clockwork, it happened," said Mr Jones.
"Our device picked up a large burst of electrical interference in the village.
"It turned out that at 7am every morning the occupant would switch on their old TV which would, in-turn, knock out broadband for t
'Lack of investment' behind snarled-up legal system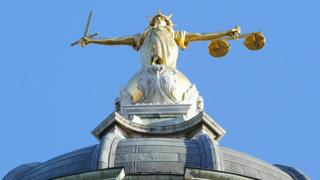 When Louise Westra and her partner decided to adopt a child in November 2018, they were aware of the long process that was ahead of them, but they were not to know that the coronavirus pandemic would hold them back from completing the adoption of their son.
On 27 March, their petition was due in court. As lockdown had taken effect, telephone conferencing would be used instead of going to court.
However, after the phone call, Ms Westra received an email from her solicitor explaining that the papers had not been served to the biological parents of the child. This continued every month after lockdown, as it wasn't possible for the papers to be physically served.
"It's farcical because one of them is the biological father who lives with the biological mother who has had her petition but the biological father hasn't and they live in the same premises," Ms Westra says.
Serving papers has to be completed by post via Royal Mail or in some cases lawyers would instruct a process server to physically take the papers and hand them to the person.
"It sounds very archaic but if [the person] won't take them by hand, the processor has to touch them on the shoulders and drop the papers at their feet and that's technically counted as full service," says Rebecca Ranson, a solicitor for Maguire Family Law.
E-mailing or any other forms of digital communication are not considered valid – even though the majority of people in the UK have access to e-mail and the internet. It is this kind of process, in need of a digital upgrade, that is frustrating for Ms Westra.
Ms Westra's case is one of many that have been delayed. The number of outstanding Crown court cases was 43,676 on 26 July, and the entire backlog across magistrates' and Crown courts is more than 560,000. The Commons Justice Committee has announced an inquiry into how these delays could be addressed.
The reality, however, is that there was already a huge backlog back in December, and Covid-19 has just exacerbated an existing problem. Cases like Ms Westra's have been affected by the pandemic, but many lawyers believe that the legal system could have been better prepared through technology investment over the years.
"We've got people being held for longer than they otherwise would be, and for every person in custody waiting for trial or waiting on bail for trial, there are witnesses, and complainants and their families awaiting a resolution. Whether it's the lack of technology links in prison, using Skype and improvising or not having enough Nightingale courts – it all boils down to a lack of investment," says Joanna Hardy, a London-based barrister.
In 2016 HM Courts & Tribunals Service began a £1bn court reform programme. This included a video-conferencing tool called the Cloud Video Platform (CVP), which allows for a dedicated private conference area, so criminal lawyers can speak to their clients without visiting prison.
A programme for testing and adopting video technology was planned out until 2022, but in the pandemic, the government had to get CVP up and running in 10 weeks. This has since been extended to civil courts. But this implementation has been challenging, as there are only a restricted number of physical video links allowed.
"As we weren't ready for this huge technolo
Microsoft buys Fallout creator Bethesda for $7.5bn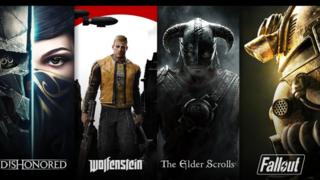 Xbox-owner Microsoft has acquired the games company behind blockbuster titles including Doom, Fallout, Skyrim and Wolfenstein.
It is paying $7.5bn (£5.85bn) for Bethesda's parent ZeniMax Media.
Xbox has said that the publisher's franchises would be added to its Game Pass subscription package for consoles and PCs.
This could help make the forthcoming Xbox Series X more attractive than the PlayStation 5 to some players.
Both machines are due to launch in November.
Game Pass already gives players access to more than 200 games. Microsoft includes first-party titles at point of launch to those signed up to its "ultimate" package without further cost.
By contrast, Sony has opted to charge players up to £70 for its own major releases and does not intend to include new titles in its PlayStation Plus Collection service.
It is not yet clear how the takeover affects Bethesda's plans to create The Elder Scrolls 6, Starfield and other unfinished games as cross-platform titles.
In a statement, Xbox chief Phil Spencer said the two firms "shared similar visions for the