RJD questions letters written by Raghuvansh to Nitish, draws NDA's ire
File photo of Raghuvansh Prasad Singh, who died during treatment at AIIMS in Delhi
PATNA: The Rashtriya Janata Dal on Monday cast doubts over letters written by its founding member
Raghuvansh Prasad Singh
, from his hospital bed, barely a couple of days before breathing his last, drawing angry reactions from the ruling NDA in Bihar.
Singh, who died at AIIMS, New Delhi on Sunday, had on Thursday announced his resignation from the party vide a hand-written addressed to jailed RJD supremo
Lalu Prasad
and followed it up with a series of communications, the next day, drawing the attention of chief minister
Nitish Kumar
towards a number of issues.
Prime Minister Narendra Modi while paying rich tributes to the departed leader on Sunday had also referred to Singh's letter to the Bihar chief minister where he raised the issue of development of his erstwhile Lok Sabha seat Vaishali.
"I will request Nitish Kumar to execute the development projects he wrote about in the letter. Let's together — the state and the Centre — fulfil his wishes," Modi said.
Nitish Kumar, who is Lalu Prasad's arch rival and heads the Janata Dal (United), had on Sunday night told reporters at the assembly premises, where Singh's mortal remains were brought on way to his native village for cremation, "we have started acting on the requests of late Raghuvansh babu.
"Some issues raised by him fall in the ambit of the Centre and we have referred these to the Union government for appropriate action".
Among other things, Singh had sought extension of MGNREGA benefits to the farm sector.
He had also expressed the wish that a huge begging bowl believed to have been used by the Buddha, which is at present kept at a museum in restive Kabul, be brought back from the Afghanistan capital and kept at Vaishali district, to which the late leader belonged and which is one of the many spots identified as part of the "Buddha Circuit".
A screenshot of Nitish Kumar's written reply to Singh, penned while the latter was still alive, was also shared on the official twitter handle of the chief minister's office.
Singh's letter to him had surprised Lalu Prasad, who wrote back the same day saying, "I don't believe … a letter purportedly written by you is on social media. I, my family, and the RJD family that have nursed the party want you to get well soon and be amongst us. You are not going anywhere".
After hearing about death of his long-time companion, the RJD chief had tweeted Sunday, "I had told you only the day before yesterday that you are not going anywhere. But you have gone so far away. I am speechless, I am sad. You will always be in my memory."
RJD MLA Bhai Virendra and MLC Subodh Rai smelt a rat and asserted "no person, admitted to a hospital's Intensive Care Unit, can write a letter".
Singh had been admitted to the ICU of AIIMS about a week ago for treatment of complications he had developed after recovering from Covid-19. He was put on ventilator late on Friday and died less than 48 hours later.
Rai, who claimed to have met Singh in Patna after his recovery from coronavirus, said "he was obviously upset over many things which he had expressed freely. But he never betrayed any intention of quitting the party he had nurtured. The state government is doing politics in the matter".
Notably, Singh had, while undergoing treatment for Covid-19, announced his resignation from the post of national vice-president, miffed over reports of a mafia don-turned- politician
Rama Singh
, by whom he was defeated in Vaishali in the 2014 Lok Sabha polls, joining the RJD.
Bhai Virendra pointed out that the letters written to Nitish Kumar were "too many in number and shared on the social media at too short intervals" and claimed the whole episode pointed towards "a conspiracy by the NDA".
The RJD leaders found support from senior Congress leader Akhilesh Prasad Singh, who had formerly been with Lalu Prasad's party.
"I had met Raghuvansh babu just one week back. He was a transparent man and had he really been thinking of quitting his party, he would not have tried to hide it. There is some conspiracy at some level", the Congress leader said.
Speculations are rife that the former Union minister, who remained loyal to Lalu Prasad for more than three decades, was made to change his mind by his elder son Satya Prakash Singh who is said to have given up his corporate job with the intent to make the political plunge.
The JD(U) is said to have been mooting a legislative council berth for the veteran RJD leader's son since before his death.
However, the NDA expressed outrage over the insinuations by the RJD leaders.
"They seem to have no shame. They never cared about his well-being while he was battling for life. Singh was proud of his roots in Vaishali, the seat of the first republic in the world and he raised an issue relating to it.
"The RJD is talking rubbish. Even Lalu did not show the temerity to question Singh's acts", Neeraj Kumar, senior JD(U) leader and state minister for Information and Public Relations Department, fumed.
State BJP spokesman Nikhil Anand said "Singh had been tormented by the pettiness of the RJD's new generation of leaders. Who can forget
Tej Pratap Yadav
's denigrating remarks. Accursed by its founding member, the party is now on the verge of extinction".
Yadav, the mercurial elder son of the RJD supremo, had reacted to Singh's exodus by saying "a lota (pot) of water makes no difference to an ocean".

India to support Sri Lanka boost its defence, security
NEW DELHI: Kicking off the first virtual bilateral summit in the neighbourhood, India and Sri Lanka sought to advance defence and security cooperation, while India promised to consider Colombo's request for delayed debt repayment and a $1 billion currency swap arrangement.
PM Modi met his Lankan counterpart Mahinda Rajapaksa virtually on Saturday morning. According to an official readout of the summit by MEA joint secretary (Indian Ocean Region) Amit Narang, PM Modi emphasised that implementation of the 13th amendment to the Sri Lankan Constitution is essential for carrying forward the process of peace and reconciliation.
"PM Modi called on the new government in Sri Lanka to work towards realising the expectations of Tamils for equality, justice, peace and dignity within a united Sri Lanka by achieving reconciliation nurtured by implementation of the constitutional provisions," he said.
Narang added India's focus areas with Sri Lanka are defence and security, Buddhism and economic development. "The outcomes of the Summit are substantial, forward looking and also help to set an ambitious agenda for bilateral ties," he said.
"Under neighbourhood first policy and SAGAR Doctrine, we will give priority to Sri Lanka," Modi told his counterpart in his opening remarks. Sri Lanka has requested for a $1 billion currency swap arrangement with India (India had, earlier this year, done a $400 million swap) and a delayed debt repayment schedule. India agreed to support Sri Lanka in defence and security, "strengthen the mutual cooperation on personnel exchange and training, maritime security cooperation." Indian Coast Guard and Indian Navy recently helped to douse a major fire on a tanker MT Diamond off the Lankan coast.
However, there was no word on whether the Eastern Container Terminal (ECT) deal, which Rajapaksa had promised to review, would go to India and Japan as originally agreed. There was also no meeting point on the impasse regarding the Trincomalee container terminals, which has been hanging fire. Questioned, Narang stuck to generalities about the discussions being "positive and constructive."
Modi also announced a grant assistance of $15 million for the promotion of Buddhist ties between the two countries. Rajapaksa invited Modi to inaugurate the Jaffa Cultural Centre, set up with Indian assistance. Narang indicated that India shared its assessments of the Ladakh crisis with the Lankan leadership.

Socio-economic cost of a road death Rs 91L, Rs 3.6L for those grievously injured
NEW DELHI: The average socio-economic impact or cost of every person dying in a road crash was around Rs 91 lakh and it's close to Rs 3.6 lakh in the case of each victim left with grievous injuries during 2018, a study commissioned by the road transport and highways ministry has found.
Going by the government's report on fatalities and injuries, it has estimated the total impact at Rs 1.47 lakh crore during 2018 when 1.51 lakh people were killed and 4.69 lakh were left with grievous and minor injuries. However, considering that there is under reporting of fatalities and injuries, the study has also projected loss to the tune of Rs 5.9 lakh crore, which is 3.1% of the GDP.
The study was carried out by the TRIPP of IIT(Delhi) and DIMTS, which has come out with three different estimates of the socio-economic impact under three scenarios. The third estimate is based on the Global Burden of Disease (GDB) Study and the impact has been estimated close to Rs 8.63 lakh crore.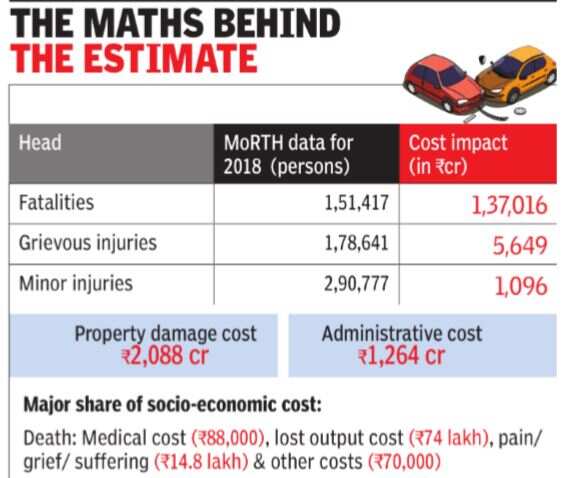 This is the second such study after 1999 to quantify the total economic loss due to road crashes, fatalities and injuries. Such studies are carried out across the world frequently to prepare strategies to see how with less investment in creating safe infrastructure and enforcement rules, huge cost in terms of lives and the socio-economic loss can be prevented. The report is yet to be made public and the ministry is going through the report.
Sources said the estimates have been calculated taking into account medical expenses, loss of income which is also known as lost output cost, pain, grief and suffering, damage to vehicle, public asset and administrative costs. The total impact in financial terms has been arrived at using the human capital approach method, which uses the present value of expected future earnings to estimate the potential loss to society, if an individual dies or becomes permanently disabled. It has also taken into account other studies across the globe and also in India.
TOI has learnt that major share in the socio economic impact of fatalities in road crashes is on account of lost output cost, which is nearly Rs 74 lakh per person while in the case of grievous injuries more than 50% of the share of the cost is towards medical expenses.
The report has also highlighted how the share of victim-related costs is about 98% of the total cost of road crashes and 70% of the entire accident cost is towards victims in the age group of 18-45 years.
Sources said the study was done after collecting primary data from police stations across 14 cities and 53 hospitals spread across 20 cities.
It has also revealed that 78% of the cost of all accident victims is towards two-wheeler drivers and pedestrians, who are most vulnerable and need attention of the government to improve enforcement of laws, improving infrastructure and healthcare services.

Govt will need 80,000 crore for Covid vaccine, says Serum CEO
MUMBAI: The government may need Rs 80,000 crore over the next one year for distribution of Covid-19 vaccine and immunization of the country's population, Adar Poonawalla, CEO and promoter of the world's largest vaccine producer, Serum Institute, said on Saturday.
Calling it the "next concerning challenge", which needs to be tackled, Poonawalla posted a tweet tagging the Prime Minister's Office, which read: "We need to plan and guide vaccine manufacturers both in India and overseas to service the needs of our country in terms of procurement and distribution."
Serum has tie ups with global manufacturers AstraZeneca and Novavax for potential Covid-19 vaccines, which are currently undergoing clinical trials. The tweet, perceived by many as alarming, also raised concerns over the government's ability to fund the massive vaccine programme.
"The government has assured that there will be plenty of funds available for vaccines. We have now been assured by the highest levels in the government that enough funds will be available for vaccine procurement, supply and logistics. This is good news," Poonawalla told TOI, when contacted.
While addressing the United Nations General Assembly on Saturday PM Modi said that as the world's largest vaccine producing country, India's vaccine production and delivery capacity will be used to help people across the world.
Although further details on Poonawala's calculations were not immediately available, sources said, it could be assuming the benchmark price of $3-5 per dose, and including two doses for the over 1.3 billion population.