NEW DELHI: Congress leader Rahul Gandhi on Thursday took a jibe at Prime Minister Narendra Modi saying he is "only concerned about his image and not soldiers."
Taking a dig at the acquisition of VVIP aircraft by Modi government worth Rs 8400 crore, Gandhi said the government could have bought a lot more things for soldiers deployed at Siachen-Ladakh border with that money.
"PM bought a plane worth Rs, 8400 crore for himself. So much could have been purchased for our soldiers posted on the Siachen-Ladakh border. Warm clothes: Rs 30,00,000 jacket, gloves: Rs 60,00,000, shoes: Rs 67,20,000, Oxygen cylinder: Rs 16,80,000," Rahul Gandhi said on Twitter.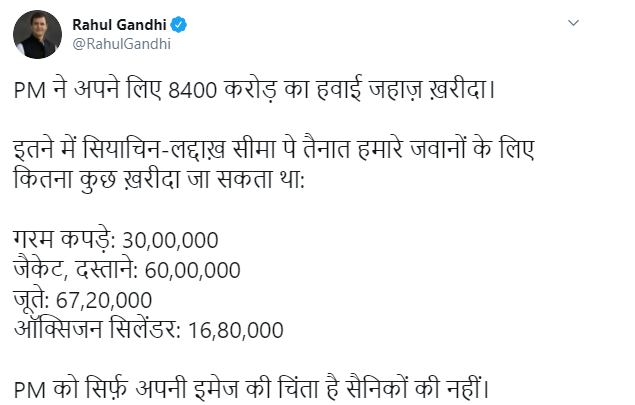 Earlier this week, during his campaign in Punjab against the farm reform laws, the Congress leader accused the prime minister of "wasting" thousands of crores of rupees on the aircraft.
In a swipe at the Congress leader, the government sources said the process for procuring two VVIP aircraft had begun under the UPA government, and the current dispensation has only brought it to a logical conclusion.
They added the two aircraft are not the prime minister's aircraft as Gandhi dubbed them and but they will be used for other VVIPs.
A custom-made B777 aircraft, which will be used to fly the president, vice president and prime minister, arrived in Delhi from the US on last week. Another custom-made B777 plane for the travel of VVIPs is likely to be received from Boeing during a later date.
Officials said the total cost of purchase and retrofitting the two planes has been estimated to be around Rs 8,400 crore.

PM Modi hails Amit Shah hand in nation's progress
NEW DELHI: PM Narendra Modi on Thursday praised Union home minister Amit Shah on his birthday, saying he was making important contribution to country's progress and BJP's growth.
"Our nation is witnessing the dedication and excellence with which he is contributing towards India's progress. His efforts to make BJP stronger are noteworthy," Modi tweeted, his words being seen by many as underscoring Shah's cruciality in the government and BJP's organisational affairs.
Shah, who quit as BJP chief after joining government, continues to play a key role in party affairs and is said to have played an important role in seat-sharing negotiations with allies in Bihar contest.
Other important figures in the government also greeted Shah. "Known for his strong willpower and determination, my colleague in the Union cabinet Amit Shah is working relentlessly to strengthen the country's internal security," defence minister Rajnath Singh said.
Functionaries from other parties also wished him on his birthday. Shiromani Akali Dal's Sukhbir Singh Badal was among several members who extended greetings to the home minister.

Indian missions collecting Sikh data, MEA calls it 'reach out' bid
JALANDHAR: All Indian embassies and consulates across the world are seeking and collecting details of the Sikh diaspora in their areas, particularly in countries where the presence of Sikh community is substantial. This was revealed when an email from the office of the Consul-General of India in Hamburg, Germany, seeking details of the Sikh diaspora in the country became public.
However, MEA has claimed the collection of data was a "reach out effort worldwide" to help the Sikh community as there have been complaints of persecution of the Sikh minorities in some countries. Hamburg vice consul Gulshan Dhingra had on October 19 sent out an email from the official account linked to the CGI office, titled "Data of Sikh Diaspora residing in the 4 North German States." As per the email, "The ministry is in the process of compiling the data of Sikh diaspora residing in Germany."
The recipients of the email were urged to "compile a list with the names and addresses of Sikhs living in your area for onward transmission to the ministry" by October 21, 2020. Europe-based lawyer and activist Dr Manuvie made the email from office of Consulate General Of India, Hamburg, public on her Twitter handle on Tuesday. Later, Hamburg Consul General of India Madan Lal Raigar told TOI that the letter had been withdrawn.

PM greets Bengal on Durga Puja, calls for Covid caution
NEW DELHI: Addressing the people of West Bengal on the sixth day of Durga Puja on Thursday, Prime Minister Narendra Modi urged people once again to remain vigilant and not lower their guard in the country's fight against the novel coronavirus pandemic.
"Apnader sakalke janai Durga Puja o Kali Pujar shubhechha (Durga Puja and Deepavali greetings to all)," the PM said in Bengali while appealing to revellers to celebrate Puja with caution.
After recalling several measures towards women empowerment, he appealed to the people to adhere to social distancing norms ("do gaj ki doori") and wear masks while taking part in festivities. "We are celebrating Durga Puja in times of Covid-19, all devotees have shown exemplary restraint. The number of people might be less but the grandeur and devotion are the same. This is the real Bengal," he said while sharing his 'Pujor Shubecha' (Puja greetings) message.
BJP had made elaborate arrangements for live telecast of the PM's virtual address from the national capital. It was televised live at over 78,000 polling booths across the state's 294 assembly constituencies. After decades of limited presence in the state, BJP emerged as the main rival to Trinamool Congress (TMC), winning 18 of the state's 42 Lok Sabha seats in the 2019 general elections.
Modi is the first PM to inaugurate Durga pujas in Kolkata, Howrah, Ranaghat, Barasat, Midnapore, Bankura, Malda and Siliguri that have already figured on the BJP's political map eight months ahead of assembly polls, which may take place around April-May next year.
Combining the spiritual with present-day reality, Modi also urged people to respect girls and described the Mother Goddess as the source of power and peace. "We should respect girls because woman power has the potential to defeat all forces," he said.