'Our children are not safe': Parents recall horror moments after teen terrorist beheaded teacher outside French school
Residents of the French suburb where history teacher Samuel Paty was brutally slain and beheaded on Friday have been shocked by the incident, with some even saying they are afraid to allow their children back to school.
"Our children are not safe, we don't know what to do. We won't allow them to school anymore," a parent of a child attending the school where the murdered teacher worked says, in a video published by RT's video agency Ruptly.
Another parent, whose child is studying in the same class where the teacher showed cartoons deemed offensive by some, gave his account of the school incident that is believed to have motivated the murderer.
"It all began when he [Paty] asked Muslim kids to raise their hands and leave classroom. My son said, he'd done that to not discriminate or offend anybody," the parent said.
He explained it like this: "I ask you to leave because I'll be showing a caricature of the Prophet of Islam and do not want to shock you."
Some parents rushed to the scene of the murder right after hearing the news, afraid that the attacker may have targeted children too.
"An acquaintance called me immediately after he saw the body in the street and the head beside it. We rushed to the scene. My son was not home at the time, we panicked, we were very afraid," another parent said.



Also on rt.com
Man who beheaded French teacher & 'FIRED' at police named as Moscow-born, ethnic Chechen asylum seeker – prosecutor




Paty, a 47-year-old history teacher, was killed on Friday by a 18-year-old man, identified as an ethnic Chechen born in Moscow but living in France as a refugee, ever since his family emigrated there in the 2000s. The attacker was killed by the police after a brief chase. According to posts on a now-deleted Twitter account allegedly owned by the perpetrator, the attack was carried out in retaliation for the teacher's 'insults' to the Prophet Mohammed and Islam.
Prior to the murder, the teacher had apparently been doxxed online, with his private details leaked in social media posts that described the showing of the offensive imagery – presumably some of what was published by the notorious Charlie Hebdo magazine. While this was not the first time Paty had shown Charlie Hebdo cartoons in school, the latest demonstration triggered protests from some Muslim parents. Last week, a father of a Muslim girl who'd refused to leave the classroom and saw the cartoons, posted a video address online, in which he called upon fellow believers to report Paty to the authorities to have him fired. The comp
2nd French mayor threatened with BEHEADING in the wake of teacher's brutal murder by 'Islamic terrorist'
A second French mayor has apparently been threatened with "beheading" just days after the gruesome murder of a schoolteacher over cartoons of the Prophet Mohammed. The ominous threat was sprayed on the walls of a school in Lyon.
"The mayor of the 8th, we'll behead your head [sic]," the graffiti read, referring to the eighth district of Lyon and its elected official, Olivier Berzane. Unambiguous threats were also made to cut off the heads of teachers and students.
Mayor Berzane said he has already filed a criminal complaint over the offensive messages, vowing to pursue those who wrote them, as "no one takes these threats lightly."
"It is out of the question to let such an act go unpunished. It is necessary to find the perpetrators," Berzane told local media.
These words are disconcertingly stupid and unspeakable. It's pure hatred. Is it an isolated act of someone not knowing what to do with their evening, or a serious threat? Anyway, it's a case of extreme violence.
While the threats might have been, as Berzane suggested, an "isolated act," they came only a day after the mayor of Bron, near Lyon, received a similar warning. The graffiti in that case also threatened the town's elected official with beheading. Mayor Jérémie Bréaud denounced the "violent writing," and France's Interior Minister Gérald Darmanin directed the police to "take legal action and provide protection."



Also on rt.com
French mayor threatened with 'decapitation' a week after schoolteacher's brutal murder




This series of threats against local politicians comes a week after Samuel Paty, a schoolteacher in the Parisian suburb
Ethiopia denounces Trump for INCITING WAR by saying Egypt will 'BLOW UP' disputed Blue Nile dam project
US President Donald Trump's comment that Egypt will "blow up" a disputed dam that Ethiopia is building on the Blue Nile has sparked an outcry in Addis Ababa, where the government is calling the statement an "incitement to war."
Ethiopian Foreign Minister Gedu Andargachew summoned US Ambassador Michael Raynor for clarification on Saturday, a day after Trump spoke in the Oval Office about Ethiopia's $4.6 billion hydroelectric dam project.



Also on rt.com
Sudan to join White House-brokered peace deal with Israel after call with US




The project has created a "very dangerous situation," said Trump, because one of the country's downstream neighbors, Egypt, which relies on the Nile and its tributaries for most of its irrigation and drinking water, "is not going to be able to live that way."
The president's comments came during a ceremony marking a peace deal between Israel and with Sudan, which is also downstream. "They'll end up blowing up the dam," Trump said of Egypt. "And I said it and I say it loud and clear – they'll blow up the dam. And they have to do something."
Ethiopian Prime Minister Abiy Ahmed said his country won't cave in to "belligerent threats." He added that Ethiopia is committed to talks led by the African Union on resolving disputes over the allocation of the Nile's waters, and he has seen "significant progress" in negotiations. Known as the Grand Ethiopian Renaissance Dam (GERD), the project is billed by Addis Ababa as a way to bring millions of Ethiopians out of poverty.
Given such high stakes, Trump was wading into a fraught situation. "The incitement of war between Ethiopia and Egypt from a sitting US president neither reflects the longstanding partnership and strategic alliance between Ethiopia and the United States, nor is acceptable in international law governing interstate relations," Andargachew said on Saturday.
The Trump administration, which previously tried unsuccessfully to broker an agreement to resolve the GERD dispute, last month announced it was suspending some of its financial aid to Ethiopia after the North African nation started filling the dam's reservoir.



Also on rt.com
Ethiopia starts filling dam 'unilaterally' as Sudan reports drop in Blue Nile water levels




Egyptian officials have accused Trump of showing favoritism to Egypt and its president, Abdel Fattah al-Sisi. "Sorry to say, but the man doesn't have a clue on what he is talking about," former Ethiopian Prime Minister Hailemariam Desalegn said on Saturday. "Ethiopia and Ethiopians will never be threatened by such an
Afghan bombing: Kabul education centre attack kills at least 18
At least 18 people have been killed and 57 wounded in a suicide bomb attack outside an education centre in the Afghan capital, Kabul, officials say.
The explosion at the private facility, which offers courses for students in higher education, occurred late in the afternoon, the interior ministry said.
The building in the predominantly Shia Muslim Dasht-e-Barchi area usually hosts hundreds of students.
Many have been taken to hospital. There are fears the death toll may rise.
It is not clear who was behind the attack. The Taliban have denied responsibility.
"A suicide bomber wanted to enter the education centre," interior ministry spokesman Tareq Arain said in a statement, AFP news agency reports.
The spokesman added that the attacker was identified by security guards "after which he detonated his explosives in an alley".
One local resident, Ali Reza, told AFP that those killed and injured were students waiting to enter the facility. "I was standing about 100m from the centre when a big blast knocked me down," he said.
Afghanistan has seen a rise in violence in recent weeks – with most of the attacks carried out by the Taliban. The violence threatens to imperil peace talks between government forces and the Taliban in the Qatari capital, Doha.
The Shia community in Afghanistan has previously been targeted by Sunni Muslim extremists such as the Islamic State group, which views the Shia practice of Islam as heretical.
Saturday's attack is not the first to target an education centre in the capital.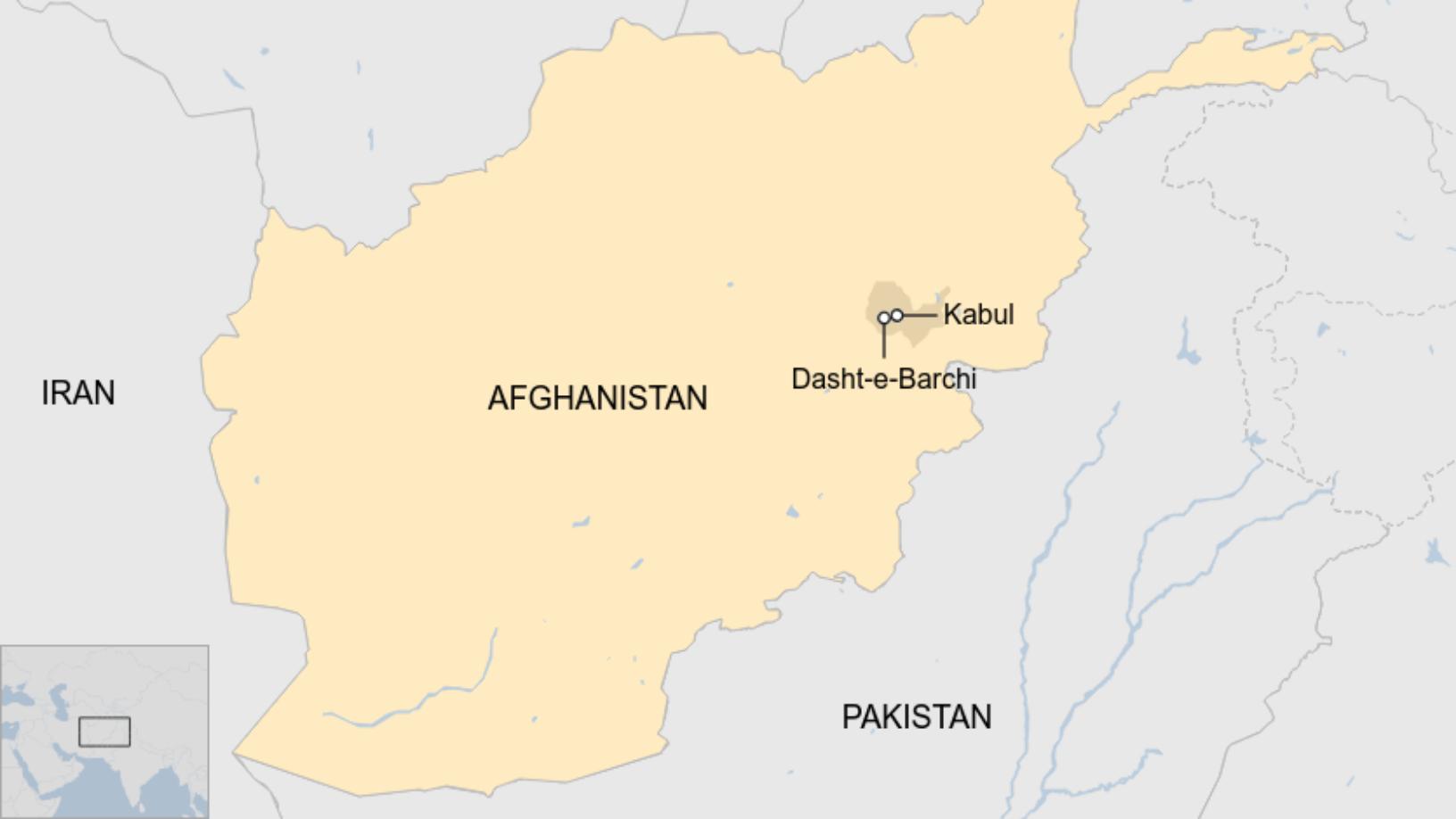 Earlier this week, 11 children and their prayer leader died an air s