'On-demand' Covid-19 testing for all individuals, no delays in emergency procedure due to lack of testing: Health Ministry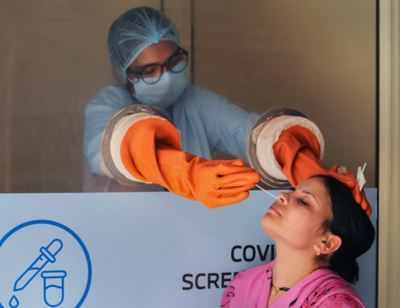 NEW DELHI: Now, any individual can get themselves tested for COVID-19 on-demand and no emergency procedure (including deliveries) should be delayed due to lack of test, the Union Health Ministry has said in an updated advisory on COVID-19 testing.
The National Task Force on COVID-19 recommended several amendments in the strategy for COVID-19 testing in India. Experts have simplified the testing procedure and approved "on-demand" testing for the first time.
The advisory states: "Testing on demand for all individuals who wish to get themselves tested and undertaking travel to countries/Indian states mandating a negative COVID-19 test at the point of entry. For this, State governments to decide simplified modalities," adding that tracking and contact tracing mechanisms should be ensured by the testing laboratories by notifying the public health authorities.
In hospital settings, no emergency procedure (including deliveries) should be delayed for lack of test. However, samples can be sent for testing if a patient is symptomatic or asymptomatic. Pregnant women should not be referred for a lack of testing facility. All arrangements should be made to collect and transfer samples to testing facilities, stated the fresh advisory.
"Mothers who test positive for COVID-19 should be advised to wear a mask and undertake frequent handwashing while handling their baby for 14 days. They should also be advised on breast cleaning before feeding the neonate. These measures are likely to reduce transmission of COVID-19 to their babies.
Routine surveillance in containment zones and screening at points of entry for all symptomatic (ILI symptoms) cases has to be done including health care workers and frontline workers. "Testing for all asymptomatic direct and high-risk contacts (in family and workplace, elderly >= 65 years of age, immune-compromised, those with co-morbidities etc.) of a laboratory-confirmed case to be tested once between day 5 and day 10 of coming into contact. All asymptomatic high-risk individuals (elderly >= 65 years of age, those with co-morbidities etc.) in containment zones should undergo testing," it said.
The advisory further stated that in non-containment areas routine surveillance has to be continued with testing for all symptomatic (ILI symptoms) individuals with a history of international travel in the last 14 days. "All symptomatic (ILI symptoms) contacts of a laboratory-confirmed case, symptomatic health care workers/frontline workers involved in containment and mitigation activities and all symptomatic ILI cases among returnees and migrants within 7 days of illness should be screened and tested."
Since the beginning of the pandemic, a total of 4 crores and 77 lakh tests have been done so far across the country. In the last 24 hours, the Indian Council of Medical Research (ICMR) has conducted at least 10,59,346 tests.There are now 1647 testing laboratories operational which cover all States/UTs. It comprises 833 Real-Time RT PCR labs, TrueNat based testing labs are 689 and 121 are CBNAAT based testing labs.
So far the country has reported over 4 million coronavirus cases and 69,561 deaths across the nation.

Socio-economic cost of a road death Rs 91L, Rs 3.6L for those grievously injured
NEW DELHI: The average socio-economic impact or cost of every person dying in a road crash was around Rs 91 lakh and it's close to Rs 3.6 lakh in the case of each victim left with grievous injuries during 2018, a study commissioned by the road transport and highways ministry has found.
Going by the government's report on fatalities and injuries, it has estimated the total impact at Rs 1.47 lakh crore during 2018 when 1.51 lakh people were killed and 4.69 lakh were left with grievous and minor injuries. However, considering that there is under reporting of fatalities and injuries, the study has also projected loss to the tune of Rs 5.9 lakh crore, which is 3.1% of the GDP.
The study was carried out by the TRIPP of IIT(Delhi) and DIMTS, which has come out with three different estimates of the socio-economic impact under three scenarios. The third estimate is based on the Global Burden of Disease (GDB) Study and the impact has been estimated close to Rs 8.63 lakh crore.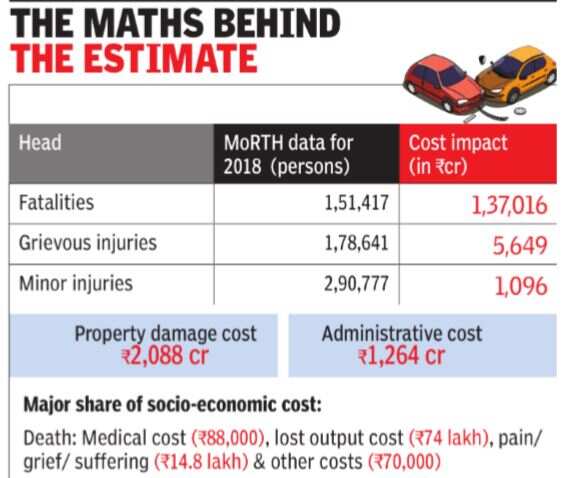 This is the second such study after 1999 to quantify the total economic loss due to road crashes, fatalities and injuries. Such studies are carried out across the world frequently to prepare strategies to see how with less investment in creating safe infrastructure and enforcement rules, huge cost in terms of lives and the socio-economic loss can be prevented. The report is yet to be made public and the ministry is going through the report.
Sources said the estimates have been calculated taking into account medical expenses, loss of income which is also known as lost output cost, pain, grief and suffering, damage to vehicle, public asset and administrative costs. The total impact in financial terms has been arrived at using the human capital approach method, which uses the present value of expected future earnings to estimate the potential loss to society, if an individual dies or becomes permanently disabled. It has also taken into account other studies across the globe and also in India.
TOI has learnt that major share in the socio economic impact of fatalities in road crashes is on account of lost output cost, which is nearly Rs 74 lakh per person while in the case of grievous injuries more than 50% of the share of the cost is towards medical expenses.
The report has also highlighted how the share of victim-related costs is about 98% of the total cost of road crashes and 70% of the entire accident cost is towards victims in the age group of 18-45 years.
Sources said the study was done after collecting primary data from police stations across 14 cities and 53 hospitals spread across 20 cities.
It has also revealed that 78% of the cost of all accident victims is towards two-wheeler drivers and pedestrians, who are most vulnerable and need attention of the government to improve enforcement of laws, improving infrastructure and healthcare services.

Govt will need 80,000 crore for Covid vaccine, says Serum CEO
MUMBAI: The government may need Rs 80,000 crore over the next one year for distribution of Covid-19 vaccine and immunization of the country's population, Adar Poonawalla, CEO and promoter of the world's largest vaccine producer, Serum Institute, said on Saturday.
Calling it the "next concerning challenge", which needs to be tackled, Poonawalla posted a tweet tagging the Prime Minister's Office, which read: "We need to plan and guide vaccine manufacturers both in India and overseas to service the needs of our country in terms of procurement and distribution."
Serum has tie ups with global manufacturers AstraZeneca and Novavax for potential Covid-19 vaccines, which are currently undergoing clinical trials. The tweet, perceived by many as alarming, also raised concerns over the government's ability to fund the massive vaccine programme.
"The government has assured that there will be plenty of funds available for vaccines. We have now been assured by the highest levels in the government that enough funds will be available for vaccine procurement, supply and logistics. This is good news," Poonawalla told TOI, when contacted.
While addressing the United Nations General Assembly on Saturday PM Modi said that as the world's largest vaccine producing country, India's vaccine production and delivery capacity will be used to help people across the world.
Although further details on Poonawala's calculations were not immediately available, sources said, it could be assuming the benchmark price of $3-5 per dose, and including two doses for the over 1.3 billion population.

Congress may rope in Prashant Kishor for 2022 Punjab election
NEW DELHI: Pollster Prashant Kishor may get to manage Congress in the Punjab elections scheduled for early 2022. Party sources said CM Amarinder Singh is in talks with the former JD(U) member and election strategist, and a decision may be announced soon.
While Kishor is likely to get the contract for advance poll planning in the state, Congress members said he could even get an official perch to manage the affairs. Kishor had widely been credited with helping Congress ride back to power in the state in 2017. A senior AICC manager said the talks are being held by the chief minister and that the party is not involved in the negotiations.
While speculations about Kishor coming on board the Congress campaign in Punjab have been on for a while, it is only now it appears to be reaching a finality. Having been expelled from JD(U) following a scrap with Bihar CM Nitish Kumar, Kishor is said to be on the lookout for a new political platform – a reason why there are also speculations that he is looking for an entry in Congress.
Well-placed sources in Congress said Kishor has a direct line with the Gandhi siblings, a reason why not many are willing to hazard a guess about the pollster. There is some confusion in Congress ranks about Kishor.
Sources said a possible reason for CM Singh to get Kishor on board in Punjab would be to ensure that he does not work for Arvind Kejriwal's AAP, which is set to make a strong pitch in the state in the next polls.