No mass snooping, coercion or backdoors: China pokes US in the eye with global digital rules proposal
Beijing wants the world community to adopt a set of rules for developing the digital economy, which would endorse national sovereignty over data and oppose mass electronic surveillance in foreign cyberspace.
The code of conduct, dubbed the 'Global Initiative on Data Security', was presented on Tuesday by Chinese Foreign Minister Wang Yi at a conference in Beijing. While the name 'United States' was never mentioned in his speech, the official left no doubt that Washington's recent attacks on the Chinese tech sector prompted the proposal.
"Bent on unilateral acts, a certain country keeps making groundless accusations against others in the name of 'clean' network and used security as a pretext to prey on enterprises of other countries who have a competitive edge," he said.
Such blatant acts of bullying must be opposed and rejected.
The Trump administration last month announced its 'Clean Network Initiative', aimed at pushing "untrusted" Chinese telecom companies and apps out of the US market and protecting undersea communication cables from eavesdropping.
Wang, who also holds the powerful office of state councilor, blasted the US approach as politicization of security issues and protectionism that stifle innovation, and outlined China's own vision for the digital future. Beijing believes national governments have a legitimate claim on data generated under their sovereignty and should respect each other's laws on its handling.



Also on rt.com
Stock of China's largest chip maker plunges after reports of potential US ban




Among other things, it means that countries should not "conduct mass surveillance [on foreign soil] or engage in unauthorized collection of personal information of other states," he said. Governments likewise should not pressure domestic companies into storing foreign data on their territory.
The companies themselves must not install backdoors in their products to gain illegal access to user data or take abusive advantage of the dependence on their products, he added.
The US push against Chinese companies like telecom producer Huawei, digital giant Tencent, and TikTok owner ByteDance is justified by a concern for user data and intellectual property. Washington claims that Chinese companies are subservient to Beijing and act as government agents harvesting the information of their foreign clients.



Also on rt.com
Microsoft joined by Walmart in grab for TikTok as tech platform's CEO jumps ship




Beijing denies the allegations, and Wong reiterated that China pledges to adhere to the principles it proposes.
"We have not and will not ask Chinese companies to transfer data overseas to the
Breonna Taylor: family 'never had faith' in police prosecution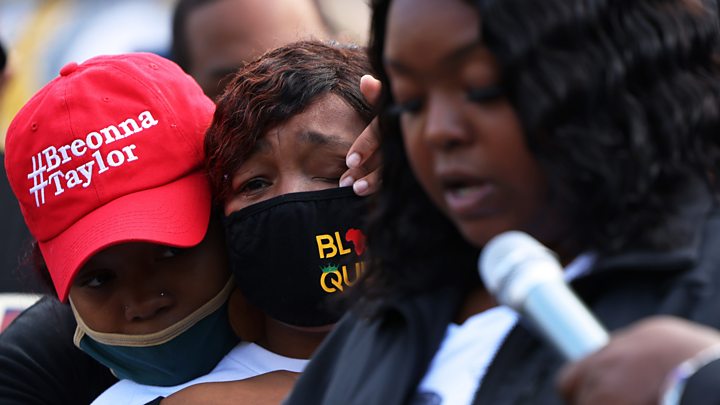 A man accused of shooting two policemen in Louisville, Kentucky amid racial justice protests has been ordered to be held in jail on $1m (£786,000) bail.
Larynzo Johnson, 26, was arrested hours after it was announced that no murder charges would be brought for Breonna Taylor's death during a police raid.
The decision sparked days of unrest and the city is under a weekend curfew.
Ms Taylor's family has demanded that a grand jury transcript of her case be released to the public.
The grand jury on Wednesday had returned charges of 'wonton endangerment' against one former officer. However, the decision not to lay charges for killing Ms Taylor triggered protests around the US.
Over 127 people were arrested on Wednesday night. On Thursday night, Louisville police arrested at least 27 protesters, including the only African-American lawmaker in the Kentucky legislature.
What does the Taylor family want?
In a news conference on Friday, Benjamin Crump, a lawyer for the Taylor family, led chants of "release the transcripts," and accused Kentucky Attorney General Daniel Cameron of failing to mount a strong enough case to the grand jury to secure murder charges against the three officers who fired bullets into Ms Taylor's home in Louisville on 13 March.
Police entered her flat during a drug raid, though none were later found.
"What did Kentucky Attorney General Daniel Cameron present to the grand jury? Did he present any evidence on Breonna Taylor's behalf?" Mr Crump asked.
"Or did he make a unilateral decision to put his thumb on the scales of justice to help try to exonerate and justify the killing of Breonna Taylor by these police officers?"
Ms Taylor's family had called for all three officers to be arrested for murder, but only one has been charged. Brett Hankison, who was fired from the police force in June, is accused of wanton endangerment, a low-level felony, for firing shots into Ms Taylor's neighbour's apartment.
In her first public statement since the grand jury's ruling, Ms Taylor mother said she "never had faith" in the prosecutor, Mr Cameron, who is Kentucky's first ever black attorney general.
"I was reassured Wednesday of why I have no faith
Attack outside former Charlie Hebdo office in Paris 'clearly act of Islamist terrorism' – French interior minister
A meat cleaver attack that seriously injured two people outside the former offices of satirical magazine Charlie Hebdo in Paris is being treated as an act of Islamist terrorism by French authorities.
Two employees of the Premieres Lignes news production agency were outside their office in the 11th arrondissement on Friday when they were attacked by a knife-wielding man. They were "very badly wounded," Premieres Lignes founder Paul Moreira told AFP.
The attack took place near the former address of Charlie Hebdo, a weekly satirical newspaper whose staff was massacred in a 2015 attack by Islamist militants. The 14 alleged accomplices in that attack are currently on trial in Paris.
Charlie Hebdo eventually reopened at a different address in Paris, which is being kept secret for security reasons.
AFP reports that five men have been detained, including the suspected attacker. The PNAT anti-terrorism prosecution office said it has opened an investigation, with charges of "attempted murder related to a terrorist enterprise" and "conspiracy with terrorists."
PNAT head Jean-Francois Ricard said the main suspect is an 18-year-old man, reportedly born in Pakistan.
DETAILS TO FOLLOW
'The Army just killed my wife!': Soul-crushing video provokes online outrage towards Colombian military
A young Colombian man filmed himself crying over his dead wife, who was shot in her car by soldiers. The emotional video led online users to denounce both the country's government and US foreign policy.
The woman, reported as Juliana Giraldo Diaz, was killed on Thursday, while she and her husband were driving through the rural area of Miranda, Cauca. In the graphic video, her body can be seen lying in the car's front seat, apparently shot in the head, and in a pool of blood.
WARNING: DISTURBING VIDEO 
The Colombian army shot this man's wife in the head and killed her. He's begging for help. "Help me please, we have nothing." Her name is Juliana and she was killed this morning in Miranda, Cauca.pic.twitter.com/l8Cq4TPmZU

— Camila (@camilateleSUR) September 24, 2020
"The Army just killed my wife!" the man, Francisco, can be heard screaming in the footage.
"We had no drugs, we had no weapons, we had nothing … Please help me!"
The Colombian Army has issued a statement, saying that the woman was shot by a soldier while the military was securing the area.
The country's president, Ivan Duque, ordered both the defense ministry and the army to carry out a "quick" investigation and "punish" those responsible. Separately, the incident will also be reviewed by the attorney general's office.
Condeno repudiable hecho ocurrido en Miranda, Cauca. He ordenado a @mindefensa y @COL_Ejercito disponer lo necesario para investigación con celeridad. Responsable debe recibir castigo ejemplar. Solidaridad con familiares de Juliana Giraldo, a quienes brindaremos acompañamiento.

— Iván Duque 🇨🇴 (@IvanDuque) September 24, 2020
Commentators universally condemned the killing online, saying that people in uniform always get to act with "impunity". 
Others lamented that "no one" in the international community addresses such incidents, in their view because "Colombia is a US puppet state".
Knowing Colombia is US puppet state no one will condemn it.

— Tito ☭ 🇸🇻 ⛰️ Андрей 🐈🐕 (@adxtrjuseniorit) September 24, 2020
The woman's horrifying death follows countrywide turmoil during protests and riots against police brutality, which broke out over the death of law student Javier Ordonies. He died on September 8, after being repeatedly tasered by police officers.



Also on rt.com
At least 5 killed in violent protests following police killi