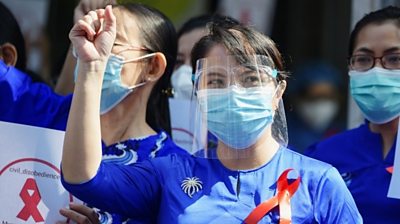 Teachers and students in Myanmar have joined growing protests against Monday's military coup.
A civil disobedience movement is gaining momentum.
Demonstrators at a university in the biggest city, Yangon, chanted support for jailed leader Aung San Suu Kyi and wore red ribbons, her party's colour.
BBC
BBC News is an operational business division of the British Broadcasting Corporation responsible for the gathering and broadcasting of news and current affairs.
Related posts