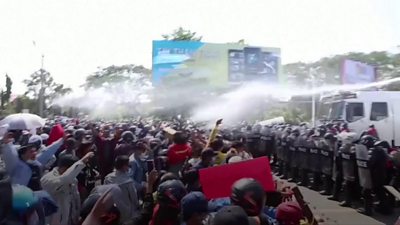 Police in Myanmar have fired rubber bullets during a demonstration in the capital Nay Pyi Taw, as thousands defied a ban on protests.
Water cannons and tear gas have also been used against protesters, who are standing against a coup that removed the elected government last week.
BBC Burmese has been told at least two protesters have been seriously injured.
BBC
BBC News is an operational business division of the British Broadcasting Corporation responsible for the gathering and broadcasting of news and current affairs.
Related posts