MUMBAI: Mumbai police on Thursday said it has busted a racket where three channels— Republic TV, Fakht Marathi and Box Cinema-— manipulated Television Rating Points (TRP), a measure of viewership that drives advertising revenues, and arrested four people.
Police commissioner Param Bir Singh at a press conference said TRP manipulation allowed these channels to fraudulently boost viewership numbers and attract more advertisements. Families, including those residing in slums, were paid Rs 400 to Rs 700 a month to keep these channels switched on. An illiterate person also kept English channels continuously on at home, Singh added. The police chief said the money earned through advertisements in a fraudulent manner would be considered as "proceeds of crime".
As per BARC, suspicious trends were seen in case of Republic TV TRP. "BARC had identified some households in the city and our teams reached there for investigation. In this case, Republic TV, its directors and promoters are beneficiaries and it led to revenue loss to other channels and advertisers."
"Irrespective of who the editors or the owners are, we will take strict action against them," Param Bir Singh said, and added the police were looking for more people involved in the racket.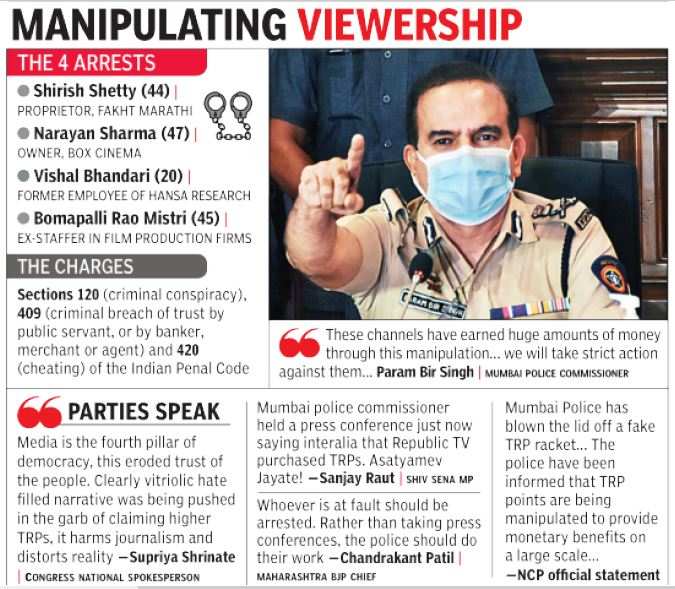 The police on Thursday arrested the proprietor of Fakht Marathi, Shirish Shetty (44), and owner of Box Cinema, Narayan Sharma (47). Vishal Bhandari, a former employee of Hansa Research, and Bomapalli Rao Mistri, alias Sanjurao, who was allegedly manipulating the TRPs, were arrested on Wednesday. Police said they had found Rs 20 lakh in Mistri's bank account and another Rs 8.5 lakh in his bank locker.
A grocery shop owner told police that he would tune into a specific channel, for which he was paid money, and go to his shop. It was Bhandari who had a list of households where "barometers" were installed and he would visit those households.
Police claim to have obtained WhatsApp chats between Bhandari and households where they talk about money in return for watching specific channels. "It has been revealed in the investigation so far that certain TV channels such as Republic TV, Fakt Marathi, Box Cinema have been indulging in such malpractices," a Mumbai police press release said.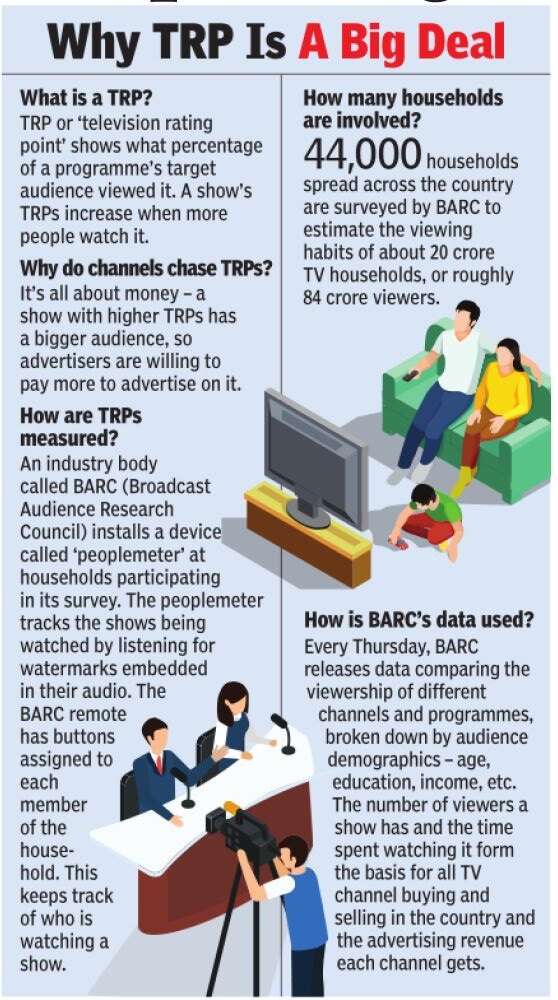 BARC had installed 2,000 barometers in homes in Mumbai to monitor TRPs. Information on the homes is treated as confidential. BARC, which releases weekly rating points for TV channels in India, had given the contract to Hansa Research. On October 6, Hansa filed a complaint with police against some ex-employees who misused the data on households where the TRP monitoring systems are installed.
Singh said, "We received information from Hansa about TRP manipulation for monetary consideration. Based on the information, our team worked and arrested a former employee of Hansa. His interrogation led us to the arrest of two TV channels' owners. These channels have earned huge amounts of money through this manipulation and now we will also scrutinise their financial dealings."
Police said they had also stumbled upon a Rs 28 crore transaction of a TV channel where money was paid under the table to cable operators and local goons who protected these cable operators. The police have sought from the bank the channel's transaction details. BARC India said it would cooperate with police. "As in all our previous cases of suspected panel homes intrusions, BARC India continues to follow its established vigilance and disciplinary guidelines," it said.
Maharashtra home minister Anil Deshmukh told a Marathi news channel that action would be taken against Republic TV and its owners as per rules. Police have asked for more clarifications from the channel, he said, adding that there was no question of bowing to pressure. If needed, arrests would also be made, he said.
He added they had not acted out of vengeance, "even though a few channels have been constantly taking an anti-Maharashtra stand". Republic TV editor-inchief Arnab Goswami issued a statement accusing Singh of making "false allegations" against the channel "because we questioned him in the Sushant Singh Rajput case investigation".
"Republic TV will file a criminal defamation case against the Mumbai police commissioner. There is not a single BARC report that mentions Republic TV," he said, demanding an apology. Singh said he was not into vendetta against the channel and this was a professional job.
Hansa Research CEO Praveen Nijhara said, "Hansa Research and BARC conducted an investigation into the matter over the last few weeks, the conclusion of which resulted in Hansa Research filing an FIR against an ex-employee who was engaged in some wrongdoing."
Late Thursday night, in response to Republic TV saying that it was India Today TV and not Republic that had been named in the FIR, joint commissioner of police (crime) Milind Bharambe issued a statement, saying, "In the FIR, the name of India Today is mentioned. However, it is not substantiated by any of the accused or witnesses. On the contrary, the accused and witnesses are specifically mentioning the names of Republic TV, Fakt Marathi and Box Cinema. Thorough investigations are on."

India calls for complete ceasing of support to terrorist forces in Middle East
UNITED NATIONS: India has called on all concerned parties to completely stop supporting terrorist forces, like the ISIS, while urging all stakeholders in the Middle East to work constructively for peace, stability and development.
India underscored that it has invested considerably in the peace and stability of the region by deploying its personnel as part of UN peacekeeping forces, through humanitarian assistance, development cooperation, capacity building, and will continue contributing towards peace-building in the Middle East.
"India calls on concerned parties to completely stop support to terrorist forces, like ISIL (Islamic State of Iraq and the Levant) and others. India also urges all parties in the region to work constructively and in good faith to promote peace, stability and development for the benefit of all people in the Middle East," India said in a written statement on Monday on the Security Council's open debate on 'The Situation in the Middle East'.
India said the truce between Israel and the Hamas has eased the humanitarian situation in Gaza and expressed hope that the temporary truce is converted into a permanent ceasefire, which can save precious human lives on both sides and create a conducive environment for talks.
"It is an unfortunate reality that the interlinked and mutually reinforcing challenges faced by the people of the Middle East have not yet been resolved. Political instability, long-festering conflicts, sectarian divides, issue of refugees and terrorism continue to plague the region. The COVID-pandemic has only exacerbated the threats posed by these challenges," India said.
The statement made India's permanent representative to the UN, Ambassador T S Tirumurti, will go as part of the official record of the Council.
India said it appreciates the agreement between Fatah and Hamas for holding Parliamentary and Presidential elections and also elections for the Palestinian National Council, which will help fulfill the democratic aspirations of the Palestinian people.
India also welcomed the agreements for normalisation of relations between Israel and the UAE and Bahrain. "India has always supported peace and stability in West Asia, which is our extended neighbourhood," India said.
Further, India said the commencement of discussions on the disputed border between Israel and Lebanon is a significant development, expressing hope that this will provide an opportunity to resolve the longstanding issue between the two countries.
India highlighted that Palestinian aspirations for a sovereign and independent state are yet to be fulfilled and stressed that New Delhi has been unwavering in its commitment to the Palestinian cause and continues to remain supportive of a peaceful negotiated resolution of the Palestinian issue.
"India has supported the two-state solution as a just and acceptable solution to the conflict. Establishment of a Palestinian State living side-by-side in peace and security with Israel, within mutually agreed borders should be achieved through negotiations directly by the two parties," India said adding that any stalemate could strengthen the hands of extremists and shut the door to cooperation thereby jeopardising the security, stability and prosperity of the people on both sides and the region.
Accordingly, India urged Israel and Palestine to resume direct negotiations at the earliest and called upon the international community to take concrete steps towards resuming and facilitating these negotiations quickly.
India noted that the decade-long armed conflict in Syria has claimed over 400,000 lives, displaced 6.2 million people internally and compelled another 6.3 million people to seek shelter in neighbouring countries.
"While we are heartened to see return of normalcy to major parts of the country, we are also reminded of the enormous resources that would be required to provide urgent humanitarian aid, rebuild infrastructure, enable return of the refugees and restore a normal and dignified life of all Syrians," the statement said.
India said in the statement that it is not only contributing to the return of normalcy and rebuilding of Syria, but has also consistently called for a comprehensive and peaceful resolution of the Syrian conflict through a Syrian-led dialogue, taking into account the legitimate aspirations of the people of Syria.
India voiced concern over the security and humanitarian situation in Yemen and said the recent exchange of prisoners by the Government of Yemen and Ansar Allah, who had been detained in connection with the conflict, is a welcome development.
"India hopes that the parties will take more confidence building measures to provide the necessary impetus for the full implementation of the Stockholm Agreement," the statement read.
India also hopes for peace and stability in Iraq with full respect for Iraq's sovereignty and territorial integrity.
India noted that in the aftermath of the August blast that brought destruction to vast swathes of Beirut and inflicted heavy loss of lives, India stood in solidarity with Lebanon.
New Delhi sent emergency humanitarian aid of over 58 metric tons to Beirut. "We look forward to the swift formation of a new government that can offer political stability and also tackle the grave socio-economic challenges being faced by the people of Lebanon," the statement said.

US, India must focus on threat posed by China: Secretary of state Mike Pompeo
NEW DELHI: US secretary of state Mike Pompeo on Tuesday stressed on the need for Washington and New Delhi to work together to counter the threat posed by Beijing to "security and freedom"
Pompeo's comment came during the crucial 2+2 dialogue between India and the US, which saw the signing of a crucial defence agreement between the two countries.
"There is much more work to do for sure. We have a lot to discuss today: Our cooperation on the pandemic that originated in Wuhan, to confronting the Chinese Communist Party's threats to security and freedom to promoting peace and stability throughout the region," Pompeo said during talks with defence minister Rajnath Singh and external affairs minister S Jaishankar. Pompeo was joined by defence secretary Mark Esper.
Esper too focussed on the apparent threat posed by China, specifically in the Indo-Pacific region.
"Our focus now must be on institutionalising and regularising our cooperation to meet the challenges of the day and uphold the principles of a free and open Indo-Pacific well into the future," Esper said.
The comments assume significance as India is locked in a border standoff with China in eastern Ladakh.
In June this year, 20 Indian soldiers and an unspecified number of PLA soldiers were killed in a clash with Chinese troops in Galwan Valley in eastern Ladakh, hardening the mood in India against China and driving Prime Minister Narendra Modi's government to seek closer military ties with the United States.
In the US, President Donald Trump has made being tough on China a key part of his campaign to secure a second term in next week's presidential election and Pompeo has been trying to bolster allies to counter China's growing influence in the Indo-Pacific region.
This month, India invited Australia to join naval drills it holds each year with the United States and Japan, brushing off Chinese concerns that the exercises destabilise the region.
(With inputs from agencies)

US Secretary of State Mike Pompeo, Defence Secretary Mark Esper meet NSA Doval
NEW DELHI: US Secretary of State Mike Pompeo and Defence Secretary Mark T Esper on Tuesday held talks with National Security Advisor Ajit Doval, covering key aspects of growing strategic ties between the two countries.
Issues of strategic importance were discussed at the meeting, sources said.
The meeting took place ahead of the third edition of 2+2 ministerial dialogue. Esper and Pompeo arrived here on Monday for the crucial talks aimed at further boosting the defence and security ties between the two countries.
Defence Minister Rajnath Singh and External Affairs Minister S Jaishankar held separate talks with their US counterparts on Monday.
Earlier on Tuesday, both the top US administration officials visited the National War Memorial and paid tributes to India's fallen heroes.