Are patients in private hospitals or their families told that the doctor on duty at night in the ICU or working as emergency medical officer could be an Ayurvedic or Homeopathic doctor? Do they know that the lakhs they pay for the best of care could include being managed by a non-allopathic doctor?
Popular job sites are full of advertisements placed by some of the most well-known hospitals, including corporate chains, seeking Ayurvedic and Homeopathic doctors to work as resident medical officers, emergency or casualty medical officers and even to manage ICUs at night. While these AYUSH practitioners might come at half the salary of a qualified MBBS doctor, patients admitted in these hospitals for 'world class' care are not only unaware that AYUSH doctors manage their care, their bills too do not reflect this cost-cutting measure.
The government has been pushing to train AYUSH doctors to give basic healthcare in rural areas where there is an acute shortage of doctors. However, the advertisements are by private hospitals located in the biggest cities, where there is often a glut of MBBS and specialist doctors.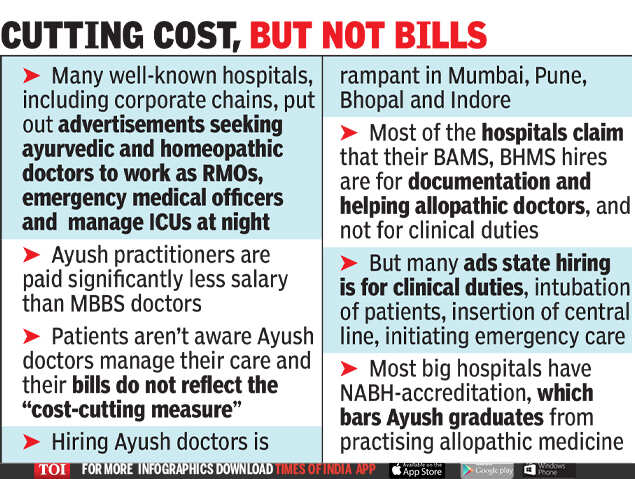 The practice of hiring AYUSH doctors seems most rampant in Mumbai and Pune. The hospitals that have put out ads for them include Fortis Hospital, Mulund, Asian Heart Institute and Wockhardt Hospital in Mumbai and Ruby Hall Clinic and Deenanath Mangeshkar Hospital in Pune.
Most of these hospitals when contacted by TOI denied that their BAMS, BHMS hires were allowed to do clinical duties and said they were mostly for documentation work and to assist allopathic doctors. However, many of the ads state clearly that the hiring is for clinical duties which include intubation of patients, insertion of central line, assessing changes in patient condition, initiating emergency treatment, performing emergency and ICU procedures etc.
When this correspondent called up one of these hospitals posing as a currently jobless BAMS graduate with three years' experience, the HR person said the work would involve clinical duties in casualty, ICU and wards and "two nights per week and a rotational off". "The salary is Rs 18,000, but since you are experienced we can pay you Rs 21,000 plus an additional Rs 3,000 per month for Covid duty," said the HR person.
"MBBS graduates are paid Rs 40,000-45,000 by many of these hospitals. But they don't even want to spend this much. So, they hire BAMS and BHMS or even Unani graduates who would come at less than half that cost. How low do they want salaries to go? What about the quality of care they promise patients?" asked an assistant professor in a private medical college in Bangalore.
Most of these big hospitals are also accredited with National Accreditation Board for Hospital and Healthcare (NABH). "What is the accreditation worth if AYUSH graduates with no licence to practice allopathic medicine are being employed to provide patient care? NABH supposedly assures quality of a hospital and that is why the rates for an NABH accredited hospital are higher," pointed out a senior consultant in a private hospital in Delhi.
Dr Devi Shetty told TOI: "These doctors do not have the licence to practice allopathy. They cannot practice it." Former president of the Indian Medical Association, Dr Ravi Wankhedkar, agreed: "This is illegal. We are opposed to this and IMA has said this repeatedly," he said.
"If I am paying one lakh per day for care in such a huge five-star hospital, as a patient I have the right to know whether the doctor treating me is a vaid or homeopath. This is clearly cheating of patients. There ought to be an enquiry on whether using these doctors have led to higher mortality among ICU patients and Covid patients. Medical negligence by an allopath would mean a case before the medical council. What happens if a patient is harmed by something done by this AYUSH doctor practising allopathy? Who will take the responsibility?" asked a doctor working in a corporate hospital. "My mother was admitted to a top private hospital in Pune. To my horror I discovered that the only doctors on duty at night were ayurvedic graduates. This is totally unacceptable," said a medical college professor.
"It is rampant in places like Bhopal and Indore. Several hospitals were caught employing AYUSH graduates for ICU duty at night in a sting operation in 2018, but the practice continues as the government has turned a blind eye. This is the low-cost model of private hospitals. But there is nothing low cost about their bills," said Dr Anand Rai, an ophthalmologist and whistleblower in the Vyapam scam.
A prominent surgeon working in a private hospital in Mumbai which has AYUSH graduates in the ICU at night, however, asked what was wrong in employing these graduates if they were trained in the necessary skills. "They are a large workforce and we need to use them creatively. If they are skilled, they also ought to be paid better. It is about capability and not about which system of medicine they come from," he added.
"A critically ill patient is someone who has complex pathophysiological problems and that is why they are in the ICU. Treating these patients requires an understanding of the complex disease process and treatment has to be modulated accordingly. It is wrong to allow a person trained in a different system of medicine like an Ayurvedic or Homeopathic who has a different understanding of disease processes to manage a patient in a critical condition," said the head of the critical care department in a large charitable hospital in Delhi.
"If the patient wanted to be treated by an AYUSH doctor he would have gone to an AYUSH hospital. If the patient has come to an allopathic hospital, can the person be taken care of by an AYUSH doctor masquerading as an allopath?" asked a professor in AIIMS, Delhi.

India calls for complete ceasing of support to terrorist forces in Middle East
UNITED NATIONS: India has called on all concerned parties to completely stop supporting terrorist forces, like the ISIS, while urging all stakeholders in the Middle East to work constructively for peace, stability and development.
India underscored that it has invested considerably in the peace and stability of the region by deploying its personnel as part of UN peacekeeping forces, through humanitarian assistance, development cooperation, capacity building, and will continue contributing towards peace-building in the Middle East.
"India calls on concerned parties to completely stop support to terrorist forces, like ISIL (Islamic State of Iraq and the Levant) and others. India also urges all parties in the region to work constructively and in good faith to promote peace, stability and development for the benefit of all people in the Middle East," India said in a written statement on Monday on the Security Council's open debate on 'The Situation in the Middle East'.
India said the truce between Israel and the Hamas has eased the humanitarian situation in Gaza and expressed hope that the temporary truce is converted into a permanent ceasefire, which can save precious human lives on both sides and create a conducive environment for talks.
"It is an unfortunate reality that the interlinked and mutually reinforcing challenges faced by the people of the Middle East have not yet been resolved. Political instability, long-festering conflicts, sectarian divides, issue of refugees and terrorism continue to plague the region. The COVID-pandemic has only exacerbated the threats posed by these challenges," India said.
The statement made India's permanent representative to the UN, Ambassador T S Tirumurti, will go as part of the official record of the Council.
India said it appreciates the agreement between Fatah and Hamas for holding Parliamentary and Presidential elections and also elections for the Palestinian National Council, which will help fulfill the democratic aspirations of the Palestinian people.
India also welcomed the agreements for normalisation of relations between Israel and the UAE and Bahrain. "India has always supported peace and stability in West Asia, which is our extended neighbourhood," India said.
Further, India said the commencement of discussions on the disputed border between Israel and Lebanon is a significant development, expressing hope that this will provide an opportunity to resolve the longstanding issue between the two countries.
India highlighted that Palestinian aspirations for a sovereign and independent state are yet to be fulfilled and stressed that New Delhi has been unwavering in its commitment to the Palestinian cause and continues to remain supportive of a peaceful negotiated resolution of the Palestinian issue.
"India has supported the two-state solution as a just and acceptable solution to the conflict. Establishment of a Palestinian State living side-by-side in peace and security with Israel, within mutually agreed borders should be achieved through negotiations directly by the two parties," India said adding that any stalemate could strengthen the hands of extremists and shut the door to cooperation thereby jeopardising the security, stability and prosperity of the people on both sides and the region.
Accordingly, India urged Israel and Palestine to resume direct negotiations at the earliest and called upon the international community to take concrete steps towards resuming and facilitating these negotiations quickly.
India noted that the decade-long armed conflict in Syria has claimed over 400,000 lives, displaced 6.2 million people internally and compelled another 6.3 million people to seek shelter in neighbouring countries.
"While we are heartened to see return of normalcy to major parts of the country, we are also reminded of the enormous resources that would be required to provide urgent humanitarian aid, rebuild infrastructure, enable return of the refugees and restore a normal and dignified life of all Syrians," the statement said.
India said in the statement that it is not only contributing to the return of normalcy and rebuilding of Syria, but has also consistently called for a comprehensive and peaceful resolution of the Syrian conflict through a Syrian-led dialogue, taking into account the legitimate aspirations of the people of Syria.
India voiced concern over the security and humanitarian situation in Yemen and said the recent exchange of prisoners by the Government of Yemen and Ansar Allah, who had been detained in connection with the conflict, is a welcome development.
"India hopes that the parties will take more confidence building measures to provide the necessary impetus for the full implementation of the Stockholm Agreement," the statement read.
India also hopes for peace and stability in Iraq with full respect for Iraq's sovereignty and territorial integrity.
India noted that in the aftermath of the August blast that brought destruction to vast swathes of Beirut and inflicted heavy loss of lives, India stood in solidarity with Lebanon.
New Delhi sent emergency humanitarian aid of over 58 metric tons to Beirut. "We look forward to the swift formation of a new government that can offer political stability and also tackle the grave socio-economic challenges being faced by the people of Lebanon," the statement said.

US, India must focus on threat posed by China: Secretary of state Mike Pompeo
NEW DELHI: US secretary of state Mike Pompeo on Tuesday stressed on the need for Washington and New Delhi to work together to counter the threat posed by Beijing to "security and freedom"
Pompeo's comment came during the crucial 2+2 dialogue between India and the US, which saw the signing of a crucial defence agreement between the two countries.
"There is much more work to do for sure. We have a lot to discuss today: Our cooperation on the pandemic that originated in Wuhan, to confronting the Chinese Communist Party's threats to security and freedom to promoting peace and stability throughout the region," Pompeo said during talks with defence minister Rajnath Singh and external affairs minister S Jaishankar. Pompeo was joined by defence secretary Mark Esper.
Esper too focussed on the apparent threat posed by China, specifically in the Indo-Pacific region.
"Our focus now must be on institutionalising and regularising our cooperation to meet the challenges of the day and uphold the principles of a free and open Indo-Pacific well into the future," Esper said.
The comments assume significance as India is locked in a border standoff with China in eastern Ladakh.
In June this year, 20 Indian soldiers and an unspecified number of PLA soldiers were killed in a clash with Chinese troops in Galwan Valley in eastern Ladakh, hardening the mood in India against China and driving Prime Minister Narendra Modi's government to seek closer military ties with the United States.
In the US, President Donald Trump has made being tough on China a key part of his campaign to secure a second term in next week's presidential election and Pompeo has been trying to bolster allies to counter China's growing influence in the Indo-Pacific region.
This month, India invited Australia to join naval drills it holds each year with the United States and Japan, brushing off Chinese concerns that the exercises destabilise the region.
(With inputs from agencies)

US Secretary of State Mike Pompeo, Defence Secretary Mark Esper meet NSA Doval
NEW DELHI: US Secretary of State Mike Pompeo and Defence Secretary Mark T Esper on Tuesday held talks with National Security Advisor Ajit Doval, covering key aspects of growing strategic ties between the two countries.
Issues of strategic importance were discussed at the meeting, sources said.
The meeting took place ahead of the third edition of 2+2 ministerial dialogue. Esper and Pompeo arrived here on Monday for the crucial talks aimed at further boosting the defence and security ties between the two countries.
Defence Minister Rajnath Singh and External Affairs Minister S Jaishankar held separate talks with their US counterparts on Monday.
Earlier on Tuesday, both the top US administration officials visited the National War Memorial and paid tributes to India's fallen heroes.