Kim Kardashian West joins Facebook and Instagram boycott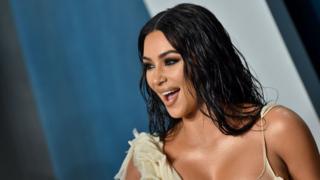 Kim Kardashian West and dozens of other celebrities have announced they will freeze their social media accounts to protest against the spread of "hate, propaganda and misinformation".
"Misinformation shared on social media has a serious impact," Kardashian West wrote in a statement on Tuesday.
The move is part of the #StopHateforProfit campaign which was organised by civil rights activists.
The celebrities will freeze their accounts for 24 hours on Wednesday.
"I can't sit by and stay silent while these platforms continue to allow the spreading of hate, propaganda and misinformation – created by groups to sow division and split America apart," Kardashian West said.
"Misinformation shared on social media has a serious impact on our elections and undermines our democracy," she added.
Other celebrities that have agreed to take part in the boycott include actors Leonardo DiCaprio, Sacha Baron Cohen and Jennifer Lawrence, as well as singer Katy Perry,
"I can't sit idly by while these platforms turn a blind eye to groups and posts spreading hateful disinformation," Perry wrote on Instagram.
Actor Ashton Kutcher, who has millions of followers and is also joining the boycott, said "these tools were not built to spread hate [and] violence".
The organisers of the #StopHateforProfit campaign, which was launched in June, accuse Facebook and Instagram of not doing enough to stop hate speech and disinformation.
The group has focused on Facebook, which also owns Instagram and WhatsApp and last year attracted advertising revenue of almost $70bn (£56.7bn).
Thousands of businesses and major civil rights groups – including the National Association for the Advancement of Colored People (NAACP) and the Anti-Defamation League (AD) – have signed up to the campaign.
"We are quickly ap
Amy Coney Barrett: Trump nominates conservative favourite for Supreme Court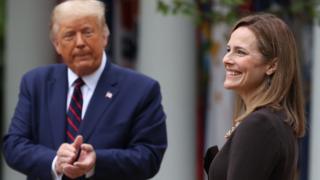 US President Donald Trump has nominated Amy Coney Barrett, a favourite of social conservatives, to be the new Supreme Court justice.
Speaking at the White House Rose Garden, Mr Trump described her as a "woman of unparalleled achievement".
Judge Barrett would replace liberal Justice Ruth Bader Ginsburg, who died of cancer on 18 September.
Her nomination will spark a bitter Senate fight to get her confirmed as November's presidential election looms.
Supreme Court justices are nominated by the US president, but must be approved by the Senate.
Mr Trump said Judge Barrett was a "stellar scholar and judge" with "unyielding loyalty to the constitution".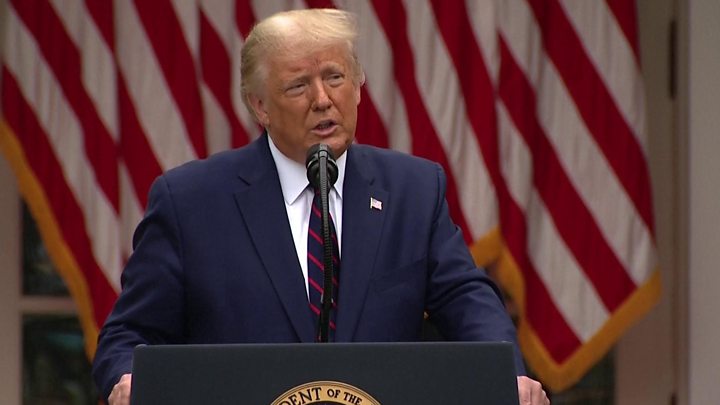 If Judge Barrett is confirmed, conservative-leaning justices will hold a 6-3 majority on the US's highest court for the foreseeable future.
The 48-year-old would be the third justice appointed by this Republican president, after Neil Gorsuch in 2017 and Brett Kavanaugh in 2018.
The Supreme Court's nine justices serve lifetime appointments, and their rulings can shape public policy on everything from gun and voting rights to abortion and campaign finance long after the presidents who appoint them leave office.
In recent years, the court has expanded gay marriage to all 50 states, allowed for Mr Trump's travel ban on mainly Muslim countries to be put in place, and delayed a US plan to cut carbon emissions.
Tricky position for Democrats
Amy Coney Barrett has been on Donald Trump's shortlist for Supreme Court vacancies for some time, but the word was that she would be the most appropriate replacement for Ruth Bader Ginsburg.
As of last week, that was no longer a hypothetical scenario.
Even before Mr Trump reportedly settled on Judge Barrett as his pick, conservatives were rallying around the nominee, whoever it might be. And if they stick together, as all but two seem to be doing, her confirmation appears assured – whether it is before November's election or in a "lame duck" Senate session afterward.
The choice of Judge Barrett puts Democrats in a tricky position. They have to find a way of undermining support for the nominee without seeming to attack her Catholic faith or personal background – moves that could risk turning off some voters in November. They will seek to delay the proceedings as best they can, while keeping their focus on issues like healthcare and abortion, which could be at the centre of future legal battles with Justice Barrett on a conservative-dominated court.
Then they have to hope Judge Barrett, or the Republicans, make some kind of critical error. It is a tall order, but for the moment it is the only play they have.
Who is Amy Coney Barrett?
She is described as a devout Catholic who, according to a 2013 magazine article, said that "life begins at conception". This makes her a favourite among religious conservatives keen to overturn the landmark 1973 Supreme Court decision that legalised abortion nationwide.
Her links to a particularly conservative Christian faith group, People of Praise, have been much discussed in the US press. LGBT groups have pointed out that the group's network of schools have guidelines stating a belief that sexual relations should only happen between heterosexual married couples.
One such group, Human Rights Campaign, has voiced strong opposition to Judge Barrett's confirmation, declaring her an "absolute threat to LGBTQ rights".
Judge Barrett has also ruled in favour of President Trump's hardline immigration policies and expressed views in favour of expansive gun rights.
Conservatives hope she will help to invalidate Obamacare, the health insurance programme that was introduced by President Trump's democratic predecessor, Barack Obama.
Some 20 million Americans could lose their health coverage if the court overturns the Affordable Care Act (ACA).
Democrats have rallied support over this issue, but it is thought unlikely that the Supreme Court w
Amy Coney Barrett: Who is Trump's Supreme Court pick?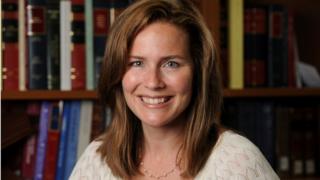 Amy Coney Barrett's nomination to the US Supreme Court comes as little surprise.
The long-term academic, appeals court judge and mother of seven was the hot favourite for the Supreme Court seat.
Donald Trump – who as sitting president gets to select nominees – reportedly once said he was "saving her" for this moment: when elderly Justice Ruth Bader Ginsburg died and a vacancy on the nine-member court arose.
It took the president just over a week to fast-track the 48-year-old conservative intellectual into the wings. This is his chance to tip the court make-up even further to the right ahead of the presidential election, when he could lose power.
Barrett's record on gun rights and immigration cases imply she would be as reliable a vote on the right of the court, as Ginsburg was on the left, according to Jonathan Turley, a professor of law at George Washington University.
"Ginsburg maintained one of the most consistent liberal voting records in the history of the court. Barrett has the same consistency and commitment," he adds. "She is not a work-in-progress like some nominees. She is the ultimate 'deliverable' for conservative votes."
And her vote, alongside a conservative majority, could make the difference for decades ahead, especially on divisive issues such as abortion rights and the Affordable Care Act (the Obama-era health insurance provider).
Barrett's legal opinions and remarks on abortion and gay marriage have made her popular with the religious right, but earned vehement opposition from liberals.
But as a devout Catholic, she has repeatedly insisted her faith does not compromise her work.
Barrett lives in South Bend, Indiana, with her husband, Jesse, a former federal prosecutor who is now with a private firm. The couple have seven children, including two adopted from Haiti. She is the oldest of seven children herself.
Known for her sharp intellect, she studied at the University of Notre Dame's Law School, graduating first in her class, and was a clerk to Justice Antonin Scalia, who, in her words, was the "staunchest conservative" on the Supreme Court at the time.
Like her mentor Scalia, she is an originalist, which is a belief that judges should attempt to interpret the words of the Constitution as the authors intended when they were written.
Many liberals oppose that strict approach, saying there must be scope for moving with the times.
Battle over Supreme Court
Barrett has spent much of her career as a professor at her alma mater, Notre Dame, where she was voted professor of the year multiple times. One of students, Deion Kathawa, who took a class with her earlier this year, told the BBC she was popular because she involved everyone in discussions. He found her "collegial, civil, fair-minded, intellectually sharp, and devoted to the rule of law secured by our Constitution".
Another student told the WBEZ new site: "I feel somewhat conflicted because … she's a great professor. She never brought up politics in her classroom… But I do not agree with her ideologies at all. I don't think she would be good for this country and the Supreme Court."
Barrett was selected by President Trump to serve as a federal appeals court judge in 2017, sitting on the Seventh Cir
Megan Thee Stallion: What do we know about the rapper's alleged shooting?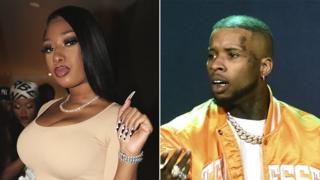 Rappers Megan Thee Stallion and Tory Lanez are back in the news, after Tory denied shooting Megan in the feet in one of his new songs.
The case has led to several high-profile rows in the US music industry.
It has also sparked a debate about perceptions of gender-based violence against black women, and concerns within the African American community about police brutality.
Authorities in Los Angeles say investigations are ongoing.
How did this begin?
During the early hours of 12 July, police responded to a "shots fired" incident in the Hollywood Hills, the Los Angeles Police Department (LAPD) said in a statement.
An argument is reported to have taken place inside a vehicle, with shots fired into the air, before the vehicle left the scene.
The LAPD said officers then conducted a "traffic stop" on a vehicle matching a description provided by eyewitnesses, and "multiple individuals were detained".
Tory Lanez, 28, whose real name is Daystar Peterson, was charged with carrying a concealed weapon and released on bail later that morning.
In a statement on 15 July, Los Angeles police said another person was brought to hospital and received treatment for an unspecified "foot injury".
Megan Thee Stallion – whose real name is Megan Pete – alleged that four people were in the car at the time: herself, a friend, Mr Peterson, and his bodyguard.
Initially, TMZ reported that Ms Pete had cut her foot from broken glass in the car. But on 15 July, she released a statement saying she had suffered "multiple gunshot wounds… done with the intention to physically harm me."
Several days later, in an Instagram post, Ms Pete shared graphic images of the stitches in her heel, and of doctors attending to her foot.
On 20 August, for the first time, she named Mr Peterson as the alleged shooter while speaking in a video on Instagram Live. She said when police found her, she did not tell them what had allegedly happened because she feared they would start shooting if they believed a gun was involved.
"I didn't tell the police nothing, because I didn't want us to get in no more trouble than we was about to get in," she said, denying that she had physically assaulted Mr Peterson.
The Los Angeles County district attorney's office has said it is reviewing another charge against Mr Peterson over the alleged shooting. A spokesperson told the Los Angeles Times that a decision would be make after further investigation by law en