Kangana carrying forward BJP's political agenda: Congress
NEW DELHI: The Congress on Monday accused Bollywood actor
Kangana Ranaut
of carrying forward the BJP's political agenda through her actions and claimed that the ruling party had provided her with security cover to enable her to openly defame Maharashtra and criticise the coalition government there.
Congress chief spokesperson Randeep Surjewala said Ranaut's comparison of Mumbai to Pakistan-occupied Kashmir (PoK) was untrue, reprehensible and would not be acceptable to any reasonable person.
He, however, said the Shiv Sena-Congress-NCP government in Maharashtra will ensure adequate protection to her and defend the right of dissent of its biggest critics.
"Despite a particular film actress carrying on the agenda of Modi Ji and BJP, we will ensure adequate protection for her," he said at a virtual press conference.
"However, to describe the business capital of the country as Pakistan occupied Kashmir is naive, incorrect, political opportunism and reprehensible which no reasonable person will accept. We reject such unfounded and politically motivated allegations being hurled through film actresses by BJP," he said.
Surjewala said unlike the BJP, the Congress party as well as the alliance of Shiv Sena, Congress and NCP in Maharashtra has the principle of defending the right of dissent of their biggest critics.
"The security has been provided to a film actress, who is acting on the behest of BJP to defame Maharashtra, so that she openly criticises us under BJP's political agenda," he also said.
Ranaut has been given Y-plus category security and will be protected by about 10 armed commandos who will work in shifts around the clock, Union Home ministry officials said on Monday amid the controversy over her comment that she "feared" the Mumbai Police.
The decision comes two days before Ranaut, who is in her home state Himachal Pradesh and had likened Mumbai to PoK, said she plans to visit Mumbai on September 9.
Ranaut, whose comments led to a spat with Shiv Sena leader Sanjay Raut, said she felt unsafe in Mumbai after the death of actor Sushant Singh Rajput and also spoke of drug use in a section of the film industry.

India sets target of record grain output, focus on oilseeds to reduce import bills
NEW DELHI: Banking on huge acreage of Kharif (summer) crops amidst good monsoon and adequate water storage for Rabi (winter) season, the Centre on Monday revised India's food-grains production target for 2020-21 to an all-time record of 301 million tonnes (MT) – 4 MT more than the output of 2019-20 – and decided to put focus on pulses and oilseeds.
Accordingly, it raised the production target of the main oilseed, mustard, from 9.2 MT to 12.5 MT, syncing it with ongoing efforts to reduce the country's import bills, and gave a hike of 5.1% to the minimum support price (MSP) for procuring mustard in the next marketing season compared to 2019-20 season.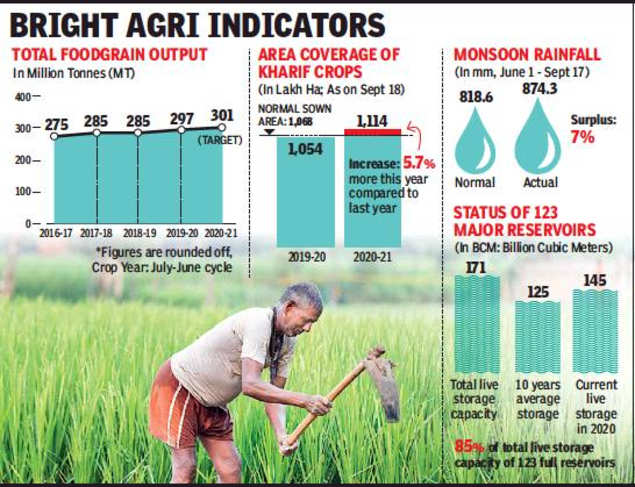 Only lentils (popular pulses) attracted a bigger hike than mustard among the six crops whose MSPs were approved by the Union cabinet on Monday. Target of production of all pulses together, including lentil, gram and others, was set at 25.6 MT for 2020-21 crop year. Similarly, the target for all oilseeds has been set at 37 MT.
The new target for the country's food-grains production was shared during a day-long deliberation at a conference on preparation for the upcoming sowing season of Rabi crops which will begin in certain parts of the country after mid-October.
"Great emphasis is being laid on production of oilseeds and oil palm plantation indigenously to reduce import of edible oils. Besides, the government has taken multiple steps to reach this new record target of food-grains production," said Union agriculture minister Narendra Singh Tomar.
He told TOI that the new farm legislation will ensure that the farmers get a better price of their produce. "The Bills, passed by the Parliament, will give farmers freedom to sell their produce at different places. The provisions in the legislation on 'contract farming' will attract large private investment, leading to rapid development in the agriculture sector and overall rural economy," said Tomar.

India slams Pakistan for raising J&K issue at UN, says it hails terrorists as 'martyrs'
NEW YORK: India on Monday hit back at Pakistan for raising the issue of Jammu and Kashmir during the high-level meeting to commemorate 75 years of United Nations (UN), saying Islamabad is globally recognised as the epicentre of terrorism which harbours and trains terrorists, hails them as martyrs and consistently persecutes its ethnic and religious minorities.
Exercising India's Right of Reply after Pakistan foreign minister Shah Mehmood Qureshi raked up the Kashmir issue in his address to UN, first secretary India in UN, Vidisha Maitra, deemed Qureshi's speech as the "never-ending fabricated narrative" about the internal affairs of India.
The virtual edition of a special General Assembly session to mark 75 years of the institution commenced on Monday (local time).
"I take the floor in the exercise of the right of reply to the statement made by the representative of Pakistan. Our delegation had hoped that during this solemn commemoration of a shared global milestone, the General Assembly would be spared another repetition of the baseless falsehoods that have now become a trademark of Pakistan's interventions on such platforms," said Maitra.
"However, for a nation that is bereft of milestones, one can only expect a stonewalled and stymied approach to reason, diplomacy and dialogue. What we heard today is the never-ending fabricated narrative presented by the Pakistani representative about the internal affairs of India," she added.
Maitra said that India rejected the "malicious reference" made by Qureshi to the Union Territory of Jammu and Kashmir, which is an integral part of India.
"If there is an item that is unfinished on the agenda of the UN, it is that of tackling the scourge of terrorism. Pakistan is a country which is globally recognised epicentre of terrorism, which by its own admission harbours and trains terrorists and hails them as martyrs, and consistently persecutes its ethnic and religious minorities," she stated.
"It would do well turn its attention inwards to immediately addressing these pressing concerns, instead of misusing UN platforms to divert attention from them by misusing UN platforms," Maitra said.

Govt tells why it stopped listing farm suicide cause
NEW DELHI: The government on Monday told the Rajya Sabha that the national data on causes of suicides in the farming sector had become "untenable" with several states and Union Territories reporting 'nil' suicides by farmers and agricultural labourers, and was therefore not published separately.
Reply to a query from Congress MP P L Punia seeking confirmation of and reasons for NCRB having done away with listing causes for farmers' suicides in its annual report on ' Accidents and Suicides in India', Junior home minister G Kishan Reddy said: "As informed by National Crime Records Bureau, many states/ UTs had reported "nil" data on suicides by farmers/ cultivators and agricultural labourers, even while reporting suicides in other professions. Due to this limitation, data on causes of suicide in farming sector was untenable and not published separately".
As per the NCRB report, West Bengal, Bihar, Odisha, Uttarakhand, Manipur, Chandigarh, Daman & Diu, Delhi, Lakshadweep and Puducherry reported 'zero' suicides by farmers, cultivators and agricultural labourers in 2019. This was also the case in 2018, with West Bengal, Bihar, Odisha, Uttarakhand, Meghalaya, Goa, Chandigarh, Daman & Diu, Delhi, Ladakh and Puducherry returning 'nil' suicides.
Overall, 10,281 suicides by farmers, cultivators and agricultural labourers were reported countrywide last year, down from 10,349 in 2018. Of the 10,281 suicides, 5,957 were by farmers or cultivators and 4,324 by labourers. Maharashtra accounted for the highest share (38.2%) in suicides related to the farm sector in 2019, followed by Karnataka (19.4%), Andhra (10%), MP (5.3%) and Telangana/Chhattisgarh (4.9% each).