Javadekar denies charges that draft EIA notification dilutes environmental laws
NEW DELHI: Environment minister
Prakash Javadeker
on Monday rejected charges levelled by senior Congress leader Jairam Ramesh that environment laws will be diluted by the Environmental Impact Assessment (
EIA
) notification.
Javadekar dismissed the allegation during a special mention in Rajya Sabha.
"As far as
public hearing
is concerned, we have exempted two new categories (under the EIA)," the minister said.
The draft EIA notification, which involves the procedure of issuing environmental clearances to various projects, was issued by the ministry in March this year and public suggestions were invited.
Ramesh termed the notification "anti-democratic" and dangerous.
"I urge the government to resist the temptation of using this crisis as an opportunity to weaken environmental laws and put this draft notification (EIA) in complete cold storage," he said.
"During the lockdown period, there was a concerted attempt to issue this notification, but it has been held back because of the public protest and concerns," the Congress leader said.
Ramesh said the draft notification was dangerous on four grounds.
"It is anti-democratic because it reduces the role of the public and does away with any assessment by local impacted communities. Secondly, it is anti-public health because it is giving away the right for environmental impact assessment. It is regularising environmental violations," he said.
"It is anti-federalism because it is taking away the power of the states and centralising everything. Finally, it is anti-jurisprudence because the notification exceeds the mother Act (law) of the Environment Protection Act," Ramesh added.
Senior Congress leader P L Punia demanded that the central government should revoke the changes made by the states in the labour laws during the pandemic.
While DMK leader P Wilson called for a uniform examination for admission to medical courses, the YSRCP's Pilli Subhas Chandra Bose demanded a census of backward communities and a dedicated ministry to deal with issues related to them.
Harnath Singh Yadav of the
BJP
called for a strict law to deal with the issue of rising population in the country, and Phulo Devi of the Congress demanded inclusion of Chhattisgarhi Bhasha into the Constitutional list of languages.

Paddy procurement in Punjab & Haryana to begin a few days early
NEW DELHI: Amid political attacks over the farm sector bills, the Centre has decided to advance paddy procurement in Punjab and Haryana by a few days with the exercise slated to kick off on Sunday, instead of the usual timetable, starting October 1.
In a letter to the state governments, the consumer affairs and food ministry has said that the kharif procurement has been advanced due to early arrival of paddy this season but officials conceded that this was a political decision.
Typically, October and November are the main procurement months in Punjab and Haryana with Karnataka and Tripura seeing purchases start in December. In states such as West Bengal procurement will end next June.
After the passage of the bill to ease restrictions on sale in mandis, Opposition parties had said that the move would put farmers, especially in the two states, at a disadvantage, first prompting the Narendra Modi government to quickly announce the minimum support price and follow it up by advancing government purchase by a few days in a bid to assure farmers that the scheme will not be tinkered with.
The Centre is estimating an 18% jump in procurement of paddy this season to 49.5 million tonnes compared to around 42 million tonnes last year. Of this nearly 22% or 11.3 million tonnes is estimated to come from Punjab, while Haryana may chip in with around 4.5 million tonnes. Chhattisgarh with 6 million tonnes and Telangana (5 million tonnes), will be second and third largest sources for paddy procurement.
Data available with the ministry showed that till Friday around eight lakh tonnes of paddy have already reached mandis in Haryana, although data for Punjab is currently unavailable. Early monsoon rains this year are seen to be one of the reasons behind early arrivals with a bumper harvest predicted by the authorities.

India to support Sri Lanka boost its defence, security
NEW DELHI: Kicking off the first virtual bilateral summit in the neighbourhood, India and Sri Lanka sought to advance defence and security cooperation, while India promised to consider Colombo's request for delayed debt repayment and a $1 billion currency swap arrangement.
PM Modi met his Lankan counterpart Mahinda Rajapaksa virtually on Saturday morning. According to an official readout of the summit by MEA joint secretary (Indian Ocean Region) Amit Narang, PM Modi emphasised that implementation of the 13th amendment to the Sri Lankan Constitution is essential for carrying forward the process of peace and reconciliation.
"PM Modi called on the new government in Sri Lanka to work towards realising the expectations of Tamils for equality, justice, peace and dignity within a united Sri Lanka by achieving reconciliation nurtured by implementation of the constitutional provisions," he said.
Narang added India's focus areas with Sri Lanka are defence and security, Buddhism and economic development. "The outcomes of the Summit are substantial, forward looking and also help to set an ambitious agenda for bilateral ties," he said.
"Under neighbourhood first policy and SAGAR Doctrine, we will give priority to Sri Lanka," Modi told his counterpart in his opening remarks. Sri Lanka has requested for a $1 billion currency swap arrangement with India (India had, earlier this year, done a $400 million swap) and a delayed debt repayment schedule. India agreed to support Sri Lanka in defence and security, "strengthen the mutual cooperation on personnel exchange and training, maritime security cooperation." Indian Coast Guard and Indian Navy recently helped to douse a major fire on a tanker MT Diamond off the Lankan coast.
However, there was no word on whether the Eastern Container Terminal (ECT) deal, which Rajapaksa had promised to review, would go to India and Japan as originally agreed. There was also no meeting point on the impasse regarding the Trincomalee container terminals, which has been hanging fire. Questioned, Narang stuck to generalities about the discussions being "positive and constructive."
Modi also announced a grant assistance of $15 million for the promotion of Buddhist ties between the two countries. Rajapaksa invited Modi to inaugurate the Jaffa Cultural Centre, set up with Indian assistance. Narang indicated that India shared its assessments of the Ladakh crisis with the Lankan leadership.

Socio-economic cost of a road death Rs 91L, Rs 3.6L for those grievously injured
NEW DELHI: The average socio-economic impact or cost of every person dying in a road crash was around Rs 91 lakh and it's close to Rs 3.6 lakh in the case of each victim left with grievous injuries during 2018, a study commissioned by the road transport and highways ministry has found.
Going by the government's report on fatalities and injuries, it has estimated the total impact at Rs 1.47 lakh crore during 2018 when 1.51 lakh people were killed and 4.69 lakh were left with grievous and minor injuries. However, considering that there is under reporting of fatalities and injuries, the study has also projected loss to the tune of Rs 5.9 lakh crore, which is 3.1% of the GDP.
The study was carried out by the TRIPP of IIT(Delhi) and DIMTS, which has come out with three different estimates of the socio-economic impact under three scenarios. The third estimate is based on the Global Burden of Disease (GDB) Study and the impact has been estimated close to Rs 8.63 lakh crore.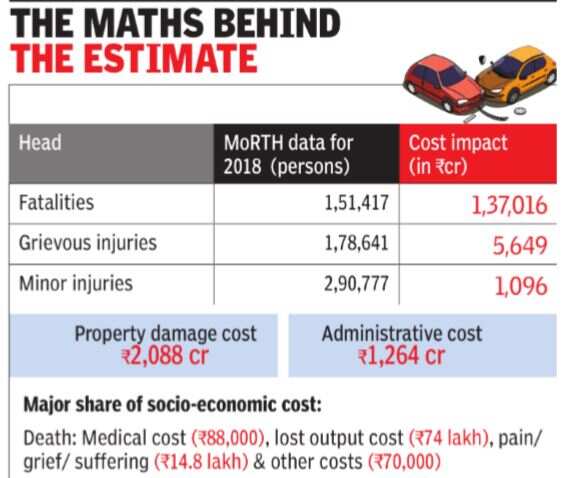 This is the second such study after 1999 to quantify the total economic loss due to road crashes, fatalities and injuries. Such studies are carried out across the world frequently to prepare strategies to see how with less investment in creating safe infrastructure and enforcement rules, huge cost in terms of lives and the socio-economic loss can be prevented. The report is yet to be made public and the ministry is going through the report.
Sources said the estimates have been calculated taking into account medical expenses, loss of income which is also known as lost output cost, pain, grief and suffering, damage to vehicle, public asset and administrative costs. The total impact in financial terms has been arrived at using the human capital approach method, which uses the present value of expected future earnings to estimate the potential loss to society, if an individual dies or becomes permanently disabled. It has also taken into account other studies across the globe and also in India.
TOI has learnt that major share in the socio economic impact of fatalities in road crashes is on account of lost output cost, which is nearly Rs 74 lakh per person while in the case of grievous injuries more than 50% of the share of the cost is towards medical expenses.
The report has also highlighted how the share of victim-related costs is about 98% of the total cost of road crashes and 70% of the entire accident cost is towards victims in the age group of 18-45 years.
Sources said the study was done after collecting primary data from police stations across 14 cities and 53 hospitals spread across 20 cities.
It has also revealed that 78% of the cost of all accident victims is towards two-wheeler drivers and pedestrians, who are most vulnerable and need attention of the government to improve enforcement of laws, improving infrastructure and healthcare services.