Japan's whole cabinet resigns – including Prime Minister Abe – ahead of parliament vote to confirm new leader
Japanese PM Shinzo Abe, along with his cabinet, have formally resigned to clear the way for his successor, who is set for confirmation in parliament after the long-term leader stepped down due to ongoing health problems.
Abe attended his final cabinet meeting on Tuesday, making an impassioned statement on his time leading the nation as lawmakers prepare for a vote to confirm a new premier.
"I devoted my body and soul for the economic recovery and diplomacy to protect Japan's national interest every single day since we returned to power," Abe told reporters ahead of the meeting.



Also on rt.com
Abe's 'loyal right-hand man' Yoshihide Suga chosen by ruling party to succeed him as Japan's PM




Yoshihide Suga – currently the chief cabinet secretary, who is widely considered to be a close confidant to the PM – was selected on Monday to replace Abe as leader of the ruling Liberal Democratic Party, and is all but ensured to secure confirmation on Wednesday, given the party's parliamentary majority.
A self-avowed reformer, Suga said his top priority in office will be to combat the coronavirus pandemic and support an economy struggling amid the health crisis, but he has also vowed to pursue some of Abe's priorities, including his 'Abenomics,' which combines easy monetary policies with fiscal stimulus.
Abe, Japan's longest-serving prime minister, announced his resignation last month, pointing to a serious health issue that would not allow him to continue leading, even resulting in a number of hospital visits in August. During Tuesday's cabinet meeting, the soon-to-be former PM said his condition was improving, thanking citizens for their support while urging them to get behind his successor.



Also on rt.com
Whoever replaces Shinzo Abe, Japan's slow rot & subservience to US will likely continue




Think your friends would be interested? Share this story!
Sri Lanka returns 'hazardous waste' to UK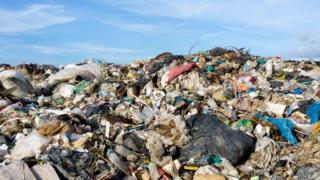 Sri Lanka says it is sending 21 containers of recycled waste back to the UK after they were found to contain hazardous material.
Customs officials said hospital waste, plastic and polythene was discovered in the majority of the 263 containers imported in 2017 by a private firm.
The shipment was meant to be made up of used mattresses, carpets and rugs.
Most of the containers have been stored in warehouses, with only a small amount of material having been re-exported.
Legal action was taken after the Sri Lanka authorities impounded the material in 2018.
Officials said the 21 containers had left Sri Lanka on Saturday.
Customs spokesman Sunil Jayaratne said the original importation breached international and EU rules and regulations on hazardous w
Armenian PM warns 'aggressive' Turkey to stay out of Nagorno-Karabakh conflict, says hostilities could spill over regional borders
Yerevan has urged Turkey not to meddle in ongoing hostilities over the disputed Nagorno-Karabakh region, warning that the conflict could spill out over regional borders. Ankara had earlier pledged "full support" to Azerbaijan.
"Turkey's aggressive behavior is a serious cause for concern," Armenian Prime Minister Nikol Pashinyan said in a televised address to the nation on Sunday. Turkish President Recep Tayyip Erdogan had previously said Azerbaijan, which is involved in heavy border fighting over the disputed Nagorno-Karabakh, "is not alone" in the confrontation.
Such a stance "is fraught with catastrophic consequences for the South Caucasus and adjacent regions," PM Pashinyan said. The international community should keep Turkey out of the conflict, he added, warning that the situation risked getting out of hand.
The situation could have irreversible consequences, move beyond the borders of the region and threaten international peace and stability.
Pashinyan also accused Baku of declaring "a war on the Armenian people" and blamed the triggering of the current hostilities on Azerbaijan.
Turkey has repeatedly expressed support for its Azeri "brothers." Erdogan minced no words on Sunday when he called Armenia "the biggest threat to peace and tranquility in the region." He said the entire Turkish nation was ready to stand by Azerbaijan "with its entire means, as always." He did not expand on what "means" could be made available to Azerbaijan. Lower-tier Turkish officials shared the sentiment.
Hostilities between Armenia and Azerbaijan broke out along the Nagorno-Karabakh border earlier today, involving artillery shelling, tank raids, and combat aircraft sorties. Both sides reported civilian casualties, and claimed they inflicted losses on one another. Armenia has declared martial law and a general conscriptio
Saudi-backed Yemen government and Houthis agree to prisoner swap, UN hopes ceasefire to follow
Yemen's Saudi-backed government and Iranian-backed Houthi rebels will exchange more than 1,000 prisoners, a landmark swap in a brutal five-year war. UN officials said that the exchange could pave the way for a ceasefire.
The exchange was agreed on Sunday, after ten days of talks in Switzerland. The Houthis will release 400 people, including 15 Saudis, and the Saudi-backed government will free 681 Houthi fighters, Reuters reported.
Yemen's civil war has been ongoing since 2014, when the Iranian-aligned Houthis ousted Yemen's government from power. The war intensified in 2015 when Saudi Arabia – backed by Western powers – intervened on behalf of the ousted government. Tens of thousands of people have been killed, and the Saudi blockading of Yemen's ports triggered what the Norwegian Refugee Council called a "man-made famine of Biblical proportions."



Also on rt.com
Houthis target Saudi Abha International Airport with drones for 2nd time in 24 hours, vow to continue until blockade is lifted




Once completed, the prisoner swap will be the largest single exchange of detainees since 2018. The warring parties agreed then to swap around 15,000 prisoners, but that deal has not been fully implemented, and prisoner exchanges since have been small and unilateral.
The Houthis last year freed 290 prisoners, and Saudi Arabia released 128. Smaller deals have been cut too, with the International Committee of the Red Cross organizing the release of six Saudis earlier this year.
UN Special Envoy for Yemen, Martin Griffiths, said he hoped both sides build on the agreement and work toward a ceasefire. "Our overall aim at the moment is to bring an agreement on what we call a joint declaration which is a national ceasefire to end the war in Yemen. And accompanied by various measures to open up the ports and airports and roads so that people can start to live a little," he told Reuters.



Also on rt.com
Canadian rights groups press Trudeau to halt record-breaking arms sales to Saudi Arabia over Yemen war




Despite Saudi Arabia's aerial bombing campaign, the conflict has been locked in a military stalemate for years. The capital, Sanaa, remains in Houthi hands, as do most of the country's population centers. Informal ceasefire