India's Covid-19 recoveries cross 31L, case fatality rate drops to 1.73%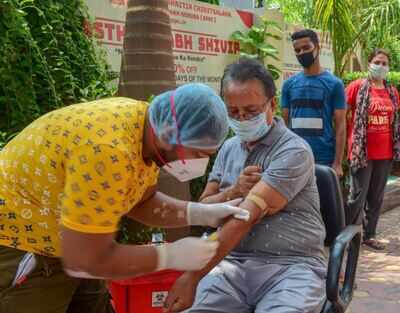 NEW DELHI: With a record 70,072 patients recuperating from COVID-19 in a span of 24 hours, the total number of such recoveries surged to 31,07,223 in the country, pushing the recovery rate to 77.23 per cent, the health ministry said on Saturday, while underlining that the "test, track and treat" strategy is showing tangible results.
The COVID-19 case fatality rate has further dropped to 1.73 per cent, it added.
Five states account for 60 per cent of the recoveries. Maharashtra accounts for almost 21 per cent, followed by Tamil Nadu (12.63 per cent), Andhra Pradesh (11.91 per cent), Karnataka (8.82 per cent) and Uttar Pradesh (6.14 per cent), the ministry said.
"The highest ever single-day recoveries of 70,072 were recorded in 24 hours. With this high number of COVID-19 patients recovering and being discharged from hospitals and home isolation, the recovery rate is now 77.23 per cent. This has also led to the declining case fatality rate, which stands at a new low of 1.73 per cent as on date," it said.
Early identification through testing has led to a higher daily number being reported, but surveillance and contact-tracing, along with a focus on a timely and appropriate clinical treatment of patients, have ensured a speedy recovery, the ministry said.
"The higher number of recoveries and the declining fatality rate have shown that India's graded strategy has worked," it underscored.
A total of 4,77,38,491 samples were tested for COVID-19 up to September 4, including 10,59,346 on Friday, the ministry said.
The country has posted more than 22.6 lakh recoveries than the number of active coronavirus cases currently, it pointed out.
There are 8,46,395 active COVID-19 cases in the country currently, which account for 21.04 per cent of its total caseload, the ministry's data updated at 8 am stated.
India's COVID-19 tally mounted to 40,23,179 with a record 86,432 cases reported in a day, while the death toll due to the disease climbed to 69,561 with 1,089 people succumbing to it in a span of 24 hours, the data showed.

Govt tells why it stopped listing farm suicide cause
NEW DELHI: The government on Monday told the Rajya Sabha that the national data on causes of suicides in the farming sector had become "untenable" with several states and Union Territories reporting 'nil' suicides by farmers and agricultural labourers, and was therefore not published separately.
Reply to a query from Congress MP P L Punia seeking confirmation of and reasons for NCRB having done away with listing causes for farmers' suicides in its annual report on ' Accidents and Suicides in India', Junior home minister G Kishan Reddy said: "As informed by National Crime Records Bureau, many states/ UTs had reported "nil" data on suicides by farmers/ cultivators and agricultural labourers, even while reporting suicides in other professions. Due to this limitation, data on causes of suicide in farming sector was untenable and not published separately".
As per the NCRB report, West Bengal, Bihar, Odisha, Uttarakhand, Manipur, Chandigarh, Daman & Diu, Delhi, Lakshadweep and Puducherry reported 'zero' suicides by farmers, cultivators and agricultural labourers in 2019. This was also the case in 2018, with West Bengal, Bihar, Odisha, Uttarakhand, Meghalaya, Goa, Chandigarh, Daman & Diu, Delhi, Ladakh and Puducherry returning 'nil' suicides.
Overall, 10,281 suicides by farmers, cultivators and agricultural labourers were reported countrywide last year, down from 10,349 in 2018. Of the 10,281 suicides, 5,957 were by farmers or cultivators and 4,324 by labourers. Maharashtra accounted for the highest share (38.2%) in suicides related to the farm sector in 2019, followed by Karnataka (19.4%), Andhra (10%), MP (5.3%) and Telangana/Chhattisgarh (4.9% each).

LS passes FCRA Bill; govt says it's not against any religion
NEW DELHI: The Lok Sabha on Monday passed a bill to amend the Foreign Contribution (Regulation) Act to make furnishing of Aadhaar numbers of office-bearers of any NGO mandatory for registration and also effect other changes.
Amid concerns raised by various opposition members about The Foreign Contribution (Regulation) Amendment Bill, 2020, junior home minister Nityanand Rai asserted that the bill is not against any religion or NGO. The proposed legislation will also not stop foreign contributions in any way, he noted.
The bill, which also seeks to bar public servants from receiving funds from abroad, was passed after a discussion in the Lower House even as many opposition parties raised objections to the bill. According to Rai, there was misuse of funds by way of transferring the money to other entities and the bill seeks to curb such things. "We will stop misuse of funds," he stressed.
Congress's Adhir Ranjan Chowdhury said there is a political agenda in bringing the bill and claimed that things are being done to protect PM-CARES Fund. TMC's Sougata Roy said the bill was to tighten all the organisations getting funds from abroad. When the SC has said that Aadhaar was not compulsory, then "why should you (government) make Aadhaar compulsory," he asked.

'385 Pakistanis among 409 to get citizenship'
NEW DELHI: As many as 385 Pakistanis, six Bangladeshis, 5 US nationals and 3 Malaysians were among the 409 foreigners granted Indian citizenship until September 17 this year, the government told Rajya Sabha on Monday.
Among the countries whose nationals became Indian citizens in 2020 are Indonesia (2); and Afghanistan, Sri Lanka, Nepal, UK, Tanzania, Iran and Switzerland (all one each). Junior home minister Nityanand Rai said a total 2,729 foreigners were granted Indian citizenship since 2017. Most of these were from Pakistan, with 2,120 Pakistani were granted Indian citizenship between 2017 and September 17 this year.
FacebookTwitterLinkedinEMail