India's active Covid-19 cases drops below 8-lakh mark for 1st time in 1.5 months, says health ministry
NEW DELHI: With a spike of 62,212 new cases and 837 deaths in the last 24 hours, India's Covid-19 count reached 74,32,681 on Saturday according to the ministry of health and family welfare (MoHFW).
As per the MoHFW, the Covid-19 count includes 7,95,087 active cases and 65,24,596 cured/discharged/migrated cases. With 837 deaths in the last 24 hours, the total death count due to the disease has reached 1,12,998.
According to the union health ministry, the active cases have dropped below the 8 lakh mark for the first time in one-and-a-half months.
"This significant achievement is the outcome of Centre-led targeted strategies leading to a high number of recoveries and steadily falling number of fatalities," the Ministry said.
With 1,85,270 total active cases, Maharashtra continues to be the worst affected state by Covid-19 in the country. The state has reported a total of 15,86,321 Covid-19 cases, while 13,58,606 patients have recovered from the disease in the state. As many as 41,965 people have also died due to coronavirus so far.
Meanwhile, Karnataka reported 7,184 new Covid-19 cases, 8,893 discharges, and 71 deaths today. Total positive cases in the state have reached 7,58,574 including 1,10,647 active cases, 6,37,481 discharges and 10,427 deaths, the Karnataka Health Department said.
A total of 3676 new Covid-19 cases were reported in Andhra Pradesh in the last 24 hours. The total number of cases in the state is now 7,79,146 including 37,102 active cases, 7,35,638 recoveries, and 6,406 deaths so far, said the State Government.
Kerala reported 9,016 new Covid-19 cases pushing the total active patients to 96,004. The state has recorded 1,139 deaths while 2,36,989 people have recovered from the infection.
Delhi reported 3,259 new coronavirus cases in that last 24 hours, taking the tally of total positive cases to 3,27,718. The national capital currently has 22,884 active cases, while 2,98,853 people have recovered from viral infection. The national capital has reported as many as 5,981 so far.
Tamil Nadu reported 4,295 Covid-19 cases and 57 deaths on Saturday, taking the total number of positive cases in the state to 6,83,486. There are 40,192 active cases in the state, while 6,32,708 have been cured and discharged. Tamil Nadu has reported a total of 10,586 deaths due to coronavirus.
As many as 3,865 new Covid-19 cases, 3,183 discharges and 61 deaths were reported in West Bengal today. Total cases in the state have reached 3,17,053 including 2,77,940 discharges, 33,121 active cases and 5,992 deaths, the State Health Department said.
Rajasthan's Covid-19 tally surges to 1,71,281 with 1,992 new infections. There are 21,255 are active patients in the state, while 1,735 deaths have been recorded so far.
As many as 1,817 new Covid-19 cases were reported in Himachal Pradesh, taking the total number of positive cases to 18,609. The Health Department of the state said that there are 2,573 active cases in Himachal Pradesh, and 15, 743 people recovered from viral infection. The state has reported 259 deaths so far, while 29 Covid-19 positive patients migrated from Himachal Pradesh.
Manipur recorded 426 new Covid-19 cases and 2 deaths today, The total number of positive cases in the state reached 15,141 including 11,443 recoveries, 3,587 active cases and 111 deaths.
Uttarakhand reported 606 new Covid-19 cases today, while 665 patients were cured. Total cases in the state have reached 57,648 including 50,820 recoveries and 924 deaths.
1,222 new Covid-19 cases and 18 deaths reported in Madhya Pradesh today. The State Health Department said the total cases in the State has reached 1,59,158 including 2,753 deaths and 1,42,707 recoveries so far. Active cases stand at 13,698.
Union Territory of Chandigarh reported 54 new Covid-19 cases, and one death due to the viral infection, taking total positive cases to 3582. The UT currently has 915 active Covid-19 cases and has reported 207 deaths due to coronavirus so far.
No new Covid-19 cases reported in Mizoram over the last 24 hours, while 4 patients recovered in the state. Government of Mizoram said a total cases stand at 2,245, out of which 108 are active patients. 2,137 people have been discharged so far. No death reported in the state till date.
Meanwhile, according to the Indian Council of Medical Research (ICMR), a total of 9,32,54,017 samples have been tested in the country for Covid-19 till Friday. This includes 9,99,090 samples tested on October 16.

PM Modi uses Pakistan's Pulwama boast to roast rivals at home
KEVADIA (NARMADA): Armed with a Pakistan federal minister's admission in parliament that the February 2019 Pulwama attack was the Imran Khan government's doing, PM Narendra Modi on Saturday tore into rivals at home who, he said, had indulged in "dirty politics" even as the nation mourned the loss of 40 CRPF personnel.
"Now that the Pakistan parliament has admitted to the truth, all such people stand completely exposed. What they said and did in the wake of the Pulwama attack are glaring examples of the extent to which such people can go for their selfish interest and ego," he told a gathering of probationary civil servants under the giant Statue of Unity in Gujarat's Kevadia.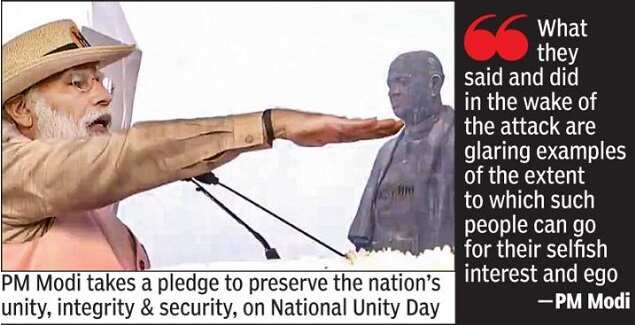 The PM said he had then "silently tolerated" the allegations levelled at his government because he was too pained by the deaths to respond.
His comments came two days after Pakistan's science and technology minister Fawad Chaudhry touted his government's role in the terror attack as a "major achievement".
Putting national interest above everything else, Modi appealed to his adversaries to "eschew such politics" since it neither serves the purpose of nation-building, nor benefits the parties themselves. "Merely for petty political motives, you are knowingly or unknowingly playing into the hands of anti-India forces and becoming their pawns," the PM said, also reminding them of how this impacts the morale of the armed forces and drives a wedge through the country's unity.
"Some countries are openly supporting terrorism. They have now become a cause for global concern. Terrorism and violence serve no good, and the need of the hour is to unite with the inherent Indian values of peace, harmony and mutual respect preached by the likes of Budhha and Gandhiji."
Alluding to the ongoing border stand-off with China, he said the NDA government was not just determined to stave off the threat but also adequately equipped to give a befitting response to anyone eyeing India's territory.
He said the country's defence sector was fast becoming "atmanirbhar (self-reliant)" in keeping with its evolved world view and standpoint on border issues. "Our jawans are building hundreds of kilometres of roads, bridges and tunnels," he said.
Earlier this month, the PM had inaugurated the 9.02km Atal Tunnel built at Rohtang in Himachal Pradesh by the Border Roads Organisation. It is currently the world's longest all-weather highway tunnel and connects Manali to Lahaul-Spiti.

Won't accept any attempt to unilaterally change LAC: Jaishankar
NEW DELHI: India will not accept any attempt to unilaterally change the Line of Actual Control (LAC) said foreign minister S. Jaishankar on Saturday evening. The pandemic, he said, had put "severe stress" on the India-China relationship.
Delivering the Sardar Patel Memorial Lecture, he said, ties with China had been stable for three decades, "as the two nations addressed inherited challenges and new circumstances. "
"Peace and tranquillity in the border areas provided the basis for expanded cooperation in other domains. But as the pandemic unfolded, the relationship has come under severe stress. To restore normalcy, agreements between the two countries must be respected scrupulously in their entirety. Where the Line of Actual Control is concerned, any attempt to unilaterally change the status quo is unacceptable."
India, Jaishankar said, "will approach the world in a more proactive way in the aftermath of the pandemic."
"Indian diplomacy will be more integrated with our defence and security needs, more supportive of our economic and commercial interests, more aware of our technology capabilities and offerings, and more sensitive to the diaspora."
Acknowledging the difficulties of two civilisations, India and China, growing side by side, Jaishankar said, "the relationship cannot be immune to changes in the assumptions that underpinned it."
"Large civilizational states re-emerging in close proximity will not have naturally easy ties. Their interests are best served by a sustained engagement based on mutual respect and mutual sensitivity."

EC action against BJP's Imarti Devi over poll code violations
NEW DELHI: The Election Commission on Saturday imposed a 24-hour campaign ban on BJP leader Imarti Devi due to poll code violations.
"BJP leader Imarti Devi has been barred from holding, anywhere in MP, public meetings, public processions, public rallies, roadshows and interviews, public utterances in media in connection with ongoing elections for one day on November 1," the poll panel said.
Earlier this week, the election commission had issued a notice to Imarti Devi, who is contesting a bypoll in Madhya Pradesh, for allegedly describing an unnamed political rival as "insane" and making remarks against women members of his family.
Devi, who is also a minister in the Madhya Pradesh government, did not name the political rival in a video on social media.
According to the transcript of the video, Imarti Devi said after the person left the chief minister's post in Madhya Pradesh, he became "insane" (pagal).
Devi was involved in another incident earlier when senior Congress leader Kamal Nath called her an "item" during an election rally. Following his remarks, Nath was served a notice by the EC and later removed as Congress' "star campaigner".
Bypolls to 28 Madhya Pradesh assembly seats will be held on November 3.