Indian, Chinese militaries hold Brigade Commander-level interaction in eastern Ladakh
Indian troops have secured strategic heights on the southern banks of the pangong Tso, thwarting 'provocating …Read More
NEW DELHI: Indian and Chinese militaries on Sunday held another round of talks in eastern Ladakh in an attempt to calm tensions even as the situation remained "delicate" with both sides further rushing in additional troops and weapons following last week's confrontations, government sources said.
The nearly four-hour brigade commander-level interaction near Chushul could not produce any tangible outcome, they said.
The sources said the Indian Army has been on a very high level of alert and is ready to deal with any eventuality in the area.
The overall situation in the region continued to be delicate, they said.
Tension escalated in the region after Indian troops foiled attempts by Chinese military to occupy Indian territories in the southern bank of Pangong lake area on the intervening night of August 29 and 30.
Following the confrontation, India occupied a number of strategic heights in the Chushul sector overlooking crucial bases of the Chinese military. Since then, China has deployed additional troops, tanks and anti-tank guided missiles in the area.
India too has strengthened its combat capabilities following reinforcements by the Chinese People's Liberation Army (PLA).
The two sides held extensive talks on Monday, Tuesday and Wednesday, each lasting over six hours, but no concrete result emerged from the negotiations.
In talks with his Chinese counterpart Gen. Wei Fenghe on Friday in Moscow, defence minister Rajnath Singh conveyed that China's actions like amassing a large number of troops, its aggressive behaviour and attempts to alter the status quo in Ladakh were in violation of bilateral pacts.
He also told Wei that China must strictly respect the Line of Actual Control(LAC) and not make attempts to unilaterally change its status quo.
Sources said that Singh told Wei firmly that India will not "cede an inch of land" and is determined to protect the integrity and sovereignty of the country at "all cost".
On Monday, the Indian Army said the Chinese military carried out "provocative military movements" to "unilaterally" change the status quo on the southern bank of Pangong lake on the intervening night of August 29 and 30 but the attempt was thwarted by the Indian troops.
The two sides were earlier engaged in a confrontation on the northern bank of Pangong lake but it was for the first time such an incident occurred on its southern bank.
There have been reports that China has deployed J-20 long-range fighter jets and several other key assets in strategically located Hotan airbase which is around 310 kms from eastern Ladakh.
In the last three months, the IAF deployed almost all its frontline fighter jets like Sukhoi 30 MKI, Jaguar and Mirage 2000 aircraft in the key frontier air bases in eastern Ladakh and elsewhere along the LAC.
The fresh attempt by China to change the status quo in the Pangong lake area is the first major incident in the area after the Galwan Valley clashes on June 15 in which 20 Indian Army personnel were killed.
China also suffered casualties but is yet to make the details public. According to an American intelligence report, it was 35.
India and China have held several rounds of military and diplomatic talks in the last two-and-half months but no significant headway has been made for a resolution to the border row in eastern Ladakh.

Epidemic in India is far from over, no room for 'false optimism': Lancet
NEW DELHI: Epidemic in India is far from over and there is no room for "false optimism" as numbers are rising rapidly along with relaxation of restrictions creating an atmosphere of fatalism, The Lancet said in an editorial.
"Most crucially, the rapidly growing case numbers, alongside the continuing relaxation of restrictions, are creating an atmosphere of fatalism mingled with false optimism that undermines effective use of non-pharmaceutical interventions such as masks and physical distancing," the editorial said.
"The epidemic in India is far from over, with a potentially huge burden of mortality and morbidity to come unless public health measures are used and adhered to. Without clear and honest communication of the risks of Covid-19 to the population, stemming the epidemic will be impossible," it added.
It also raised concerns about the Indian Council of Medical Research "straying from scientific evidence" to present a optimistic picture of the Covid-19 situation.
However, the editorial praised the early lockdown imposed by the government and said it helped increase the tertiary care provision, I including access to specialist equipment such as ventilators.
It also acknowledged fast ramping up of testing in the country.
"India has also been at the forefront of efforts to develop and manufacture a vaccine, both through domestic vaccine candidates and manufacturers such as the Serum Institute of India preparing production capacity for internationally developed vaccine candidates," the editorial said.

High kharif output coupled with MSP hikes can leave farmers with more liquidity of Rs 50,000 cr: Report
MUMBAI: With yet another record food production at 301 million tonnes expected on the back of a bumper kharif crop this year, recent MSP hikes can leave the farmers with an additional liquidity of Rs 50,000 crore, according to a report.
The first advance estimates of major kharif crops for 2020-21 have pegged total kharif foodgrain production at 144.52 million tonnes and the overall foodgrain output at 301 million tonnes, CARE Ratings said in the report on Friday.
Kharif crops account for nearly 9 per cent of the total gross value added and contribute nearly 60 per cent of value addition of the agriculture and allied activities sector.
At 144.52 million tonnes (mt), food grain production will be 9.83 mt more than the average of past five years, and 1.12 mt or 0.8 per cent higher than the previous year's 143.4 mt.
It said it is anticipating agriculture and allied activities to clip at 3.8 per cent this year on the back of buoyant kharif and rabi crops aided by surplus reservoirs.
As the public protest mounted over the three farm reform Bills last week, the Centre raised minimum support prices (MSPs) for both kharif as well as rabi crops by an average 4.7 per cent and 4.3 per cent, respectively.
After the kharif harvest, farmers' disposable income is expected to increase by a gross of Rs 50,000 crore and a net of Rs 40,000 crore after keeping money for investment, intermediate consumption and raw materials, the report said.
It added that 30 per cent of this estimated income, or Rs 12,000 crore, could go into savings, while 5 per cent or Rs 1,400 crore could be kept aside to deal with any exigencies arising on account of the pandemic.
About Rs 26,600 crore of the total additional gains can be used for consumption spending by the farmers and 45 per cent of the Rs 26,600 crore can be expended on clothing and footwear (25 per cent) and durable goods (22 per cent).
This is important as roughly half the two and three-wheelers come from rural areas and 30-40 per cent of car sales also come from the hinterlands.
Durable goods could get a Rs 5,900-crore boost, while fast-moving consumer goods (FMCG) items can get a Rs 2,600-crore boost, and clothing and footwear may see Rs 6,650-crorre worth of demand.
Education could get a Rs 2,650-crore boost and the healthcare segment may net Rs 1,400 crore and consumer services at Rs 4,000 crore and miscellaneous goods and entertainment can see a Rs 4,800-crore demand.
Average MSP increase for this kharif season is nearly 5 per cent over the 25 per cent hike announced last year. However, an increase in MSP does not proportionately translate into remunerative prices for farmers as higher output tends to drag prices lower than MSP.
The marketed surplus for various crops has been assumed at the following levels: Rice at 80-85 per cent, pulses at 90 per cent, and coarse cereals at 65 per cent. Oilseeds, sugarcane and cotton surplus is seen at 90- 100 per cent, according to the report.

Covid-19 roundup: Caseload breaches 58-lakh mark, SP Balasubrahmanyam dies & more
NEW DELHI: Even as the coronavirus tally in India stood at more than 58 lakh on Friday with 92,290 deaths, the country witnessed a nationwide protest by its farmers and also took a "leap of faith" announcing the dates for its first ever Assembly election to be conducted amidst a pandemic. The country also lost one of its legendary singers SP Balasubrahmanyam to Covid-19 on Friday.
Here are the latest developments:
INDIA
Daily new Covid-19 infections in India remained below the 90,000 mark for the fifth consecutive day even as the country's coronavirus caseload zoomed past 58 lakh, according to the Union Health Ministry data updated on Friday. The total coronavirus cases mounted to 58,18,570 with 86,052 infections being reported in a day and 1,141 people succumbing to the disease in a span of 24 hours.
India's total Covid-19 recoveries have surged to over 47.5 lakh with 10 states and union territories including Maharashtra, Delhi and West Bengal accounting for 73 per cent of the new recovered cases.
The last rites of legendary playback singer SP Balasubrahmanyam, who died in a Chennai hospital on Friday, will be held in his farm at Tamaraipakkam in Tiruvallur district on Saturday. SPB, who had been undergoing treatment for Covid-19 in MGM Healthcare since August 5, died at 1.04pm on Friday at the age of 74.
Hyderabad-based pharma player, Hetero has announced the launch of first-ever 'Patient Compliant Pack' of Favivir 800mg/200mg for the treatment of mild-to-moderate symptomatic Covid-19 patients in India.
Union health minister Harsh Vardhan on Friday said that more than 5 million people have been infected with coronavirus but the healthcare system of India has shown great efficiency in providing diagnostic and management facilities as well as keeping the mortality at 'minimum' and recovery at 'maximum'.
Announcing the dates for Bihar assembly election on Friday, chief election commissioner (CEC) Sunil Arora asserted that the decision to hold Bihar assembly polls amid the coronavirus pandemic is not a "misadventure" but a leap of faith and not a leap in the dark.
Even as Indians increase their spending with the easing of lockdowns, over 90% of respondents in a survey conducted by Standard Chartered Bank said that the pandemic has made them more careful with expenditure as against 75% of global respondents.
For complete coverage on Covid-19 outbreak, visit here.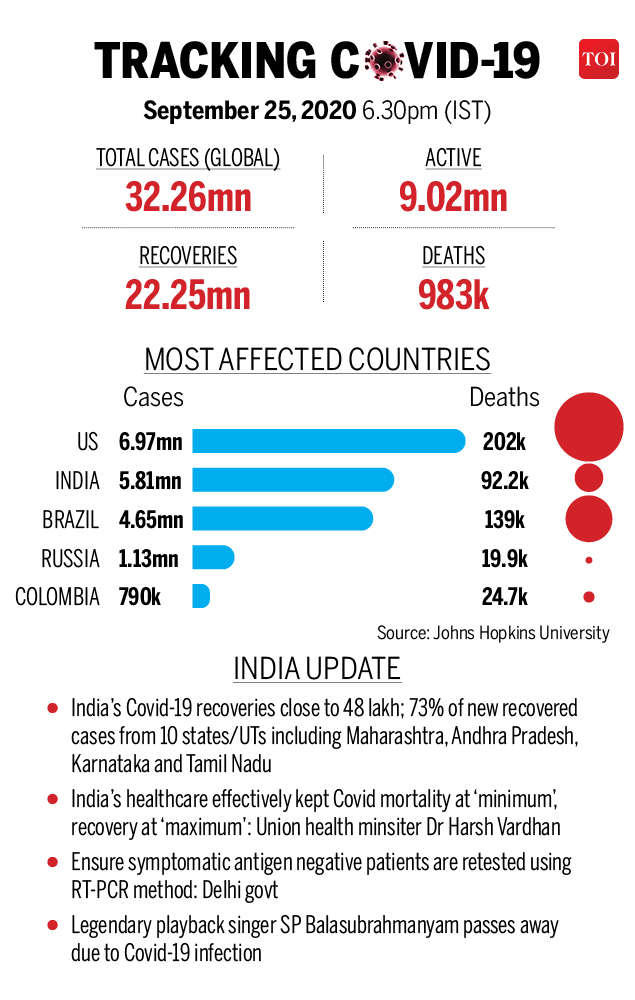 STATES
Punjab: Amid pandemic, farmers staged sit in's and held demonstrations at all the entry points of Amritsar including at Tarn Taran Road, India Gate, Pathankot Road besides GT road, against the three farm bills passed by the Parliament earlier this week.
Andhra Pradesh: State health minister Alla Kali Krishna Srinivas has ordered a probe after the video of an hospital staffer stealing the gold ring of a Covid deceased patient at TTD run Sri Venkateswara institute of medical sciences went viral in the social media on Friday.
Delhi: The condition of Delhi deputy chief minister Manish Sisodia, who is battling a double infection of Covid-19 and dengue, was reported to have been better now, as per an official from his office said on Friday.
Maharashtra: The coronavirus case count in Mumbai's Dharavi area rose to 3,109 on Friday with seven new cases coming to light, a senior Brihanmumbai Municipal Corporation (BMC) official said.
Karnataka: State government has decided to set up designated burial grounds and crematorium across all major cities and towns in the state. In Bengaluru, the government plans to develop nine new crematoriums in addition to the existing 10.
Tamil Nadu: State government has started to work on micro plans for Covid-19 vaccine. Director of public health Dr T S Selvavinayagam has asked deputy directors of public health to consolidate micro plans and send it to the directorate by October 15. The Union health ministry will introduce the vaccine against the viral infection if candidates prove their efficiency in the clinical trials.
Tripura: The rate of Covid-19 infection has gradually declined in the state over the past one week, as per state government. Additionally, the recovery rate has increased by 12% and the severity of infected patients has also declined.
Uttar Pradesh: Allahabad High Court has issued a mandamus for entire Uttar Pradesh directing that "no person should be seen outside his/her house without a mask on his/her face and he/she should check that the mask covers both the nose and the mouth". The state police has been directed to implement the mandamus.
Odisha: Six months on, fear-stricken residents keep outings to a minimum scared of contracting the coronavirus given the rise in the number of asymptomatic cases.
WORLD
An experimental coronavirus vaccine developed by China's Clover Biopharmaceuticals appeared to be safe and able to trigger immune responses in animal tests, researchers have said.
The virus has killed at least 984,068 people since the outbreak emerged in China late last year, according to a tally from official sources compiled by AFP at 1100 GMT on Friday. More than 32.2 million cases have been registered.
The United States is the worst-hit country with 202,827 deaths, followed by Brazil with 139,808, India with 92,290, Mexico with 75,439 and Britain with 41,902.
Brazil has postponed the world-famous Rio de Janeiro carnival's February 2021 edition, the first time since 1912, joining a growing list of major entertainment and sporting events disrupted by the pandemic.
Madrid's regional government has expanded the number of areas under partial lockdown, raising to over a million the total number affected by strict restrictions on mobility.
The Israeli government has slapped restrictions on outgoing flights as part of a slew of measures to bolster a second virus lockdown imposed last week. The new measures are set to begin at 1100 GMT and affecting workplaces, synagogues and demonstrations in a further bid to bring down the world's highest infection rate.
Poland reported a record spike of 1,587 new cases over a 24-hour period, in line with a rise in other parts of eastern Europe where numbers have been relatively low. The number of daily reported cases has been rising steadily in the country in recent days, with 711 on Tuesday, 974 on Wednesday and 1,136 on Thursday.
Moscow Mayor Sergei Sobyanin has ordered older people to stay at home and recommends employers ramp up remote working, after a spike in virus infections.
Hundreds of restaurant and bar owners organised protests in the southern French city of Marseille against new shutdown orders to curb a surge in cases, warning the move could force them to close permanently.
(With inputs from agencies)