Indian agencies get Pak document 'certifying' Hizbul chief Salahuddin as 'bona fide' official of ISI
NEW DELHI: In a breakthrough for their efforts to nail
Pakistan
's state agencies to their "proxies" fomenting terror in Jammu & Kashmir, the Indian security establishment has got its hands on a recent document issued by the Directorate of Intelligence, Islamabad "certifying" Syed Muhammad Yousaf Shah alias Syed Salahuddin, head of banned terrorist group Hizbul Mujahideen, as its "bona fide official" who is "working with ISI".
The letter, issued in the name of director/commanding officer Wajahat Ali Khan, states that "it is certified that Syed Muhammad Yousaf Shah, Ameer Hizbul Mujahideen, is working with Inter Services Intelligence (ISI), Islamabad. He is bona fide official of this department". Sharing details of the vehicle used by Salahuddin, the letter instructs that "he is security-wise cleared and should not be unnecessarily stopped".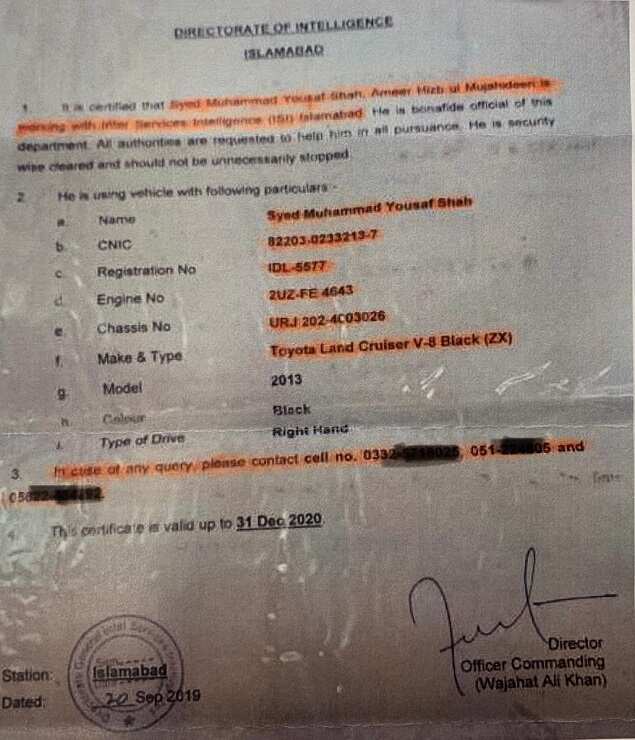 This certificate, a copy of which has been accessed by TOI, is valid up to December 31, 2020.
Salahuddin, apart from leading Hizbul Mujahideen, a designated terror outfit in the US and India, also heads United Jihad Council (UJC), an umbrella body of terror outfits including the UNSC-proscribed Lasker-e-Toiba and Jaish-e-Mohammad. He had admitted in an interview in 2012 to "fighting Pakistan's war in Kashmir".
On Saturday, Indian Army officials, at a press conference in Baramulla (J&K), said Hizbul Mujahideen was trying to re-establish its base in north Kashmir.
Indian agencies are overjoyed over what they call "clear evidence of "ISI's ties with banned terror outfits responsible for several attacks in India" and feel that the revelation will strengthen the case for moving Pakistan to the Financial Action Task Force (FATF) 'blacklist'. Pakistan which is currently on the FATF 'grey list', was in February given a four-month window to deliver on the 27-point Action Plan to curb terror financing and money laundering. This deadline was extended because of the pandemic and the next review is due on September 14, followed by FATF plenary in October.
The success of Indian security agencies also shows that the so-called anti-terror measures Pakistan recently took under tremendous pressure were a deception aimed at averting financial sanctions in FATF. The dodge included approval of some FATF-related legislations and issuance of Statutory Regulatory Order (SRO, (Aug 18) that ostensibly puts restrictions on 88 individuals and entities affiliated with extremist groups under the UNSC sanctions. Pakistan is estimated to be sheltering around 130 UNSC-sanctioned terrorists.
Significantly, next FATF review of Pakistan's status comes against the backdrop of the bank trail unearthed by NIA of money transfers made by Pakistan-based Jaish operatives to a key perpetrator of the February 2019
Pulwama
terror attack that killed 40 CRPF personnel.
Also a charge-sheet was filed by ED against Salahuddin and 11 others in a terror financing case. ED has also sought confiscation of HM's attached assets.
As reported earlier by TOI, NIA charge-sheet filed last month cites deposit slips for five cash transfers, totalling Rs 10 lakh, made by Jaish into accused Mohammad Umar Farooq's two bank accounts in Allied Bank, Khyber Agency and Meezan Bank, Peshawar, days before the attack. Of this, Rs 5 lakh were dispatched to Kashmir through the hawala route and used for making the car bomb. An officer here said the bank trail found by NIA establishes how Pakistan's banking system was complicit in funding the perpetrators.
China has been the main backer of Pakistan in FATF. As three votes are required at FATF to prevent blacklisting, Beijing, in cahoots with Malaysia and Turkey, has been blocking Pakistan's blacklisting. One of the key agenda of Pakistan Foreign Minister Shah Mehmood Qureshi's recent visit to Beijing was to seek China's support ahead of the FATF review.
However, with Pakistan's links with terror outfits coming again under international glare, China may be required to step up its effort to save it.
Pakistan is under international heat with US is probing the role of Pakistani nationals in Islamic State (IS)-linked activities in
Syria
. US-backed Kurd Democratic Forces (KDF) reportedly handed over a list of 29 Pakistanis who it is holding captive and who were fighting for IS in Syria.
Germany recently turned down a Pakistani request for supply of German Air Independent Propulsion (AIP) system for its submarines.
Pakistan is actively engaged in supporting terrorist outfits in Afghanistan. In March 2020, ISI in collaboration with its proxies— Haqqani Network and LeT—- carried out a terror attack on a Sikh Gurudwara in
Kabul
, killing 28 people.
Pakistan also has alleged links with terror groups Jamaat Ansarullah in Tajikistan, The Islamic Movement of Uzbekistan and East Turkistan Islamic Movement in China, that it uses as leverage to seek quid pro quo with these countries, forcing them to go soft on its links to terror.
Salahuddin supports terrorist activities on Indian soil through proxy NGOs and charities supported by Pakistan's ISI. Most prominent is the Jammu and Kashmir Affectees Relief Trust (JKART), with its head office in Rawalpindi and branches in Islamabad and Muzaffarabad (PoK), etc.

Bihar elections: Congress gives RJD ultimatum on seats
NEW DELHI: Congress has conveyed to Rashtriya Janata Dal that it should wind up seat-sharing negotiations within next few days and respect Congress's choice of constituencies, with senior members saying that failure to pay heed may even result in a break-up ahead of Bihar elections.
While the Congress-RJD alliance has all along appeared firm and Congress even ready to project Tejashwi Yadav as the chief ministerial face, sources said that the party wants a ch-ange in the terms of negotiations that have been established over decades between the two partners.
Congress is learned to have given a list of 75 constituencies to RJD with the wish that it should be considered as its tally. While the numbers are an issue, it is the specific seats demanded by Congress that is prolonging the negotiations.
Bihar elections: Full coverage
Some of the seats demanded by Congress are the ones that have a strong RJD base and are high on winnability quotient. The Yadav outfit appears reluctant to part with those seats. Congress feels that if it cannot benefit from the support base of RJD, then the alliance is not sincere.
"The dragging of negotiations to the last minute, which forces Congress to accept less than acceptable terms, has been happening for very long. This time we are serious that this style has to change and RJD should accommodate our demands," a senior Congress functionary said, adding that "if our demand is not accepted, we can go our way and forge a separate alliance."
Bihar elections: Live updates
Sources said September-end is the deadline set by Congress for winding up negotiations with RJD.
Top Congress functionaries said that the party is keeping all its options open with a plan B. "We have started talks with NCP, Yashwant Sinha, VIP and RLSP. We have to be ready with an alternative, " a senior AICC member said. Congress believes that if it breaks with RJD then VIP and RLSP of Upendra Kushwaha will also not leave the alliance since Kushwaha's objection is to Tejashwi Yadav's projection.
What is interesting is that while Congress and RJD both are trying hard to finalise the deal, the two partners have still not made a joint public statement to sound the bugle for the election in which they would be taking on the ruling combine of JD(U)-BJP.

PM Modi presents upbeat, forward-looking Indian agenda at UN
NEW DELHI: An assurance that India will use its vaccine production and delivery capacities for the benefit of the entire world, a strong pitch for UN reforms and a subtle message to China — that India's friendship with any country is not targeted at a third country — formed the highlights of PM Narendra Modi's virtual address to the 75th session of the UN General Assembly.
While his Pakistani counterpart, Imran Khan, had stridently targeted India on the Kashmir issue in his address on Friday, Modi ignored Pakistan altogether while mentioning the need to counter terrorism and drugs in his speech which emphasised that India will not hesitate to raise its voice against "enemies of humanity".
Modi spoke passionately on the need for UN reforms in his pre-recorded message as he sought to know how long was India going to be kept out of the decision-making structures of the world body despite its large population and successful democracy.
He said reform in the responses, processes and in the character of the UN is the need of the hour and that every Indian, while seeing the contribution of India in the UN, aspired for India's expanded role in the United Nations, which enjoyed a high credibility in the country.
It has been 75 years since the @UN was formed. The world of 2020 is vastly different from the world of 1945. What… https://t.co/VnOUSDonno

— Narendra Modi (@narendramodi) 1601137160000
"When we were strong, we did not trouble the world; when we were weak, we did not become a burden on the world. How long would a country have to wait particularly when the changes happening in that country affect a large part of the world?" he asked, adding that India was also the country that had lost the maximum number of soldiers in the course of UN peacekeeping missions. "Today, the people of India are concerned whether this reform-process will ever reach its logical conclusion," he said.
Modi said the Indian pharma industry had sent essential medicines to more than 150 countries. "As the largest vaccine-producing country of the world, I want to give one more assurance to the global community today, India's vaccine production and delivery capacity will be used to help all humanity in fighting this crisis," he said, adding that the Indian government is moving ahead with Phase 3 clinical trials within the country and in the neighbourhood.
India will do everything possible to further global good including the battle against COVID-19 pandemic. At the s… https://t.co/Tu0QGDSrgf

— Narendra Modi (@narendramodi) 1601137549000
India will also help all the countries in enhancing their cold chain and storage capacities for the delivery of vaccines, he said. Significantly, even as the border situation with China remains tense, Modi said any "gesture of friendship" by India towards one country is not against someone else and that its approach towards the Indo-Pacific is guided by a desire for security and growth for all. Both China and Russia continue to nurse reservations about the Indo-Pacific concept and see it as a US-led initiative to contain Beijing. India maintains though that the Indo-Pacific is a free, open, transparent and inclusive concept with Asean at its centre and that it excludes nobody.
Modi also sought to know where the UN was in the joint fight against the novel coronavirus. "The whole world is fighting the global pandemic of corona for the last 8-9 months. Where is its (UN's) effective response?" he asked.
Modi also said, in an obvious dig at China's Belt Road Initiative, that when India strengthens its development partnership, it is not with any mala fide intent of making the partner country dependent or hapless. "We have never hesitated from sharing experiences of our development," he said.
As India prepares to take over as a non-permanent member of the UNSC, Modi said the country will not hesitate in raising its voice against the enemies of humanity, human race and human values — terrorism, smuggling of illegal weapons, drugs and money laundering.
Modi also said India is moving forward with the vision of "self-reliant India" in the changed circumstances of the post-pandemic era. "A self-reliant India will also be a force multiplier for the global economy. Today, it is also being ensured that there is no discrimination in extending the benefits of all the schemes to every citizen of the country," he said.

Farmers' 'victory', Akali Dal had to bow before their doorstep: Congress
NEW DELHI: Reacting to the Shiromani Akali Dal (SAD) quitting the National Democratic Alliance (NDA) over the farm bills issue, the Congress on Saturday said it was the "victory" of farmers that the Akali Dal had to bow before their doorstep and break ties with the ruling coalition.
The SAD is the third major party to walk out of the BJP-led coalition in the last couple of years.
Reacting to the development, Congress' chief spokesperson Randeep Surjewala hailed it as a "victory" of "farmers-labourers".
"Supporters of black laws, Akali Dal, had to leave NDA and break ties with the Modi government," he said.
"They had to bow at the doorstep of farmers-labourers," Surjewala tweeted, tagging an old clip of Akali Dal leader Harsimrat Kaur Badal defending the farm ordinances in an interview she gave when she was a Union minister.
Punjab Chief Minister Amarinder Singh said, "Clearly @Akali_Dal_ was left with no choice after @BJP4India exposed that @Officeofssbadal and his SAD were fully party to Anti-Farmer legislations."
"The end of the coalition is only an outcome of 3 months of deceit…of defending the indefensible and misguiding the Punjab farmer," he said.
आख़िर किसान-मज़दूर की जीत हुई,काले क़ानूनों के समर्थक अकाली दल को NDA छोड़ मोदी सरकार से रिश्ता तोड़ना पड़ा,कि… https://t.co/b4asoYTRBC

— Randeep Singh Surjewala (@rssurjewala) 1601142951000
SAD chief Sukhbir Singh Badal announced the decision to snap ties with the NDA on Saturday night, amid stepped up agitation by farmers in Punjab over the three legislations which were recently passed by Parliament amid Opposition protests.
Badal's wife and SAD leader Harsimrat Kaur Badal had on September 17 quit the Union Cabinet after he strongly opposed the bills in Lok Sabha, claiming these legislations will "destroy" the agriculture sector in Punjab.