NEW DELHI: On September 14 this year, a 19-year-old Dalit woman was allegedly gangraped in Uttar Pradesh's Hathras by four upper-caste men. The incident caused widespread outrage and brought the focus on just how pervasive sexual violence against women is in our country. The woman sustained several injuries and died nearly 14 days later. To make matters worse, the police cremated her in the dead of night without the knowledge and consent of the family.
The Supreme Court termed the incident 'horrible and shocking' while hearing a plea for probe by the CBI and SIT into the alleged gangrape on Tuesday.
However, this isn't the lone incident that has shaken up the country. Several incidences like Nirbhaya rape case (2012), Unnao rape case (2017), Kathaua rape case (2018) and the Hyderabad rape cum murder case (2019) expose the grim reality of bestial sexual crimes against women in the country. A survey by Thomas Reuters Foundation in 2018 ranked India as the most dangerous country for women.
Shocking numbers
Crimes against women have been steadily rising over the years. According to the latest NCRB report, 2019 saw over 4 lakh reported cases of crimes committed against women, up from 3.78 lakh in 2018 and 3.59 lakh cases in 2017.
NCRB reported 32,033 rape cases which translates to a shocking 88 rape cases a day — and this is just 10% of all crimes against women. Experts say that picture could be far worse as most such crimes go unreported in the country.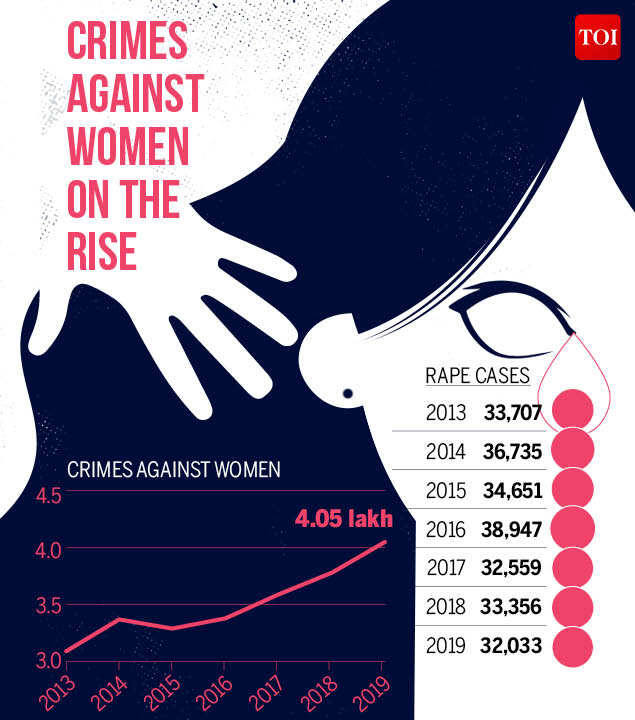 Uttar Pradesh holds the worst record
NCRB data shows that in 2019, Uttar Pradesh topped the states in crimes against women with a whopping 59,853 cases, followed by Rajasthan and Maharashtra with 41,550 and 37,144 cases respectively.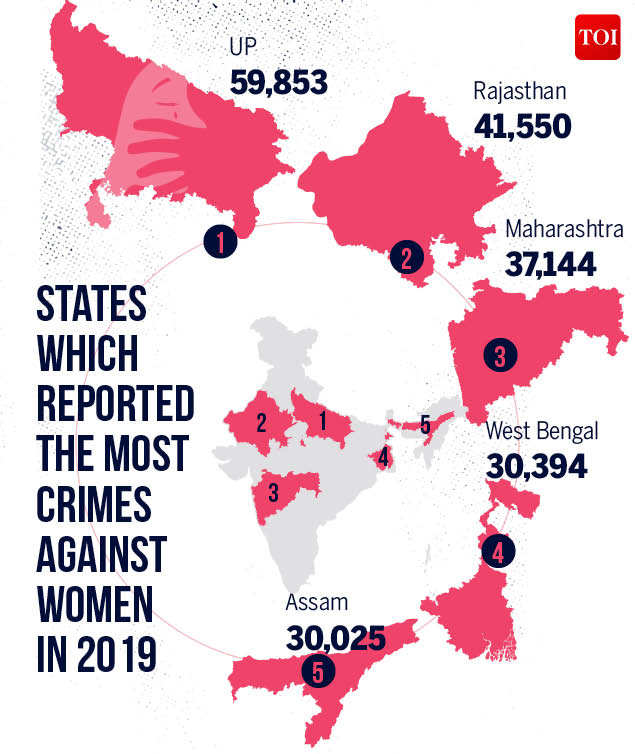 Rajasthan tops in rape cases
In terms of rape incidences, Rajasthan fared worst with nearly 6,000 reported cases. Uttar Pradesh ranked second with over 3,000 cases.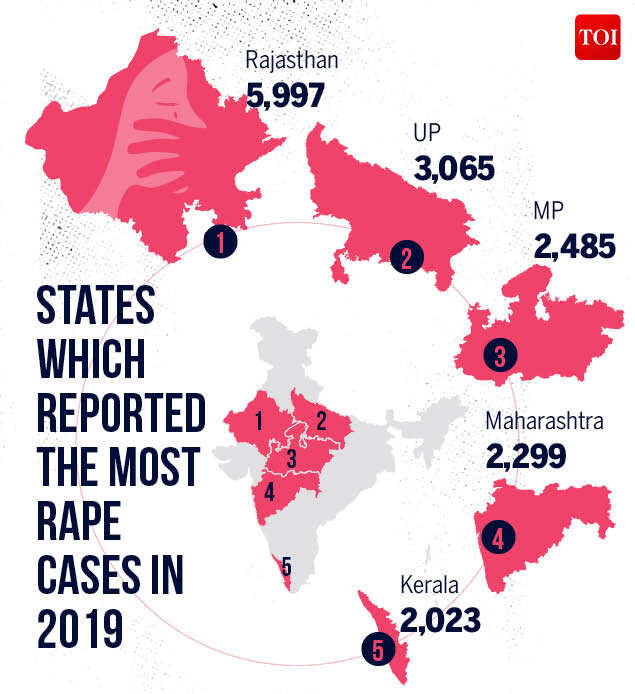 No effect of Nirbhaya judgment
The recent incident proves that the execution of the convicts in the Nirbhaya gang-rape and murder case (that took place this year) had no effect on criminals. When the execution took place, it was assumed that it would send a strong message to perpetrators of such crimes, but the recent incidents have proved it otherwise.
One reason for this is poor conviction rate and the long road to justice. In 2018 and 2019, the conviction rate for rape was below 30%. Which means out of 100 cases only 30 saw convictions. Absence of forensic labs, fast-track courts and investigators are also partly responsible for this.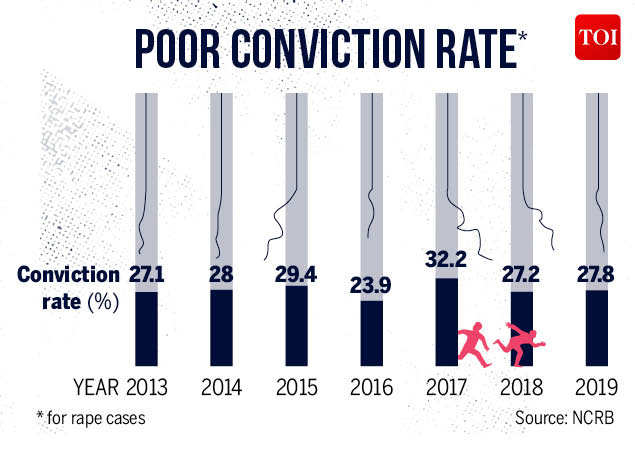 Pakistan targets LoC, IB in ceasefire violation
JAMMU: Pakistan on Saturday violated ceasefire at multiple locations by firing unprovoked along the International Border (IB) in Samba sector and the Line of Control (LoC) in Degwar sector of Poonch district in Jammu & Kashmir.
Official sources said Pakistan violated ceasefire along the International Border at Rajpura area of Ghagwal in Samba district around 2am by firing at the border outposts (BOPs) of Border Security Force (BSF). BSF troops retaliated promptly and effectively to the enemy fire. No loss of life or injury was reported in the exchange of firing. Sources said that BSF had started some development work of forward locations along the international border, and Pakistani firing was aimed at hindering it.
Later in the evening, Pakistani troops violated ceasefire along the LoC in Degwar sector of Poonch district. Jammu-based defence spokesperson Lt Col Devender Anand said, "Pakistan initiated unprovoked ceasefire violation by firing with small arms and mortar shelling along the LoC in Degwar sector at about 6.30pm. The Indian Army retaliated befittingly."
On Friday, Pakistan had violated ceasefire by resorting to unprovoked firing and shelling along the LoC in three sectors of Poonch district. Before this, it had violated ceasefire in the Mankote sector on October 16 and in two sectors along the LoC in Poonch district on October 14. Prior to this, it had violated ceasefire for three consecutive days — on October 9, 10 and 11 — in Rajouri and Poonch districts.

Farooq Abdullah to head seven-party Peoples Alliance, Mehbooba Mufti nominated VP
SRINAGAR: The Peoples Alliance for Gupkar Declaration, the seven-party amalgam of mainstream Kashmir parties demanding the restoration of Jammu and Kashmir's special status, appointed on Saturday National Conference chief Farooq Abdullah as its president, PDP president Mehbooba Mufti as vice-president, and decided the flag of the erstwhile state of Jammu and Kashmir would be the flag of the alliance.
The decisions came at a meeting of alliance constituents, some of whom are arch-rivals, at Mufti's Gupkar Road residence here. "It's not an anti-national alliance, it is an anti-BJP alliance… BJP wants to divide the country, our aim is to ensure that the rights of the people of J&K and Ladakh are restored," Dr Abdullah said.
Congress appeared to distance itself from the PAGD with J&K PCC president GA Mir staying away from two meetings of the conglomerate — on October 15 when the alliance was forged, and on Saturday. Sources close to the regional Congress unit said this was because of what they described as a "twist" in the objective of the basic demand for the restoration of special status to J&K, a reference to recent statements from Mehbooba Mufti to the effect that she would raise the tricolour only when the J&K flag, too, was allowed to fly. The source said Congress had raised the issue of the nullification of Article 370 in Parliament but the PDP Rajya Sabha members had not spoken a word on it in the Upper House.
Union law minister Ravi Shankar Prasad, meanwhile, was quoted by ANI as asking, "Why is the so-called secular lobby silent at this anti-national remark (Mehbooba's remarks of Friday)? … In one country there cannot be 'do nishaan, do pradhan'. We condemn this." He added that J&K was "India's inseparable part" and "Article 370 abrogation was a constitutional process (sic)".
However, CPM leader Yousuf Tarigami rejected the notion of Congress distancing itself, saying,"Congress party is very (much) a constituent of the PAGD."
PAGD's constituents are National Conference, Peoples Democratic Party, Peoples Conference, Awami National Conference, CPM, CPI and J&K Peoples Movement.
Veteran CPM leader M Y Tarigami was elected convener while Lok Sabha member from South Kashmir Hasnain Masoodi was made coordinator of the conglomerate. People's Conference chairman Sajad Gani Lone would be the spokesman for the amalgam.
Peoples Conference chairman Sajad Lone said the PAGD would come up with a document, at the next meeting in Jammu in two weeks, on the "lies being spread against the people of Jammu and Kashmir". "The white paper will compare the reality and false propaganda on the ground," Lone said.
Both Congress and BJP condemned Mehbooba's statements of Friday. While Congress advised Mehbooba to desist from such statements, BJP demanded her arrest and party activists burnt effigies of Mufti for "insulting the national flag"
"Our relationship with the flag of this country is not independent of this flag (Jammu and Kashmir's flag). When this flag comes in our hand, we will raise that flag too," Mehbooba had said on Friday.
JKPCC chief spokesperson Ravinder Sharma, however, added that Congress is for the restoration of J&K's special status and that J&K should revert to being a single state that includes Ladakh. "We are not with any such irresponsible statement which would hurt the sentiments of Indians," Ravinder Sharma said.

Rajnath reviews LAC situation in eastern sector at Army's Trishakti Corps in Sukna
NEW DELHI: Defence minister Rajnath Singh on Saturday reviewed the combat preparedness of the Indian Army at the Sukna-based headquarters of its 33 Corps which is responsible for guarding the Line of Actual Control (LAC) with China in the Sikkim sector, officials said.
The defence minister arrived at the key military base, popularly known as 'Trishakti' Corps, in Darjeeling district in late afternoon as part of his two-day visit to West Bengal and Sikkim to review the military preparedness in view of the border row with China in eastern Ladakh as well as to celebrate Dussehra with soldiers.
Singh is accompanied by Chief of the Army Staff General Manoj Mukund Naravane.
The Army has significantly bolstered deployment of troops and weaponry along the nearly 3,500 km-long LAC including in the Sikkim and Arunachal Pradesh sectors.
The officials said top commanders of the 33 Corps gave detailed briefing to the defence minister and Gen Naravane on the situation along the LAC in Sikkim sector as well as about deployment of troops and weapons.
In an interaction with a group of Army personnel, the defence minister conveyed his wishes to them on the occasion of Vijayadashami and hailed their dedication in securing the nation's borders.
"Due to brave soldiers like you, the borders of this country are protected. The whole country is proud of you," he said.
The defence minister also talked about the rich history of the Trishakti Corps.
"The Trishakti Corps has a great golden history. Especially in 1962, 1967, 1971 and 1975, this Corps demonstrated examples of valour. It has been excellent," he said.
"I extend my best wishes to all of you and your family for the festival of Vijayadashami," the defence minister's office tweeted quoting him as saying.
Officials said Singh will perform 'Shastra puja'(worship of weapons) at Sherathang area in Sikkim on Sunday morning on the occasion of Dussehra.
The defence minister had performed 'Shastra Puja' in the French port city of Bordeaux during Dussehra last year as he was on a bilateral visit to the country then.
Singh has been performing 'Shastra Puja' during Dussehra for the last several years including during his tenure as the Union Home Minister in the previous NDA government.
Almost all formations of the Indian Army along the LAC are on a very high-level of alert in view of the border row with China in eastern Ladakh.
India and China are locked in an over five-month-long bitter border standoff in eastern Ladakh that has significantly strained their ties.
Both sides held a series of diplomatic and military talks to resolve the row. However, no breakthrough has been achieved to end the standoff.