Hong Kong protests: Police tackle 12-year-old girl to the ground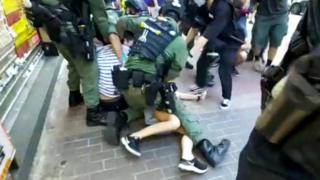 Hong Kong police have come under fire after footage of officers tackling a 12-year-old girl to the ground near a pro-democracy protest went viral.
Police say the girl took part in an illegal gathering and officers used "minimum force" after she "ran away in a suspicious manner".
The girl's family say she was simply out to buy school supplies and became scared when confronted by police.
Nearly 300 people were arrested at Sunday's unauthorised demonstration.
The protests were over the government's decision to postpone elections to Hong Kong's parliament by a year. The government said this was necessary amid the coronavirus pandemic, but activists said the government was using the outbreak as a pretext to stop people from voting.
What does the video show?
The video, from Sunday afternoon, shows two police officers approaching a young girl in the Mong Kok area and telling her to stand still.
The girl starts running – and one officer taps her with his baton while another runs towards her and tackles her to the ground.
More riot police emerge, holding the girl and her brother, who had tried to help her, on the ground. Other officers tell journalists and bystanders – many of whom appear outraged at the police action – to stand back.
Local media say the girl and her older brother were later treated in hospital for light injuries. Police issued them and a passer-by with penalty tickets for violating social distancing rules that prohibit gatherings of more than two people.
What is the girl's version of events?
The girl, whom local media are only identifying as "Pamela" to protect her identity, said she lived nearby and was out to buy art supplies for school.
"The streets were cut off by police cordons so we had to double back to meet our family… but the police suddenly ran towards us. I was scared. They told us to stand still, but I panicked so I ran," she told i-Cable news.
Her brother added that they both intended to contest the fine they had been given for breaching social distancing rules.
"We were just walking by, so there was no reason for the police to come after us," he said.
Their mother said she had been out buying groceries with them but went home while they went to look for art supplies. She said she was angry at how they had been treated by police.
What do Hong Kong police say?
In a statement, police said they had been intercepting protesters in Mong Kok who had refused to disperse following warnings to leave.
Police said officers had wanted to "stop and search" the girl, but "she suddenly ran away in a suspicious manner. Officers therefore chased and subdued her with use of minimum necessary force".
Following an investigation, they determined that "she and other protesters
Brain-eating microbe: US city told not to use water amid contamination concerns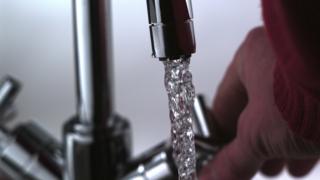 Residents of Lake Jackson, Texas, have been urged not to use tap water because it might be contaminated with a deadly brain-eating microbe.
The local water authority warned of the potential contamination of its supply to the town – home to about 27,000 people – by Naegleria fowleri.
The amoeba typically infects people when contaminated water enters the body through the nose. It is usually fatal.
Infections are rare in the US, with 34 reported between 2009 and 2018.
Eight Texas communities were told on Friday night not to use their water supply for any reason except to flush toilets. But the warning was lifted on Saturday for everywhere but Lake Jackson.
The Texas Commission on Environmental Quality said residents of Lake Jackson should continue to avoid using tap water "until the water system has been adequately flushed and samples indicate that the water is safe to use".
It said it is not yet known how long this will take.
Naegleria fow
Denmark confronts sexual harassment at work in #MeToo moment
By Adrienne Murray
Copenhagen
It started with a comedy awards show and a bombshell revelation that left the audience stunned.
Now a vigorous debate about workplace sexual harassment is under way in Denmark, a country that often ranks highly for gender equality.
More than 1,600 women have signed an open letter alleging the problem is rife in Danish media. Hundreds of others have also come forward alleging sexism and harassment are serious issues in politics and the medical profession.
A #MeToo moment
"I'm really insanely happy to be the host here today," began presenter Sofie Linde, as she introduced the Zulu Comedy Gala. "I'm only the second female host in 14 years."
After a few jokes, Ms Linde's speech struck a serious tone as she detailed receiving less pay than her male co-hosts.
"We can pretend there is no difference between men and women in Denmark," said Linde, who also works on Denmark's X Factor talent show. "It's just not true."
She then revealed that when she was 18 years old, and starting out at national broadcaster DR, one of the network's heavyweights demanded oral sex and threatened to ruin her career.
The moment, broadcast two weeks ago, has catalysed a national debate that has seen Linde's #MeToo moment come in for both praise and criticism.
'We experienced it too'
"We've all experienced it to a greater or lesser degree over the course of our careers: inappropriate remarks on our appearance or clothing; suggestive messages; physical behaviour that crosses the line. Warnings that there are a few men we should avoid at the Christmas party. It happened before. It's still happening."
By the time the newspaper was published, 701 women had signed the letter. The next day it was more than 1,600. Those who signed either had direct experience or knew of a colleague who had, said TV2 reporter Camilla Slyngborg.
"We wanted it to be proof, so we don't have to talk anymore about whether this exists, but how to solve the problem."
"Hundreds of people wrote with small stories or bigger stories about what they've experienced," she told the BBC. "It's actually been kind of sad to go through these emails."
Complaints emerge across society
More claims have come to light since.
Ten women have complained to DR News about the behaviour of male bosses or senior male staff while they were trainees from 2015-2019. The allegations include inappropriate comments, unwanted text messages, shoulder massages and patting on the bottom.
Danish tabloid Ekstra Bladet has faced accusations too. Last Monday, 46 women wrote to management detailing sexual harassment at the paper.
Women have also shared experiences of sexism and harassment in other workplaces, from restaurants to retail, and hashtags such as "#MeToo" and "#NejTilSexisme" (No to Sexism) have been trending.
More than 600 doctors and medical students have signed an online petition denouncing sexual harassment and gender discrimination in hospitals, clinics and universities.
Over 300 women in politics have also called on leaders to root out sexism in their profession. Their statement in Politiken included 79 anonymous testimonies of incidents ranging from offensive comments to sexual assault.
One of the four women who initiated the letter, Camilla Soee, told the BBC: "Once and for all, we wanted to prove that sexism and sexual harassment is part of the political environment."

More stories on sexism and harassment
Apology from foreign minister
The debate has also brought a 12-year-old controversy concerning Denmark's foreign minister back into the spotlight.
Jeppe Kofod apologised this month for having sex with a 15-year-old girl following a political youth event in 2008, when he was 34 and a spokesperson for the Social Democrats.
In Denmark, the age of consent is 15.
"I wish I could change it, that it never happened," he told Danish TV. "It happened. What I can do is to have regret, I have learned from it."
His supporters argue that it all happened a long time ago.
And some female politicians on the right have taken issue with claims of a sexist culture in parliament, arguing that the #MeToo debate is going too far.
But the Social Liberal Party's gender equality spokeswoman, Samira Nawa, has described the workplace culture in parliament as "rotten". "Some industries have the ingredients needed for sexism to thrive. Media is such an industry. Politics is another," she wrote on Facebook.
Ex-Prime Minister Helle Thorning-Schmidt urged media bosses and other leaders to do "too much rather than too little. And do it right now".
A knock to Denmark's reputation
Denmark prides itself on a reputation for gender equality and regularly performs highly on international measures, but some are concerned that has led to complacency.