Heat ray 'was sought' against protest in Washington's Lafayette Square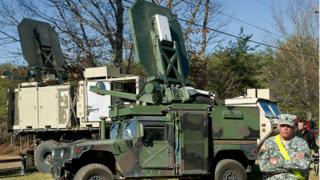 Officers requested a "heat ray" weapon for possible use against protesters in a park next to the White House in June, a National Guard major has testified.
Military police allegedly asked for the Active Denial System (ADS), which makes targets feel their skin is on fire.
It was before authorities cleared Lafayette Square of demonstrators on 1 June amid protests over the killing of black man George Floyd.
The National Guard did not possess the heat ray and it was not used.
Law enforcement officers are instead believed to have used tear gas, rubber bullets and smoke grenades to clear the park.
At the time authorities said it was to tackle violent protesters who had thrown rocks at police and started fires. Reporters at the scene however said the demonstration had been peaceful.
Park Police have denied using tear gas, saying that they instead fired "pepper balls" – projectiles with capsaicin, the chemical that gives peppers heat – at protesters.
Shortly after officers cleared the park, US President Donald Trump walked across the street from the White House for a photo opportunity outside a church.
The clearance of the protesters to make way for Mr Trump drew heavy criticism from both Democrats and Republicans, and Washington DC Mayor Muriel Bowser called it "shameful".
What did the major say?
National Guard Major Adam DeMarco was at the scene of the protest, serving as a liaison officer in a supervisory role.
In written testimony provided to US lawmakers and first published by NPR, Maj De Marco said a senior military police officer asked if the National Guard in the US capital had the ADS in the morning of 1 June.
The heat ray weapon uses a microwave beam to make human skin feel like it is burning. Authorities say it causes no permanent damage.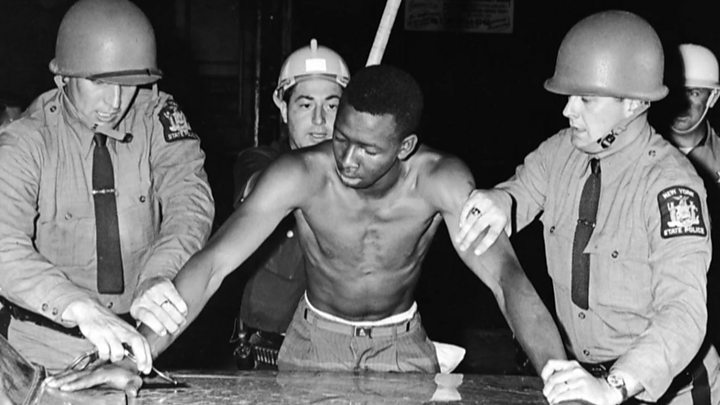 In an email which Maj DeMarco was copied into, the senior officer said the ADS "can immediately compel an individual to cease threatening behavior", describing the effect of the weapon as "overwhelming".
Maj DeMarco responded that the DC National Guard did not have the ADS, nor an LRAD – a Long Range Acoustic Device, also requested, which can blast a wall of sound at crowds.
Federal officials also began stockpiling ammunition that day, Maj DeMarco said.
A US defence department official, speaking to the Washington Post, characterised the emails as "routine inventory checks" about available equipment.
The department, the army and the National Guard did not respond to specific questions from the newspaper about munitions and their planned use.
'US can impose neither negotiations nor war' on Iran, Rouhani tells UN General Assembly
Addressing a session of the UN General Assembly, Iran's President Hassan Rouhani said his country will not give in to US pressure and Washington will not bully Tehran, into neither "negotiations nor war."
Speaking on Tuesday at the UNGA – held this year in a virtual format due to the coronavirus pandemic – Rouhani blasted the recent US decision to unilaterally re-impose now-defunct international sanctions against Iran.
"The US can impose neither negotiations nor war on us," Rouhani said, insisting that "today is the time to say 'no' to bullying and arrogance."
Life is hard under sanctions. However, harder is life without independence.
He expressed Iran's gratitude to the nations who rejected Washington's move. The US measure has not been particularly well-received, as 13 out of 15 UN Security Council members firmly opposed it.
"I should express our appreciation to the presidents of the Security Council for the months of August and September 2020, as well as to 13 of its members–especially Russia and China–who twice said a decisive and resounding 'no' to the unlawful US attempt to exploit the Council and its Resolution 2231," the president said.



Also on rt.com
United Nations will not support Washington's unilateral move to reimpose UN sanctions on Iran, says organization's chief




The most recent package of US sanctions against Tehran was unveiled by Washington on Monday, targeting Iran's defense ministry. The announcement came just a few days after the US declared "snapback" UN sanctions on Iran t
Pascale Ferrier: White House ricin package suspect in court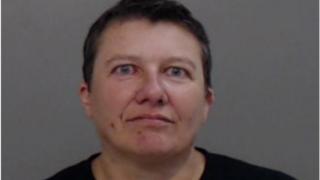 A Canadian woman has been charged in US federal court for allegedly posting a letter with deadly ricin poison to President Donald Trump.
Pascale Ferrier, of Quebec, was arrested at a border crossing in Buffalo, New York, on Sunday. She was reportedly carrying a gun.
She has pleaded not guilty to making threats against the president.
The letter she allegedly sent last week was discovered before it reached the White House.
In it, she called on Mr Trump to drop out of the US presidential race. The envelop contained ricin, a poison found naturally in castor beans.
"I found a new name for you: 'The Ugly Tyrant Clown'," she wrote in the letter to Mr Trump, according to FBI charging documents filed ahead of her first court appearance in New York on Tuesday.
"I hope you like it. You ruin USA and lead them to disaster. I have US cousins, then I don't want the next 4 years with you as president. Give up and remove your application for this election."
The letter, which the FBI says had her fingerprints on it, referred to the poisoned note as "a special gift", adding: "If it doesn't work, I'll find better recipe for another poison, or I might use my gun when I'll be able to come. "
The suspect may have also sent ricin to five addresses in Texas, including a jail and a sheriff's office, according to the court documents.
Ms Ferrier appeared in court on Tuesday afternoon in Buffalo, New York, with the aid of a French-speaking translator, according to local media.
Who is Pascale Ferrier?
Pascale Cecile Veronique Ferrier, 53, is a computer programmer who is originally from France, but became a Canadian citizen in 2015, according to Canadian media. Sources tell Reuters she retains dual French-Canadian citizenship. She was living in the Canadian province of Quebec.
In March 2019, she was arrested in Texas for unlawfully carrying a weapon and using a fake driver's licence, according to jail records. She was deported to Canada after officials found she had overstayed her visa and committed a crime while in the US, according to the New York Times.
The Federal Bureau of Investigation (FBI) and the Secret Service are investigating the package, which was discovered at a processing facility for mail sent to the White House.
The presence of ricin was confirmed after several tests by the FBI, authorities said.
A spokesman for the Mission, Texas, police departmen
Climate change: China aims for 'carbon neutrality by 2060'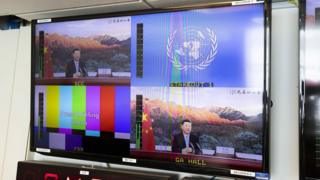 China will aim to hit peak emissions before 2030 and for carbon neutrality by 2060, President Xi Jinping has announced.
Mr Xi outlined the steps when speaking via videolink to the UN General Assembly in New York.
The announcement is being seen as a significant step in the fight against climate change.
China is the world's biggest source of carbon dioxide, responsible for around 28% of global emissions.
With global climate negotiations stalled and this year's conference of the parties (COP26) postponed until 2021, there had been little expectation of progress on the issue at the UN General Assembly.
However China's president surprised the UN gathering by making a bold statement about his country's plans for tackling emissions.
He called on all countries to achieve a green recovery for the world economy in the wake of the coronavirus pandemic.
According to the official translation, Mr Xi went on to say:
"We aim to have CO2 emissions peak before 2030 and achieve carbon neutrality before 2060."
Until now China has said it would peak its emissions by 2030 at the latest, but it has avoided committing to a long-term goal.
Emissions from China continued to rise in 2018 and 2019 even as much of the world began to shift away from fossil fuels.
While the Covid-19 crisis this spring saw the country's emissions plunge by 25%, by June they had bounced back again as coal-fired plants, cement and other heavy industries went back to work.
Observers believe that in making this statement at this time, the Chinese leader is taking advantage of US reluctance to address the climate question.
"Xi Jinping's climate pledge at the UN, minutes after President Donald Trump's speech, is clearly a bold and well calculated move," said Li Shuo, an expert on Chinese climate policy from Greenpeace Asia.
"It demonstrates Xi's consistent interest in leveraging the climate agenda for geopolitical purposes."
Back in 2014 Mr Xi and then US-President Barack Obama came to a surprise agreement on climate change, which became a key building block of the Paris agreement signed in D