Rallies have been held across France in tribute to a history teacher beheaded in a terror attack near Paris. One of the largest gatherings was staged in the French capital, as thousands flocked to the Place de la Republique.
Central Paris was flooded with people as thousands gathered at the Place de la Republique to pay homage to Samuel Paty, a teacher from the neighboring town of Conflans-Sainte-Honorine, who was killed earlier this week after showing cartoons of Islamic prophet Mohammed during a lesson.
Government officials, including Prime Minister Jean Castex, as well as Paris Mayor Anne Hidalgo and the head of the Ile-de-France region, Valerie Pecresse, attended the commemorative event at the Place de la Republique. They were joined by crowds of ordinary people.
"You don't scare us. We are not afraid. You will not divide us. We are France!" Castex wrote on Twitter, posting a video showing the rally. People who gathered at the square held a minute of silence in memory of Paty, which culminated in applause. At one point the crowd, which almost completely filled the square, was seen singing the French national anthem, 'La Marseillaise'.
The demonstrators were holding placards bearing photos of the slain teacher, as well as slogans including 'Je suis Samuel' (I am Samuel), 'Je suis enseignant' (I am a teacher) and 'Je suis Charlie' – an apparent reference to the fact that the cartoons Paty showed his class were reportedly the notorious caricatures published by French satirical magazine Charlie Hebdo, which itself was targeted in another terror attack back in 2015, during which 12 people were killed.
The hashtags #JeSuisSamuel, #jesuisprof and #JeSuisEnseignant also began trending on Twitter. Commemorative rallies were held in many other cities across France, including Orleans, Toulouse, Lyon and Grenoble, where large crowds of people gathered near the mayoral offices.
Paty, 47, was murdered on Friday by an 18-year-old man, identified as an ethnic Chechen born in Moscow. The attacker had lived with his family in France as a refugee since he was six. He was killed by police after a brief chase.
Closest to Earth 'black hole' turns out to be rare kind of star, after all
A growing body of research posits that the star system HR 6819 does not contain a black hole, contrary to earlier findings. It may instead boast a unique pair of stars.
The object located some 1,120 light-years from Earth has been preliminarily demoted from a bewildering black hole to a binary star system with a rather unusual orbit. 
The system consists of a very hot Be spectral type star which spins at approximately 200km per second, shooting out a disc of hydrogen gas which surrounds it.
Previously, it was found to be accompanied by a B3 III star, measuring approximately six solar masses, with a roughly 40-day orbit. The Be star, also measuring in at about six solar masses, seemed to be spinning on the spot, which made no sense as two objects of similar mass should spin about a mutual center of gravity. 
Following a serious amount of number crunching, researchers earlier this year concluded that the pair must be orbiting a third, massive object that wasn't visible which would explain why the spinning top star was essentially locked in place – a black hole.



Also on rt.com
Closest black hole to Earth discovered just 1,000 light years away, 'VISIBLE' to the naked eye




However, as is often the case in science, there was a competing theory: that the B3 III star was actually a low mass star that had been worn down by its companion, and that the initial calculations were off.
If this were the case, the almost imperceptible movement of the larger Be star would be visible via wobbles and shifts in the hydrogen gas disc emanating from it. 
Sure enough, astronomers Douglas Gies and Luqian Wang of Georgia State University discovered variations in the disc which aligned with the B3 III star's orbit. 
"This indicates," they wrote, "that HR 6819 is a binary system consisting of a massive Be star and a low-mass companion that is the stripped down remnant of a former mass donor star in a mass transfer binary."
In other words, the Be star took a huge chunk out of its companion and, according to the recalculations, the B3 III star would be between 0.4 and 0.8 solar masses.
By coincidence, a second paper, produced by researchers at KU Leuven in Belgium, conducted an independent analysis of the hydrogen disc emitted by the star and reached almost exactly the same conclusion as Gies and Wang. 
In their analysis, they found the pair to have solar masses of 0.4 and 6 respectively. 
"This indicates that the primary might be a stripped star rather than a B-type giant," they wrote. "In the framework of this interpretation, HR 6819 does not contain a BH."



Also on rt.com
Astronomers capture exact moment supermassive black hole DEVOURED entire star




By yet more happenstance, a third paper, currently in preprint, produced by astronomers Kareem El-Badry and Eliot Quataert of UC Berkeley also found 0.47 and 6.7 solar masses for the B3 III and Be stars respectively, providing yet more evidence of an unusual bi
Danish inventor who murdered & dismembered journalist captured after attempted PRISON BREAK with 'bomb'
A Danish man who murdered and dismembered a female journalist touring his homemade submarine in 2017 was recaptured after attempting to break out of prison while allegedly armed with a bomb.
Peter Madsen escaped from Herstedvester prison, located in a suburb of Copenhagen, after threatening guards with an explosive device, and also possibly a "pistol-like object," local media reported. Security forces cornered him after he fled several hundred meters from the prison. A photograph shows the convicted murderer leaning against a fence as two security personnel, wearing helmets and body armor, lie on the ground as they point their weapons at him. Snipers, a bomb squad and police dogs arrived on site, according to reports. 
Police confirmed that they were responding to an attempted prison break and had cordoned off the area.
After a standoff, law enforcement personnel arrested Madsen, who was reportedly wearing a suspicious belt-like object be
DR Congo jail break: 'Islamist ADF rebels' free 900 inmates
More than 900 prisoners have escaped from a jail in eastern Democratic Republic of Congo's Beni city after suspected Islamist rebels attacked the facility, officials have said.
The Allied Defence Forces (ADF) was thought to have launched the assault to free its members, the mayor said.
Only 100 inmates remained in Kangbayi prison, the mayor said.
The ADF was formed in 1996 in neighbouring Uganda to fight alleged discrimination against Muslims.
It relocated to eastern DR Congo after being driven out by the Ugandan military from its bases in the Rwenzori Mountains.
The group has not yet commented on whether it was behind the attack.
Beni's mayor Modeste Bakwanamaha told Reuters news agency that the attackers came in large numbers and managed to break the jail's door using electric equipment.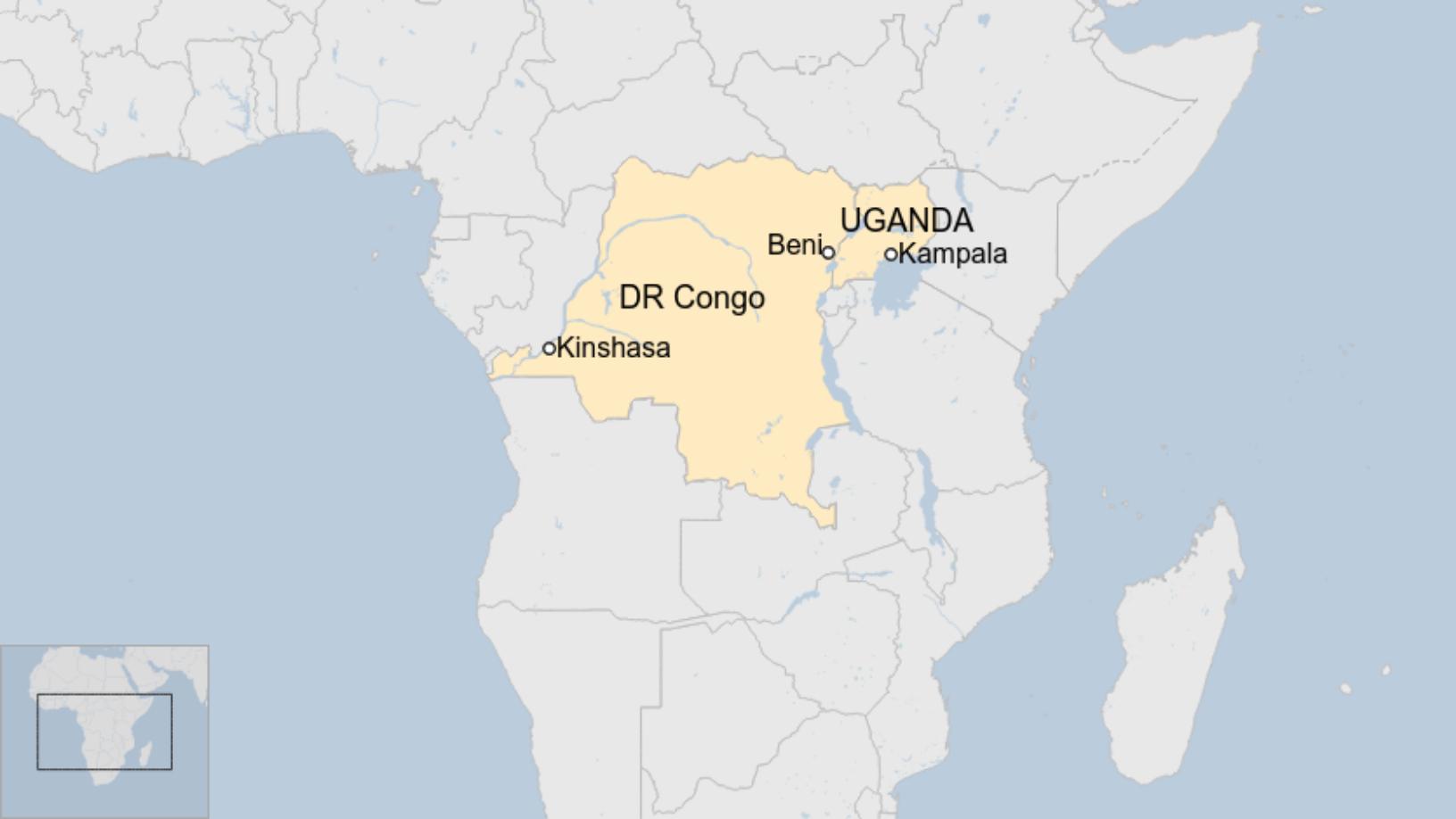 UN-backed Radio Okapi reported that out of the 1,455 detainees, only 122 remained in jail.
Police managed to capture 14 escapees, it added.
Two inmates were shot dead during the raid, which started at around 04:30 local time, police said on Twitter.
In 2017, hundreds of prisoners escaped from the same jail, which holds a variety of militiamen – including ADF fighters.
The ADF is one of many rebel groups operating in eastern DR Congo, a mineral-rich area where government and UN forces have long battled to bring stability.