Foreign students cannot enter China for time being, Chinese govt tells Indian embassy
Representative image
CHENNAI: The Chinese government has told the Indian embassy that foreign students cannot enter the country for the time being. It put the onus on universities in that country to protect the academic interests of students through online classes.
The Chinese response comes in the backdrop of the Indian embassy taking up the issue with the concerned Chinese authorities urging the latter to come out with their plans for the return of Indian students to China.
In a reply to the Indian mission in Beijing, the ministry of education of China has said the Chinese universities had been sought to keep in close contact with the students.
"At present, foreign students in China cannot enter the country for the time being… It requires relevant universities in China to maintain close contacts with the students, immediately notify relevant information and try their best to protect students' academic progress through online courses, properly respond to students' reasonable demands and help solve their practical difficulties," the statement issued on Monday by the Indian embassy in China quoted the ministry of education in China as saying.
"In view of the fact that the epidemic situation in the world is still unclear and relevant policies on entry and exit in China are being gradually adjusted, it is suggested that Indian students maintain close contact with relevant Chinese colleges and universities and arrange to study in China in strict accordance with the suggestions and guidance of the colleges/universities," it said.
More than 20,000 Indian students are pursuing higher education, largely medicine, in Chinese universities. These students returned to India following the outbreak of Covid-19.

7-day average down 9 days in row, is India past peak?
NEW DELHI: The seven-day average of daily Covid-19 cases in India has been steadily falling for nine consecutive days from September 17 to September 26, the first time such a phase of continuous decline has been witnessed since the beginning of the outbreak. Even more hearteningly, this is despite the seven-day average of tests having increased from 10.7 lakh on September 17 to 11.2 lakh on September 25, the last date for which data is available.
On September 17, the seven-day average of daily cases had reached 93,199 — the highest since the outbreak of the disease. Since then it has fallen to 85,131, according to data available with European Centre for Disease Prevention and Control (ECDC). There have been previous instances of a fall in the seven-day average of daily cases, but never for more than two consecutive days.
On September 17, the seven-day average of daily cases had reached 93,199 — the highest since the outbreak of the disease. Since then it has fallen to 85,131, according to data available with European Centre for Disease Prevention and Control (ECDC). There have been previous instances of a fall in the seven-day average of daily cases, but never for more than two consecutive days.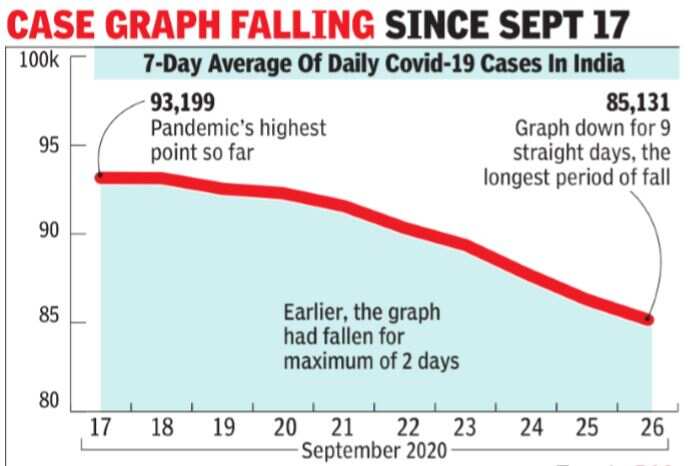 Does it mean that the worst is behind us in India? That would be difficult to say, as a comparison with other countries shows that cases have risen steadily after long stretches of continuous falls. For example, the US reached its first peak on April 11, when the 7-day average of cases reached 31,942. It then fell more or less steadily to reach 20,638 on May 29. It then started rising again to reach another peak on July 20 when the 7-day average was 66,903. It fell again to 34,320 by September 13, but another ongoing surge has taken the average to 44,109 on September 26. Russia, Spain, France and the UK are also witnessing an increase in cases after long, continuous stretches of decline.
This, however, also doesn't mean that the average of cases will definitely increase in India. Among the 10 countries with the highest number of total cases, Brazil, Colombia, Mexico and South Africa haven't so far seen a second peak once their daily averages started falling. Brazil and South Africa reached their peak values of daily cases in end-July and haven't seen those levels being reached since. Colombia and Mexico reached their peak values in August and there has not been a second wave in these countries as well.
We have used 7-day averages rather than single day figures because testing levels and hence also daily cases vary widely from one day to the next. Averaging it out over seven days thus gives a better picture of trends.
Data from states suggests India cannot afford to lower its guard yet as some states are going through a decrease in daily average of cases, some are witnessing an increase while there are a few that have seen multiple peaks and troughs.
Thankfully, the 7-day average of cases has started to fall in Maharashtra, Andhra Pradesh, Tamil Nadu, Karnataka and Uttar Pradesh, the states that have reported the highest cases so far. Among other large states, poll-bound Bihar is going through a steady decline in cases since the middle of August.
Worryingly though, Kerala, Gujarat, Rajasthan, Madhya Pradesh, West Bengal and Odisha are witnessing a steady increase in daily cases. Assam, Telangana and Delhi have shown that there can be multiple peaks, highlighting why it's foolhardy to assume that once cases start dropping they will necessarily continue to do so.

Bihar elections: Congress gives RJD ultimatum on seats
NEW DELHI: Congress has conveyed to Rashtriya Janata Dal that it should wind up seat-sharing negotiations within next few days and respect Congress's choice of constituencies, with senior members saying that failure to pay heed may even result in a break-up ahead of Bihar elections.
While the Congress-RJD alliance has all along appeared firm and Congress even ready to project Tejashwi Yadav as the chief ministerial face, sources said that the party wants a ch-ange in the terms of negotiations that have been established over decades between the two partners.
Congress is learned to have given a list of 75 constituencies to RJD with the wish that it should be considered as its tally. While the numbers are an issue, it is the specific seats demanded by Congress that is prolonging the negotiations.
Bihar elections: Full coverage
Some of the seats demanded by Congress are the ones that have a strong RJD base and are high on winnability quotient. The Yadav outfit appears reluctant to part with those seats. Congress feels that if it cannot benefit from the support base of RJD, then the alliance is not sincere.
"The dragging of negotiations to the last minute, which forces Congress to accept less than acceptable terms, has been happening for very long. This time we are serious that this style has to change and RJD should accommodate our demands," a senior Congress functionary said, adding that "if our demand is not accepted, we can go our way and forge a separate alliance."
Bihar elections: Live updates
Sources said September-end is the deadline set by Congress for winding up negotiations with RJD.
Top Congress functionaries said that the party is keeping all its options open with a plan B. "We have started talks with NCP, Yashwant Sinha, VIP and RLSP. We have to be ready with an alternative, " a senior AICC member said. Congress believes that if it breaks with RJD then VIP and RLSP of Upendra Kushwaha will also not leave the alliance since Kushwaha's objection is to Tejashwi Yadav's projection.
What is interesting is that while Congress and RJD both are trying hard to finalise the deal, the two partners have still not made a joint public statement to sound the bugle for the election in which they would be taking on the ruling combine of JD(U)-BJP.

PM Modi presents upbeat, forward-looking Indian agenda at UN
NEW DELHI: An assurance that India will use its vaccine production and delivery capacities for the benefit of the entire world, a strong pitch for UN reforms and a subtle message to China — that India's friendship with any country is not targeted at a third country — formed the highlights of PM Narendra Modi's virtual address to the 75th session of the UN General Assembly.
While his Pakistani counterpart, Imran Khan, had stridently targeted India on the Kashmir issue in his address on Friday, Modi ignored Pakistan altogether while mentioning the need to counter terrorism and drugs in his speech which emphasised that India will not hesitate to raise its voice against "enemies of humanity".
Modi spoke passionately on the need for UN reforms in his pre-recorded message as he sought to know how long was India going to be kept out of the decision-making structures of the world body despite its large population and successful democracy.
He said reform in the responses, processes and in the character of the UN is the need of the hour and that every Indian, while seeing the contribution of India in the UN, aspired for India's expanded role in the United Nations, which enjoyed a high credibility in the country.
It has been 75 years since the @UN was formed. The world of 2020 is vastly different from the world of 1945. What… https://t.co/VnOUSDonno

— Narendra Modi (@narendramodi) 1601137160000
"When we were strong, we did not trouble the world; when we were weak, we did not become a burden on the world. How long would a country have to wait particularly when the changes happening in that country affect a large part of the world?" he asked, adding that India was also the country that had lost the maximum number of soldiers in the course of UN peacekeeping missions. "Today, the people of India are concerned whether this reform-process will ever reach its logical conclusion," he said.
Modi said the Indian pharma industry had sent essential medicines to more than 150 countries. "As the largest vaccine-producing country of the world, I want to give one more assurance to the global community today, India's vaccine production and delivery capacity will be used to help all humanity in fighting this crisis," he said, adding that the Indian government is moving ahead with Phase 3 clinical trials within the country and in the neighbourhood.
India will do everything possible to further global good including the battle against COVID-19 pandemic. At the s… https://t.co/Tu0QGDSrgf

— Narendra Modi (@narendramodi) 1601137549000
India will also help all the countries in enhancing their cold chain and storage capacities for the delivery of vaccines, he said. Significantly, even as the border situation with China remains tense, Modi said any "gesture of friendship" by India towards one country is not against someone else and that its approach towards the Indo-Pacific is guided by a desire for security and growth for all. Both China and Russia continue to nurse reservations about the Indo-Pacific concept and see it as a US-led initiative to contain Beijing. India maintains though that the Indo-Pacific is a free, open, transparent and inclusive concept with Asean at its centre and that it excludes nobody.
Modi also sought to know where the UN was in the joint fight against the novel coronavirus. "The whole world is fighting the global pandemic of corona for the last 8-9 months. Where is its (UN's) effective response?" he asked.
Modi also said, in an obvious dig at China's Belt Road Initiative, that when India strengthens its development partnership, it is not with any mala fide intent of making the partner country dependent or hapless. "We have never hesitated from sharing experiences of our development," he said.
As India prepares to take over as a non-permanent member of the UNSC, Modi said the country will not hesitate in raising its voice against the enemies of humanity, human race and human values — terrorism, smuggling of illegal weapons, drugs and money laundering.
Modi also said India is moving forward with the vision of "self-reliant India" in the changed circumstances of the post-pandemic era. "A self-reliant India will also be a force multiplier for the global economy. Today, it is also being ensured that there is no discrimination in extending the benefits of all the schemes to every citizen of the country," he said.