Covid pushes New Zealand into worst recession in years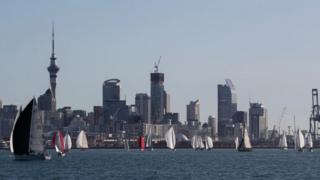 New Zealand is in its deepest recession in decades, following strict measures in response to the Covid-19 pandemic which were widely praised.
The country's GDP shrank by 12.2% between April and June as the lockdown and border closures hit.
It is New Zealand's first recession since the global financial crisis and its worst since 1987, when the current system of measurement began.
But the government hopes its pandemic response will lead to a quick recovery.
The nation of nearly five million was briefly declared virus free, and although it still has a handful of cases, it has only had 25 deaths.
The economy is likely to be a key issue in next month's election, which was delayed after an unexpected spike in Covid-19 cases in August.
Stats NZ spokesman Paul Pascoe said the measures implemented since 19 March have had a huge impact of some sectors of the economy.
"Industries like retail, accommodation and restaurants, and transport saw significant declines in production because they were most directly affected by the international travel ban and strict nationwide lockdown," he said.
Prime Minister Jacinda Ardern's government has said the success in suppressin
Breonna Taylor: Police officer charged over fatal shooting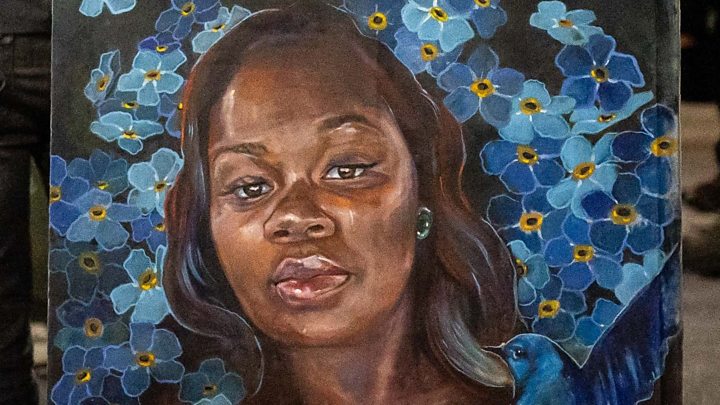 A grand jury has charged one police officer over the fatal shooting of Breonna Taylor at her home in the US state of Kentucky.
Ms Taylor, 26, a hospital emergency room technician, was shot multiple times during a police raid on 13 March.
Her death has become a rallying cry for anti-racism protesters, who have called for the three officers involved to be arrested and charged.
Officials earlier agreed to pay her family $12m (£9.3m) in a settlement.
Brett Hankison has been charged with three counts of "wanton endangerment" over the shooting.
He was fired from the Louisville Metro Police Department in June after investigators found he had "wantonly and blindly fired 10 rounds" into the apartment, according to his termination letter.
The other two officers who discharged their weapons that night – Jonathan Mattingly and Myles Cosgrove – have not been charged.
What happened to Ms Taylor?
Ms Taylor was at home in Louisville on 13 March when police officers entered her apartment shortly after midnight, her family says.
Narcotics officers raided her home and used a battering ram to take her front door off its hinges. No drugs were found on her property and Ms Taylor had no criminal record.
Police were acting on a controversial type of search warrant – known as a "no-knock" warrant – that allows police to enter a home without warning. Police claim they knocked and announced themselves before entering, but Ms Taylor's family and a neighbour have disputed this.
US election 2020: Trump attacks McCain widow after Biden endorsement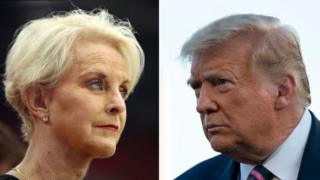 Donald Trump has launched a fresh attack on John McCain, after his widow announced her support for the president's Democratic rival Joe Biden.
Cindy McCain announced her support for Mr Biden in a tweet on Tuesday, saying he was the only candidate "who stands up for our values as a nation."
Mr Trump tweeted that he was "never a fan" of the veteran Republican senator, who died in 2018.
Mr McCain was one of the president's most outspoken Republican critics.
Mr Trump, in turn, publicly questioned his heroism during the Vietnam War.
In her tweet on Tuesday, Mrs McCain said while her husband and Mr Biden had some "passionate arguments" and while she did not "always agree on the issues" with the Democratic presidential candidate, "he is a good and honest man".
In response, President Trump said she "can have Sleepy Joe!" – a nickname the president has for his rival.
He also accused Mr Biden of being Mr McCain's "lapdog", denouncing "bad decisions on endless wars".
"I hardly know Cindy McCain," he added, "other than having put her on a Committee at her husband's request."
Cindy McCain made an address at the Democratic National Convention last month, and her endorsement may prove a hindrance to President Trump, who is trailing Mr Biden in most national polls.
Mr Biden has since thanked her, saying on Twitter t
China blames US for 'obstructing' global fight against emissions, vows to go carbon neutral by 2060
Beijing has accused the US of "obstructing" the global fight against greenhouse gases, a day after President Xi Jinping said China aims to have "CO2 emissions peak before 2030 and achieve carbon neutrality before 2060."
China said on Wednesday it considers this plan a "powerful rebuke to the US' unfounded accusations" that were made against it at the UN General Assembly.
The US, which is the world's second-largest polluter, pulled out of the 2015 Paris Agreement on climate change mitigation, blaming China for the stalled momentum on tackling global emissions.
"This seriously obstructs the progress of reducing global emissions and promoting green, low-carbon development," China's Foreign Ministry spokesman Wang Wenbin said. "What qualifications does such a country have to criticize China?" he was quoted as saying at a news briefing in Beijing.
China itself is the world's biggest polluter and accounts for a quarter of the planet's greenhouse gases. Addressing the UN General Assembly on Tuesday, Xi renewed his support for the Paris climate accord. He maintained China was a climate leader, saying the accord "outlines the minimum steps to be taken to protect the Earth." All countries must take decisive steps to honor the agreement, he said.



Also on rt.com
'How's the climate accord doing?': Trump rips Macron amid massive pension protests & labor strike




China will update and enhance its nationally determined contribution targets, Wang told reporters on Wednesday. He described the US as the world's largest emitter of greenhouse gases in cumulative terms, saying that Washington "not only failed to ratify the Kyoto Protocol, but also pulled out of the Paris Agreement." Thus, the US has completely disassociated itself from the global carbon emissions system and arrangements, he stressed.
As the world's largest exporter of solid waste and a major consumer of plastics per capita, the US has also refused to ratify the Basel