Covid-19 roundup: Cases in India cross 48-lakh mark; world reports highest single-day toll & more
PHOTO: Relatives of patients crowd at the registration counters without following social distancing norms at I…Read More
NEW DELHI: The total number of coronavirus cases in India crossed the 48-lakh mark even as the country overtook Brazil to register the highest number of Covid-19 recoveries in the world. Meanwhile, the world on Sunday reported over 307,000 cases, the highest daily count since the outbreak.
Here is a look at the latest developments —
INDIA
India's Covid-19 case tally crossed 48 lakh with 92,071 new infections being reported in a day, while over 37.8 lakh people have recuperated taking the national recovery rate to 78 per cent on Monday, according to the Union Health Ministry data.
India on Monday overtook Brazil to register the highest number of Covid-19 recoveries in the world at 37,80,107, according to Johns Hopkins University data. According to data, 19,625,959 people around the world have recovered from the coronavirus infection.
Seventeen MPs, including Meenakshi Lekhi, Anant Kumar Hegde and Parvesh Sahib Singh, tested positive for Covid-19 on Day 1 on monsoon session.
The National Green Tribunal Monday directed the Central Pollution Control Board to finalise an appropriate Standard Operating Procedure for restaurants and eateries along highways within two months.
Former ICICI Bank CEO Chanda Kochhar's husband Deepak Kochhar, who was recently brought to Delhi from Mumbai by a team of the Enforcement Directorate (ED) in a money laundering case, has tested positive for Covid-19.
In a big relief for many Indian expats, Saudi Arabia's ambassador to India has assured that permission will be granted for companies to fly their most essential employees from India through special flights.
More than 60 per cent of the active coronavirus cases are concentrated in the five states of Maharashtra, Karnataka, Andhra Pradesh, Uttar Pradesh and Tamil Nadu, the health ministry said on Monday, underlining that the recovery rate in the country had touched 78 per cent.
Union health minister Harsh Vardhan told the Lok Sabha that the nationwide lockdown had helped prevent up to 29 lakh coronavirus cases and 78,000 deaths in the country.
Owing to the nationwide efforts the Covid-19 related deaths have been limited to 55 per million population, said Union health minister Dr Harsh Vardhan on Monday.
Serum Institute's chief executive says not enough Covid vaccine for all until 2024.
US President Donald Trump has claimed that Prime Minister Narendra Modi praised him for doing a great job in coronavirus testing, as he continued to slam his Democratic opponent Joe Biden for being a complete disaster in handling the swine flu during the previous administration.
The government is considering emergency authorisation of Covid-19 vaccine so that it can be made available at the earliest for those in high-risk groups, including senior citizens and healthcare workers, health minister Harsh Vardhan said. "This shall be done after a consensus is reached," Vardhan said during a social media interaction called 'Sunday Samvaad'.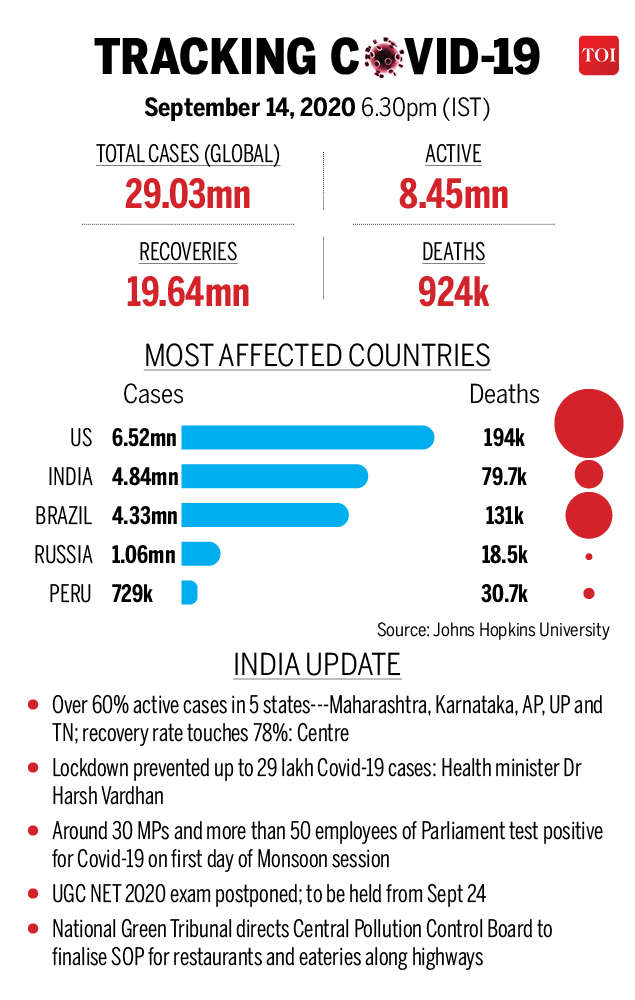 STATES/UT
HIMACHAL PRADESH: With the coronavirus pandemic continuing to spread in Himachal Pradesh, the state government has made poor arrangements at Covid care centres affecting the patients, Congress leader Sudhir Sharma said on Monday.
UTTARAKHAND: All inbound persons to Uttarakhand who are given exemption from institutional & home quarantine by submitting their Covid-19 test result from ICMR authorised lab, not earlier than 96 hours from the time of travel can opt for taking the test at a border check post on payment, reports ANI quoting State chief secretary
DELHI: Amid a surge in Covid-19 cases, Delhi Chief Minister Arvind Kejriwal on Monday said the coronavirus death rate in the national capital is perhaps the lowest in the world and the concern should be the number of deaths due to the virus and not the number of cases.
HARYANA: The government imposes a ban on the gathering of devotees during Amavasya on September 17 at pilgrimage sites like Kurukshetra and Pehowa, due to Covid-19 pandemic: Information & Public Relations Department, Haryana
UTTAR PRADESH: Former Uttar Pradesh Chief Minister Kalyan Singh has contracted coronavirus and undergoing treatment at the Lucknow's SGPGI hospital, his grandson and state minister Sandeep Singh said on Monday.
RAJASTHAN: The Rajasthan government may introduce an online transfer system for all departments in view of the coronavirus pandemic, state Education Minister Govind Singh Dotasra said. Dotasra, who is also the state Congress chief, said the system is already in place for the Education Department.
GUJARAT: All traders in Khedbrahma town of Sabarkantha and the main grain market at Rajkot in Gujarat have decided to enforce a week-long stringent lockdown in the wake of a spike in Covid-19 cases, officials said.
CHHATTISGARH: All traders in Khedbrahma town of Sabarkantha and the main grain market at Rajkot in Gujarat have decided to enforce a week-long stringent lockdown in the wake of a spike in Covid-19 cases, officials said on Monday.
PUDUCHERRY: Puducherry on Monday logged 414 new Covid-19 cases taking the overall tally past the 20,000-mark while nine people including four women succumbed to the virus.
ARUNACHAL PRADESH: The Covid-19 caseload in Arunachal Pradesh crossed the 6000-mark with 146 fresh cases reported in the northeastern state, a senior health department official said on Monday. With the fresh cases, the total virus count in the state rose to 6,121, the official said.
MIZORAM: Amid a shortage of health facilities for treating novel coronavirus patients in Mizoram, two local churches in the Christian majority state have offered their halls to the state government to be used as COVID-19 Care Centres.
TRIPURA: At least 255 more people tested positive for Covid-19 in Tripura on Monday, pushing the tally in the state to 19,187. The death toll has risen to 200 with six more fatalities.
ODISHA: Odisha School and Mass Education Minister Samir Ranjan Dash said on Monday that he and his wife had tested coronavirus positive. Dash is the seventh Minister in the state to have tested corona positive. Over 30 lawmakers, including three MPs, have also tested positive in the state.
GOA: Goa BJP MLAs Antonio alias Tony Fernandes and Dayanand Sopte have tested positive for novel coronavirus infection
TELANGANA: A member of the Telangana Legislative Assembly belonging to the All India Majlis-e-Ittehadul Muslimeen tested positive for Covid-19. Jaffar Hussain Meraj, who represents Nampally constituency in Hyderabad, was found infected by the virus.
ANDHRA PRADESH: Andhra Pradesh Congress Committee will be organising a round table meeting with all political parties, people organisations and representatives from the medical fraternity on Tuesday to discuss measures to curb the spread of Covid-19.
KERALA: As many as 2,540 new coronavirus cases were reported in Kerala on Monday, even as Chief Minister Pinarayi Vijayan ruled out the reopening of educational institutions either in September or October.
WORLD
In a stunning revelation, a Chinese virologist has claimed that the coronavirus was created in a government-controlled laboratory in Wuhan, the original epicentre of the outbreak and offered scientific evidence to back her claims. In an exclusive conversation with 'Loose Women', a British talk show, Dr Li-Meng Yan, the scientist said she was assigned to investigate "new pneumonia" in Wuhan. She said that she discovered a cover-up operation regarding coronavirus during her investigation.
British scientists are beginning a small study comparing how two experimental coronavirus vaccines might work when they are inhaled by people instead of being injected. In a statement on Monday, researchers at Imperial College London and Oxford University said a trial involving 30 people would test vaccines developed by both institutions when participants inhale the droplets in their mouths, which would directly target their respiratory systems.
The World Health Organization reported 307,930 new cases worldwide on Sunday, the highest daily figure since the beginning of the pandemic in China late last year, as global cases rapidly approach 29 million."It's going to get tougher. In October, November, we are going to see more mortality," WHO Europe director Hans Kluge said. But he stressed that the pandemic was "going to finish, at one moment or another".
Computer-designed synthetic antiviral proteins have been shown to protect lab-grown human cells from SARS-CoV-2, the coronavirus that causes Covid-19, scientists say.
The new so-called "rule of six" has come into effect in England from Monday, which would give the police the power to enforce rules against gatherings larger than six members with a fine of 100 pounds.
A global development agency said the world's 20 major industrialized nations have seen their economies shrink in an unprecedented manner between April and June amid the COVID-19 pandemic.
Italy's former Premier Silvio Berlusconi has been released from the hospital after a 10-day stay with COVID-19 and pneumonia, saying he had never feared as much for his life as from this "insidious" disease.
Pakistan's prime minister and education officials say all arrangements are in place to ensure that every child can go to school safely.
New Zealand will keep its virus restrictions in place for at least another week as the country continues to battle a small outbreak that began in Auckland last month.
Bihar elections: Congress gives RJD ultimatum on seats
NEW DELHI: Congress has conveyed to Rashtriya Janata Dal that it should wind up seat-sharing negotiations within next few days and respect Congress's choice of constituencies, with senior members saying that failure to pay heed may even result in a break-up ahead of Bihar elections.
While the Congress-RJD alliance has all along appeared firm and Congress even ready to project Tejashwi Yadav as the chief ministerial face, sources said that the party wants a ch-ange in the terms of negotiations that have been established over decades between the two partners.
Congress is learned to have given a list of 75 constituencies to RJD with the wish that it should be considered as its tally. While the numbers are an issue, it is the specific seats demanded by Congress that is prolonging the negotiations.
Bihar elections: Full coverage
Some of the seats demanded by Congress are the ones that have a strong RJD base and are high on winnability quotient. The Yadav outfit appears reluctant to part with those seats. Congress feels that if it cannot benefit from the support base of RJD, then the alliance is not sincere.
"The dragging of negotiations to the last minute, which forces Congress to accept less than acceptable terms, has been happening for very long. This time we are serious that this style has to change and RJD should accommodate our demands," a senior Congress functionary said, adding that "if our demand is not accepted, we can go our way and forge a separate alliance."
Bihar elections: Live updates
Sources said September-end is the deadline set by Congress for winding up negotiations with RJD.
Top Congress functionaries said that the party is keeping all its options open with a plan B. "We have started talks with NCP, Yashwant Sinha, VIP and RLSP. We have to be ready with an alternative, " a senior AICC member said. Congress believes that if it breaks with RJD then VIP and RLSP of Upendra Kushwaha will also not leave the alliance since Kushwaha's objection is to Tejashwi Yadav's projection.
What is interesting is that while Congress and RJD both are trying hard to finalise the deal, the two partners have still not made a joint public statement to sound the bugle for the election in which they would be taking on the ruling combine of JD(U)-BJP.

PM Modi presents upbeat, forward-looking Indian agenda at UN
NEW DELHI: An assurance that India will use its vaccine production and delivery capacities for the benefit of the entire world, a strong pitch for UN reforms and a subtle message to China — that India's friendship with any country is not targeted at a third country — formed the highlights of PM Narendra Modi's virtual address to the 75th session of the UN General Assembly.
While his Pakistani counterpart, Imran Khan, had stridently targeted India on the Kashmir issue in his address on Friday, Modi ignored Pakistan altogether while mentioning the need to counter terrorism and drugs in his speech which emphasised that India will not hesitate to raise its voice against "enemies of humanity".
Modi spoke passionately on the need for UN reforms in his pre-recorded message as he sought to know how long was India going to be kept out of the decision-making structures of the world body despite its large population and successful democracy.
He said reform in the responses, processes and in the character of the UN is the need of the hour and that every Indian, while seeing the contribution of India in the UN, aspired for India's expanded role in the United Nations, which enjoyed a high credibility in the country.
It has been 75 years since the @UN was formed. The world of 2020 is vastly different from the world of 1945. What… https://t.co/VnOUSDonno

— Narendra Modi (@narendramodi) 1601137160000
"When we were strong, we did not trouble the world; when we were weak, we did not become a burden on the world. How long would a country have to wait particularly when the changes happening in that country affect a large part of the world?" he asked, adding that India was also the country that had lost the maximum number of soldiers in the course of UN peacekeeping missions. "Today, the people of India are concerned whether this reform-process will ever reach its logical conclusion," he said.
Modi said the Indian pharma industry had sent essential medicines to more than 150 countries. "As the largest vaccine-producing country of the world, I want to give one more assurance to the global community today, India's vaccine production and delivery capacity will be used to help all humanity in fighting this crisis," he said, adding that the Indian government is moving ahead with Phase 3 clinical trials within the country and in the neighbourhood.
India will do everything possible to further global good including the battle against COVID-19 pandemic. At the s… https://t.co/Tu0QGDSrgf

— Narendra Modi (@narendramodi) 1601137549000
India will also help all the countries in enhancing their cold chain and storage capacities for the delivery of vaccines, he said. Significantly, even as the border situation with China remains tense, Modi said any "gesture of friendship" by India towards one country is not against someone else and that its approach towards the Indo-Pacific is guided by a desire for security and growth for all. Both China and Russia continue to nurse reservations about the Indo-Pacific concept and see it as a US-led initiative to contain Beijing. India maintains though that the Indo-Pacific is a free, open, transparent and inclusive concept with Asean at its centre and that it excludes nobody.
Modi also sought to know where the UN was in the joint fight against the novel coronavirus. "The whole world is fighting the global pandemic of corona for the last 8-9 months. Where is its (UN's) effective response?" he asked.
Modi also said, in an obvious dig at China's Belt Road Initiative, that when India strengthens its development partnership, it is not with any mala fide intent of making the partner country dependent or hapless. "We have never hesitated from sharing experiences of our development," he said.
As India prepares to take over as a non-permanent member of the UNSC, Modi said the country will not hesitate in raising its voice against the enemies of humanity, human race and human values — terrorism, smuggling of illegal weapons, drugs and money laundering.
Modi also said India is moving forward with the vision of "self-reliant India" in the changed circumstances of the post-pandemic era. "A self-reliant India will also be a force multiplier for the global economy. Today, it is also being ensured that there is no discrimination in extending the benefits of all the schemes to every citizen of the country," he said.

Farmers' 'victory', Akali Dal had to bow before their doorstep: Congress
NEW DELHI: Reacting to the Shiromani Akali Dal (SAD) quitting the National Democratic Alliance (NDA) over the farm bills issue, the Congress on Saturday said it was the "victory" of farmers that the Akali Dal had to bow before their doorstep and break ties with the ruling coalition.
The SAD is the third major party to walk out of the BJP-led coalition in the last couple of years.
Reacting to the development, Congress' chief spokesperson Randeep Surjewala hailed it as a "victory" of "farmers-labourers".
"Supporters of black laws, Akali Dal, had to leave NDA and break ties with the Modi government," he said.
"They had to bow at the doorstep of farmers-labourers," Surjewala tweeted, tagging an old clip of Akali Dal leader Harsimrat Kaur Badal defending the farm ordinances in an interview she gave when she was a Union minister.
Punjab Chief Minister Amarinder Singh said, "Clearly @Akali_Dal_ was left with no choice after @BJP4India exposed that @Officeofssbadal and his SAD were fully party to Anti-Farmer legislations."
"The end of the coalition is only an outcome of 3 months of deceit…of defending the indefensible and misguiding the Punjab farmer," he said.
आख़िर किसान-मज़दूर की जीत हुई,काले क़ानूनों के समर्थक अकाली दल को NDA छोड़ मोदी सरकार से रिश्ता तोड़ना पड़ा,कि… https://t.co/b4asoYTRBC

— Randeep Singh Surjewala (@rssurjewala) 1601142951000
SAD chief Sukhbir Singh Badal announced the decision to snap ties with the NDA on Saturday night, amid stepped up agitation by farmers in Punjab over the three legislations which were recently passed by Parliament amid Opposition protests.
Badal's wife and SAD leader Harsimrat Kaur Badal had on September 17 quit the Union Cabinet after he strongly opposed the bills in Lok Sabha, claiming these legislations will "destroy" the agriculture sector in Punjab.