Corona roundup: Another record jump, reinfection case in B'luru & more
NEW DELHI: India's Covid-19 tally of cases went past 41 lakh with a record 90,632 people being infected in a day, while 31,80,865 people have recuperated so far pushing the national recovery rate to 77.32 per cent on Sunday, according to the Union health ministry data.
The total coronavirus cases mounted to 41,13,811, while the death toll climbed to 70,626 with the novel coronavirus virus claiming 1,065 lives in a span of 24 hours in the country.
Here are the top developments:
India
The Centre has asked 5 states and one UT from where 35 districts have been reporting high active Covid-19 caseload and fatality rate to strengthen containment measures and scale up testing to bring down positivity rate below five per cent. The district collectors and other functionaries were advised to prepare and update district specific plans to continue their efforts to manage the pandemic.
The Centre has asked all states and Union territories to ensure necessary follow up of its updated advisory on Covid-19 testing strategy, allowing 'testing on-demand', to achieve a higher number of examination with greater flexibility and simplicity.
With a record 73,642 patients having recuperated in a day, India's Covid-19 recoveries have surged to nearly 32 lakh, pushing the recovery rate to 77.32 per cent while the case fatality rate, one of the lowest globally, has further dropped to 1.72 per cent as on date, the Union health ministry said on Sunday.
The South Western Railways has said it will run 40 pairs of special train services from September 12 on specific routes. According to a statement issued by the SWR on Saturday, these services shall be in addition to the Shramik specials and the special trains, which are already in operation.
Actor Arjun Kapoor on Sunday said he has tested positive for Covid-19 and is asymptomatic. The 35-year-old actor said he is "feeling ok" and will be under home quarantine.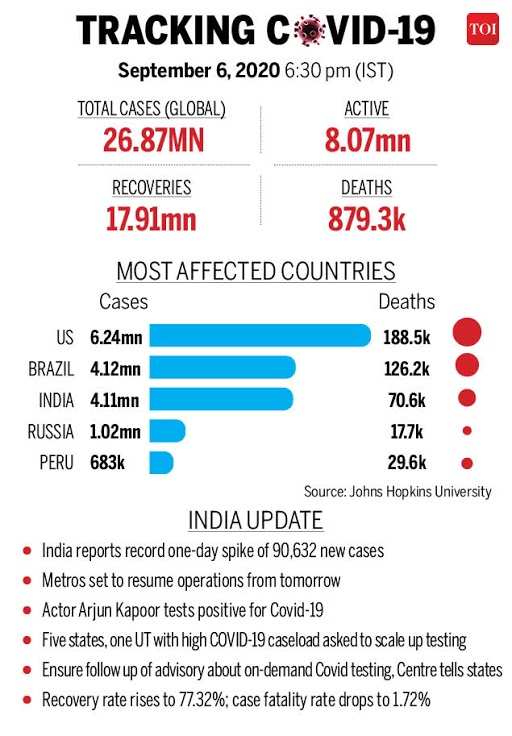 States
Karnataka: A 27-year-old woman from Bengaluru is suspected to be a case of reinfection of SARS-CoV2. The Covid positive woman who was discharged from a private hospital in July after she tested negative came back with similar symptoms of cough, fever, sore throat a month later, and tested positive again.
Delhi: After being closed for over five months due to the Covid-19 pandemic, the Delhi Metro is all set to resume services in three stages from Monday, even as it appealed to people to use the rapid transport only if urgently needed.
Maharashtra: A mathematical projection on the ongoing Covid-19 pandemic worked out by the Tata Institute of Fundamental Research and submitted to the BMC has said that by December this year or January next year, almost 75% of the people living in slum pockets in the city and in 50% of the non-slum pockets would have antibodies.
Bihar: 1,797 new Covid-19 cases were reported in Bihar in the last 24 hours, taking the total number of active cases in the state to 16,603. 1,30,300 patients have recovered till now and the death toll stands at 754.
Gujarat: Deaths due to Covid-19 in Rajkot suddenly shot up in August ringing alarm bells across the state's power corridors, forcing principal health secretary Jayanti Ravi to camp in the city for the past few days along with industries commissioner and former Rajkot collector Rahul Gupta.
UP: Uttar Pradesh reported its highest single-day spike of 6,777 Covid-19 cases and 77 deaths. With this, the state's infection tally has reached 2,66,283 and the death toll mounted to 3,920.
Andhra Pradesh: The coronavirus positives increased by the new normal 10,000-plus but the number of active cases dropped below the one-lakh mark in Andhra Pradesh. With the addition of 10,794 in 24 hours, the aggregate Covid-19 cases now reached 4.98 lakh.
Goa: Even as students are away from their schools due to the Covid-19 pandemic, Teachers' Day on Saturday saw students, parents and schools across the state improvise to give their teachers a day they wouldn't forget.
Jharkhand: Jharkhand's Covid-19 tally inched towards the 50,000-mark with the detection of 1,774 new cases, while seven fresh fatalities pushed the state's coronavirus death toll to 462. The fresh infections have taken the state's caseload to 49,817.
Tripura: At least 604 more people tested positive for Covid-19 in Tripura, raising the tally in the state to 15,130, a health department official said. The death toll rose to 144 after eight more people succumbed to the infection.
Odisha: Covid infection in slums has dropped by 7.54 per cent. Till the first week of August, slums reported around 20% of total cases. But as cases in other areas kept rising, they saw a decline in slum pockets.
Chhattsigarh: The Chhattisgarh government has fixed the cost of Covid-19 treatment in private hospitals in the wake of a rise in the number of coronavirus cases in the state. Patients will have to bear the cost of treatment in the private hospitals, which have been classified in A, B and C categories in various districts.
J&K: Jammu and Kashmir recorded the highest single-day spike of 1,316 fresh Covid-19 cases, raising the tally to 43,557, while 14 more fatalities pushed the death toll to 784, officials said. There are 10,446 active coronavirus cases in the UT now, while 32,327 patients have recovered.
Telangana: Telangana boasts of Covid-19 recoveries of over one lakh, but the state cannot afford to breathe easy, warn health experts. Among the top 10 states in the country with a high number of Covid-19 cases, Telangana has the highest number of currently infected people.
Rajasthan: Rajasthan recorded eight fresh fatalities due to Covid-19 and 726 new cases of the virus. With this, the cumulative number of Covid-19 deaths and cases in the state has climbed to 1,130 and 90,089, respectively.
Puducherry: A total of 478 fresh Covid-19 cases and 16 deaths took the infection count to 17,032 and the toll to 314 in the Union territory. The overall Covid-19 cases in the Union territory stood at 17,032.
West Bengal: In an indication that the rampant spread of the novel coronavirus could, at least for the time being, be arrested to some extent, the Kolkata Municipal corporation has earmarked only one area in the city as a containment zone.
Uttarakhand: Four of the districts in Uttarakhand have reported 77 per cent of the state's total Covid-19 cases. These four districts are Dehradun, Haridwar, Udham Singh Nagar and Nainital, which comprises a total of 17,580 Covid-19 cases.
World
The novel coronavirus has killed at least 880,396 people since the outbreak emerged in China last December. At least 26,947,550 cases of coronavirus have been registered. Of these, at least 17,709,800 are now considered recovered.
Mexico is working to produce its own Covid-19 vaccines and could have one ready by next spring, according to a researcher coordinating local efforts amid a global race to tame a disease that has infected over 26.75 million people worldwide.
The United States is the worst-hit country with 188,540 deaths from 6,246,162 cases. At least 2,302,187 people have been declared recovered.
The Chinese mainland reported 10 newly imported Covid-19 cases on Saturday, Xinhua reported citing the National Health Commission. With this, the total number of imported cases have risen to 2,573.
Cinema halls and multiplexes will reopen in Pakistan on September 11 after remaining closed for almost six months in the wake of the coronavirus pandemic that claimed 6,382 lives in the country. Pakistan's Covid-19 tally reached 298,509 after 484 new cases were recorded in the last 24 hours.
Nepal reported 980 new coronavirus cases in the last 24 hours, pushing the nationwide infection tally to 46,257, the health ministry said. Nine more people died due to Covid-19 related complications, taking the death toll to 289.
Singapore reported 40 new coronavirus infections, including 13 imported and four community cases, pushing the nationwide tally to 57,022, the health ministry said. Meanwhile, the ministry has removed 41 Covid-19 cases from the total count of confirmed infections as those were added to the tally due to "administrative errors".
Russia has registered 5,195 Covid-19 cases in the past 24 hours, which brings the cumulative total to 1,025,505, the country's coronavirus response center said. Moscow recorded 620 cases, St. Petersburg registered 192 cases, the Moscow region confirmed 167 new cases.
Ukraine has registered 2,107 new coronavirus cases, down from a record 2,836 on Saturday, and 35 related fatalities over the past 24 hours. Updated data takes the cumulative tally to 135,894 cases and 2,846 deaths.
South Korea confirmed 167 new Covid-19 cases over the past 24 hours, marking the fourth consecutive day of less than 200 new cases registered per day, and the overall tally reached 21,177, the Korea Centers for Disease Control and Prevention said. At the same time, the coronavirus-related death toll increased by 1 to 334.
India sets target of record grain output, focus on oilseeds to reduce import bills
NEW DELHI: Banking on huge acreage of Kharif (summer) crops amidst good monsoon and adequate water storage for Rabi (winter) season, the Centre on Monday revised India's food-grains production target for 2020-21 to an all-time record of 301 million tonnes (MT) – 4 MT more than the output of 2019-20 – and decided to put focus on pulses and oilseeds.
Accordingly, it raised the production target of the main oilseed, mustard, from 9.2 MT to 12.5 MT, syncing it with ongoing efforts to reduce the country's import bills, and gave a hike of 5.1% to the minimum support price (MSP) for procuring mustard in the next marketing season compared to 2019-20 season.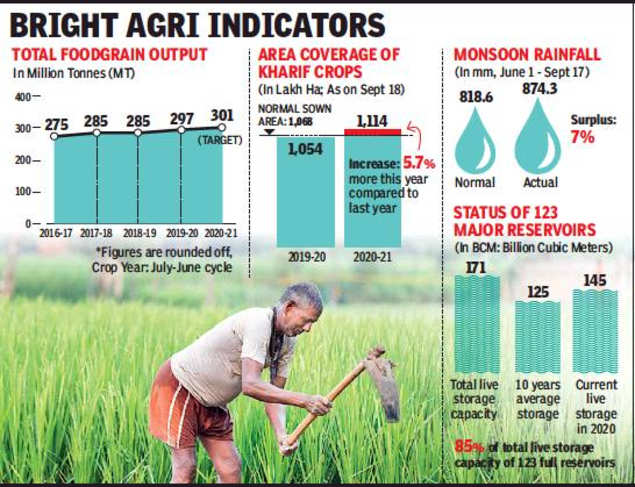 Only lentils (popular pulses) attracted a bigger hike than mustard among the six crops whose MSPs were approved by the Union cabinet on Monday. Target of production of all pulses together, including lentil, gram and others, was set at 25.6 MT for 2020-21 crop year. Similarly, the target for all oilseeds has been set at 37 MT.
The new target for the country's food-grains production was shared during a day-long deliberation at a conference on preparation for the upcoming sowing season of Rabi crops which will begin in certain parts of the country after mid-October.
"Great emphasis is being laid on production of oilseeds and oil palm plantation indigenously to reduce import of edible oils. Besides, the government has taken multiple steps to reach this new record target of food-grains production," said Union agriculture minister Narendra Singh Tomar.
He told TOI that the new farm legislation will ensure that the farmers get a better price of their produce. "The Bills, passed by the Parliament, will give farmers freedom to sell their produce at different places. The provisions in the legislation on 'contract farming' will attract large private investment, leading to rapid development in the agriculture sector and overall rural economy," said Tomar.

India slams Pakistan for raising J&K issue at UN, says it hails terrorists as 'martyrs'
NEW YORK: India on Monday hit back at Pakistan for raising the issue of Jammu and Kashmir during the high-level meeting to commemorate 75 years of United Nations (UN), saying Islamabad is globally recognised as the epicentre of terrorism which harbours and trains terrorists, hails them as martyrs and consistently persecutes its ethnic and religious minorities.
Exercising India's Right of Reply after Pakistan foreign minister Shah Mehmood Qureshi raked up the Kashmir issue in his address to UN, first secretary India in UN, Vidisha Maitra, deemed Qureshi's speech as the "never-ending fabricated narrative" about the internal affairs of India.
The virtual edition of a special General Assembly session to mark 75 years of the institution commenced on Monday (local time).
"I take the floor in the exercise of the right of reply to the statement made by the representative of Pakistan. Our delegation had hoped that during this solemn commemoration of a shared global milestone, the General Assembly would be spared another repetition of the baseless falsehoods that have now become a trademark of Pakistan's interventions on such platforms," said Maitra.
"However, for a nation that is bereft of milestones, one can only expect a stonewalled and stymied approach to reason, diplomacy and dialogue. What we heard today is the never-ending fabricated narrative presented by the Pakistani representative about the internal affairs of India," she added.
Maitra said that India rejected the "malicious reference" made by Qureshi to the Union Territory of Jammu and Kashmir, which is an integral part of India.
"If there is an item that is unfinished on the agenda of the UN, it is that of tackling the scourge of terrorism. Pakistan is a country which is globally recognised epicentre of terrorism, which by its own admission harbours and trains terrorists and hails them as martyrs, and consistently persecutes its ethnic and religious minorities," she stated.
"It would do well turn its attention inwards to immediately addressing these pressing concerns, instead of misusing UN platforms to divert attention from them by misusing UN platforms," Maitra said.

Govt tells why it stopped listing farm suicide cause
NEW DELHI: The government on Monday told the Rajya Sabha that the national data on causes of suicides in the farming sector had become "untenable" with several states and Union Territories reporting 'nil' suicides by farmers and agricultural labourers, and was therefore not published separately.
Reply to a query from Congress MP P L Punia seeking confirmation of and reasons for NCRB having done away with listing causes for farmers' suicides in its annual report on ' Accidents and Suicides in India', Junior home minister G Kishan Reddy said: "As informed by National Crime Records Bureau, many states/ UTs had reported "nil" data on suicides by farmers/ cultivators and agricultural labourers, even while reporting suicides in other professions. Due to this limitation, data on causes of suicide in farming sector was untenable and not published separately".
As per the NCRB report, West Bengal, Bihar, Odisha, Uttarakhand, Manipur, Chandigarh, Daman & Diu, Delhi, Lakshadweep and Puducherry reported 'zero' suicides by farmers, cultivators and agricultural labourers in 2019. This was also the case in 2018, with West Bengal, Bihar, Odisha, Uttarakhand, Meghalaya, Goa, Chandigarh, Daman & Diu, Delhi, Ladakh and Puducherry returning 'nil' suicides.
Overall, 10,281 suicides by farmers, cultivators and agricultural labourers were reported countrywide last year, down from 10,349 in 2018. Of the 10,281 suicides, 5,957 were by farmers or cultivators and 4,324 by labourers. Maharashtra accounted for the highest share (38.2%) in suicides related to the farm sector in 2019, followed by Karnataka (19.4%), Andhra (10%), MP (5.3%) and Telangana/Chhattisgarh (4.9% each).