Congress announces panels for UP, keeps out Jitin Prasada
NEW DELHI: In a move seen as a snub to party leader Jitin Prasada, the Congress has constituted committees to prepare for the
Uttar Pradesh
Assembly elections but kept him out.
Jitin, a former Union Minister of State, was among the Congress leaders who wrote a letter to party interim chief
Sonia Gandhi
on the leadership issue.
Sonia Gandhi has constituted the 'Manifesto Committee, Outreach Committee, Membership Committee, Programme Implementation Committee, Training and Cadre Development Committee, Panchayati Raj Election Committee, and Media and Communication Advisory Committee of the Uttar Pradesh Congress Committee, said a press release from Congress leader KC Venugopal.
The Uttar Pradesh Assembly elections are likely to be held in February-March 2022.
Almost all senior leaders have been accommodated —
Salman Khurshid
on the Manifesto Committee, Pramod Tiwari on the Outreach Committee, Rashid Alvi on Media Advisory Committee.
Noor Bano, Anugrah Narayan, and Rajesh Mishra have also got appointed to various committees.
Jitin Prasada was one of the signatories to the letter written in the recent past by Congress leaders to demand visible leadership and organisational elections.
The appointments were made after nine senior leaders, expelled from the Congress last year, sent the letter to Sonia Gandhi, urging her to "save the party before its slips into history".
In a veiled attack on Priyanka Gandhi Vadra, the party General Secretary in charge of Uttar Pradesh, the four-page letter urged Sonia Gandhi to rise above her family (parivaar ke moh se upar uthein) and restore the democratic traditions in the Congress.
In August, Sonia Gandhi had reconstituted the strategy group of Parliament, giving a snub to the leaders who wrote the letter. The Congress brought in party veteran Ahmed Patel and General Secretary (Organisation) KC Venugopal into the new group ostensibly to ensure better coordination and functioning in the coming Parliament session.
The post of Congress Deputy Leader in the Lok Sabha was given to
Gaurav Gogoi
while Ravneet Bittu was made the Deputy Whip in Lok Sabha along with Manickam Tagore.
K Suresh remains the Congress Chief Whip in the Lok Sabha.
Ghulam Nabi Azad
and Anand Sharma will stay as Leader of Opposition and Deputy Leader of Opposition respectively in the Rajya Sabha while Jairam Ramesh will remain the Chief Whip.
"Besides these three leaders, Patel and Venugopal have been added to the committee for Rajya Sabha for better functioning and coordination in both the Houses of Parliament," a Congress leader said.

Ram Madhav, Murlidhar out, Tejasvi youth chief in rejigged BJP line-up
NEW DELHI: Seven months after taking over as the full-fledged BJP chief, J P Nadda on Saturday announced the new team of office-bearers, dropping several prominent faces and bringing in new ones in a restructuring that marks a conscious effort to give representation to all regions.
High-profile names like Ram Madhav, Murlidhar Rao and Rajya Sabha MPs Anil Jain and Saroj Pandey didn't figure among the general secretaries, raising eyebrows.
Rajya Sabha MP and ICCR chief Vinay Sahasrabuddhe and Uma Bharati were not retained among the cast of vice- presidents, which included three former CMs — Vasundhara Raje, Raman Singh and Raghuvbar Das and new entrants Mukul Roy, Baijayant Panda and Annapurna Devi.
While retaining Bhupender Yadav, Kailash Vijayvargiya and Arun Singh as general secretaries, Nadda appointed D Purandareshwari, daughter of NTR, Dushyant Kumar Gautam, C T Ravi, Tarun Chugh and Dilip Saikia.
Saikia is widely reckoned to be a promising talent from Assam for the crucial organisational job. Nadda promoted Rajya Sabha MP Anil Baluni as "chief spokesperson", a position which had so far been occupied by only two others — Arun Jaitley and Ravi Shankar Prasad. Baluni will also continue as national media head with Sanjay Mayukh as his deputy.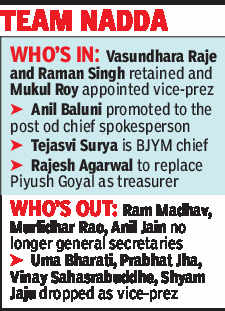 Significantly, Amit Malviya was retained as the convenor of the IT and Social Media cell despite Subramanian Swamy's demand that he be dropped. Malviya thanked PM Modi, Nadda , Union home minister Amit Shah and B L Santosh, general secretary in-charge of organisation, for reposing faith in him.
Congratulating the new office-bearers, the PM said, "I am confident they will uphold the glorious tradition of our party of serving the people of India selflessly and with dedication. May they work hard to empower the poor and marginalised."
Rajesh Agarwal, former UP minister, will be the new treasurer, a post earlier held by Union minister Piyush Goyal. Sudhir Gupta was named the joint treasurer. Tejasvi Surya, Bengaluru South MP, will head the youth wing of the party in place of Mumbai MP Poonam Mahajan.
Two known names from Maharashtra — former ministers Vinod Tawade and Pankaja Munde — were included among national secretaries.
More than the inductions, it was the exclusions of Madhav and Rao, both on loan from RSS, which grabbed the attention of political circles.

Paddy procurement in Punjab & Haryana to begin a few days early
NEW DELHI: Amid political attacks over the farm sector bills, the Centre has decided to advance paddy procurement in Punjab and Haryana by a few days with the exercise slated to kick off on Sunday, instead of the usual timetable, starting October 1.
In a letter to the state governments, the consumer affairs and food ministry has said that the kharif procurement has been advanced due to early arrival of paddy this season but officials conceded that this was a political decision.
Typically, October and November are the main procurement months in Punjab and Haryana with Karnataka and Tripura seeing purchases start in December. In states such as West Bengal procurement will end next June.
After the passage of the bill to ease restrictions on sale in mandis, Opposition parties had said that the move would put farmers, especially in the two states, at a disadvantage, first prompting the Narendra Modi government to quickly announce the minimum support price and follow it up by advancing government purchase by a few days in a bid to assure farmers that the scheme will not be tinkered with.
The Centre is estimating an 18% jump in procurement of paddy this season to 49.5 million tonnes compared to around 42 million tonnes last year. Of this nearly 22% or 11.3 million tonnes is estimated to come from Punjab, while Haryana may chip in with around 4.5 million tonnes. Chhattisgarh with 6 million tonnes and Telangana (5 million tonnes), will be second and third largest sources for paddy procurement.
Data available with the ministry showed that till Friday around eight lakh tonnes of paddy have already reached mandis in Haryana, although data for Punjab is currently unavailable. Early monsoon rains this year are seen to be one of the reasons behind early arrivals with a bumper harvest predicted by the authorities.

India to support Sri Lanka boost its defence, security
NEW DELHI: Kicking off the first virtual bilateral summit in the neighbourhood, India and Sri Lanka sought to advance defence and security cooperation, while India promised to consider Colombo's request for delayed debt repayment and a $1 billion currency swap arrangement.
PM Modi met his Lankan counterpart Mahinda Rajapaksa virtually on Saturday morning. According to an official readout of the summit by MEA joint secretary (Indian Ocean Region) Amit Narang, PM Modi emphasised that implementation of the 13th amendment to the Sri Lankan Constitution is essential for carrying forward the process of peace and reconciliation.
"PM Modi called on the new government in Sri Lanka to work towards realising the expectations of Tamils for equality, justice, peace and dignity within a united Sri Lanka by achieving reconciliation nurtured by implementation of the constitutional provisions," he said.
Narang added India's focus areas with Sri Lanka are defence and security, Buddhism and economic development. "The outcomes of the Summit are substantial, forward looking and also help to set an ambitious agenda for bilateral ties," he said.
"Under neighbourhood first policy and SAGAR Doctrine, we will give priority to Sri Lanka," Modi told his counterpart in his opening remarks. Sri Lanka has requested for a $1 billion currency swap arrangement with India (India had, earlier this year, done a $400 million swap) and a delayed debt repayment schedule. India agreed to support Sri Lanka in defence and security, "strengthen the mutual cooperation on personnel exchange and training, maritime security cooperation." Indian Coast Guard and Indian Navy recently helped to douse a major fire on a tanker MT Diamond off the Lankan coast.
However, there was no word on whether the Eastern Container Terminal (ECT) deal, which Rajapaksa had promised to review, would go to India and Japan as originally agreed. There was also no meeting point on the impasse regarding the Trincomalee container terminals, which has been hanging fire. Questioned, Narang stuck to generalities about the discussions being "positive and constructive."
Modi also announced a grant assistance of $15 million for the promotion of Buddhist ties between the two countries. Rajapaksa invited Modi to inaugurate the Jaffa Cultural Centre, set up with Indian assistance. Narang indicated that India shared its assessments of the Ladakh crisis with the Lankan leadership.