Colour-coded masks in a school bubble
GURGAON: When students return to school, they could find themselves grouped into 'bubbles' instead of the familiar red, blue, green and yellow houses.
These protective bubbles, each consisting of groups of around 20 kids, have been introduced at the two government schools in Karnal and Sonipat that have opened for a trial run of Covid-19 safety protocols. The experience of these schools will determine how the bubble system is rolled out across schools in the state.
So, instead of wearing T-shirts or badges of the house colour, students are wearing masks with their assigned bubble colour code and ribbons on their sleeves. They are allowed to interact only with others within that bubble, institutionalising social distancing on campus and altering the school experience completely.
The same colour code has been used on the roll numbers pasted on their desks. No two bubbles can meet or cross paths so that students in one group don't become contacts of another. Each bubble has to enter and leave the campus together and stays confined within the group during recesses as well.
Officials in the education department said this will make isolation easy in case a student tests positive for Covid-19. Schools in the UK and other European countries had conceived the idea earlier this year after the pandemic broke out.
For the trial run, the two schools have created five distinct student groups and assigned each a colour-coded bubble. "A bubble is an efficient mechanism of creating small groups of pupils and disciplining their activities inside school. It also makes monitoring and tracing their interactions easy. This is a pilot run and we wanted to test the efficacy of this arrangement. The experience in Karnal and Sonipat has been encouraging so far," a senior education department official.
At the Karnal school, the bubble colours that have been assigned are red, royal blue, dark blue, yellow and green. After the mandatory thermal scanning and sanitisation at the gates, the school is holding separate morning assemblies for each bubble. The classroom is in a lobby to avoid putting students in an enclosed space. The joy of discovering a friend's tiffin is another casualty of this system – no student is allowed to exchange tiffin, water bottles or books.
Dharampal, principal of the Karnal school (Government Senior Secondary School, Nigdhu), said, "This is the best way of contact-tracing in case somebody tests positive. In such a situation, all the students in that bubble can be isolated and tested. It's otherwise difficult to segregate students in schools and monitor them, especially at a time when there has to be strict compliance with physical distancing."
A student at the school this correspondent spoke to said she was happy to be able to see his friends again but nervous at the same time. "I was delighted to see my friends and teachers after six months. Teachers have eased us into the new bubble system. Everything feels new," said Kajal. Another student of Class 12, who asked not to be named, added, "There is so much happening in the school that we can feel that things aren't normal. There are so many rules now that it becomes very tiring to remember and abide by them. I also miss my friends as they are in other bubbles."

RS deputy chairman Harivansh arrives with tea for 8 suspended MPs who camped overnight at Parliament lawns
NEW DELHI: The eight MPs suspended for continuing with their protests against farm bills inside the Upper House who had spent the night on the lawns of Parliament in protest had a visitor in Rajya Sabha deputy chairman Harivansh who arrived with morning tea for them.
Harivansh met the suspended Rajya Sabha MPs who had spent the night on the lawns near the Gandhi statue in the Parliament premises. He was seen sitting on the ground and having tea with the MPs.
The MPS were earlier suspended by Rajya Sabha chairman M Venkaiah Naidu for "unruly behaviour" with deputy chairman Harivansh Singh.
On Monday, Venkaiah Naidu announced the one-week suspension of Trinamool Congress' (TMC) Derek O'Brien and Dola Sen, Aam Aadmi Party's (AAP) Sanjay Singh, Congress' Rajeev Satav, Ripun Bora and Syed Nasir Hussain, CPI (M)'s KK Ragesh and Elamaram Karim for "unruly behaviour" with the Rajya Sabha Deputy Chairman on Sunday during the passage of the farm bills.
On Sunday Rajya Sabha witnessed unruly scenes as Opposition members stormed the well and reached the deputy chairman's seat to protest against the Farmer's Produce Trade and Commerce (Promotion and Facilitation) Bill, 2020 and the Farmers (Empowerment and Protection) Agreement of Price Assurance and Farm Services Bill, 2020 and passed by the Upper House through voice vote.
Both the Bills were earlier passed by Lok Sabha through voice votes.

India sets target of record grain output, focus on oilseeds to reduce import bills
NEW DELHI: Banking on huge acreage of Kharif (summer) crops amidst good monsoon and adequate water storage for Rabi (winter) season, the Centre on Monday revised India's food-grains production target for 2020-21 to an all-time record of 301 million tonnes (MT) – 4 MT more than the output of 2019-20 – and decided to put focus on pulses and oilseeds.
Accordingly, it raised the production target of the main oilseed, mustard, from 9.2 MT to 12.5 MT, syncing it with ongoing efforts to reduce the country's import bills, and gave a hike of 5.1% to the minimum support price (MSP) for procuring mustard in the next marketing season compared to 2019-20 season.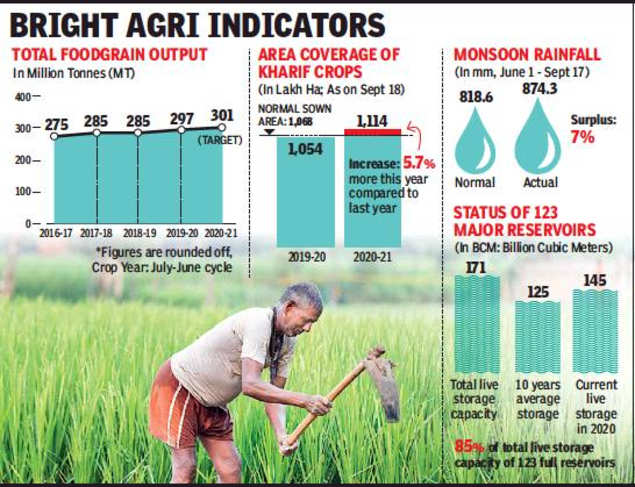 Only lentils (popular pulses) attracted a bigger hike than mustard among the six crops whose MSPs were approved by the Union cabinet on Monday. Target of production of all pulses together, including lentil, gram and others, was set at 25.6 MT for 2020-21 crop year. Similarly, the target for all oilseeds has been set at 37 MT.
The new target for the country's food-grains production was shared during a day-long deliberation at a conference on preparation for the upcoming sowing season of Rabi crops which will begin in certain parts of the country after mid-October.
"Great emphasis is being laid on production of oilseeds and oil palm plantation indigenously to reduce import of edible oils. Besides, the government has taken multiple steps to reach this new record target of food-grains production," said Union agriculture minister Narendra Singh Tomar.
He told TOI that the new farm legislation will ensure that the farmers get a better price of their produce. "The Bills, passed by the Parliament, will give farmers freedom to sell their produce at different places. The provisions in the legislation on 'contract farming' will attract large private investment, leading to rapid development in the agriculture sector and overall rural economy," said Tomar.

India slams Pakistan for raising J&K issue at UN, says it hails terrorists as 'martyrs'
NEW YORK: India on Monday hit back at Pakistan for raising the issue of Jammu and Kashmir during the high-level meeting to commemorate 75 years of United Nations (UN), saying Islamabad is globally recognised as the epicentre of terrorism which harbours and trains terrorists, hails them as martyrs and consistently persecutes its ethnic and religious minorities.
Exercising India's Right of Reply after Pakistan foreign minister Shah Mehmood Qureshi raked up the Kashmir issue in his address to UN, first secretary India in UN, Vidisha Maitra, deemed Qureshi's speech as the "never-ending fabricated narrative" about the internal affairs of India.
The virtual edition of a special General Assembly session to mark 75 years of the institution commenced on Monday (local time).
"I take the floor in the exercise of the right of reply to the statement made by the representative of Pakistan. Our delegation had hoped that during this solemn commemoration of a shared global milestone, the General Assembly would be spared another repetition of the baseless falsehoods that have now become a trademark of Pakistan's interventions on such platforms," said Maitra.
"However, for a nation that is bereft of milestones, one can only expect a stonewalled and stymied approach to reason, diplomacy and dialogue. What we heard today is the never-ending fabricated narrative presented by the Pakistani representative about the internal affairs of India," she added.
Maitra said that India rejected the "malicious reference" made by Qureshi to the Union Territory of Jammu and Kashmir, which is an integral part of India.
"If there is an item that is unfinished on the agenda of the UN, it is that of tackling the scourge of terrorism. Pakistan is a country which is globally recognised epicentre of terrorism, which by its own admission harbours and trains terrorists and hails them as martyrs, and consistently persecutes its ethnic and religious minorities," she stated.
"It would do well turn its attention inwards to immediately addressing these pressing concerns, instead of misusing UN platforms to divert attention from them by misusing UN platforms," Maitra said.