Chandrayaan-3 launch likely to take place in early 2021: Jitendra Singh
NEW DELHI: With the Covid-19
pandemic
hitting several key space programmes and delaying some missions like
Chandrayaan-3
,
Indian Space Research Organisation
(Isro) may now launch the country's third moon mission in early 2021.
"As for Chandrayaan-3, the launch may now take place somewhere in early 2021. Chandrayaan-3 will be a mission repeat of
Chandrayaan-2
and will include a lander and rover similar to that of Chandrayaan-2, but will not have an orbiter," Union minister for department of space Jitendra Singh said in a statement.
Last year, the minister had said the third moon mission would be launched in 2020. After the crashlanding of the Vikram lander on September 7 last year, Isro had planned the Chandrayaan-3 mission without the orbiter, as the Chandrayaan-2 orbiter is fully functional and has till now sent scores of images of the lunar surface and numerous craters. The unsuccessful landing crashed India's dream to become the first country to successfully touch down on the lunar surface in its maiden attempt.
On the first human spaceflight mission, the minister said, "Constraints due to the Covid pandemic led to some disruptions in the plan for
Gaganyaan
but efforts are going on to stick to the timeline of around 2022. The training processes and other procedures are also in place."
The four IAF pilots have been undergoing
astronaut
training at Russia's iconic Gagarin Cosmonaut Training Centre. Russian space corporation Roscosmos had recently stated that the completion of the Indian astronauts' training is scheduled for the first quarter of 2021.
Till now, the Indian astronauts have completed training on crew actions in the event of an abnormal descent module landing: in wooded and marshy areas in winter, on the water surface, in the steppe in summer. In June this year, the four passed training in short-term weightlessness mode aboard the IL-76MDK special laboratory aircraft, and in July, they were trained to lift aboard a helicopter while evacuating from the descent module landing point.
Moon may be rusting along the poles: Jitendra Singh
Minister Jitendra Singh said Chandrayaan-1, launched in 2008, had sent lunar images that show that Earth's natural satellite may be rusting along the poles. "The sign of this finding is that even though the surface of the moon is known to have iron-rich rocks, it is not known for the presence of water and oxygen, which are the two elements needed to interact with iron to create rust," he said.
NASA
scientists say that this could be because the earth's own atmosphere is lending a helping hand which, in other words, means that the earth's atmosphere could be protecting the moon as well, he said. "Thus, the Chandrayaan-1 Moon data indicates that the moon's poles are home to water, this is what the scientists are trying to decipher," his statement added.

Covid roundup: PM reviews situation in worst-hit states, Oxford vaccine trial in US & more
With spike of 83,347 cases, India's Covid-19 tally crosses 56-lakh mark
With a spike of 83,347 new cases and 1,085 deaths in the last 24 hours, India's Covid-19 count stood at 56,46,011 on Wednesday. India's Covid-19 death toll stands at 90,020. Maharashtra continues to be the worst-affected state in the country with 2,72,809 active cases 33,407 deaths while Karnataka
BJP used former Bihar DGP to malign Maharashtra: Congress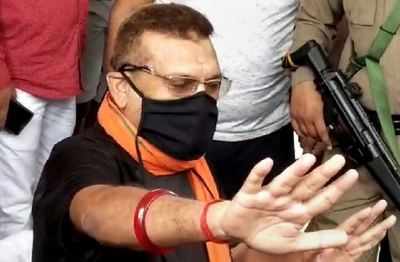 Former Bihar DGP Gupteshwar Pandey, who has taken voluntary retirement from service, arrives to address a press conference, in Patna, Wednesday, Sept. 23 (PTI)
MUMBAI: The Congress on Wednesday accused the BJP of using former Bihar director general of police (DGP) Gupteshwar Pandey to defame Maharashtra, and said he was now being "rewarded".
While Pandey has dismissed speculation that his 'political ambitions' prompted his actions or statements in the Sushant Singh Rajput death case, the Maharashtra BJP dubbed the state Congress's allegations as "baseless".
"The Bihar DGP who was used for this defamation is being blatantly rewarded. His voluntary retirement says it all," said Maharashtra Congress spokesperson Sachin Sawant here.
While a government officer has to give three months' notice before resigning, Pandey's resignation was accepted immediately, he said.
"He is expected to be rewarded," Sawant said.
The BJP had no sympathy for actor Sushant Singh Rajput but sensed a political opportunity to use his death for the coming Bihar elections and now for the proposed new film city in Uttar Pradesh, he claimed.
"The Sushant case has now been cast aside. There is a new narrative about an alleged Bollywood-drugs nexus. Drugs nexus is a pretext but the real reason is (they want) to control and arm twist the film industry," the Congress spokesperson alleged.
The Congress has no objection to the Narcotics Control Bureau probing the drugs angle in the Rajput case, he said.
"NCB has an office in Mumbai, why didn't it probe it earlier? No arrest was made by the NCB in the FIR related to Sushant Singh Rajput death case. All arrests were made in the alleged drug consumption case which has nothing to do with the death case," he said.
The Union government stated in Parliament that the NCB had no actionable inputs to link the Mumbai film industry with drugs, the Congress spokesperson said.
Speaking to reporters in Patna earlier in the day, Pandey dismissed allegations linking his alleged pro-active stand in the Rajput case to political ambitions.
While in Delhi, Shiv Sena MP Sanjay Raut alleged while speaking to a Marathi newschannel that "he ran a political agenda and is going to be rewarded for it".

FacebookTwitterLinkedinEMail
Pandemics caused by new virus infect humans in multiple waves: Govt
NEW DELHI: Pandemics caused by a new virus have the propensity to infect human population in multiple waves and some countries which initially successfully contained the Covid-19 outbreak are now reporting a resurgence of cases, the Lok Sabha was told on Wednesday.
Government of India has accordingly advised states to upgrade health infrastructure based on the case growth trajectory in respective states and districts, besides taking stringent containment measures, Minister of State for Health Ashwini Choubey said in a written reply.
He was responding to a question on whether the government has anticipated and is ready for the second wave of Covid-19 during the winter months in India.
"Pandemics caused by a new virus have the propensity to infect human population in multiple waves, each time affecting a cohort of susceptible population.
"Some countries, which had initially successfully contained the Covid-19 outbreak earlier are now reporting a resurgence of cases," the minister said in his reply.
Giving details of the steps taken by the government to provide funds and medical equipment for Covid-19 care management, Choubey said states and UTs are being provided required technical and financial assistance to manage the public health challenge.
With public health and hospitals being a state subject, the primary responsibility of strengthening the healthcare system lies with respective state governments, the minister said.
All the states and UTs are provided with necessary financial support under India Covid-19 Emergency Response and Health System Preparedness Package.
During FY 2020-21, Rs 4256.81 crore in funds were released to states and UTs.
In addition, states are being supported in terms of supply of logistics. So far 1.42, crore PPE kits, 3.45 crore N-95 masks, 10.84 crore tablets of hydroxychloroquine, 30,841 ventilators and 1,02,400 oxygen cylinders have been supplied to states, UTs and central government hospitals (as reported on September, 20), the minister said.
For appropriate management of Covid-19 cases, Government of India has advised state governments to set up three-tier arrangement of health facilities exclusively for Covid-19.
These are Covid Care Centres with isolation beds for mild or pre-symptomatic cases; Dedicated Covid Health Centre (DCHC) with oxygen-supported isolation beds for moderate cases and Dedicated Covid Hospitals (DCH) with ICU beds for severe cases.
DCHCs or DCHs may be full hospitals or a separate block in a hospital with preferably separate entry/exit/zoning. In addition, the Defence Research and Development Organization (DRDO) has set up large dedicated Covid-19 field hospitals with capacity ranging from 1,000 to 10,000 isolation beds, the minister said.
These temporary hospitals have been set up in Delhi, Bihar (Patna and Muzaffarpur).
All states, including Maharashtra and Tamil Nadu, have accordingly taken action to create such infrastructure, Choubey said on whether the Union government has any plans to start exclusive Covid-19 treatment and care blocks in states like Maharashtra, Tamil Nadu where a large number of people got infected.
Hospital infrastructure in the country for managing coronavirus cases is being continuously monitored by Government of India. States have been advised to prepare for requisite surge capacities to manage cases in accordance with existing and projected growth rates, he said.