Centre prods 3 states for 'aggressive measures' to break chain, curb fatalities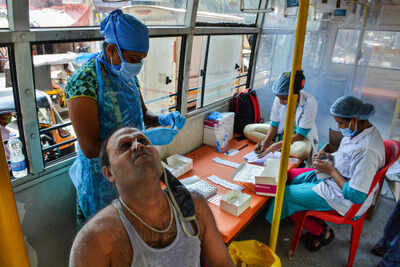 NEW DELHI: The Centre on Saturday pressed Maharashtra, Andhra Pradesh and Karnataka – accounting for about 46% of active COVID-19 cases and 52% of deaths on Friday – to focus on aggressive measures to break the chain of transmission and keep mortality rate below 1%.
The health ministry advised these states to proactively ensure higher testing, effective clinical management along with efficient monitoring at various levels to lower fatality.
Maharashtra alone accounted for 22% of all active cases reported in a day.
The Centre has also highlighted the districts of concern in each State. In Maharashtra, Pune, Nagpur, Kolhapur, Sangli, Nashik, Ahmednagar, Raigad, Jalgaon, Solapur, Satara and Palghar were highlighted and need for effective containment and contact tracing was emphasized.
In Andhra Pradesh, Prakasam and Chittoor districts were highlighted with the need for daily monitoring of facility wise deaths, strengthening of hospital facilities, increasing the number of ICUs, oxygen beds and efficient clinical management were focused upon.
In Karnataka, the highlighted districts of Koppal, Mysuru, Davangere and Bellari were advised to optimally utilize RT-PCR testing facilities, to strengthen their door-to-door active case search and to protect their healthcare workers.
Cumulatively, the three states – Maharashtra, Andhra Pradesh and Karnataka – account for nearly 49% of the active cases and more than 57% of COVID deaths so far.

Congress may rope in Prashant Kishor for 2022 Punjab election
NEW DELHI: Pollster Prashant Kishor may get to manage Congress in the Punjab elections scheduled for early 2022. Party sources said CM Amarinder Singh is in talks with the former JD(U) member and election strategist, and a decision may be announced soon.
While Kishor is likely to get the contract for advance poll planning in the state, Congress members said he could even get an official perch to manage the affairs. Kishor had widely been credited with helping Congress ride back to power in the state in 2017. A senior AICC manager said the talks are being held by the chief minister and that the party is not involved in the negotiations.
While speculations about Kishor coming on board the Congress campaign in Punjab have been on for a while, it is only now it appears to be reaching a finality. Having been expelled from JD(U) following a scrap with Bihar CM Nitish Kumar, Kishor is said to be on the lookout for a new political platform – a reason why there are also speculations that he is looking for an entry in Congress.
Well-placed sources in Congress said Kishor has a direct line with the Gandhi siblings, a reason why not many are willing to hazard a guess about the pollster. There is some confusion in Congress ranks about Kishor.
Sources said a possible reason for CM Singh to get Kishor on board in Punjab would be to ensure that he does not work for Arvind Kejriwal's AAP, which is set to make a strong pitch in the state in the next polls.

India slams Pakistan PM at UNGA for terror export
NEW DELHI: After Pakistan PM Imran Khan again raised the Kashmir issue at UNGA, India slammed Pakistan saying terrorism was its only crowning glory. Exercising its Right of Reply, the Indian mission also accused Khan of warmongering and of using the multilateral forum to spread lies, misinformation and malice.
"This august forum witnessed a new low on its 75th anniversary. The leader of Pakistan today called for those who incite hate and violence to be outlawed. But as he went on, we were left wondering, was he referring to himself?" said Mijito Vinito, the first secretary in the permanent mission of India to the UN, Mijito Vinito, exercising India's Right of Reply.
The only crowning glory, he said, that this country has to show to the world for the last 70 years is terrorism, ethnic cleansing, majoritarian fundamentalism and clandestine nuclear trade. "This hall heard the incessant rant of someone who had nothing to show for himself, who had no achievements to speak of and no reasonable suggestion to offer to the world. Instead, we saw lies, misinformation, war mongering and malice spread through this Assembly," he added.
Pakistan later exercised its right of reply too, in which it claimed that Jammu & Kashmir was never a part of India. Alluding to the "stellar record" of Pakistan, Vinito said this is the country that has the "dubious distinction" of hosting the largest number of terrorists proscribed by the United Nations, a reference to terror masterminds such as Lashkar-e-Taiba (LeT) founder Hafiz Saeed and Jaish-e-Mohammed (JeM) head Masood Azhar.
"This is the same country that provides pensions for dreaded and listed terrorists out of state funds. The leader whom we heard today is the same person who referred to terrorist Osama Bin Laden as a 'martyr' in the Pakistani Parliament in July," Vinito said.
He added that it is Pakistan that brought genocide to south Asia 39 years ago when it killed its own people and it is also the country that is "shameless enough" not to offer a sincere apology for the horrors it perpetratedeven after so many years. India asserted in its Right of Reply that Khan, "who spewed venom today", admitted in 2019 in public in the US that his country still has about 30,000-40,000 terrorists, who have been trained by Pakistan and have fought in Afghanistan and in the Indian Union Territory of Jammu and Kashmir.
"This is the country that has systematically cleansed its minorities , including Hindus, Christians, Sikhs and others, through the abuse of its blasphemy laws and through forced religious conversions," Vinito said.

India feels absence of a PM with depth of Manmohan, says Rahul Gandhi
NEW DELHI: On the 88th birthday of former Prime Minister Manmohan Singh, Congress whipped up its campaign that there was a lack of leadership in the country under the BJP regime, even as it accused the Modi government of betraying farmers and workers.
Wishing the former premier, Rahul Gandhi tweeted, "India feels the absence of a PM with the depth of Dr Manmohan Singh. His honesty, decency and dedication are a source of inspiration for us all."
Addressing farmers as part of Congress's online campaign "speak up" against the controversial farm bills, Rahul Gandhi said in a video, "You are being turned into slaves of corporate houses. The three dangerous laws are designed to finish you. I warn the government if farmers take to the streets, it will cause tremendous damage; please withdraw these laws and guarantee the MSP."
Congress termed the three labour codes brought in by Modi government as "anti-labour", alleging they have removed the security net available to workers besides weakening the trade unions which provide them a protective umbrella. It said the new laws had again proved that the BJP regime was beholden to corporates and urged all the political parties to oppose them.
Addressing a press conference, AICC leader Mallikarjun Kharge said, "The bills have weakened trade unions and finished the security and safety for the workers. States' powers have been usurped by the Central government with these laws. These codes are anti-worker, anti-labourer and it is important to agitate against them."
Indian National Trade Union Congress president G Sanjeeva Reddy said, "We will protest and struggle against these unjust, anti-labour and anti-trade union laws."