An 'essential commodity', booze shops get special sanctions in U'khand
When the lockdown to contain Covid-19 began, Kerala and Punjab were quick to declare alcohol an "essential commodity". In Kerala, people had killed themselves after being cut off and Punjab was afraid of bootlegging. The Centre had none of it — no exemptions, it said. But last month, Uttarakhand went ahead and did the same. And it has gone all out to protect its revenues from alcohol.
Shops selling groceries, milk, fruits and vegetables stay open 10pm. Liquor stores can stay open till 11pm. Sundays are when other stores are shut for sanitisation. Liquor stores can remain open. So, from 8am every day, the cash registers start ringing. Most stock up on red wine or scotch — Covid-19 cases have been rising in Uttarakhand and there's no saying when the rules will change again. But for now, it's been convenient for buyers and a relief for store owners.
"I manage to leave the office only after 9pm. Stores would usually shut by then. Now that they are open for two extra hours, I can pick up my booze on my way home," said Anshul Badola, a Dehradun resident who works at a private company. Counting on those like Badola is Sanjay Singh, a liquor store owner in the town: "We incurred huge losses during the complete lockdown. The reopening helped, but the extension of timing could help even more." Another seller, Surjit Singh, said a visible improvement in sales might take a while. "Sales have been down at least 40% since the pre-lockdown period. Now that stores can stay open longer, it should help but our customers need to know first. It could take some time."
But other store owners are piqued. "Sunday used to be the day when everything was shut so sanitisation could be done. It was meant to break the Covid chain. Only stores selling medicines or groceries would be allowed to open. Now, liquor stores open on Sundays. It's illogical," said Narendra Khatri, who runs a groceries store in Dehradun. Some store owners and RWAs have expressed similar reservations, with the same question — why is liquor "essential"?
"It is a tightrope walk. A ban on liquor would lead to bootlegging," said BJP state spokesperson and Vikasnagar legislator Munna Singh Chauhan. "As a tourism-driven state, banning liquor may affect the sector as well. It's not that we are opening liquor vends everywhere." And that's the answer — revenue.
In 2017, the Trivendra Rawat government had said it would reduce the state's dependence on alcohol for revenue. "We do not want to promote liquor, we do not want to make it a source of revenue," Rawat had said. But in the past three years, the government has done just that, with incremental surges. Between the 2016-17 and 2019-20 financial years, revenue from liquor excise went up Rs 1,000 crore. This was not unplanned — the revenue targets went up Rs 1,700 crore in the same period. For the last financial year, the government had set a target of Rs 3,600 crore and made Rs 3,180 crore. It is the state's biggest source of income.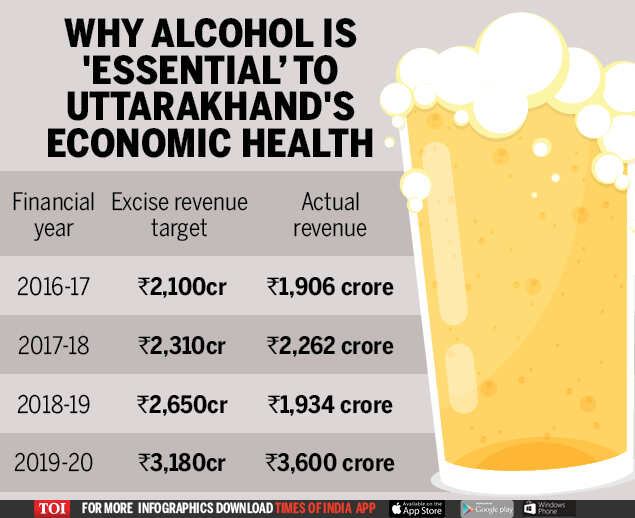 While the government calls it a matter of urgency, the opposition says it is one of contingency. "In 2017, BJP came to power by campaigning it would ban liquor sale in Uttarakhand," said vice-president of Congress's Uttarakhand unit Suryakant Dhasmana. "After coming to power, it seems to have had a change of heart. It has been aggressively promoting liquor sales. So, the decision to keep liquor stores open beyond regular timings does not come as a surprise."

Farmers have no faith in Modi govt: Rahul Gandhi
NEW DELHI: Claiming that the entire country is opposing the newly passed agriculture bills, Congress leader Rahul Gandhi on Friday said farmers do not have any faith in Prime Minister Narendra Modi-led Central government.
"After speaking to the farmers, this much is clear that they don't have any faith in the Modi government. Our voices are with that of our farmer brothers. Today, the whole country opposes these agriculture bills," Rahul Gandhi tweeted in Hindi.
The Congress leader also posted a video of his interactions with farmers, who were heard claiming that these laws are against the farmers across the country.
किसानों से बातचीत करके एक बात साफ़ हो गयी- उन्हें मोदी सरकार पर रत्ती भर भी भरोसा नहीं है। किसान भाइयों की बुलंद… https://t.co/0dcDXEO0lM

— Rahul Gandhi (@RahulGandhi) 1601034539000
"This Bill will neither benefit the public nor the farmers. It will only benefit the corporations," one of the farmers was heard saying. Other farmers sought to mandate the minimum support price (MSP) for their crops.
This comes amid protests by opposition parties, farmers and other organisations against the agriculture Bills, which were recently passed by both Houses of the Parliament.
The Farmers' Produce Trade and Commerce (Promotion and Facilitation) Bill, 2020, and the Farmers (Empowerment and Protection) Agreement of Price Assurance and Farm Services Bill, 2020 were passed by Parliament recently by voice vote despite objection from the opposition parties.
According to the Centre, these Bills will help small and marginal farms by allowing them to sell produce outside mandis and sign agreements with large agri-business firms and will do away with stock-holding limits on key commodities.

Around 10 nations contacted education ministry showing willingness to implement NEP: Ramesh Pokhriyal
NEW DELHI: Around 10 countries have contacted the education ministry showing their willingness to implement India's new National Education Policy (NEP), Union education minister Ramesh Pokhriyal 'Nishank' said on Friday.
He was speaking during a webinar on "NEP 2020 – The Brighter Future of Education" organised by ASSOCHAM.
"Around 10 countries have contacted us, with their education ministers showcasing the willingness to implement India's new education policy in their countries," Pokhriyal said.
"The government is seeking paragraph-wise suggestions on how to go about implementing the NEP. So far 15 lakh comments have been received and we are open to receiving more suggestions," he added.
The minister lamented some people are arguing that to make progress on international level one needs to learn English.
"I must say we are not against English but mother tongue as a medium of education would help strengthen Indian languages. The government does not intend to impose any language on any state. We are in the favour of strengthening 22 Indian languages and we want to promote all of these languages," he said.
"People need to understand that English is not an Indian language. I would like to tell those people who argue that if we do not learn English we cannot progress on a global level, we need to look at countries like Japan, Russia, Israel, France, USA that all provide education in their language," the minister added.
The NEP approved by the Union Cabinet in July replaces the 34-year-old National Policy on Education framed in 1986 and is aimed at paving the way for transformational reforms in school and higher education systems to make India a global knowledge superpower.
Choice between 3 or 4 year undergraduate courses, multiple entry and exit options in degree courses, adding 3.5 crore seats in higher education institutions, which will now have a single regulator, discontinuation of MPhil programmes and fixation of fees are among the higher education reforms outlined in the new NEP.
"The main objective of NEP 2020 is to develop good human beings and not machines. It is a nation-centric policy, full of human values and with regards to innovation, knowledge, research, science and technology, it will be on the top on international level," Pokhriyal said.
"Perhaps it is the first such policy in the world which has seen such huge consultations with over 1,000 universities, 45,000 degree colleges, 15 lakh schools, 1 crore teachers and professors along with 33 crore students and their parents, politicians, state governments and their education ministers, chief ministers, parliamentarians and industry bodies," he added.
The minister said that they have incorporated most of the 2.25 lakh suggestions received from across the country.

What is active & passive vaccination: Can it help against Covid-19?
NEW DELHI: Researchers across the world are conducting experiments in race to produce the most effective vaccine for coronavirus. There are new studies being published everyday as human understanding of the SARS-CoV-2 virus improves. In this global phenomenon, we are now reading about active and passive immunizations. Here is what you need to know about it:
What is active vaccination
There are some illnesses that a person can become immune to having the disease. For example, in case of chickenpox or measles, the immune system of the person creates antibodies to fight the disease. This process of gaining immunity against a certain disease where the immune system creates antibodies is called active vaccination.
In other words, active immunity results when a person's immune system works to produce antibodies and activate other immune cells to certain pathogens. If the person encounters that pathogen again, long-lasting immune cells specific to it will already be primed to fight it.
What is passive vaccination
Another way to gain immunity against a certain disease is through taking antibodies from a person whos has already been inflicted with the disease and introducing their antibodies into another person's system to protect them from the disease.
In other words, passive immunity results when a person is given someone else's antibodies. When these antibodies are introduced into the person's body, the "loaned" antibodies help prevent or fight certain infectious diseases.
Key differences between active and passive vaccination
In active vaccination, a person's immune system is triggered to produce required antibodies while in passive vaccination, the 'ready-made' antibodies specific to one disease are administered.
Active vaccination requires a longer period of time to be effective as it 'only' triggers the immune system which in turn takes the due natural process to produce antibodies.
On the other hand, passive vaccination protects the person right away as there is no waiting period for immune system to get to work.
However, active vaccination provides immunity for a long period of time as the antibodies present were produced by the immune system itself, but passive vaccine lasts only for a few weeks or months as the antibodies are introduced into the person.
Active immunization requires more time but also lasts longer, while passive immunization is quick but has a brief lifetime.
Can passive vaccination provide relief against Covid-19
Scientists have identified highly effective antibodies against the novel coronavirus, which they say can lead to the development of a passive vaccination for Covid-19.
The scientists at the German Center for Neurodegenerative Diseases (DZNE) and Charite – Universitatsmedizin Berlin isolated almost 600 different antibodies from the blood of individuals who had overcome Covid-19.
"Three of our antibodies are particularly promising for clinical development," explained Harald Pruss, a research group leader at the DZNE and also a senior physician at Charite – Universitatsmedizin Berlin. "Using these antibodies, we have started to develop a passive vaccination against SARS-CoV-2," Pruss said.
In addition to the treatment of patients, preventive protection of healthy individuals who have had contact with infected persons is also a potential application, the researchers said. How long the protection lasts will have to be investigated in clinical studies, they said.
For Covid-19, this approach is also being investigated through the administration of plasma-derived from the blood of recovered patients. With the plasma, antibodies of donors are transferred, they said.