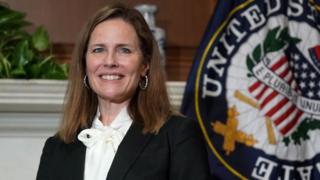 The US Supreme Court is often the last say on major cases that impact public life. So what kind of justice might President Trump's nominee Judge Amy Coney Barrett be?
From abortion to gun rights, here's a look at what she's said about major issues in the past.
On her judicial philosophy
Speaking in 2016 at Jacksonville University's Public Policy Institute, she told students judges should not be appointed based on policy preferences. "We should be putting people on the court who want to apply the Constitution."
In her opening statement on 12 October, she tied herself once more to the late conservative Supreme Court Justice Antonin Scalia, who she worked for as a clerk.
"His judicial philosophy was straightforward: A judge must apply the law as written, not as the judge wishes it were. Sometimes that approach meant reaching results that he did not like.
"But as he put it in one of his best known opinions, that is what it means to say we have a government of laws, not of men."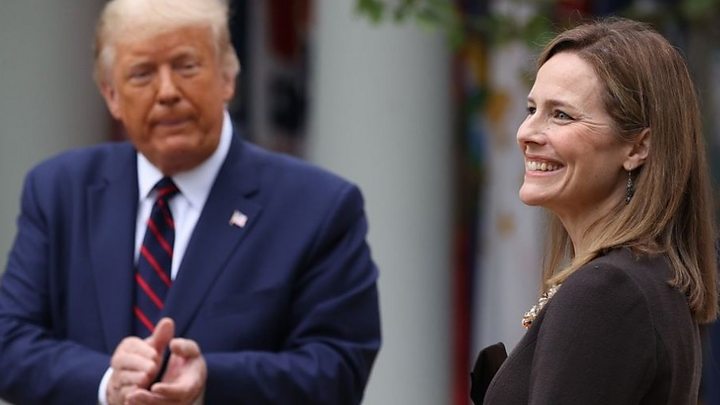 She added that "courts have a vital responsibility to enforce the rule of law" but they are not meant to "solve every problem or right every wrong in our public life".
"The policy decisions and value judgments of government must be made by the political branches elected by and accountable to the people."
On abortion
For many, Judge Barrett's views on abortion (and the landmark 1973 Roe v Wade ruling that protected the procedure nationally) are at the centre of their support or condemnation of her nomination.
She has not ruled specifically on abortion before, but she has reviewed two abortion restrictions cases while on the appeals court.
Judge Barrett voted in favour of a law that would have mandated doctors to inform the parents of a minor seeking an abortion, with no exceptions. She also called for a state law that sought to ban abortions related to sex, race, disability or life-threatening health conditions to be reheard.
She was also one of five appeals judges who argued that an Indiana state law requiring burial or cremation for foetal remains may have been constitutional.
She wrote in a 2013 Texas Law Review article that the "public response to controversial cases like Roe reflects public rejection of the proposition that [precedent] can declare a permanent victor in a divisive constitutional struggle rather than desire that the precedent remain forever unchanging".
"Court watchers embrace the possibility of overruling, even if they may want it to be the exception rather than the rule."
Talking about abortion in 2016 at Jacksonville University, Judge Barrett said she did not think "abortion or the right to abortion would change".
"I think some of the restrictions would change," she said. "The question is how much freedom the court is willing to let states have in regulating abortion."
On precedent
Judge Barrett's abortion views aside, perhaps the more important is the question of how she views precedent – and what that might mean for Roe v Wade and other established rulings.
"Does the Court act lawlessly – or at least questionably – when it overrules precedent?" she wrote in a 2013 Texas Law Review article.
"I tend to agree with those who say that a justice's duty is to the Constitution and that it is thus more legitimate for her to enforce her best understanding of the Constitution rather than a precedent she thinks is clearly in conflict with it."
On her faith
A devout Catholic, Judge Barrett has been asked about her faith as it relates to her work during past confirmation hearings.
She has been asked in particular about a 1998 article she co-wrote with a professor about Catholic judges.
She wrote that Catholic judges are "obliged by oath, professional commitment and the demands of citizenship to enforce the death penalty", while also being obliged "to adhere to their church's teaching on moral matters".
During her 2017 confirmation hearing for the US Court of Appeals for the Seventh Circuit, Judge Barrett said she still "vehemently" believes that if there is a conflict between a judge's "personal conviction and that judge's duty under rule of law, that it is never ever permissible for that judge to follow their personal convictions in the decision of a case rather than what the law requires".
In the same hearing, she said she is a "faithful Catholic", but stressed her affiliation "would not
Pakistan blast: At least seven dead in Peshawar school attack
At least seven people have died after an explosion during a class at a religious school in Pakistan, police have said.
Children of various age groups are among the dead, an officer at the scene told the BBC.
Dozens of others were injured in the attack, which took place in the northern city of Peshawar.
No group has yet claimed responsibility. An investigation has been launched.
The city of Peshawar, close to the Afghan border, has seen some of the worst of the violence during the Taliban insurgency in recent years.
Six years ago, gunmen stormed a military school in the city leaving more than 150 dead, including many children.
What happened?
The blast took place at about 08:30 local time (03:30 GMT), police told the BBC.
About 60 people are understood to have been in the class at the religious school, known as a madrassa.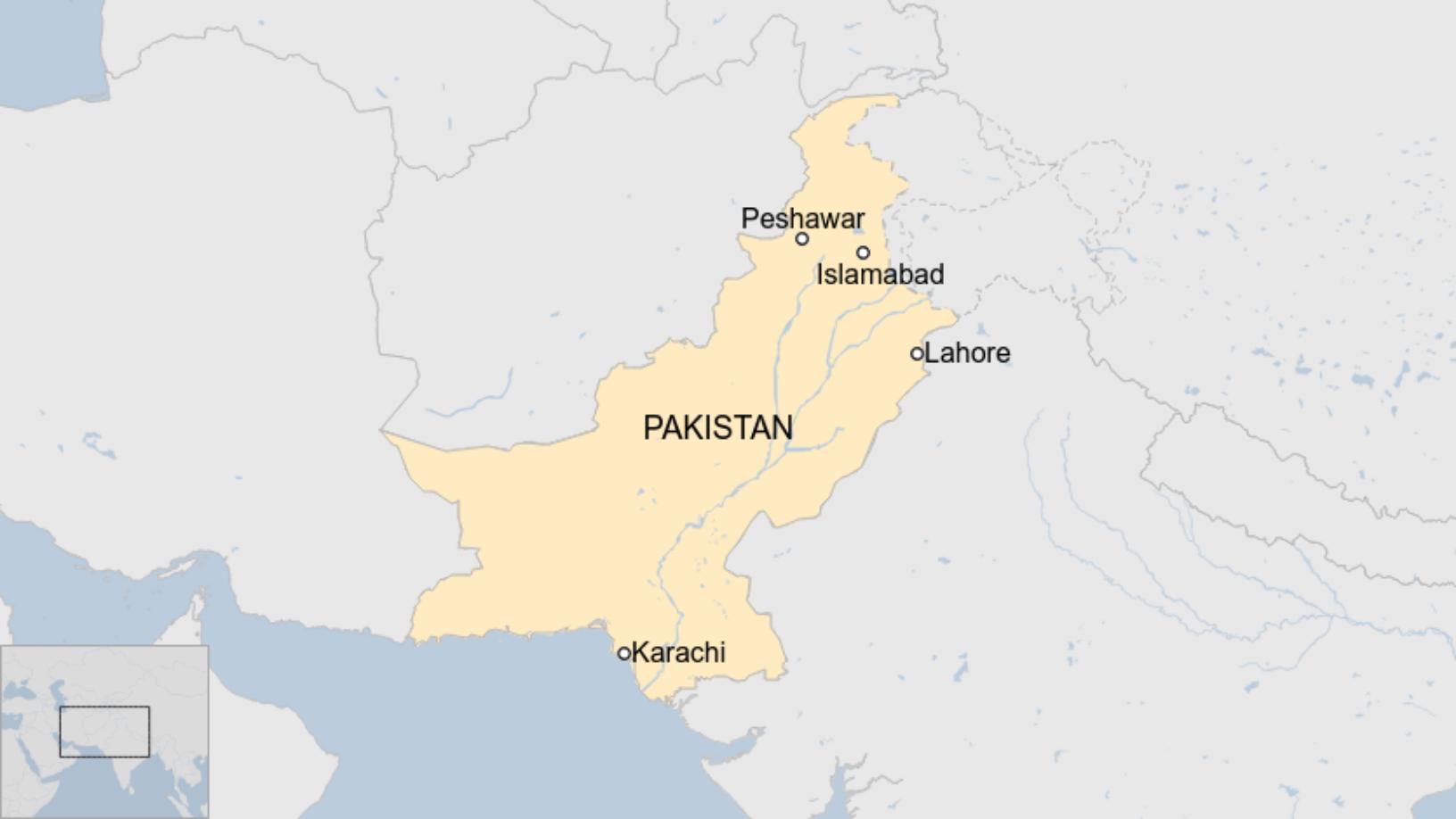 An eyewitness has told the police he saw a man enter the building with a bag of explosives shortly before the blast.
news agency that two teachers were injured.
Hospital officials told Reuters news agency that they had received dozens of injured, many with burns.
Duterte seeks best Covid vaccine deal but 'will not beg' or allow private suppliers to rip off Philippines
Philippine President Rodrigo Duterte said he would pursue a direct government-to-government deal for a coronavirus vaccine with either China or Russia, warning that 'corrupt' private suppliers could try to swindle his country.
"Let me tell everybody that we will not beg, we will pay," Duterte said in a televised address on Monday night, adding that while Manila is not seeking charity it also aims to sign a direct government-to-government deal without intermediaries.
The president did not indicate the status of vaccine negotiations with Beijing or Moscow, saying he merely mentioned the two countries as possible sources out of a "sense of urgency," and that "all options" were still on the table. 
The one that could give us the best interest for the country will be chosen.
Duterte stressed the need to obtain an inoculation directly from a friendly foreign state, rather than a private business, warning that such transactions could only bring "trouble" and that a government deal would mean "no corruption."



Also on rt.com
Western pharma is 'all about profit': Philippines' Duterte vows to solely procure coronavirus vaccines from Russia & China




Under its proposed national budget for 2021, Manila will devote some 2.5 billion Philippine pesos ($51.6 million) to vaccine procurement, which Duterte said would be overseen by Finance Secretary Carlos 'Sonny' Dominguez III.
"Since he is going to pay, I will listen to Sonny. If there are no funds, he will go to jail," the president said, apparently threatening prison time for a member of his own cabinet.
Duterte previously torched Western pharma firms developing coronavirus immunizations, saying they were "all about profit," pointing to some companies who asked for a "cash advance before they deliver the vaccine." The leader gave a stern warning to any company who offered similar proposals, vowing "I'll kick your a**."
Though the president has offered to be the first in his country to take the jab developed in Russia, Sputnik V, it is not clear whether such an arrangement has been made. However, Moscow's ambassador to the island nation, Igor Khovaev, recently stated the jab could be available to the Philippines by the end of the year.



Also on rt.com
Sputnik V questions ANSWERED: Head of team financing world's first Covid-19 vaccine explains formula to critics




Think your f
At least 7 killed, 70 wounded after bomb goes off at religious school in Pakistan – hospital official
At least seven people were killed and more than 70 wounded in an explosion inside a seminary in northern Pakistan on Tuesday morning. Children are among the victims.
The blast took place in Peshawar, the capital of the northwestern Khyber Pakhtunkhwa province. Senior police official Wagar Azim told AFP that a bomb brought inside the Speen Jammat mosque, which also functions as a religious school for local children, went off in the middle of Quran studi